Regional Justice Center as seen on Thursday, April 27, 2017. (Jeff Scheid/The Nevada Independent)
Judge dismisses lawsuit over state's stalled implementation of gun background check initiative
August 20th, 2018 - 7:42pm
A Clark County judge has denied a lawsuit filed by gun control advocates to force the state to implement a stalled, voter-approved initiative which would have required background checks on many gun sales or transfers in the state that are currently exempt.
The decision by Judge Joe Hardy Jr. issued late Monday deflates a nearly year-long effort by backers of the stalled ballot measure to compel the state to enforce Question 1, which passed by less than 1 percentage point in 2016. Attorney General Adam Laxalt's office has said it can't be enforced because it requires the FBI to perform the background checks, and the FBI is not willing to do so despite repeated requests by the state.
"The Court's 22-page decision reaffirms what my office has been saying all along — that the Act 'is unenforceable as written,'" Laxalt said in a statement. "This is not because of anything that I or other Nevada officials have failed to do … Rather, it is a result of Question 1's flawed drafting. It is unfortunate that the very same people who imposed this defective law on all Nevadans have gone to such lengths to use its brokenness as a reason to politically attack me and other Nevada elected officials through litigation."
Laxalt, who is running for governor and appeared in ads opposing Question 1 in 2016, has faced an onslaught of criticism for his office's 2016 opinion finding there was no way to enforce the measure, especially in the wake of the Las Vegas Strip shooting on Oct. 1. Even those who have conceded on some of the legal arguments have said that Laxalt hasn't tried hard enough to implement the expanded checks.
Millions were spent on the ballot measure itself, which was supported by groups backed by gun control advocate Michael Bloomberg and opposed by the National Rifle Association. The measure required use of a federal background check system rather than the state's own system.
After threats of litigation, supporters of the initiative filed a lawsuit in October 2017 seeking a judicial order forcing Sandoval to take further action to implement the voter-approved initiative. Arguments in the case were held in February.
In his opinion, Hardy wrote that he found arguments by the plaintiffs "fundamentally flawed," and that a preponderance of evidence existed showing Sandoval and Laxalt attempting to communicate and broker a negotiation between the FBI and the state to implement the measure. He wrote that arguments made by the plaintiffs, including the crafting of a sample letter for the governor to send to federal officials, fell short of the court's jurisdiction in ordering the state government to take or halt specific actions.
"The Governor has a duty to faithfully execute the laws, but this does not create a related right, in either the citizens or the courts, to micromanage that duty to the level of wordsmithing executive branch communications," he wrote.
The order noted that Sandoval's office and Department of Public Safety officials had reached out to the FBI multiple times after the ballot measure passed but had been rebuked by the agency every time, including a separate formal request made to White House officials in March after the lawsuit was filed.
Hardy called the attempts by Sandoval to work with the FBI in implementing the measure a "real and substantial effort," and criticized the plaintiffs for using "charged" statements in accusing Laxalt and Sandoval of not trying to implement the measure.
"Emotional arguments may be more appropriate for the legislature, or in advancing policy decisions made by the executive branch, but they are unpersuasive to this Court," he wrote.
Nevada is one of 12 "Point of Contact" (POC) states that use their own state-based system to run background checks on retail gun sales, as opposed to using the FBI's system. It gained that designation in 1998 through the actions of Democratic then-Gov. Bob Miller, and has been lauded by state officials as more effective than the federal system through using more databases.
Attorneys for Nevadans for Background Checks, which backed the ballot question, have argued that the approval of the measure means voters mandated that the state switch from a "full" to "partial" POC system. Such a change would likely require action from the governor's office and would mean the FBI assumes responsibility for certain transactions — a practice the group says is happening in nine other states.
But Hardy's decision found that Sandoval's actions were not "arbitrary and capricious," and that the court could not overstep its function and "direct the Governor on how to act or alter the Governor's decisions."
The order also declined a request by the petitioners to legally "sever" the portions of the ballot measure that the FBI found incompatible, saying that making any wholesale change would "effectively destroy a central component of the initiative" and go against established case law.
Asked for comment on the decision, Sandoval's office replied that "the Governor's Office believes the order speaks for itself."
Clark County Order - Background Checks by Riley Snyder on Scribd
INDY FAST FACTS
Adam Laxalt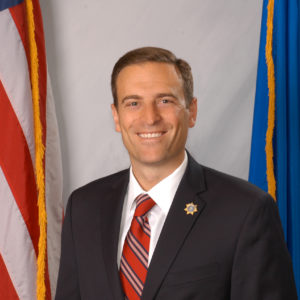 Job:
 Nevada State Attorney General
Party:
Republican
In current office:
2015-present
Birthdate:
August 31, 1978
Education:
Georgetown University (B.A.) Georgetown University Law Center (J.D.)
Other public offices held:
None
Total donations:
$8,262,050 (1/08/14 - 6/07/18)
Top donors:
Station Casinos/Zuffa/Fertitta $208,500 Las Vegas Sands $75,000 Marnell Properties LLC $42,500 Starpoint Resort Group/Partners $40,000 MGM Resorts $35,000
From the Editor
The Nevada Independent
is a 501(c)3 nonprofit. We need help to attain the elusive goal of sustainability. We depend on recurring donations from you, the readers who believe in our mission of nonpartisan, transparent journalism. I know you are busy. I know you have many commitments. But if you would take a moment to
support our work
or bump up your current donation, I would be forever grateful.
Thanks for all of your support.
Best,
Jon Ralston
get our morning newsletter,
The Daily Indy
Stars & Struggles
Take a peek into today's education world through the lens of Sunrise Acres Elementary School in Las Vegas.
@TheNVIndy ON TWITTER