Sandoval indicates support for land grant bill with caveats, after vetoing similar measure in 2017; says health care experts should decide on mandated vaccinations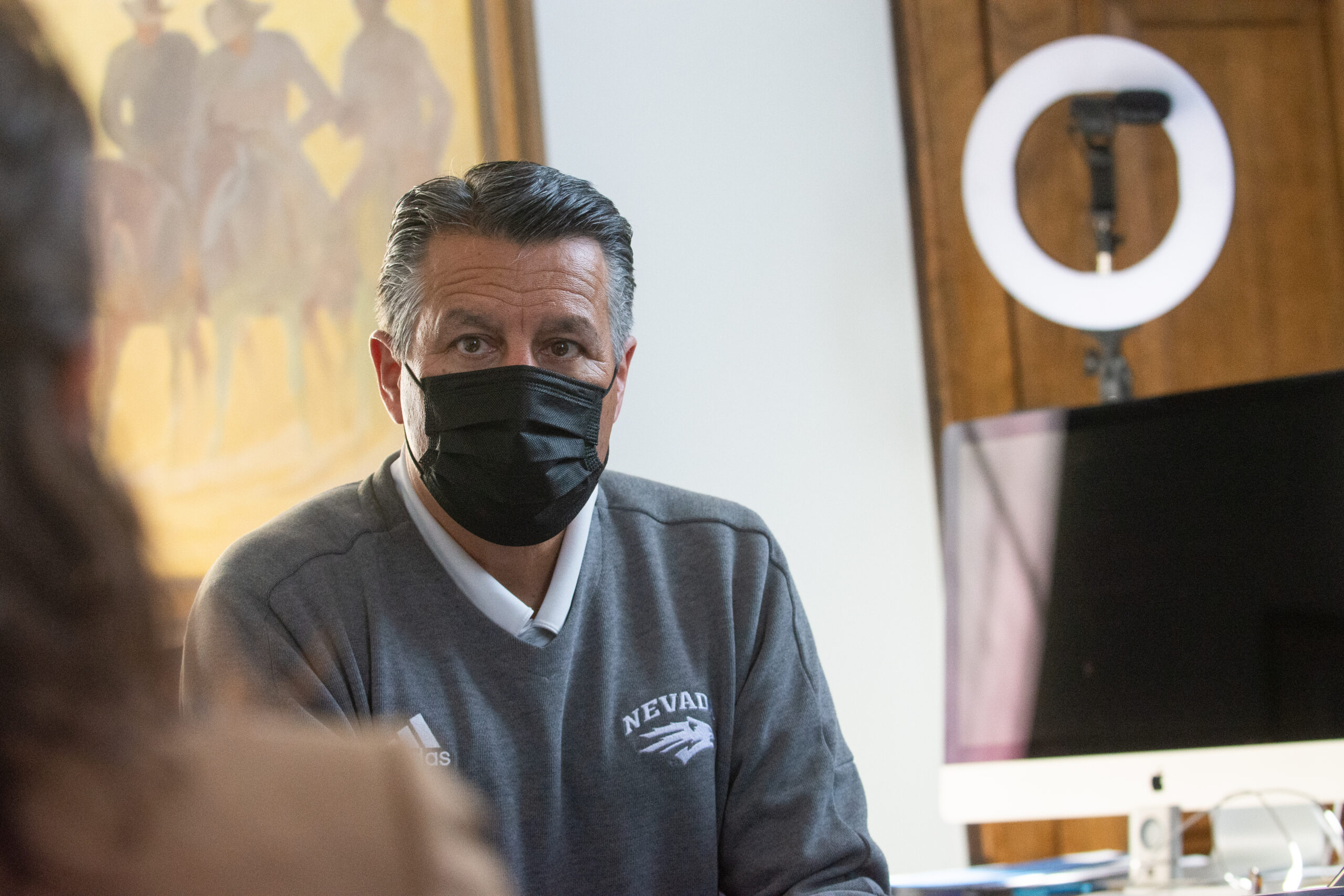 Former Republican Gov. and UNR President Brian Sandoval said Tuesday that he would support a measure that would formalize UNLV and the Desert Research Institute (DRI) as land grant institutions alongside UNR if the latter's existing land grant programs are "held harmless" by the change.
Sandoval also said he would defer to health care experts on whether to mandate vaccinations for students and he was optimistic about the higher education budget being augmented.
Sandoval told The Nevada Independent that he had spoken with land grant bill's major backer, the nonprofit Council for a Better Nevada, and that they were "working to a solution," though there is still no final language.
"The important thing for us is that the Cooperative Extension and our College of Agriculture will be held harmless, and so that they can continue to do the amazing service that they do all over the state and particularly in Clark County," Sandoval said.
The bill, SB287, has become a flashpoint between the state's two research universities, as UNLV administrators and major Southern Nevada donors have argued for "equity" in funding through federal land grant-specific dollars. UNR leaders, including Sandoval, have argued in part that the move will do little but dilute funds without meaningfully replacing them.
UNR was founded as and has remained the state's sole federally recognized land grant school for more than a century. However, legal opinions from both the Legislative Counsel Bureau and the Nevada System of Higher Education (NSHE) have held that the federal designation technically applies to the broader University of Nevada, including UNLV and DRI, rather than a single campus under that umbrella.
Lawmakers approved a similar measure in 2017, AB407, but that effort ultimately died after a veto from Sandoval, who argued at the time that the change would devastate UNR's programs without providing the funds necessary to create replacements elsewhere.
If passed in its current state, the measure would solidify that opinion in state statute before leaving the finer details of the change — including the fate of several million in federal money and county-level tax dollars dedicated to land grant-specific programs — to NSHE Chancellor Melody Rose and an advisory committee.
Sandoval added that his main focus is preserving the Extension and as long as the bill does not reduce federal funding or interrupt ongoing programming through the cooperative, then he would support the measure.
"We've said that all along, and again to dilute any of that federal funding, to interrupt any of the programming that's going on, could be very harmful," Sandoval said.
Whether that funding will be preserved by the final bill language, or in what form, remains to be seen. In an interview with The Indy last month, UNLV President Keith Whitfield said that a core function of SB287, and more broadly the land grant designation, would be a "collaborative approach" on the Extension.
"We want to make sure that we can provide the additional kinds of assistance operations programs that we're suited to be able to help do," Whitfield said. "And some of that could come from collaborations between our universities, rather than just saying, 'It's yours, or it's mine.' I don't think that that is a way forward on most things … When we can collaborate, it makes sense to collaborate, and when we can compete, it makes sense for us to compete."
Whitfield added that UNLV's position was also largely influenced by the possibility of pursuing additional federal research grants limited to land grant-designated schools.
"It's not just those Extension dollars, it is these other grant dollars that are available, too," Whitfield said. "There are millions of them that are out there that we can do."
Reopening to in-person education
Asked if he would support COVID-19 vaccination requirements for students, amid a growing push from administrators nationwide to support such mandates, Sandoval said that was not his decision to make.
"This is such a dynamic situation, and things have changed day-by-day so I'm going to wait to see the consideration by the state," he said. "There are health care experts that have to be involved in this to make a decision. And we can base what we decide to do on what they decide."
UNR officials, in addition to college leaders across the state and country, have for months been engaged in plans for a largely in-person fall semester, including the widespread return of in-person instruction and campus social activities.
But as pandemic conditions have improved amid increasing vaccinations, many administrators have begun drafting plans to mandate COVID-19 vaccinations for returning students, mimicking similar requirements for other communicable diseases such as measles or tetanus.
That includes NSHE officials, who announced last week that they were in the midst of organizing plans to pursue a vaccine mandate through the State Board of Health, which maintains control of student inoculation requirements. But, the plan would only take effect if the federal government drops the so-called "emergency use authorization" currently in place on three vaccines used in the U.S.
Higher education institutions are also closely watching lawmakers as they mull decisions to backfill steep budget cuts included in the governor's recommended budget.
Even as the state's economic forum announced roughly $500 million in additional tax revenue and another $2.7 billion in one-time federal aid is expected as part of the American Rescue Plan, budget committees have continued to slash some agency funding as they run-up against legislative deadlines.
Those reductions include higher education, which saw an additional 12 percent cut approved by a joint budget subcommittee last Thursday, just days after the economic forum announced the new windfall.
Though the state is focusing on restoring its rainy day fund, Sandoval said that he is "hopeful" that as federal money arrives, lawmakers will restore funding for higher education institutions on a permanent basis.
"I'm confident that the governor and the legislators will have higher education in mind, particularly in a session where they're talking about workforce development," Sandoval said. "They understand that a 12 percent budget cut could be very damaging to all the institutions. For us it means about a $50 million cut over the biennium."
Growth on the horizon
As UNR navigates an uncertain budget situation, state lawmakers and Sandoval lauded one bright spot on the horizon — the unanimous passage of SB342 out of the Assembly on Monday, giving regents the green light to approve a partnership between UNR's medical school and Renown Health.
"SB342 addresses an immediate opportunity for UNR Med and Renown Health to respond to rapid changes in medical care delivery and medical education, leading to widespread benefits for the health and well being of all Nevadans," Assemblywoman Jill Tolles (R-Reno) said during floor remarks in support of the bill.
Sandoval said that if the regents approve the partnership, it would be a "game changer" for the School of Medicine and for health care in Northern Nevada. Not only would the partnership increase clinical and research opportunities for students and health care access in the region, he said, it would also eventually expand enrollment.
"There's a plan to increase enrollment and we wouldn't have been able to do that without this affiliation," Sandoval said. "So on every level, this is a great opportunity, but the biggest thing is to improve the opportunity for health care, particularly in Northern Nevada."
Should the governor sign the law, as is expected, regents will likely vote on the proposed partnership sometime this summer.
The Nevada Independent is raising $200,000 by Dec. 31 to support coverage of the 2024 election.
Tax-deductible donations from readers like you fund this critical work.
If you give today,your donation will be matched dollar-for-dollar.
Give + Get Matched
Featured Videos