Indy Q+A: UNR President Brian Sandoval on steering the university through pandemic, awaiting likely special session to get federal money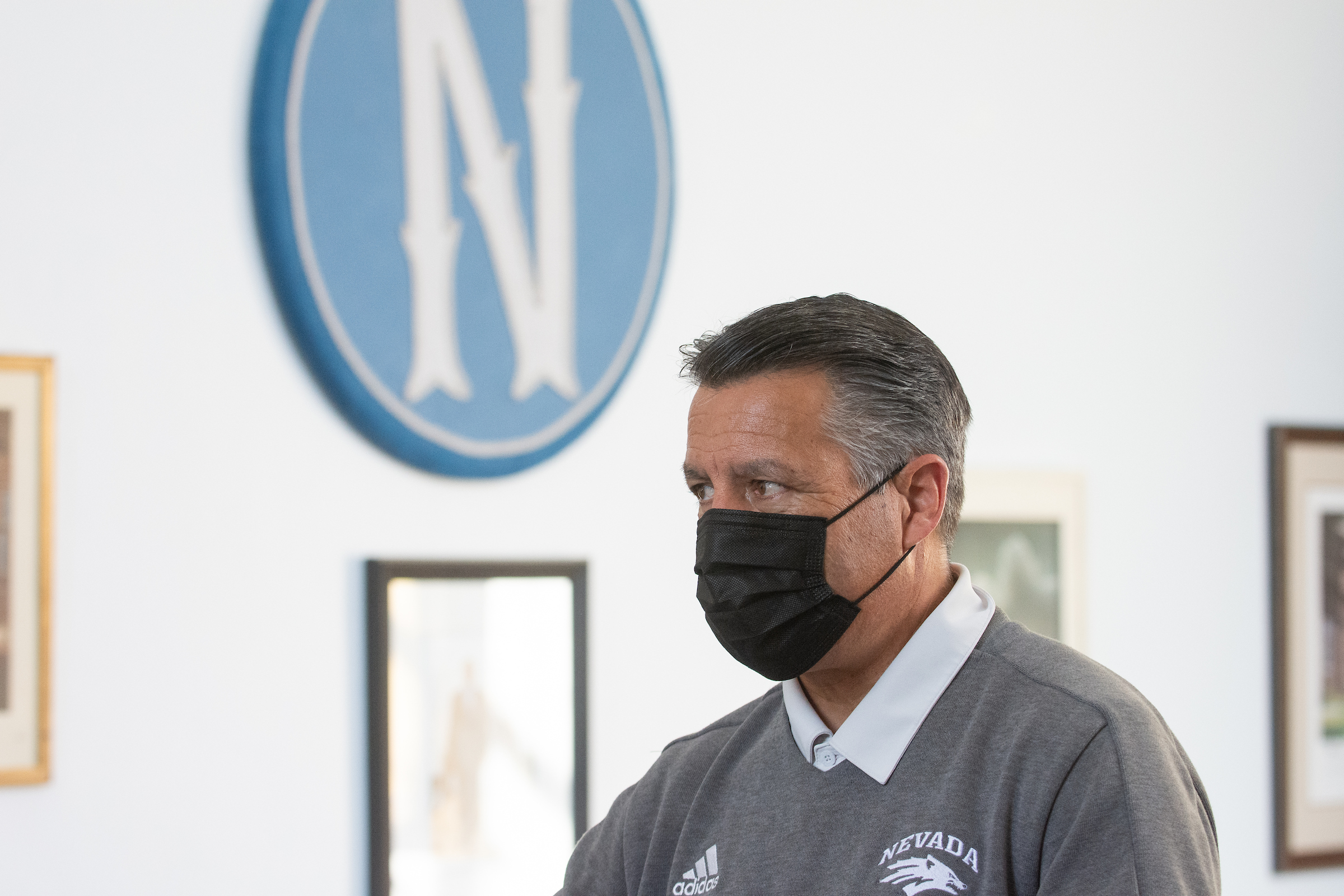 When regents selected Brian Sandoval as UNR's 17th president last summer, it had been considered as something of a foregone conclusion.
A former assemblyman, gaming commissioner, attorney general, federal judge and — most famously — governor during the depths of the Great Recession, Sandoval is something of a rarity in higher education leadership, boasting an unparalleled political resume in place of a scant academic CV.
But he also entered the job at a time of ongoing uncertainty for the university. The fall semester had just begun, and it was unclear what toll the COVID-19 pandemic would take on a student body returning to campus for the first time since the sudden shutdowns in March.
All the while, falling enrollments, cratering revenues and a rolling series of state-level cuts hobbled higher education budgets and triggered system-wide hiring freezes. Even now, as pandemic conditions have dramatically improved, enrollments are expected to remain down through the fall, and higher education institutions have prepared for budget cuts of an additional 12 percent.
Amid these issues and more, The Nevada Independent sat down with Sandoval to break down his first six months as president, the university's ongoing response to the pandemic and where UNR goes from here.
Editor's note: This interview has been lightly edited for length and clarity.
——-
NEVADA INDEPENDENT: I want to ask about UNR's planned in-person graduation, because we've reached a point of the pandemic where the raw numbers have improved dramatically in just the last six or eight weeks — and that an in-person graduation is a reality.
At the same time, we're also seeing a concern in some parts of the country that there could be a new surge, especially among those who are still unvaccinated. Where does the university draw the line on planning an event this big, balancing the demand for in-person graduation with changing health conditions? How close can we get to graduation before UNR has to make a decision on whether an in-person ceremony is going to go forward?
SANDOVAL: I'll answer your last question first, we're planning on going forward. We are planning for an in-person graduation in Mackay Stadium. We submitted our plan long ago to the Department of Business and Industry, with the state — that plan was approved. It's going to provide obviously, for six feet of social distancing. All attendees will have to answer a questionnaire, though each graduate will be allowed four guests. We'll have eight different ceremonies over the course of four days, and so we've worked very closely with Washoe County, with the state of Nevada.
So backing up to the first part of your question, I think your question speaks to how dynamic and fluid the situation really is. I follow your colleague Megan Messerly's reporting on this issue — the state and has come a long way, the university has come a long way. With regard to the governor's playbook, we follow that very closely. And of those individuals that were previously eligible for the vaccine, we estimated that of our front-facing faculty and staff and graduate students, approximately 90 percent of those elected to get the vaccine. And as others became eligible within the respective categories — we obviously don't ask whether somebody has received the vaccine, but we do survey, and the responses to the survey have been extremely positive. And as you know, I believe it's today is the first day that everybody is eligible for the vaccine.
So we have been in conversations with Washoe County, and we're hopeful that we can have the opportunity to have a [vaccine] pod on our campus. We received 200 doses of the vaccine last week and we made those students that were living and working in the dorms available to them first, as a priority. And if we're able to receive more vaccines from the county, we want to make it as convenient as possible for all students and faculty and staff because they're now eligible.
One of the conversations I did have with Washoe County was that we're hopeful that we could get the Johnson and Johnson vaccine because the other two, the Moderna and the Pfizer, are obviously two doses, three weeks apart. And if a student is to be administered their first dose, and then three weeks later the semester is over, it may be difficult for them to follow up with that second dose. So we're being very thoughtful, we're being very methodical, but ensuring that all of the students, faculty and staff have the information they need to schedule an appointment, either off campus, or hopefully, we can have something on campus.
As we look forward to a fall semester that will include far more in-person interaction than we've had so far, what do you think UNR's role is in promoting or enforcing public health guidelines, and what do you think is going to be the sort of the role of the university going forward in managing the virus during an in-person semester?
When I arrived in in October, unfortunately, there were large numbers of positive tests on our campus, which resulted in the announcement of the closure of the Wiegand Fitness Center and going to an online class modality after Thanksgiving, and then the announcement of no spring break, and that we would have what they call reading days instead. Those were all very strategic, in terms of ensuring that there wasn't a larger spread last fall. At least the statistic that was brought to my attention was that one out of eight cases in Washoe County were emanating from the UNR campus, whether it be on or off-campus.
I'm not aware of contact tracing absolutely defining that most of this was happening off-campus or not. But the bottom line is we, I, have a responsibility to protect the health, safety and welfare of all students, faculty and staff. And that was the mindset going into making those decisions that I just talked about. So the campus has been doing much better, as I mentioned. I'm really proud of the students and the faculty and staff in terms of their social distancing, wearing masks, personal hygiene in terms of washing hands and such, and our numbers have come down dramatically. The other thing that we did is we put a dashboard on our website that is updated every single week immediately upon receiving the information from the county, and that way everybody on campus has real time information as to what is going on.
As the semester has progressed, we were doing extremely well. I mean, probably five to 10 positive cases a week — which is five to 10 too many, granted — but compared to what we were doing before... This most recent week, there was a spike in terms of going up to 30 students, and we're watching that very closely. But at the same time, we're aggressively informing and communicating with everybody on campus about the availability of the vaccine, and where they can go get appointments. I got my vaccine last Monday at the Livestock Events Center and just really, again, really encouraging students to do that.
So as we move into the fall, our plan is to be in person. It's very important for us, we've heard very loudly from the students that they want that in-person experience, they want to be in the classes and, similarly with the faculty, they enjoy that in-person experience as well. But at the same time, we are absolutely mindful of what the requirements are going to be through the county and state.
In terms of the budget — which has seen drastic cuts over the course of 2020 and into 2021 — what you think the long term ramifications of the pandemic are going to be for UNR?
It's going to be a challenge. I mean, obviously, last year after the special session, we absorbed a $39 million, or 20 percent cut, some of which was mitigated through federal funds. Moving forward, we have submitted a budget that meets the governor's recommendation of 12 percent. And that means that we're freezing positions, keeping positions open, that there are a lot of faculty vacancies that we would have been able to otherwise fill, there are student advisement positions that we would have been able to otherwise fill.
My understanding is that the budget likely will close with the 12 percent budget cuts. There's going to be, likely, a special session — that, again, is what we're hearing — wherein the governor and the Legislature will make a determination as how to deploy the federal funds that are going to be coming in. (Spokespeople for legislative caucus leadership and budget committee chairs told The Nevada Independent Monday that lawmakers are still awaiting federal guidance that may dictate limits on how federal money might be spent, and no special session has yet been scheduled.) We, obviously, are hopeful that some of those funds will be directed to higher education so that we can mitigate some of those 12 percent cuts that are included in the budget.
The other effect is that enrollment is down as a result of the pandemic. and rightfully so — there are a lot of students and parents that want that in person experience that we just discussed. If they're going to be paying tuition, they want their students on campus and going to class, and I agree with them wholeheartedly. And so fall-to-fall or enrollment has been down, and we are aggressively doing everything we can to promote the university and increase the enrollment for this upcoming fall. I've personally participated in at least three or four recruitment events speaking to potential students. I think I spoke to six different tours [on Friday] personally, and stopped with parents and their sons or daughters who were touring campus as prospective students. But we have to work hard to make sure that again, they know that we're doing everything we can to have an in-person experience.
But that drop in enrollment also means a drop in funding associated with that. So we're watching and waiting to see what happens with the closure of our budget, as well as what would happen in a potential special session where they decide where to deploy those [additional federal relief] funds.
UNR and UNLV both received Carnegie R1 status for "very high research activity" in late 2018, but the budget cuts triggered by the coronavirus — which are proportionally higher in Nevada than other states — have raised concerns among some observers that maintaining that status in the long term could be difficult.
Do you think that Nevada institutions, and specifically UNR, is at a disadvantage when it comes to maintaining a status as a top-tier research university over the next few years?
We are very proud of our R1 Carnegie high research institution ranking. I was just in a meeting when we discussed that; our research numbers are excellent. I mean, we've increased research dramatically, and that is one of the measurements associated with the Carnegie R1 [status]. You know, the concern is this: We have a lot of faculty vacancies, and we very much would like to continue to be able to recruit and bring in the best faculty we possibly can from across the country, a diverse faculty.
So funding has something to do with that. I mean, I think we're in 30 to 40 faculty recruitments and we're going to be able to fill three or four of those faculty positions. That's gonna leave a mark, there's no doubt about that. And even if there is a positive outcome, in terms of some in a special session, it'll be too late to hire for the fall, because these recruitments would have started last fall, and we would hope to have people in position at the beginning of the fiscal year or the beginning of the term.
But having said all that, you know, we understand and appreciate that there's shared sacrifice, that the state is going through a very difficult time. I know this more than anybody, from prior experience, and we have to do our fair share. But, you know, we're confident that we'll maintain our R1 Carnegie position, but [the budget] definitely makes it more challenging as we move forward.
As some colleges and universities move away from the old metrics-driven diversity of affirmative action, what do you think the diversity needs of UNR are right now, and what do you think are the shortcomings that need to be improved, be it among the student body or the faculty or the institution itself?
I believe it starts with the enrollment of our students and what our students look like — 41 percent of our students are of diverse backgrounds, and one of the things that we aspire to is to be a Hispanic serving institution [a federal designation for schools with a student body that is at least 25 percent Hispanic]. Right now, the enrollment is approximately 21 percent students of Hispanic or Latinx backgrounds, and we're going to continue to be aggressive in that regard to hit that threshold so that we can apply for that designation.
I think it's important that our university enrollment and our faculty look like what our community looks like and what our state looks like, and we have a very diverse community in-state, so that also informs our faculty recruitment, and ensuring that our faculty looks like our student body population. So as we move into faculty recruitment, that's extremely important to me and to the university, that we continue to aggressively find faculty of diverse backgrounds. (According to NSHE data from 2018, nearly 72 percent of UNR's 4,300 employees are white, about 10 percentage points more than the roughly 61 percent white population of Reno, according to Census estimates).
Are there any formal mechanisms with which you can pursue this more diverse student body, these more diverse faculty? Or is this just a broader goal, a stated goal, that the university wants to recruit more diverse students, faculty, etc.?
Well, I think it's a little bit of both. We don't bind to anybody in terms of any type of searches, but we make sure that our search committees are very diverse to make sure that that every you know, every interest or background is covered when we go into a faculty or staff-type search, or somebody, say, a vice president or a dean. We want to make sure that all of those issues are covered, and I think we've done a good job at that.
One higher education policy issue driving some debate in Carson City right now is a bill, SB287, that would formalize UNLV and the Desert Research Institute as land grant institutions, essentially in addition to UNR, which is currently the only federally recognized land grant school.
You're in the unique position of having vetoed a very similar measure from 2017 when you were governor. Understanding that there are some differences between that bill and this year's bill, do you believe that UNR should be the only land grant institution in Nevada?
I don't believe I would phrase it that way, and I didn't phrase it that way when I vetoed the bill. The reason for vetoing the bill was that the land grant status brings with it programmatic federal funding, and it's a little over $2 million. And my concern — at the time in 2017 and the same concern that I have now — is that if you split that three ways, if you split it amongst UNLV, UNR and DRI, then you've suddenly diluted a very scarce resource, which in turn affects the programs that benefit the state through Cooperative Extension.
So for example, in Clark County, the Cooperative Extension serves tens of thousands of students in the Clark County School District. And if you were to dilute that funding, it would affect the ability of cooperative extension to continually continue to serve those students in the same way. And so, there is a proposed amendment that was submitted at the hearing last week, but that amendment does nothing to cure the issue of whether the dilution of those scarce federal funds by designating DRI and UNLV as land grant institutions does not increase the pie. It doesn't allow for more eligibility for more of those programmatic funds, that is fixed. That's a formula that says that it's fixed on the amount of agriculture that's going on in the state and some other factors. And the counties provide the matches to that program, to the Cooperative Extension, so all those formulas and things would be affected.
And again, my concern personally is the effect on the people out there that are being served, that being children, that being people in need of services, that being individuals or entities or farmers in the rural counties in the programs that they benefit from as a result of the Cooperative Extension.
The other part of the conversation is working with the researchers at the DRI, the faculty of DRI, as well as UNLV, there's always an opportunity and we continue to collaborate and work with them in terms of [obtaining] grant funding. So I don't see, at least what has been brought to my attention, that it would really change anything [in regard to federal grants]. UNLV would still be able to go after the grants that it does now, DRI would be able to go after the grants that it goes after now, as well as UNR.
I wanted to ask because I think that this issue in particular has resurfaced a sense of regionalism in Carson City between UNR and UNLV, as both are vying for similar resources. Do you think that there is regionalism between UNR and UNLV in the Legislature that you've seen, either in your time as governor or now as president?
You know, I don't know. Obviously, historically, that has happened. But [UNLV President Keith Whitfield], I've said it over and over again, I wish we could be neighbors, we get along great. We both want what's best for the state. It's really important to me, as governor and even now: this state needs two great research universities, and we're going to continue to collaborate in every way possible. And we did an op-ed a couple months ago in that regard, and we work really hard, and we're working hard with the chancellor, we're working hard with the community colleges, as well as Nevada State College and DRI, to see where all the opportunities are to collaborate.
So I feel like, you know, I don't know, if we're competing for the same dollars, I think that we're different universities and have different priorities. So there are ways to fund all of the institutions so that they complement one another. So I would say, for me, personally, I think you said ebb and flow, I think we're in a flow situation right now, in terms of, of working together, and Keith and I are going to continue to work together as we move forward during our respective tenures as university presidents.
To that point, is the land grant issue, in a sense, UNR and UNLV vying for the same federal dollars?
Well, what it's doing is — I can't say it any different than I said before, is there's a fixed amount of money that we receive, that the state receives, and then the university receives programmatic money associated with this land grant status. As a result of this bill, it will split that three ways and dilute that money which will make, a two thirds reduction I guess you could say from UNR's budget in that regard, which will obviously have an effect on services.
My understanding is that, although UNLV isn't sponsoring the bill, they do support the bill, but it isn't sponsoring the bill. The bill was presented by Sen. Dallas Harris (D-Las Vegas) and then through testimony of Maureen Schafer on behalf of the Council for a Better Nevada, which in my understanding, is the entity that is pushing this bill aggressively.
What, frankly, I would like to see is a study. I mean, there are a lot of issues out there associated with legal issues, as well as funding issues and research issues — who's eligible for what — and there are a lot of unanswered questions. And I think this is an excellent opportunity for there to be a study from between now and the next legislative session, to really go through those issues. And then in the 2023 session of the Legislature, really have a nice background and information that the Legislature would be in a position to make informed decisions on this and more opportunities for UNR, UNLV and DRI to continue to collaborate.
Correction, 4/6/2021 at 4:20 p.m. - An earlier version of this article incorrectly transcribed a quote from Sandoval on the number of guests allowed per student at UNR's graduation as "for guests," rather than "four guests."
The Nevada Independent is raising $200,000 by Dec. 31 to support coverage of the 2024 election.
Tax-deductible donations from readers like you fund this critical work.
If you give today,your donation will be matched dollar-for-dollar.
Give + Get Matched
Featured Videos