Senate Majority Leader Kelvin Atkinson resigns after admitting to misappropriating campaign funds for personal use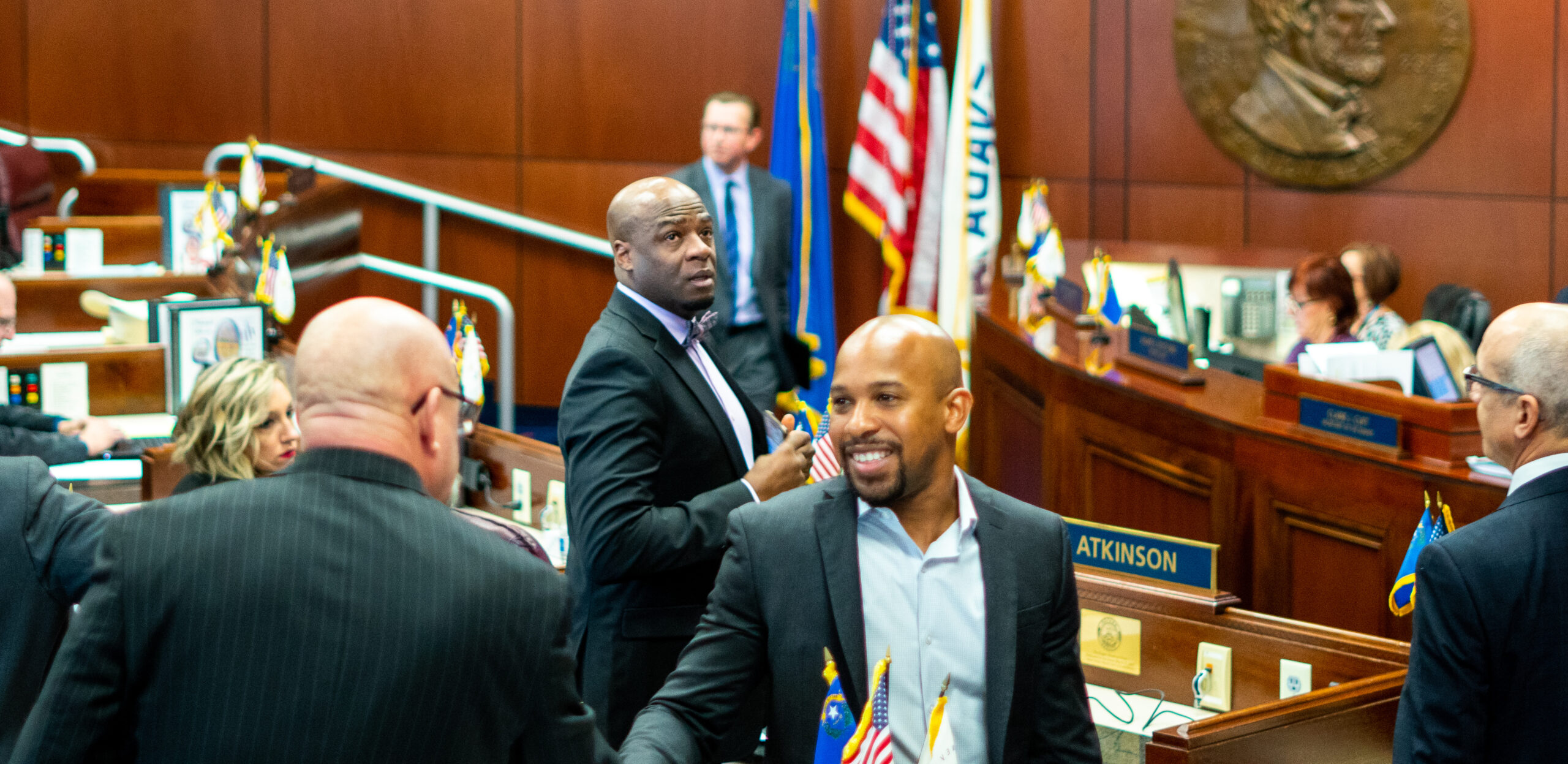 Democratic Senate Majority Leader Kelvin Atkinson resigned from his legislative seat on Tuesday in a tear-filled speech on the Senate floor, announcing he would be pleading guilty to federal charges of misappropriation of campaign funds for personal use and taking "full responsibility" for his actions.
The sudden, emotional resignation marks a precipitous fall for Atkinson, the state's third African-American and first openly gay Senate majority leader. A legislative mainstay, the Las Vegas Democrat was first elected to the Assembly in 2002 and joined the Senate after the 2012 election.
"I hope to have the opportunity to prove someday that this is not who I am, just something I did wrong," he said in a speech on the Senate floor, adding that "I have no one to blame but myself" for the matter. "I just pray that someday I will have the opportunity to contribute to my community once again in a meaningful way."
Atkinson acknowledged in his speech that he had used campaign funds for his personal use and said that he would be "pleading guilty for those actions when that time comes." He declined to comment further on the case before and after the floor session, saying the disposition of the case was not final and he would be referring all questions to his attorney, Richard Wright.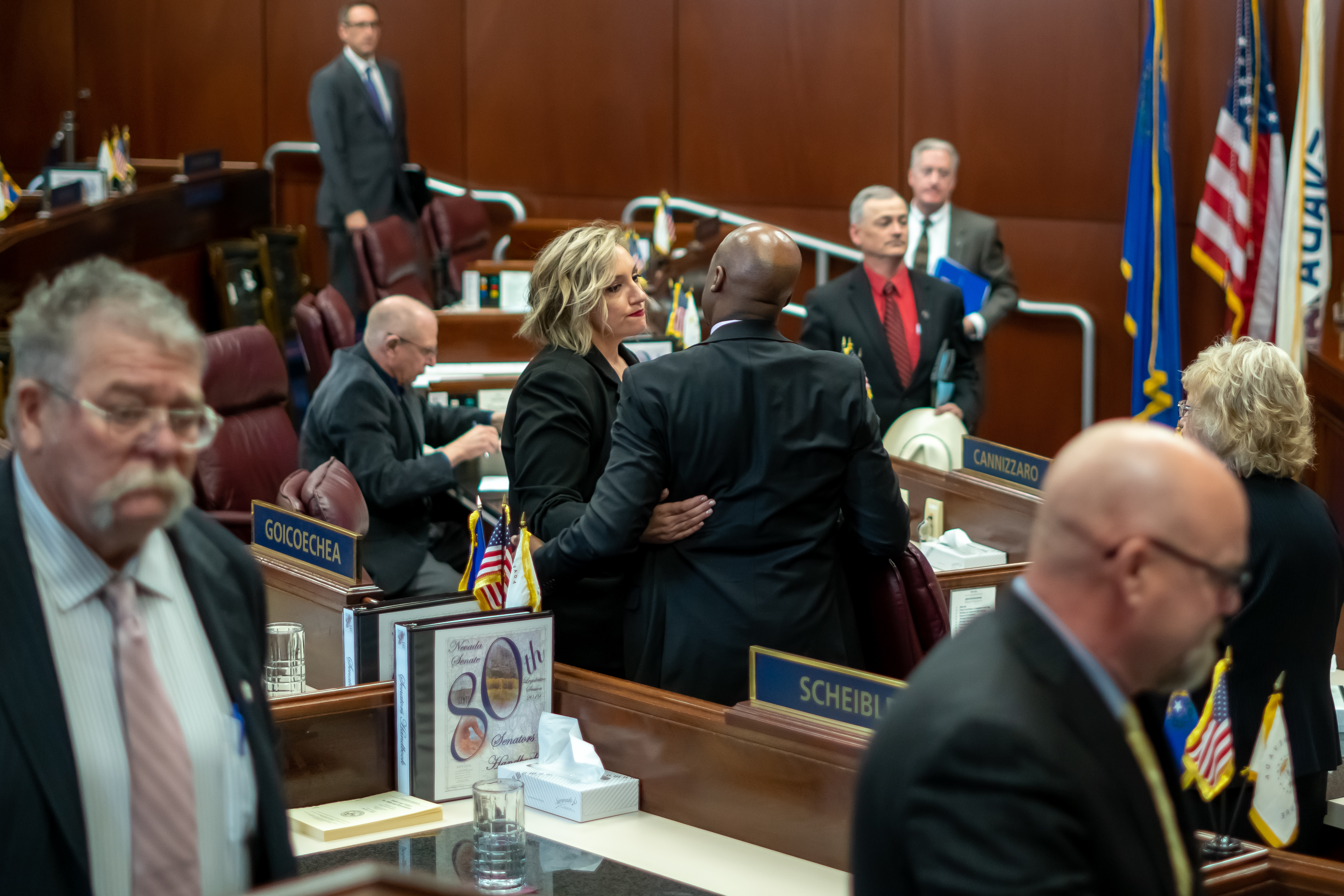 Court documents related to the charges had not been posted online as of late Tuesday morning. Wright said in an email that Atkinson will plead guilty to a federal misuse of campaign funds charge in Las Vegas, which is both a state and federal crime and carries a maximum sentence of up to 20 years.
"I am embarrassed, I am ashamed and I am truly, truly sorry," Atkinson said in the speech. "I pray for your forgiveness."
State Sen. Nicole Cannizzaro, who previously served as Atkinson's deputy, was elected to succeed him as majority leader in a unanimous vote of the Senate Democratic Caucus Tuesday afternoon. In a statement, she said she was "deeply troubled" by the allegations against Atkinson and the circumstances of his resignation but that it was "in no way reflective" of the caucus's values and standards.
"The trust between the people and their government is a sacred bond and must remain strong," Cannizzaro said. "Our Caucus will turn the page and move forward. Voters elected us to go to work and fight for them. We fully intend to spend the next 91 days doing just that."
Members of Atkinson's own party, from Gov. Steve Sisolak to his longtime friend Assembly Speaker Jason Frierson, harshly condemned Atkinson's actions in statements Tuesday morning. Sisolak said that Atkinson had "betrayed the trust of the public" and should be held to account.
"I am extremely disappointed in the news that Kelvin Atkinson misappropriated campaign funds for his personal use," Sisolak said. "This admitted violation of the law goes against the integrity every elected officer in the state of Nevada should uphold."
Sisolak added that he was looking forward to working with Cannizzaro and other legislative leaders "to ensure our state government operates with the high standards of transparency and integrity that Nevadans deserve."
Frierson, in a statement, said he was unfamiliar with the details of Atkinson's case but that he was "disappointed" by his actions. However, he said that Atkinson "appears to be taking full responsibility, as he should."
"Our job is to focus on passing meaningful legislation that helps all Nevadans," Frierson said. "We cannot be distracted from doing the work that voters elected us to do."
Cheryl Bruce, the executive director of the Nevada Senate Democratic Caucus, said in a statement that caucus members were "saddened and disappointed to learn of the circumstances" of Atkinson's resignation.
"The charges levied against him are serious, and allege conduct that we strongly condemn. His resignation is appropriate," Bruce said. "We trust the courts to do justice in this matter. Given what little information we currently have, we won't be commenting on what appear to be ongoing investigations."
Bruce added that the caucus will "continue to focus on fighting for hardworking Nevadans" under Cannizzaro's leadership.
Attorney General Aaron Ford said in a tweet that he is "deeply shocked and saddened" by the revelations.
"He accepted responsibility and justice will take its course," Ford wrote in a tweet. "My family is praying for him and his family during this difficult time."
Atkinson, who was elected to the top legislative post in 2019 after serving as former Senate Majority Leader Aaron Ford's deputy in the 2017 session, had vowed collegiality and to work to improve the lives of homeless youth on his first day as leader last month.
"I ask that we consider our roles, not as politicians or legislators, but as parents, role models and community leaders," he said in an opening speech on the first day of the session. "Consider the progress we can make as a state if we, the most diverse legislature ever, can behave with dignity, respect and tolerance."
Born in Chicago in 1969, Atkinson attended Howard University and lost his father to gun violence while in college. He came out as gay in a speech on the Senate floor in 2013, and became part of the first same-sex couple to marry in Nevada when it became legal in 2014.
Atkinson previously worked as a management analyst for Clark County. In recent years, he opened a downtown Las Vegas bar called the Urban Lounge.
It's the first departure of a Nevada lawmaker in the midst of a session since former Assemblyman Steven Brooks was expelled from the Legislature in 2013 amid ongoing mental health issues. Another former Assemblyman, Morse Arberry, was charged in 2011 with depositing more than $120,000 in campaign funds into his personal bank account but took a plea deal with a six-month suspended sentence.
The resignation leaves Democrats with a 12-8 advantage in the state Senate, though Atkinson's seat may quickly be filled by an appointed senator. The overwhelmingly Democratic North Las Vegas district will be on the ballot in 2020.
The Clark County Commission will appoint Atkinson's replacement, who must be a Democrat and reside within Senate District 4, which includes the Historic Westside of Las Vegas. Assembly members Will McCurdy and Dina Neal serve in the two Assembly districts inside Atkinson's Senate district.
Asked whether they would seek an appointment to the seat, Neal said she wasn't thinking about that right now, and McCurdy declined to comment. Both lawmakers met with Frierson shortly before Atkinson's resignation Tuesday morning.
News of Atkinson's legal trouble comes a little more than a year after Las Vegas City Councilman Ricki Barlow resigned his seat and pleaded guilty to misuse of campaign funds for personal use.
Republican Senate Leader James Settelmeyer, a longtime friend of Atkinson, said he was told the federal investigation stemmed from the federal inquiry into Barlow, though he was unaware of specific details of the case. He stressed that the charges should not be seen as indicative of the behavior of other legislators.
"We have to worry about the institution," he told The Nevada Independent. "This is the exception, not the rule."
Settelmeyer had stronger words in a later statement and suggested that the problems with Atkinson could extend further.
"Senator Atkinson has violated the integrity of our elections and broken the trust of the voters and his colleagues," Settelmeyer said. "We hope this is an exception, but we must get all of the facts and determine how far this corruption goes."
Assembly Minority Leader Jim Wheeler called Atkinson's actions "troubling."
"Criminal behavior has no place in our legislature," Wheeler said. "I applaud the work of our law enforcement and look forward to hearing the final details of this investigation."
Updated at 1:57 p.m. to include a response from Rick Wright. Updated at 2:06 p.m. to add a statement from Attorney General Aaron Ford. Updated at 2:19 p.m. to include details about state Sen. Nicole Cannizzaro being selected as majority leader. 
The Nevada Independent is raising $200,000 by Dec. 31 to support coverage of the 2024 election.
Tax-deductible donations from readers like you fund this critical work.
If you give today,your donation will be matched dollar-for-dollar.
Give + Get Matched
Featured Videos