Sisolak pledges no new taxes, additional education and health-care funding in State of the State address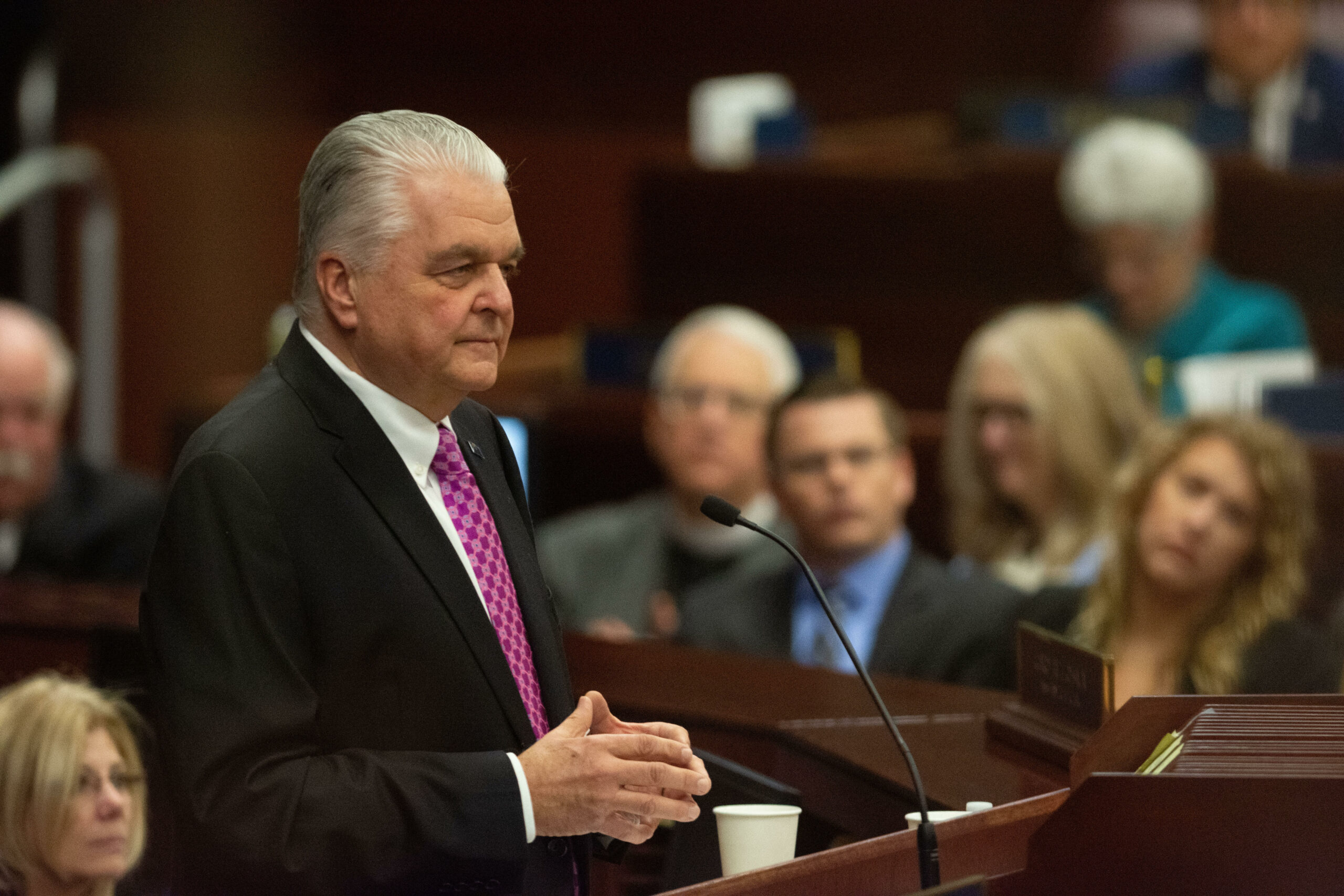 Democratic Gov. Steve Sisolak is calling for a budget tens of millions of dollars above the one proposed by his predecessor, Brian Sandoval, adding a 3 percent salary increase for teachers, higher education employees and state workers, more clinics for people with mental illness and many other new spending initiatives, all without new taxes.
Sisolak unveiled his plan for the state's $8.8 billion two-year budget in his State of the State speech with members of two Democratic-majority houses looking on, setting the stage for a new era of broader Democratic control in legislative and executive branches. The shift in party was obvious in some of the other proposals Sisolak says he'll support, including a minimum wage increase and long-elusive collective bargaining rights for state workers — a proposal that critics in the past have said would cause personnel costs to skyrocket.
"The proposals laid out tonight are presented with the goal of ensuring that every family, sitting around every dinner table, sees the benefit of the economic recovery that those at the top have already felt," he said, according to the prepared remarks.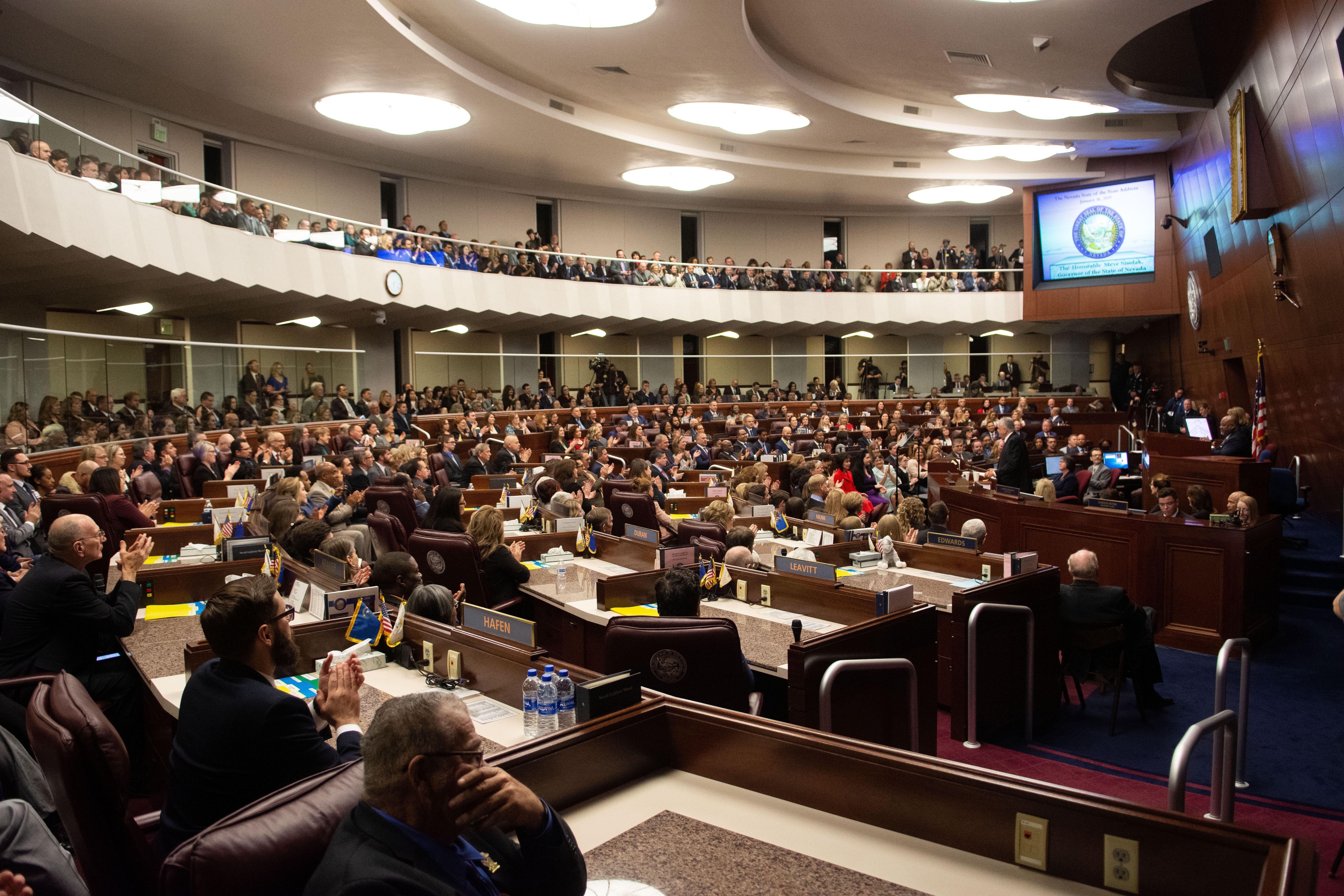 Sisolak also announced that he will appoint a Cannabis Compliance Board, which he said will be the "gold standard" for managing the new marijuana industry, but he offered no details. The first Democratic governor to be elected since 1994 also said he will form a Governor's Office for New Americans, which he said will help immigrants navigate government and assist DACA recipients. And he heralded a new Patient Protection Commission, which he said will "take a comprehensive view of health care in Nevada," although he offered no details.
His team says the extra spending will not include new tax streams but is backed by two primary mechanisms: Keeping the payroll tax rate the same even though it's scheduled to decrease, and keeping money from a vehicle registration tax flowing to the general fund rather than reverting to the highway fund. Those two changes are estimated to keep an estimated $69 million of tax dollars in state coffers.
But Sisolak promised to split with Sandoval in some key ways, including undoing a 2015 change to lesser prevailing wage requirements on K-12 and higher education construction projects, and implementing a slew of election changes including a longer early voting period and allowing voters to register and vote on Election Day.
The speech comes almost two weeks before the start of the 120-day Legislature, where Democrats control both Houses, including a supermajority in the Assembly and one vote shy of two-thirds control in the state Senate.
Here's what Sisolak identified as his major spending and policy priorities:
Education: Sisolak said he supports modernizing Nevada's 50-year-old school funding formula, but he has not settled on an exact method for doing so.
In the meantime, he's making good on a campaign promise by calling for a 3 percent increase in K-12 teacher salaries his first year in office. Teachers already have a 2 percent "merit" increase built in each year as they move up the pay scale, but the boost would be on top of that.
The salary bump comes at a time of simmering tensions in public education. A teacher strike in Los Angeles has so far stretched over three days.
"These are the people that we are entrusting to prepare our kids for the future," Sisolak said, referring to Nevada's educators. "They need to be treated as the professionals that they are and respected for the job that they do."
He is also taking Sandoval's recommendation that the state double the amount of money it spends on the so-called weighted funding formula, which, right now, funnels an extra $1,200 for the neediest students in the most underperforming schools. Instead of $36 million per year, Sisolak wants to spend $70 million toward meeting the funding targets, providing funds for an additional 28,000 students who are performing in the lowest quartile.
As Sandoval suggested, Sisolak plans to continue the so-called "categorical" programs such as Zoom Schools, which provide more money to schools with a high number of English language learners. Taking a cue from Sandoval, he will increase funding to the Read by Grade 3 program to $63.4 million over the two-year budget period, which supports literacy specialists and will soon require children be held back if they can't read at grade level by the end of third grade.
Sisolak is calling for some smaller adjustments, including a $2 million increase in funds to reimburse teachers for out-of-pocket school supply expenses and continuing funding for preschool development as a federal grant phases out.
The state will have to pay nearly $9 million to Washoe County School District to compensate for the state's improper accounting of students who enrolled in online schools rather than attending the school they are zoned.
On the higher education side, he called for funding and expanding Nevada scholarship programs, including applying $4.5 million to the Nevada Promise Scholarship that seeks to make community college free. He is raising funding for career and technical education by $1 million.
Health care: Sisolak said he would work with Attorney General Aaron Ford to ensure the state defends the Affordable Care Act and coverage for people with preexisting conditions.
"We have to make sure that quality health care continues to be offered to every Nevadan, not just those who can afford it," he said, before commending one of Sandoval's health-care decisions. "Our state took an incredible step when we expanded Medicaid. It gave the chance for hundreds of thousands of Nevadans to go to the doctor and gain the coverage that they needed."
To bolster mental health care, he wants to increase the number of community behavioral health clinics from three to 10, and he wants to increase the hours of mobile mental health crisis units.
Sisolak invoked the story of Nikki Yowell, a Winnemucca resident who lost her husband to substance abuse and traveled to the speech with her son, Kayden.
"What Nikki and Kayden have faced is unimaginable — but sadly, it's all too common," he said.
In the speech, Sisolak called for a hike in the Medicaid reimbursement rate for neonatal intensive care units. Sunrise Hospital recently launched a campaign seeking more money to care for vulnerable babies.
Sisolak also vowed to spend $3 million a year on family planning services, to reduce the waitlist for autism therapy and create a Patient Protection Commission to address a variety of health policy issues.
Wages and labor: Sisolak pledged to sign a bill increasing Nevada's minimum wage by an unspecified amount. The state's current minimum wage is set at $7.25 an hour for workers offered health insurance by their employers, and $8.25 for those that are not.
The governor called $7.25 an hour an "impossible" wage for an individual person or family to live off in this day and age. The last increase in the minimum wage came in 2006, when voters approved a constitutional amendment raising the wage to its current levels.
The governor also said he would support signing a paid leave program for private sector Nevada workers.
And in what is sure to become a major battle between Democrats and Republicans, Sisolak said he would sign a law eventually allowing state workers to collectively bargain "in the years ahead."
He also proposed a 3 percent pay increase for state employees during the first year of the budget cycle.
"During the Great Recession, many of them took pay cuts — or went without salary increases — but they continued to faithfully serve the state of Nevada," he said. "Their skills, knowledge, experience, and devotion have been invaluable to our state."
Prevailing Wage: In a departure from Sandoval, Sisolak said he plans to reverse the 2015 law, passed when Republicans controlled both houses, regarding prevailing wage for K-12 and Nevada System of Higher Education construction projects. The concept of a "prevailing wage" requires that contractors awarded construction bids from government agencies pay workers equal to the hourly wage paid to the majority of workers in that field in the same geographic area, as determined by the state Labor Commissioner.
Sisolak said he plans to reverse provisions requiring workers on school construction projects be paid 90 percent of prevailing wage, resetting the law back to how it was prior to 2015. He characterized it as a safety-related decision.
"Not only do prevailing wage jobs support highly skilled workers in Nevada, they guarantee our children are learning in a well-constructed, high-quality educational facility," he said.
Rainy Day Fund: Although Sisolak lauded the state's economic progress and recovery under Sandoval, he noted that the state had often failed to place adequate funds in its Rainy Day Fund.
"This isn't only the fiscally responsible thing to do, it's the right thing to do," he said. "Besides, how can we tell our children to save their money for a rainy day if our government doesn't even do it themselves?"
Sisolak said his budget would call for $45 million each year of the two-year budget cycle to be placed in the state's reserve fund. Thanks to recreational marijuana tax revenue diverted to the fund, the Rainy Day Fund now holds in excess of $293 million.
Energy: The new governor said he will at a minimum sign legislation increasing the state's Renewable Portfolio Standard (RPS) — a state mandate requiring energy providers procure a certain amount of electricity from select renewable sources —  to 50 percent by 2030. But he's leaving the door open for a larger increase.
A proposal to raise the RPS to 40 percent by 2030 was vetoed by Sandoval at the end of the 2017 legislative session, but a ballot question placing in the Constitution a 50 percent RPS over the next decade won support from nearly 60 percent of voters in 2018. (It must pass twice to take effect.)
Sisolak has previously indicated his support for the ballot question, and recently signed on to a League of Conservation Voter pledge to eventually move to 100 percent clean energy. NV Energy, the state's largest electric utility, has said it supports a 50 percent RPS, but lawmakers including Democratic Senate Majority Leader Kelvin Atkinson have said they plan to push for a 100 percent renewable standard.
Sisolak also said the state needs to "recognize the serious environmental threats" posed by human-driven climate change, and that he "will not spend a single second debating the reality of climate change."
"Climate change is real, and it is irresponsible to ignore the sciences that proves it — and the lives it has already impacted and upended, especially across the West," he said. Sisolak also said he'll continue to strongly oppose any attempts by the federal government to store spent nuclear fuel at the shuttered Yucca Mountain facility.
Guns: Although federal efforts to ban bump stocks — replacement devices for semiautomatic weapons that mimic the fire of automatic weapons — are advancing, Sisolak said he will sign a bill outlawing the accessories in the state.
Sisolak also said he will support policies that would prevent people subjected to restraining orders from purchasing firearms.
He also pledged to implement the state's stalled background check initiative, which would require the vast majority of private party gun sales and transfers first undergo a background check. Although narrowly approved in the 2016 election, the measure has never been implemented due to refusal of the FBI to implement the background checks.
"It's long past time we listen to the voters and enact these changes because
background checks save lives," he said.
Marijuana: Sisolak's team said the governor plans to sign an executive order next week creating the Cannabis Compliance Board, which would seek to bring the "gold standard" regulation of gaming to the legal marijuana realm.
His staff emphasized that he supports more transparency and a fair fee structure for cannabis.
"We will manage and grow this new industry — another pun — strictly and fairly and in a way that our state can be proud of," he said.
Meals on Wheels: Sisolak said his budget calls for an increase of $800,000 to the Meals on Wheels program, which provides free meals to elderly people, which he said will eliminate the program's current wait list and feed more than 8,700 seniors.
Housing: Sisolak is calling for a $10 million a year affordable housing tax credit program to spur the creation and development of affordable housing as the state's residents struggle with fast-rising home prices.
"This, alone, won't solve our housing crisis — but it's an important first step," he said.
He also pledged to support legislation creating a Small Business Advocate in the office of the lieutenant governor.
Voting: Sisolak also said he will support an expansion of the state's early voting period, as well as allowing "same-day" voter registration. The state's current early voting period runs for two weeks prior to the primary and general elections.
Sisolak also said he will work with Republican Secretary of State Barbara Cegavske to implement the voter-approved initiative requiring automatic voter registration when a person uses certain Department of Motor Vehicles services, such as applying for or renewing driver's licenses.
He also promised to put an undetermined amount of funding toward helping the state comply with the upcoming 2020 Census.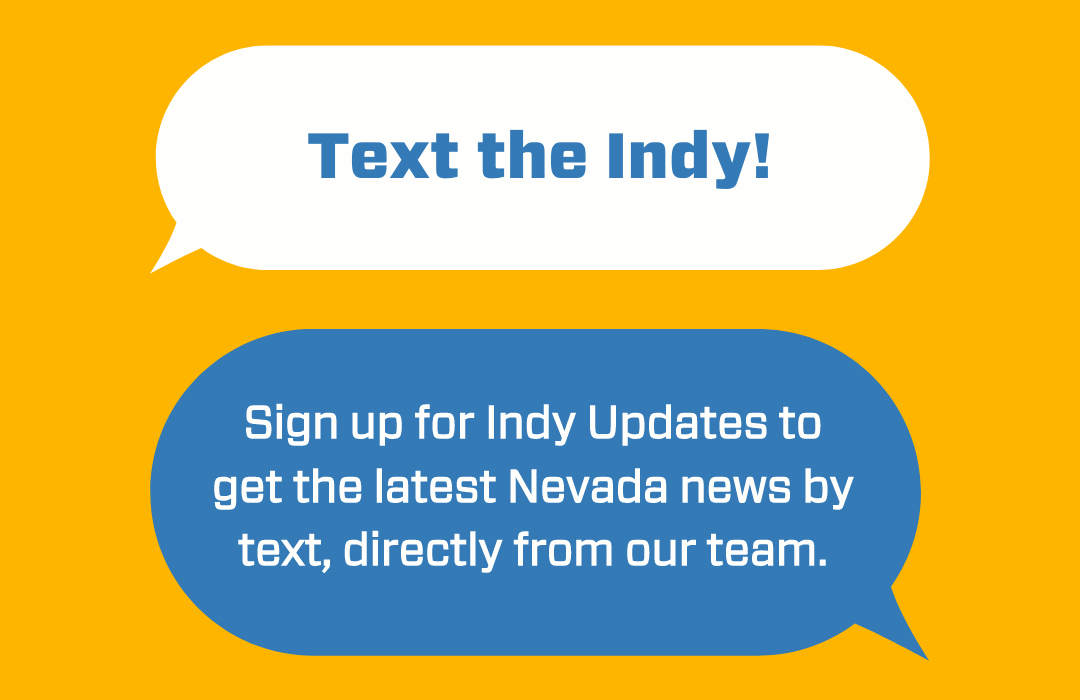 Featured Videos