Democratic Assembly Speaker Jason Frierson at the Legislature on Feb. 6, 2017. Photo by David Calvert.
After decades of 'tough on crime' policies, Democratic lawmakers attempt to reshape criminal justice system
For a recap of the host of the criminal justice reform bills this legislative session, click here.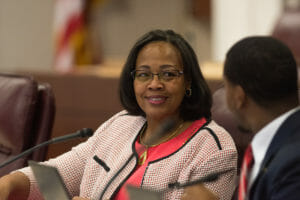 For a former North Las Vegas corrections officer, Democratic Assemblywoman Daniele Monroe-Moreno is surprisingly not jaded.
She gets emotional when she recalls running into one of her former wards at the gas station, four years after he got out. He told her he was high as a kite and combative and she slammed him to the ground when he first arrived at jail, but she also reminded him that he had children and they wouldn't want to see him this way.
That reminder — and other gestures of care and kindness from the people tasked with guarding him —  helped him get back on track, regain custody of his children and reconcile with his wife. He asked if he could give her and her partner a hug, right there at the gas station.
"At the end of the day, every person that comes into jail is a person. They're someone's son or daughter, mom or dad. They're people," Monroe-Moreno said in a recent interview. "You just can't forget that inmates are humans. And some days that's harder than others."
The freshman assemblywoman's bills this session are part of a broad spectrum of proposed criminal justice reform legislation spearheaded by Democratic leaders who say the system disproportionately ensnares the poor and minorities, and is more preoccupied with punishing and marginalizing offenders than restoring them.
It's a politically fraught campaign. Opponents have labeled 2017 as "the session of the felon" and criticized Democrats for being too soft on crime and failing to acknowledge the pain offenders have inflicted on their victims. Many of the bills have scraped by on party-line votes, and with a Republican governor, it's still unclear how many of the proposals will become law.
But proponents think that small tweaks at each juncture of the criminal justice system — from before an arrest to bail-setting to release to applying for a job again — can reverse deeply entrenched problems in the system.
"There's not one big bill or one fix," Monroe-Moreno said. "It's baby steps in the right direction, and those baby steps are working together for the common goal."
From 'tough' to 'smart' on crime
The so-called "War on Drugs" started in the 1980s.
Basketball star Len Bias's 1986 cocaine overdose was the trigger, setting off a national panic that ultimately led to congressional Democrats pushing through a drug bill that introduced mandatory minimum sentences. The provisions in that law, the Anti-Drug Abuse Act of 1986, worsened racial disparities, led to annual federal prison admissions tripling and — along with recent events involving police use of force, including police shootings of black men — created an overall climate of fear and mistrust that came to a fore in anti-police riots in Ferguson, Baltimore and across the nation in 2014.
When attempts were made over the years to ameliorate some of the racial disparities, they often fell flat. In 1995, the U.S. Sentencing Commission recommended that Congress reduce prison terms for people arrested for crack cocaine offenses, who are predominantly African American, to bring them more in line with powder cocaine offenses. The proposal was rejected by congressional Republicans and President Bill Clinton.
But attitudes toward crime started to change in the mid-2000s, among Republicans and Democrats alike.
President George W. Bush in his 2004 State of the Union address proposed a prisoner rehabilitation initiative to expand job training and placement services, transitional housing and mentoring for help newly-released prisoners. That proposal became the Second Chance Act, which allocated $362 million to help with re-entry programs and was signed into law by Bush in 2008.
In 2010, President Barack Obama signed into law the Fair Sentencing Act, reducing the disparity between sentencing for crack and powder cocaine from 100:1 to 18:1 — 15 years after Congress and Clinton rejected the concept.
Three years later, U.S. Attorney General Eric Holder called for major changes to the nation's criminal justice system, including reducing the use of harsh sentences for certain drug-related crimes, and branded it the "Smart on Crime" initiative.
But in 2017, the fading "War on Drugs" appears to be making a comeback. Attorney General Jeff Sessions, in a memo issued Friday, reversed Holder's policy by directing federal prosecutors to charge defendants with the most serious, provable crimes with the most severe penalties.
"We are returning to the enforcement of the laws as passed by Congress, plain and simple," Sessions said in a Friday speech. "If you are a drug trafficker, we will not look the other way, we will not be willfully blind to your misconduct."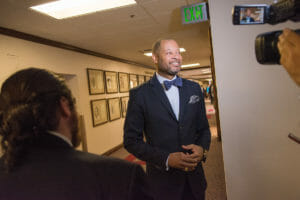 It's against this backdrop that Democratic Senate Majority Leader Aaron Ford and Democratic Assembly Speaker Jason Frierson, the first two African American legislative leaders to serve concurrently, are pushing for criminal justice reform in Nevada. Frierson has worked on both sides of the criminal justice system, as both a prosecutor and a defender, and it's an issue Ford says he's thought about his entire life.
"This is deeply held in my mind. I'm 44, going to be 45 in a couple of weeks, and I think the vast majority of my life I've always been conscious about the system — conscious about the way it has affected broad swaths of society," Ford told The Nevada Independent. "And, by the way, there's a racial tinge to it, but it's beyond race. You have a socioeconomic component associated with it as well."
Ford and Frierson have a tough hill to climb to implement various reforms this session, from expanding education in prisons to restoring voting rights for ex-felons. Republican Senate Leader Michael Roberson, who coined the "session of the felon" moniker, spars with Ford over penalty-easing bills in the Senate Judiciary Committee and is conspicuously shepherding a Victim's Bill of Rights through the Legislature, bluntly rejects the Democrats' efforts.
"I guess it's their world philosophy," Roberson said. "They want to support criminals. They want to support felons. They are anti-law enforcement. They are anti-victim."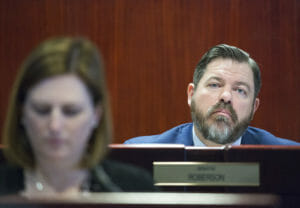 In spite of Roberson's pronouncements, it's not impossible for Democrats to find some Republican buy-in. Some conservatives have embraced criminal justice reform as part of the "Right on Crime" movement, which focused on the cost of incarceration and whether the criminal justice system is effective in improving public safety.
Even Generation Opportunity, a group affiliated with the conservative billionaire Koch brothers, supports comprehensive criminal justice reform and has testified in favor of Ford's bill to restore civil rights to ex-felons.
"We called it 'Smart on Crime' over the years. I think in other states they've called it 'Right on Crime' as a more Republican agenda," Frierson said. "I don't care what they call it — it's good policy."
Other Republicans, including Assembly GOP Leader Paul Anderson, say they're at least open to the conversation. Anderson said he's hopeful that some of the criminal justice reform bills that passed out of the Assembly on a party-line vote — such as a bill that would allow prisoners to use electronic devices in their cells for job hunting and classwork — would be amended in the Senate, and more Assembly Republicans could support them on the second go-around.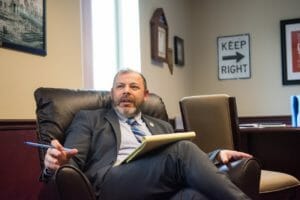 "Some are very strategic versus just direct policy, meaning the policy is not there today and so I can't say yes today," Anderson said about the split votes. "I hope they can get it fixed and, if they can, I'm happy to support it."
Nevada's wakeup calls for criminal justice reform
Nevada faced a wakeup call over its prison practices in 2014, when news broke that a handcuffed inmate who had died at High Desert State Prison was actually killed at the hands of a correctional officer using a shotgun within the prison walls.
The jarring use of lethal force prompted a lawsuit from the inmate's family, an investigation and an outside review of practices in the state's prison system by the Association of State Correctional Administrators. The tardiness of that report is a reason Gov. Brian Sandoval cited for seeking the resignation of the then-director of the prison system, Greg Cox.
The final report recommended Nevada move away from using birdshot and shore up its policies for de-escalating fights in its prison.
"Nevada was probably at least 10-20 years behind the times in terms of best practices as compared to other major jurisdictions throughout the nation," said Deputy Director David Tristan, who came in 2016. "It was a dramatic change from what had been here before as compared to what it is now."
Soon after the recommendations came out, Sandoval appointed a new director — James Dzurenda, who has worked in Connecticut and New York correctional systems. Among his first moves were eliminating the use of birdshot and changing to agency's mission statement to effect "a needed culture shift in Nevada Corrections."
The old statement emphasized the department would monitor and supervise offenders assigned to them from court. The new statement set more lofty goals: "The Nevada Department of Corrections will improve public safety by ensuring a safe and humane environment that incorporates proven rehabilitation initiatives that prepare individuals for successful reintegration into our communities."
The department has also been frank about its practice of locking up seriously mentally ill inmates in segregated units in Ely State Prison, far from where they could get intensive treatment.
"The conditions that existed in Nevada DOC at the time that the director and I arrived here were, in my opinion, unconstitutional," Tristan told lawmakers in a public hearing in February. "I can say that the staff at these places where these inmates were housed were doing their absolute level best to provide the most humane level of care they could, given their resources. Nonetheless, that was excessive beyond anything that I've ever seen."
Tristan has moved the seriously mentally ill inmates to a special psychiatric unit in the Northern Nevada Correctional Center in Carson City. There are also legislative efforts underway to enshrine the new policy — avoiding putting seriously mentally ill inmates in segregation simply because of their psychiatric condition — in state law lest a less progressive leadership take over at the agency.
Elsewhere in Nevada's criminal justice system, culture shifts are taking hold. A 2011 Las Vegas Review-Journal investigation into the Las Vegas Metropolitan Police Department's use of deadly force led to intervention by the U.S. Department of Justice and the creation of policies that are now a national model.
And the orderly rollout of medical marijuana dispensaries, authorized by the Legislature in 2013 and regulated with the meticulousness characterized by the state's "gold standard" casino regulation, has built public confidence in how the state might look if it eases up its marijuana laws.
In spite of changes that draw praise from lawmakers and groups such as the American Civil Liberties Union, there's still much cause for concern. Corrections officials have sounded alarms as the prison system bows under the weight of overcrowding, prompting them to seek relief in out-of-state private prisons.
The Department of Corrections struggles to recruit and retain officers with its relatively low wages, even in spite of the governor's plan to give them a special pay raise of more than $1,600 a year, and the agency had 158 vacancies as of early May. Local police agencies that are also on a hiring spree are having trouble with the same thing in spite of their much higher wages, perhaps because of a national mood that's put them under increasing scrutiny.
"I can tell you that I struggle to compete with other agencies given my low pay," said John Borrowman, NDOC's deputy director of support services, adding that the planned pay raise would give a morale boost if nothing else. "Dollars are fairly immaterial but the message is huge and that's what we are going to amplify. The governor recognizes the importance of the correctional officer for the safety of the community inside the wall and the safety of the community outside the wall."
And the lack of seamless cooperation between the prisons and parole and probation can lead to bottlenecks that prevent prisoners from re-entering the community. Some think that could be fixed if both agencies are grouped under the same administrative umbrella, so prisons don't try to push people off on the parole division and the parole division doesn't try to push people back onto the prisons in an effort to decrease their workload.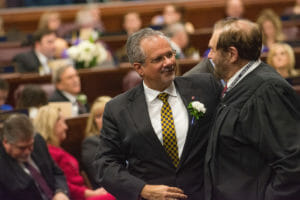 "They're just looking to put as many people away as possible," Democratic Assemblyman Ozzie Fumo, a criminal defense attorney, opined about the parole agency. "And there's a financial theory behind that -- If someone has probation, they now have to monitor them. If someone gets to be incarcerated, they're off their books."
Democrats plot reforms across the spectrum
Democrats say criminal justice reform is a theme for the session — while it's a single, low-key bullet point in their "Blueprint" policy agenda, it's the focus of dozens of diverse bills.
"Our criminal justice system is in shambles. And so there have to be conscious efforts made to undo some of the problems that exist because of the way our system is set up in the first place." Ford said.
One effort is to vacate convictions related to marijuana after voters opted in November to decriminalize recreational pot. There have been 23 marijuana-related bills up this session doing everything from authorizing lounges where pot-smoking is allowed to prohibiting licensing boards from punishing people who use cannabis oils in massage.
The sheer number of bills is evidence of how much work must be done to roll back decades of anti-marijuana policy, Ford said.
"The criminalization of marijuana was so institutionalized that it permeates other areas of the law," he said.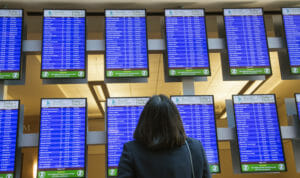 If an arrest is unavoidable, Democrats want to at least ensure there's fairness in the bail-setting process — especially for the poor, who have a tough time paying any bail at all and risk being stuck in jail, losing their job and digging themselves further into a hole. Fumo is co-sponsoring a bill that would require a judge to consider creative, non-monetary conditions to ensure someone actually shows up for their next court date if they're released.
"It's the poor, the disenfranchised, who can't afford bail," Fumo said. "Whether the judge gives them $100 bail or $1 million, it might as well be $1 million because they don't have the money."
Numerous bills propose diversion programs, which give people substance abuse treatment, housing support and other resources they need to stay out of trouble instead of putting them in jail. Those "specialty court" programs are targeted to people who are mentally ill or veterans, and an effort underway this session aims to expand the diversion efforts to municipal courts rather than just the district courts that handle more serious offenses.
Democrats want to improve the prison experience through bills doing everything from reining in the use of solitary confinement to allowing prisoners more access to computers and phones so  they can apply for jobs and maintain relationships with their family members. The latter has become politicized, with opponents dubbing it the "iPads for prisoners" measure and saying it could make prison too comfortable or give wily offenders another opportunity to get in trouble.
"It is an issue that has had some sensitivity to it. There is concern that what if they modify this instrument so that they can get online and possibly contact victims," Tristan said. "I think we've been trying to address those issues so there's a comfort level by the Legislature."
One measure would boost the College of Southern Nevada's offerings behind bars, and another seeks to offer vocational training to offenders so they can quickly transition into a trade upon their release. Proponents say such training could help smooth the re-entry process and reduce the chances that someone will violate parole or commit another crime and come back into prison.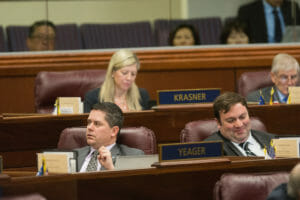 "The two biggest things in terms of people's success out of prison are, number one, housing. And, number two, having employment," said Democratic Assemblyman Steve Yeager, who chairs the Judiciary Committee that's handling many of the bills and is a chief public defender with the Clark County Public Defender's Office. "And if we can get those two nailed down, those are the two biggest predictors of whether someone's going to re-enter the system."
But an ex-felon has a tough time getting a job if their criminal record is front and center, especially when the economy slumps and competition grows. That's why there's significant emphasis this session on sealing criminal records so they don't show up in a background check after a period of time.
The existing process is cumbersome. Many legislators who are also lawyers say they've participated in daylong clinics to help ex-felons seal their records on-site, but have struggled to help even one person carry out the process even when all the needed resources — lawyers, judges, the people who monitor the background check repository — were all in one room.
"It's so convoluted, it's almost nonexistent," Yeager said of the current record-sealing law.
While many bills on criminal justice reform measures are moving forward, some of the heaviest lifting has yet to be done. A bill to reduce the severity of burglary charges hit a wall with Republicans who thought it took things a bridge too far.
What has real potential for change, said Holly Welborn of the ACLU of Nevada, is a proposal to create a Sentencing Commission that could meet in the two years between legislative sessions to conduct a thorough review of all crimes in Nevada and their minimum penalties. The outcome could be a new sentencing scheme that could reduce the amount of time people spend incarcerated for certain offenses and could make a dent in the prison population.
"Right now, it's just kind of arbitrarily applied. You know, B category offense and A category offense because we're responding to the emotional aspects of a crime," Welborn said. "It becomes a problem when really it hasn't been proven to have any kind of deterrent value. And, that's why we're seeing prison overcrowding because people are being sentenced to 15, 20, 25 years to life for crimes that maybe they shouldn't be."
For law enforcement, change has to come as a balance — helping people who made a mistake get their lives back on track while ensuring that repeat offenders who take advantage of the system stay behind bars, particularly given the recent increase in crime Las Vegas has seen over the last year.
"Yes, let's give people a second chance. Maybe a third chance," said Chuck Callaway, the lead lobbyist for the Las Vegas Metropolitan Police Department. "But a fourth, fifth, sixth, seventh chance? You know, at some point you have to stop certain people who are a part of that small number of repeat offenders from victimizing people."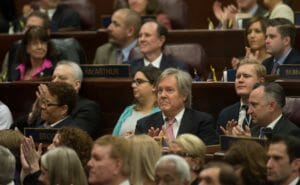 It's clear that change won't come overnight. Democratic Sen. Tick Segerblom, who chairs the Senate Judiciary Committee that's handling many of the criminal justice reform bills, says efforts so far are "baby steps" and it's tough to accomplish sweeping sentencing changes in a 120-day, biennial legislative session.
"Unless someone comes forward and says we've looked at all these things and here's what we should do, it's difficult for us as legislators to start going through each statute and say, 'let's take this and do that," he said. "At the end of the day, it takes an interim committee or an interim process to take that to the Legislature, as opposed to doing it in the four months."
State fighting overcrowding, prison release backlog
In spite of Democratic lawmakers' best intentions, there's no easy solution for Nevada's prison crowding problems. Corrections officials have testified that they have inmates housed in sub-par buildings, sleeping on floors and living in converted activity rooms.
Democratic lawmakers including Assembly Speaker Jason Frierson have pushed back against the state's statistics on available beds. The agency is using a new measurement system this session, and there's a lot at stake — the lack of available beds is the key rationale for the state to send up to 400 inmates to out of state private prisons on a temporary basis.
"I am adamantly opposed to private prisons existing," said Ford, echoing sentiments of other Democrats who say the institutions are focused on a profit margin rather than the purer goal of the public good. "I think that it's a bad model."
But even the more progressive leadership at the agency doesn't want private prisons out of their toolkit. They want to use them to house inmates while a ramshackle wing of one of their prisons is brought back up to code, and fear that getting too creative with where to place inmates within existing prisons will take important spaces out of commission or create unmanageable situations for correctional officers.
"At Warm Springs (Correctional Center), we have two day rooms that are being used for housing units. We have two day rooms left. We have a federal grant for substance abuse. If we put prisoners in those day room, there isn't any space available for the drug treatment program and that means we lose the grant funding," Tristan said.
"It's not a matter of we want to get rid of the inmates. It comes with a lot of headaches. We're only doing it because ... this is an absolute necessity for us," he added.
It's only a matter of time before Nevada will have to build more prison space, corrections officials said. The governor's budget proposal includes money to start the planning process for a "T building," which could be placed at one of several of the existing prison complexes and would house 282 inmates.
Such a building would cost about $41 million to build and another $1.6 million each year to operate. Construction is expected in mid-2019, although the need for the wing could be delayed if reform measures in the budget are as successful as hoped.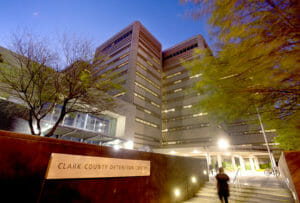 Those reforms include embedding parole officers in Nevada prisons, where they can make appointments with inmates who are about to be released and help them design a workable post-release plans. Officials say hundreds of inmates are eligible for release but are still in prison because they don't have viable housing or other arrangements on the outside.
Right now, inmates write plans that are forwarded to parole agents, who then approve or deny them. The new system would cost $850,000, but would bring the two sides closer together for more streamlined collaboration.
"We do have staff that go out to facilities right now and provide almost a town hall meeting setting where they'll meet with inmates and they'll discuss parole and planning for release and answer questions that inmates might have about parole," said Capt. Shawn Arruti of the Division of Parole and Probation. "But it's not to the level we're looking at with what we're going to be doing with these embedded specialists."
That goal is also central to the effort to move the Division of Parole and Probation out from under the umbrella of the Department of Public Safety, which now oversees the Nevada Highway Patrol and the Division of Emergency Management. The division would become a part of the Department of Corrections instead.
Moving inmates on to parole is not necessarily the cheapest option for the state in the short term. It's easier to monitor inmates in a densely populated prison building, and more labor-intensive to monitor a larger group of them spread out through the community while they're on parole.
There's also not a serious cost savings for prisons until there are enough inmates released to decommission an entire housing unit. Neither agency could provide an exact estimate of how many prisoners they expected to release as a result of legislation and budget initiatives, or how much that would save.
"It is cheaper to keep them in the prison, but the problem is that that goes on forever and if I never let them out of my prison, I'll be building new housing units," Tristan said. "It is worth doing if we can avoid doing more housing units."
For offenders, especially sex offenders who are the hardest to place, Sandoval's proposed budget calls for allowing more house arrest options, where people could live at home and hold a job while subject to GPS monitoring. It also calls for "day reporting centers," where parolees who are having trouble sticking to the conditions of their parole can spend the day and get counseling and other services.
Those new initiatives could serve as an intermediate level of supervision, so parole officers have more options aside from sending more difficult-to-supervise offenders straight back to prison.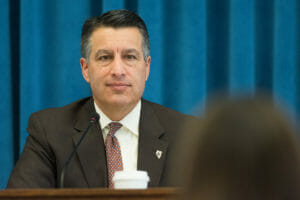 "Gov. Sandoval, before he became Gov. Sandoval, was a federal judge and he understands the importance of a strong criminal justice system and he understands the importance of rehabilitation and re-entry when it comes to offenders," Arruti said. "I think what you see in the executive budget right now is an acknowledgement that a strong criminal justice system means a strong investment in the re-entry piece and into rehabilitation."
Heading toward the finish line
The biggest question that remains is which, if any, of Democrats' policy priorities Sandoval will be willing to sign off on.
Take, for instance, the two bills to restore voting rights to felons sponsored by Ford and Frierson.
Under current law, ex-felons who have been convicted of lower-level crimes, like forgery or certain drug possession, can have their voting rights immediately restored upon release from prison or after receiving a so-called "honorable discharge" from probation or parole. That means they passed drug tests, made curfew and paid all necessary restitution.
Ford's bill, SB125, would require certain lower-level offenders' rights to vote and serve as a juror on a criminal or civil action to be restored after they complete one year of their term of probation. The legislation also revises the period a person must wait before being authorized to petition the court to seal his or her records related to the conviction.
Frierson's bill, AB181, would allow individuals who were convicted of two or more felonies to have their rights to vote restored immediately after discharge from probation, parole or prison, and those who were convicted of a category A felony or category B felony involving substantial bodily harm to have their right to vote restored after two years. It also allows someone who is dishonorably discharged from probation to have his or her civil rights restored, and restores rights to those who have not had their rights restored and are not on probation, parole or serving a sentence as of October 1, 2017.
Frierson's bill has yet to receive its first floor vote, while Ford's bill passed on a 12-9 party line vote last month and passed out of the Assembly Corrections, Parole and Probation Committee in a 10-3 vote, with Republican Assemblywoman Lisa Krasner joining Democrats in supporting the bill.
Frierson said that he is "working hard" with Assembly Republicans to come up with compromise language that they're comfortable with. That includes overcoming the concerns Gov. Brian Sandoval raised in his veto message on similar legislation in 2011 that would have automatically restored voting rights to individuals upon completion of any felony sentence of imprisonment, probation or parole but did not alter the restoration of rights to serve as a juror or hold office, which only happen after a certain period of time.
"Like these rights, the right to vote is a privilege that should not lightly be restored to those few individuals who commit the most egregious crimes in our society," Sandoval wrote.
Asked in early March what he thought about the proposed legislation, Sandoval said that justice and the justice system are things he has told Frierson that he looks forward to working on together.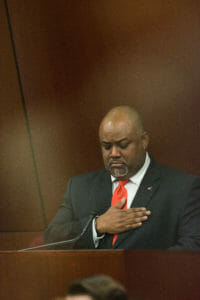 Frierson said that there were "justifiable concerns" about how far the previous legislation went and that he wants to address those concerns to provide the governor assurance that more serious offenders are being treated more seriously, while ensuring that someone who made a mistake shouldn't be precluded from voting for the rest of his or her life.
"I've spoken with members of the Assembly Republican Caucus who are interested and still need some massaging and we're still doing on that — I worked on a draft just today," Frierson said recently. "The governor's office is interested and open to the conversation as well — I think that over  in the executive they certainly appreciate that I wasn't going to put them in a position of contradicting their own veto message. So I want to shape something that makes sense that addresses their concerns."
But the governor has said little about which criminal justice reform efforts he's comfortable with, if any, beyond juvenile justice reform. The governor has sponsored a bill, AB472, that creates the Juvenile Justice Oversight Commission, which will administer a technical assistance grant from the Council of State Governments Justice Center to undertake a comprehensive review of the Nevada's juvenile justice system.
"The governor has made juvenile justice reform a top priority of his legislative agenda. There are currently at least two major juvenile justice measures moving through the legislature," his office said in a statement. "The governor will monitor the debate and whether any substantive amendments are made to his bill. He will make a final decision on these bills if they reach his desk."
There has also been talk of how criminal justice reform factors in the 2018 election. Roberson, thought to be considering a bid for lieutenant governor, has been shaping himself into a "tough on crime" candidate throughout the legislative session, while Ford is purportedly mulling a bid for attorney general, for which he will need the support of law enforcement.
But Ford, for one, says he is focused on this legislative session.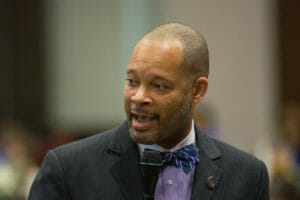 "I am completely wedded to ensuring that the people who elected me to come here and that this caucus that elected me as leader get their full attention from me and that's what my focus is on," Ford said. "And by the way, I don't think if I were to run for attorney general that my votes are mutually exclusive from my job — whatever it might be in the future."
As far as what the near-term future holds — which pieces of the criminal justice reform will become a part of final negotiations with Republican leadership and the governor — mum's the word for now.
"Is this going to be a tit for tat on the last day? I hope not. I hope that before we get there we can kind of agree on values that we share," Frierson said. "I don't know that we're going to have a lot of party line things advancing, so we're going to have to work together to get some buy-in and I think we're doing that."
Comment Policy (updated 10/4/19): Please keep your comments civil. We reserve the right to delete comments or ban users who engage in personal attacks, use an excess of profanity, make verifiably false statements or are otherwise nasty.