Democratic lawmakers call for 'substantial' raises as Clark County teacher pay talks stall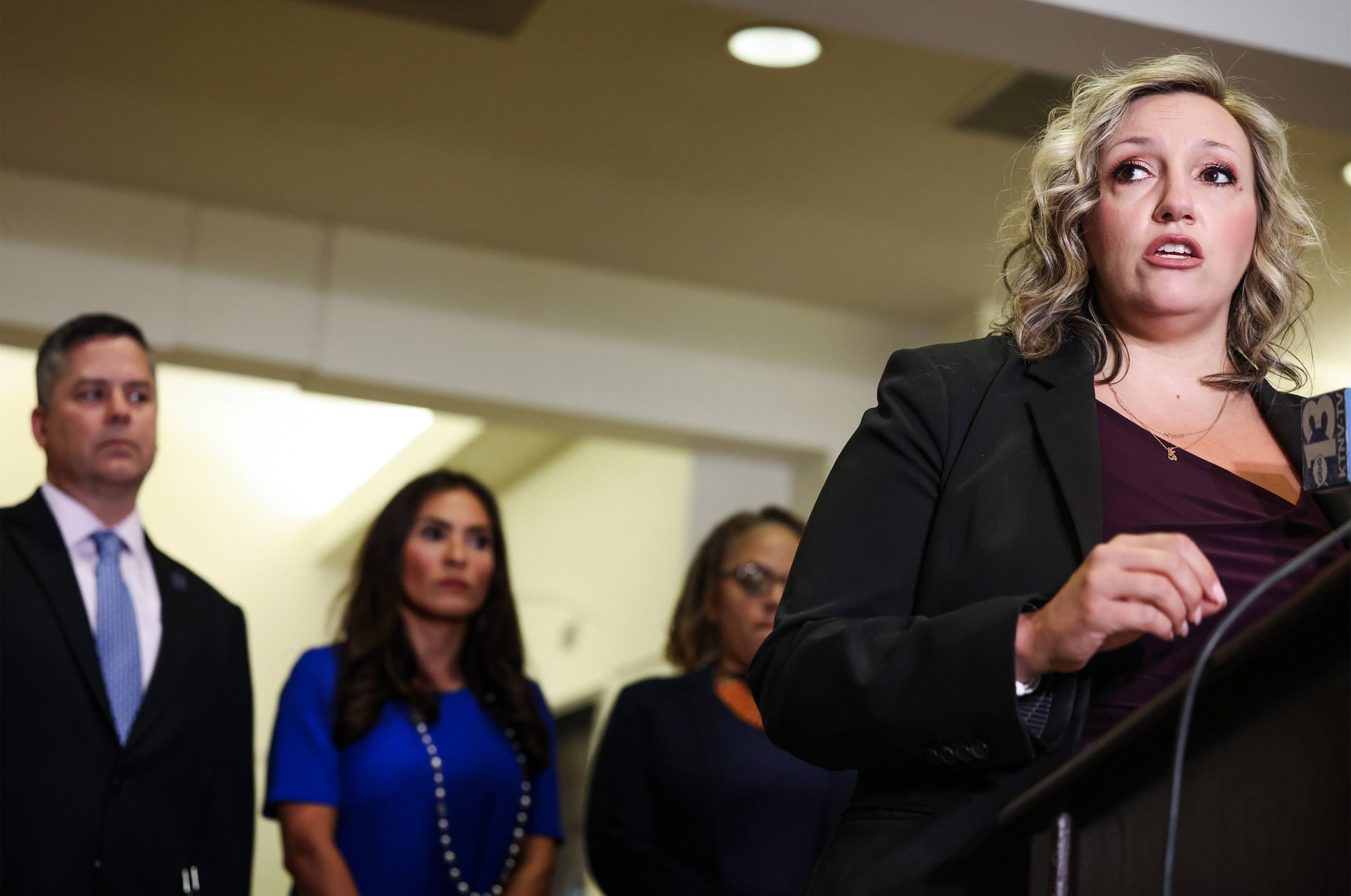 As contract negotiations between the Clark County School District (CCSD) and the Clark County Education Association (CCEA) have spiraled into threats of "work actions" and a lawsuit aimed at stopping a strike before it starts, top legislative Democrats said Wednesday that billions of dollars in new funding approved this year should pave the way for "substantial" pay raises.
That funding includes an increase of more than $2 billion allocated through the state's K-12 funding formula, known as the Pupil-Centered Funding Plan, as well as an additional $250 million in matching dollars from SB231 — money lawmakers said was designed to incentivize school districts to raise teacher pay, although the specifics of raises are decided through the collective bargaining process.
Speaking at a news conference early Wednesday in Las Vegas, Assembly Speaker Steve Yeager (D-Las Vegas) urged district and union negotiators to "seize this opportunity."
"I would leave it to the negotiators, and I think it depends which district you're in — the cost of living is different — but that money is intended to be a substantial increase," Yeager said.
The comments from lawmakers come amid the ongoing tiff between the state's largest school district and its teacher's union, primarily over pay issues.
CCEA's key demands include a 10 percent salary increase for licensed educators in the first year of the contract, and another 8 percent salary increase in the second year. The union is also asking for an additional $5,000 for all educators who work in Title I schools that serve a high percentage of students from low-income families — and that often have a high number of teacher vacancies — as well as an additional 5 percent increase for all special education teachers.
It comes more than a year after the district raised the starting teacher salary to about $50,000 annually, a move criticized by veteran teachers who didn't see a pay increase and instead received bonuses.
District leadership has previously said CCEA's proposals are "unreasonable" and said they would put the district's budget in the red. The district said it has proposed reforms to the teacher salary schedule, additional compensation for teachers in hard-to-fill positions and special education teachers and other pay increases, but it hasn't released any specific information on what its proposals look like. CCEA has said the district's proposals don't go far enough.
The union also argues that the school district has plenty of funding for the proposed pay raises, citing the additional dollars the district received from the Legislature, which raised Clark County's base per-pupil rate to $8,721, a $1,360 increase. That resulted in an additional $396 million for the district.
CCEA has also pointed to the one-time matching funds under SB231. CCEA Executive Director John Vellardita estimates that the district could get as much as $170 million to $180 million from the fund.
The school district said in a Wednesday afternoon statement that at the moment, the amount that it could receive from SB231 remains undetermined.
It doesn't dispute that SB231 could be used for employee salary increases for the 2023-24 and 2024-25 school years, but it raises questions on what should happen after June 30, 2025, if the state doesn't appropriate an additional $250 million.
"The district simply cannot commit at this time to continuing the SB231 pay increases after June 30, 2025, with no recurring revenues from which to pay them," the district said in the Wednesday statement. "To do so would put the district in potential financial jeopardy. Instead, the district will continue to submit and follow balanced budgets as required by state law and good financial practices."
In a Monday statement, the school district suggested teacher pay raises funded with the help of SB231 could include a sunset provision instead of providing a permanent salary boost.
But Senate Majority Leader Nicole Cannizzaro (D-Las Vegas) downplayed district concerns over SB231 money as "ridiculous," arguing instead that the matching funds were like "any funding appropriated by the Legislature" for the two-year biennial budget.
"We, as a Legislature, budget for the biennium," Cannizzaro said Wednesday. "So the idea that somehow this money just isn't available in the future is a ridiculous argument for not providing raises that are owed to teachers and support staff that are in the classrooms every single day."
The school district pushed back in its statement, and said the Legislature could have given it more reassurance by adding $250 million matching funds to the Pupil-Centered Funding Plan, which the school district could use to pay for recurring personnel expenses.
Democratic legislative leaders did not put a number on what percentage increase for teacher pay would be acceptable under the new funding levels. However, Sen. Dina Neal (D-North Las Vegas) said the caucus was "deeply concerned about CCSD leadership, about [leadership] wanting to protect their reputation over students and over teachers."
"We did not do a record investment in Clark County or statewide in order for this particular district … to nickel and dime teachers and students," Neal said.
Separately, legislators also touted new accountability and auditing bills, as well as efforts that mirrored several initiatives from Republican Gov. Joe Lombardo, including major revisions to school safety policy. Those changes rolled back much of a 2019 restorative justice law and were implemented through two bills, one backed by Democrats and one backed by Lombardo.
Yeager also touted a sizable $140 million increase in early childhood literacy funding — money included as part of Lombardo's K-12 education bill, AB400.
But lawmakers also criticized Lombardo over several of the governor's 75 vetoes issued after the legislative session — a record for any single session — taking aim at the "inexplicable" rejection of a bill that would have extended funding for universal free school breakfast and lunch and another that would have expanded summer school access.
In his veto messages, Lombardo justified rejecting school lunch funding in part over concerns over food waste and a desire to return to the pre-pandemic norm, while the summer school bill was rejected in part over mandating new policies on too tight a timeline and with too little funding.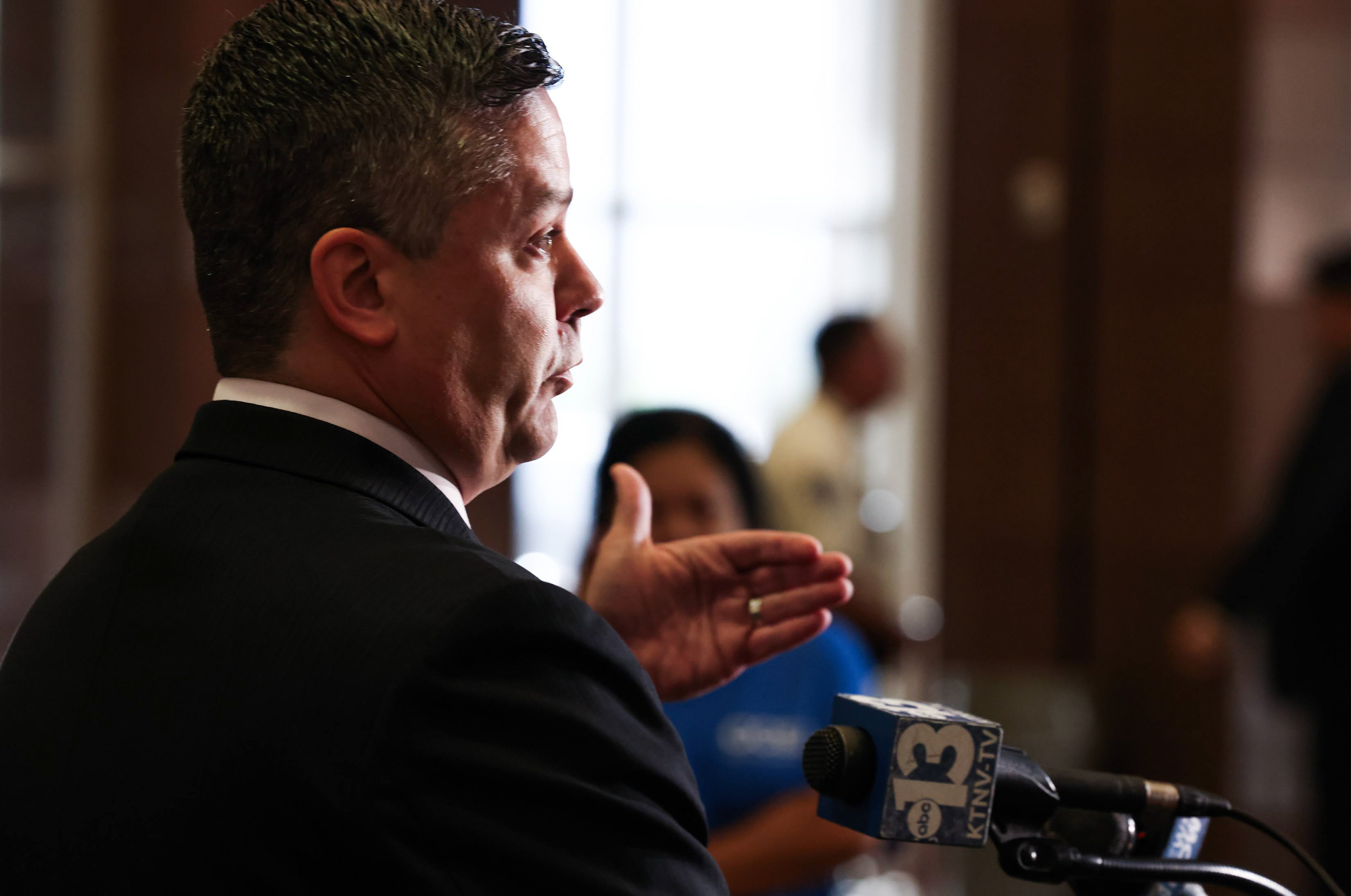 New Opportunity Scholarship issues 'not an issue that anybody raised' during session
Just days before an interim legislative committee meeting will decide on a Lombardo-backed proposal to send more than $3 million in federal COVID relief dollars to the state's Opportunity Scholarship school choice program, Democratic leaders remained mum on whether they would approve the emergency move — but criticized Lombardo for waiting until now, two months after the session ended, to push for this specific pot of money.
"It was never our intent that anybody in the program would lose their place due to lack of funding," Yeager said. "Unfortunately, conversations around that particular dynamic never happened at the legislative session, because it was not an issue that anybody raised during the legislative session."
The push from Lombardo comes over concerns that potentially hundreds of students could lose existing scholarships because of how the program has been funded since 2021.
Formally known as the Nevada Education Choice Scholarship Program, Opportunity Scholarships provide certain low-income families with scholarships that subsidize the cost of private school tuition, often at religious private schools. State funding fills the program indirectly — the state can issue up to $6.6 million tax credits annually to third-party scholarship granting organizations (SGOs), which then solicit corporate donations in exchange for the tax credits as a means to fund the scholarships.
Though the program was created in 2015 under Republican control of state government, Democrats have since sought to pare the scholarships back, including lowering the tax credit cap to current levels in 2019. However, a one-time injection of $4.7 million in 2021 boosted Opportunity Scholarships as part of a deal to include new mining tax revenues for education spending.
Now, with that one-time money set to sunset, the pro-Lombardo Better Nevada PAC has accused Democrats — including Yeager — of "defunding" the program. As a potential fix, Lombardo's proposal to the legislative Interim Finance Committee — set to be heard Wednesday — would use $3.2 million in unspent federal COVID relief dollars to fill the gap.
Though Lombardo's office pushed for the vast expansion of Opportunity Scholarship funding during the 2023 legislative session, including a failed proposal to increase the baseline tax credits from $6.6 million to $25 million annually, Yeager and Cannizzaro said the governor's office never pushed to reauthorize the smaller amount of funding included as part of the 2021 mining deal.
"This was never a conversation during the legislative session, not once, not ever," Cannizzaro said. "We know that the [SGOs] also took in, of somewhere over $12 million allocated, just about $8 million in terms of scholarships. So there is money that should be there to fund these scholarships."
Lombardo's office, however, disputed that claim. In a statement sent Wednesday afternoon, Lombardo spokesperson Elizabeth Ray said Democrats "have clearly decided to intentionally misremember the end of the legislative session," including a meeting with Chief of Staff Ben Kieckhefer that included a compromise "funding Opportunity Scholarships at the 2022-2023 level."
"It's unfortunate that Democratic 'leaders' are running from their actions now that they see the actual consequences on children and families," Ray said. "The sad truth is not only did Democrats in the legislature reject Governor Lombardo's plan to provide scholarships and choice to low-income families for years to come, they rejected a compromise to take care of the children currently in the program."
Cannizzaro added that there remained "a lot of questions" for SGOs and the Nevada Department of Education (NDE) — questions with answers Cannizzaro said the Interim Finance Committee has "yet to receive."
That includes how the governor's office arrived at the $3.2 million figure, and whether or not the state can use federal funds as a formal funding source, rather than a reliance on tax credits provided in exchange for donations.
"I think we're doing what we can now but obviously, we're not in the legislative session," Yeager said. "I think if we are lucky enough to return next session, we'll probably have a further discussion about that level of transparency and accountability — although I will say private schools have largely been unwilling to agree to that sort of thing. So it's something that would have to be forced on them and there's political dynamics there as well."
Update: 8/2/23 at 3:36 p.m. — This story was updated to include comment from a spokesperson for Gov. Joe Lombardo.
Update: 8/2/23 at 5:19 p.m. — This story was updated to include a statement from the Clark County School District.
The Nevada Independent is raising $200,000 by Dec. 31 to support coverage of the 2024 election.
Tax-deductible donations from readers like you fund this critical work.
If you give today,your donation will be matched dollar-for-dollar.
Give + Get Matched
Featured Videos