Clark County teachers union sets deadline for new contract, threatens action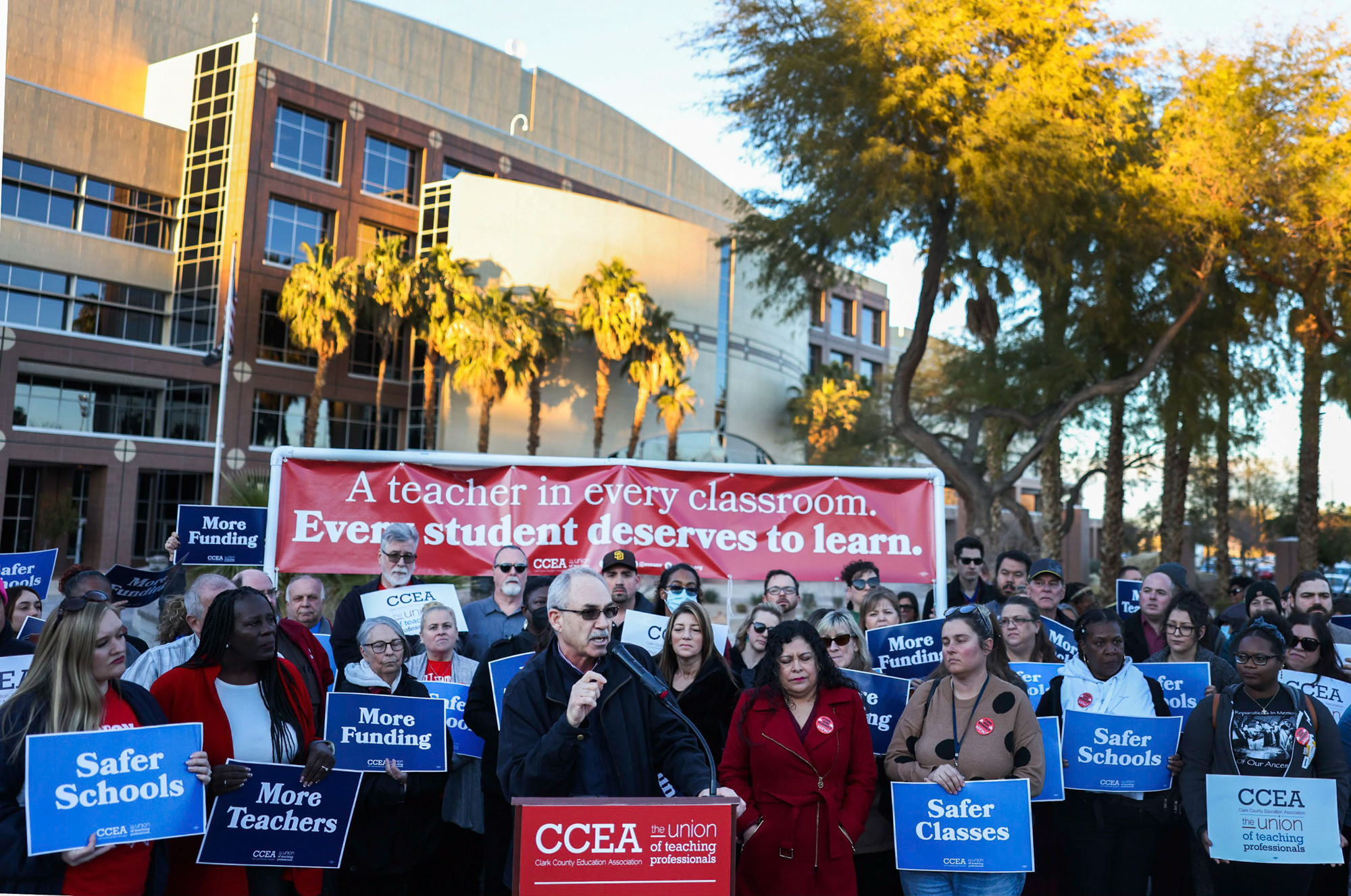 The Clark County Education Association is giving the school district until Aug. 26 to reach an agreement with the teachers union on a new contract. If nothing is settled by then, CCEA said it will hold a meeting to decide whether to take "work actions".
When asked if "work action" meant a strike, CCEA Executive Director John Vellardita said "we're calling it a work action." He assured parents that educators will be in their classrooms on the first day of school.
"These decisions weren't made lightly," he said. "They were done with a heavy heart, because first and foremost, what's on the minds of educators is their students."
The school district did not immediately respond to a request for comment.
The announcement came at an emergency union meeting held at the Rio Hotel and Casino Saturday morning, eight days before the start of the school year, Aug. 7.
District officials said in a Saturday statement following CCEA's meeting they look forward to continue negotiations with the union next month, and "expect CCEA to honor the progress made in negotiations this week and not encourage sick-outs, "work actions," stoppages, or any other label that amounts to a strike."
The union's key demands include a 10 percent salary increase for licensed educators in the first year of the contract, and another 8 percent salary increase in the second year. CCEA is also asking for an additional $5,000 for all educators who work in Title I schools that serve a high percentage of students from low-income families — and that often have a high number of teacher vacancies — as well as an additional 5 percent increase for all special education teachers.
Vellardita said the union had two negotiation sessions with the Clark County School District on Friday, and more sessions are planned for Aug. 17 and 18. He said what the district has offered the union so far has been inadequate, vague and wouldn't result in a raise for all teachers.
Vellardita said the salary increases CCEA is proposing are necessary in order to address the 1,100 teacher vacancies across the district.
"These vacancies really have but one solution: You've got to be able to recruit people to come in and you've got to be able to pay them to stay," Vellardita said.
District officials have called the union's new teacher pay proposals "unreasonable" and said they would put its budget in the red.
But Vellardita argues that the district is flush with cash after the Legislature this session approved a $2 billion increase in K-12 education spending. This investment raised the district's base per-pupil rate to $8,721, a $1,360 increase. The district also projects it will have about $398 million in additional revenue.
Lawmakers approved SB231, a bill which created a $250 million matching fund that school districts can tap into to increase salaries for teachers and other support staff.
"This is not an issue where the state Legislature did not pass enough money for the school district, nor specific legislation earmarked specifically for teacher raises," Vellardita said.
If CCEA members agree to take "work actions", Vellardita said they will not be districtwide. Rather, he said they would target one region at a time, potentially starting with District C which is represented by Board President Evelyn Garcia Morales and includes parts of West Las Vegas and North Las Vegas.
Last week, Superintendent Jesus Jara said the district is "very close" on finalizing negotiations with the other bargaining units that represent support staff, school police officers and police administrators.
On Wednesday, the district announced it had reached a tentative agreement with the union representing the district's administrators, the Clark County Association of School Administrators and Professional-Technical Employees (CCASPE). That agreement includes a 10 percent salary increase in year one, and an additional 2 percent the following year. It's pending approval from the school board.
That same day, the Carson City School Board approved a salary increase for its teachers that will bring up its starting salary from $43,000 to $52,000, higher than the Clark County School District's starting salary of about $50.000.
Meanwhile, the smaller White Pine County School District, which presides over about 1,300 students, approved 10 percent cost of living adjustments for its licensed educators and other employees. The district's Superintendent Adam Young said there will be an additional 5 percent cost-of-living adjustment in the following academic year.
This story was updated on Saturday, July 29, 2023 at 5:50 p.m. to add a statement from the Clark County School District.
The Nevada Independent is raising $200,000 by Dec. 31 to support coverage of the 2024 election.
Tax-deductible donations from readers like you fund this critical work.
If you give today,your donation will be matched dollar-for-dollar.
Give + Get Matched
Featured Videos