Follow the Money: Unions were biggest category donating to Legislature in 2022 cycle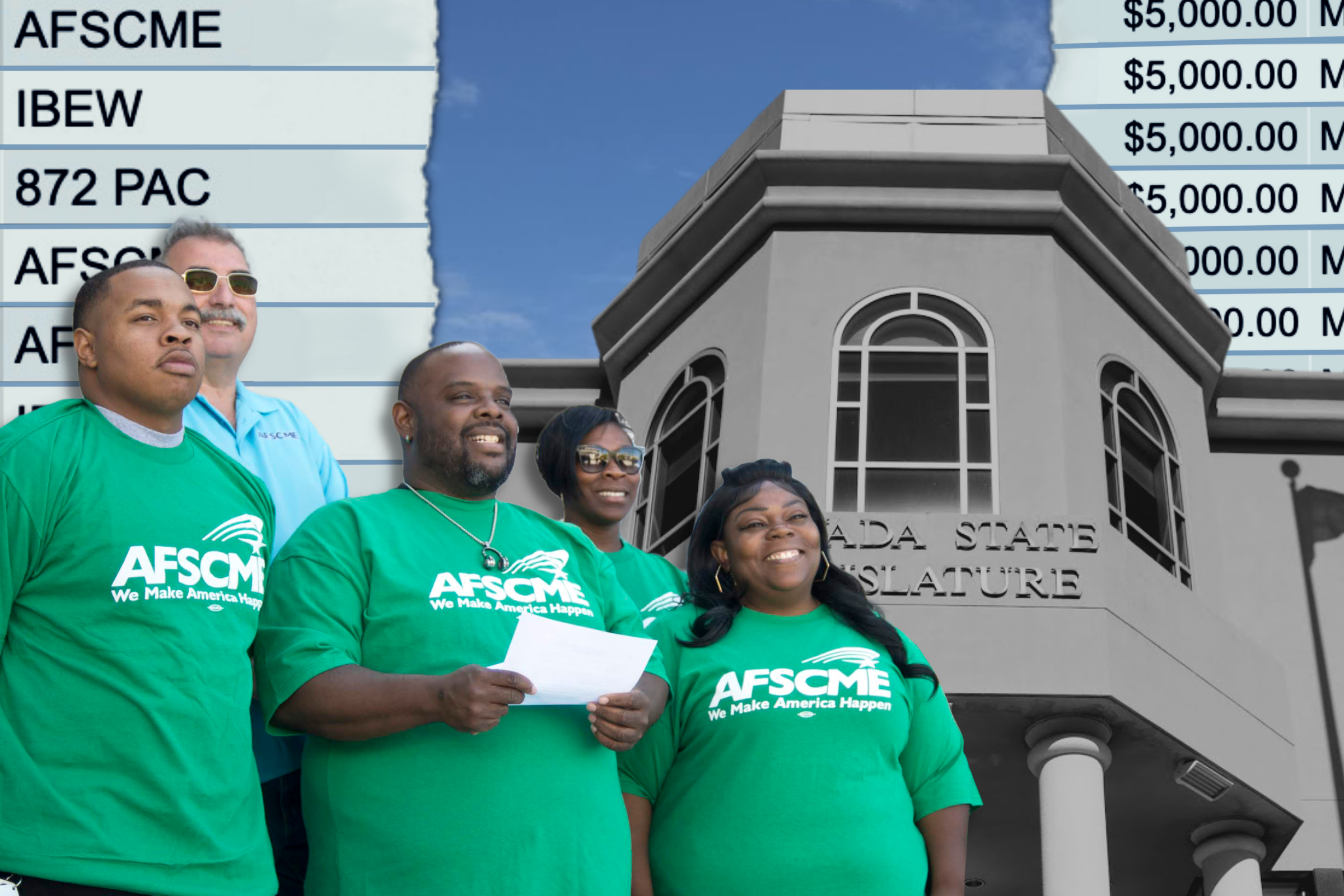 Through the 2022 election cycle, union and labor groups gave more money to Nevada's legislators than any other single industry, primarily juicing Democratic campaigns and doling out nearly $1.5 million.
Continuing a historical trend of overwhelming labor support for Democrats, nearly 96 percent of those funds (more than $1.4 million) went to Democratic lawmakers, with Republicans pulling in just under $61,000 from union and labor groups.
The major spending also marked a return to prominence for Nevada unions, which had contributed almost $1.4 million in the 2018 cycle and $1.7 million in the 2016 cycle but just $1 million during the 2020 cycle, as some groups contributed less amid the COVID-19 pandemic-driven economic downturn.
Leading the charge, the American Federation of State, County and Municipal Employees (AFSCME), a large union representing state and local government workers, gave more than any other labor group at $161,000 — all to Democrats. The influx in contributions comes as Republican Gov. Joe Lombardo proposed 8 percent raises for state workers in the upcoming fiscal year and 4 percent the following year — increases that will have to be approved this session by a Legislature with Democratic majorities in both houses.
Notably absent from these numbers is the powerful Culinary Workers Union Local 226, long a perennial campaign force in Nevada supporting Democrats in key races. However, that support often materializes as massive door-to-door canvassing efforts to push endorsed candidates for legislative and other seats, rather than direct monetary contributions to candidates.
Those efforts are considered in-kind donations, however, and are not tracked here by The Nevada Independent's analysis. Nevada lawmakers reported no monetary contributions from the Culinary Union in the 2022 cycle.
This story is part of The Nevada Independent's "Follow the Money" series tracking money in politics. This installment, and others published throughout the legislative session, will analyze the fundraising activity of state lawmakers, with deep dives into how different industries and top contributors doled out money. Find other installments here.
The data offers a look at how the state's most powerful companies and political organizations contribute to policymakers who set laws affecting businesses and residents alike. It also provides context for the 120-day legislative session, as lawmakers face pressure from the same groups and individuals who donated to their campaigns.
Breaking down the top contributors
Leading the labor pack last cycle was the AFSCME, which concentrated most of its largest donations — including 12 lawmakers receiving the $10,000 maximum — among Democratic committee leaders.
Those 12 contributions alone constitute three-quarters of all AFSCME spending last cycle, with the remaining $41,000 spread in increments of $5,000 and below among 21 other legislators (all Democrats).
In 2019, legislative Democrats and Gov. Steve Sisolak backed SB135, the culmination of a decades-long push to allow state workers to unionize. The measure — backed strongly at the time by AFSCME — expanded collective bargaining rights to roughly 20,000 state employees in Nevada, with the first collective bargaining agreements later ratified in 2021.
This year, the group is front-and-center in the debate over how to overhaul state employee compensation in the post-pandemic landscape, amid crushing vacancy rates, low morale and widespread recruiting challenges across the state's public workforce.
In his inaugural State of the State address, Lombardo pledged to increase state employee salaries by 8 percent in the next fiscal year and 4 percent in the year after, as well as $2,000 bonuses distributed as $500 per quarter.
Those figures appear to be on track for an internal vote among union members within the next several weeks, following an announcement Tuesday that AFSCME had reached a tentative agreement with the state. In a statement, AFSCME Local 4041 President Harry Schiffman touted the increase as "the largest wage increase in almost 40 years."
Though the tentative bargaining agreement would still need to be approved by union members and the state board of examiners, the Legislature will hold the final say as part of the budgeting process.
With all or nearly all contributions from AFSCME and other major union groups going to legislative Democrats, the 2022 election cycle continued a longstanding trend of union support for the party. Last year, the Nevada branch of the AFL–CIO, a massive federation of unions, endorsed dozens of Democratic candidates for the Legislature, casting those candidates as not "afraid to stand up to special interests and greedy CEOs" and as a voice for the working class.
In the second-place spot is the combined spending of the International Brotherhood of Electrical Workers (IBEW), which gave more than $147,000 to 34 lawmakers.
By far the largest beneficiary of that spending was freshman Assemblyman Max Carter (D-Las Vegas), an electrician by trade and member of IBEW Local 357 who received the maximum $10,000 from three IBEW affiliate PACs for $30,000 total — nearly 10 percent of the $338,000 he raised from all big-dollar donors.
In a distant second to Carter in IBEW fundraising was Assembly Speaker Steve Yeager (D-Las Vegas), who raised a combined $13,000. Others in competitive districts also saw combined IBEW totals north of the $10,000, including Sen. Julie Pazina, Sen. Marilyn Dondero Loop, Sen. Melanie Scheible, and Assemblywoman Elaine Marzola — all Democrats from Las Vegas, save Marzola, a Democrat from Henderson.
Third-largest among union donors was the Laborers' International Union of North America (LIUNA) Local 169, the Reno branch of the laborers union, while its Las Vegas counterpart, Local 872, emerged in fifth with $102,000. Not far behind in sixth place, the Southern Nevada Building Trades Union contributed $95,000.
Those three groups collectively represent hundreds of construction laborers throughout the state, and the rush of contributions from those groups comes as Democratic leaders have prioritized using union labor for new construction projects. Last year, the State Infrastructure Bank formed a partnership with the AFL-CIO to invest $20 million in the development of affordable housing.
Among the biggest donors not included here is the Clark County Education Association (CCEA), which was tied for the 18th largest donor in 2022 with $107,500 contributed overall. The union representing teachers in one of the nation's largest school districts gave maximum contributions of $10,000 to six lawmakers, all of whom are Democrats.
The Nevada Independent's contribution analysis categorized the group with education donors, as the incentives and policy goals for the state's largest teachers union differ materially from other union groups, such as AFSCME or the AFL-CIO.
Breaking down the top recipients
Sen. Skip Daly (D-Sparks) led the field in contributions received from union and labor groups by a wide margin, bringing in more than $148,000 (about 10 percent of all union contributions) to second place Carter's nearly $93,000 raised.
Both stand out among members of the Legislature as having strong union ties. Daly served as the business manager for LIUNA Local 169 for 21 years and had been a member of the union for 44 years prior to retiring last year.
Though Daly has bounced in and out of the Legislature — he served as an assemblyman from 2011-2014 and again from 2017-2020, before losing a race for re-election in 2020 and winning a race for an open Senate seat last year — he has routinely led lawmakers in contributions from unions, doing so when he last won a race in the 2018 cycle.
Carter, an electrician, has affiliations with multiple unions, including IBEW Local 357.
Following the two union-affiliated legislators at the top of the list, labor groups largely threw their support behind Democratic leaders and Democratic candidates in competitive races.
Behind Daly and Carter, only four lawmakers received more than $70,000 from union and labor groups: Dondero Loop, Scheible, Yeager and Pazina.
Follow the Money explained
The Nevada Independent tracked and categorized more than 8,000 donations of $200 or more from Jan. 1, 2021 through the end of the election cycle on Dec. 31, 2022.
Donors are limited to giving a maximum of $10,000 to a single candidate, but major corporations easily surpass that limit by contributing through various affiliated entities or businesses — a process sometimes referred to as bundling.
Some wealthy donors, ranging from lawyers to doctors to casino magnates, may also boost contributions to a single candidate by donating the maximum amount under their name and under their spouse's name.
Each donation was categorized by the industry or field of the organization or individual who contributed, and the entire set of donations was analyzed for patterns and trends. Our analysis has also sought to track bundled contributions where possible, linking contributions from LLCs or subsidiary companies to their largest parent company or individual donor. Total contributions from MGM Resorts International include not only money donated directly from MGM, but also from the properties it manages, for instance.
Data collected does not include donations made to losing candidates, nor does it break down small donations under the $200 threshold or fundraising activity for the many PACs or political groups that spend in support of candidates.
It also excludes Assemblywoman Sabra Newby (D-Las Vegas), who was appointed after the election and did not raise funds.
Still, the $200 threshold captures the vast majority of all the money contributed to elected lawmakers over the last two years. All legislative contributions under $200 in the 2022 cycle — more than 7,400 individual transactions — totaled just $221,000.
———————
Roy Visuett contributed data analysis to this report.
This story is a part of The Nevada Independent's weekly Follow the Money series, which examines the amount of money contributed by major industries to individual state lawmakers. For a list of all our Follow the Money stories, click here.