Culinary Union canvassers seek to persuade voters one door knock at a time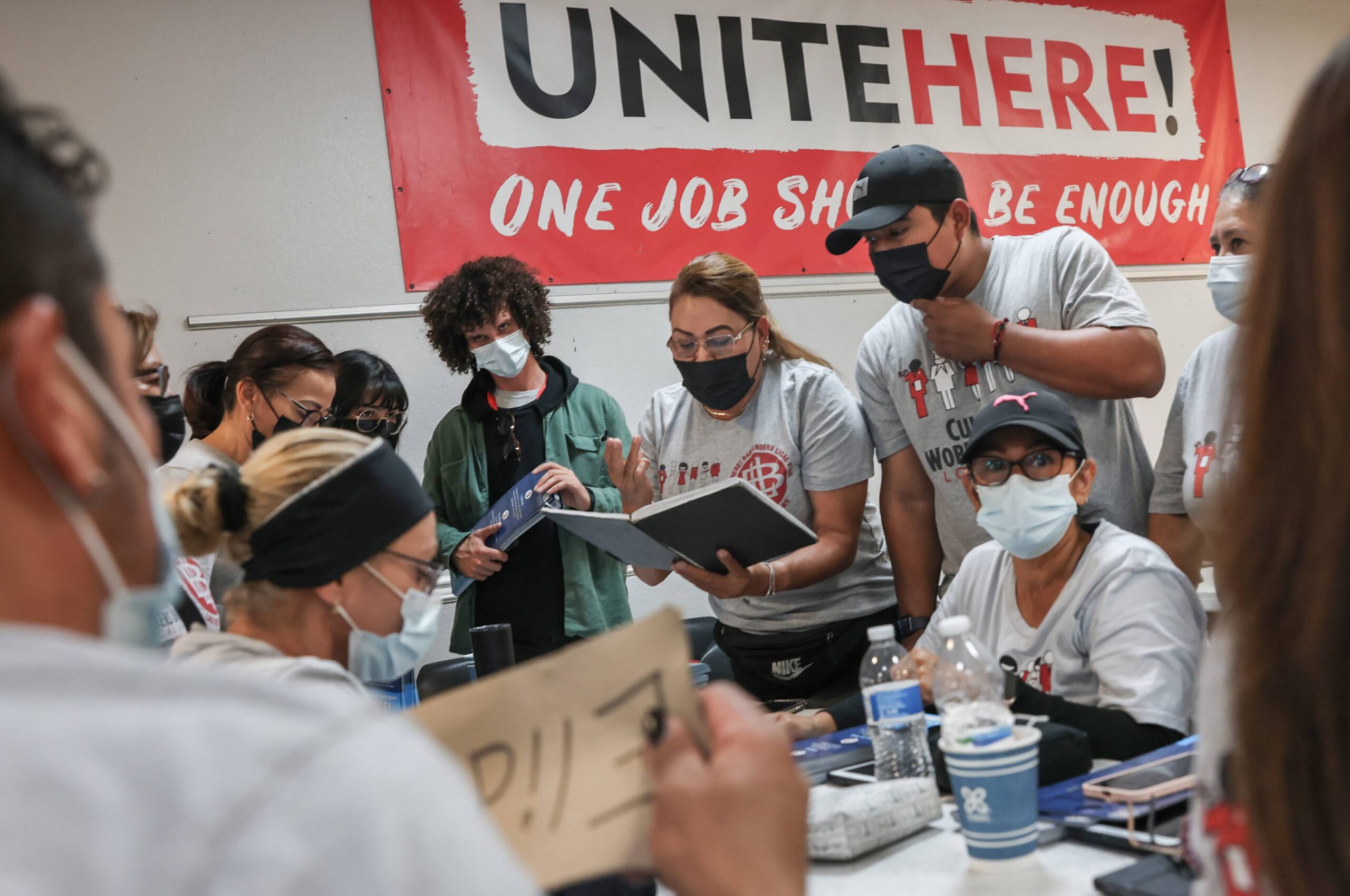 On a gusty Saturday morning, the Culinary Union Hall — tucked away behind the towering Strat hotel at the north end of the Las Vegas Strip — was packed full, as 400 volunteers, most of them union members, readied themselves for the all-important early vote window with chants of "si se puede."
The Culinary Workers Union Local 226 has long been among the most singularly powerful political forces in Nevada, often operating en masse through campaign groundwork and door-knocking campaigns to back state, local and federal Democrats up and down the ballot.
Amid the backdrop of the union's historical effectiveness — and sheer size — of its canvassing operation, some of the state's most vulnerable Democratic incumbents, including Sen. Catherine Cortez Masto and Gov. Steve Sisolak, attended the canvassing kickoff on Saturday.
Speaking before the crowd, Sisolak — his voice hoarse from the campaign trail — cast the midterm elections as existential, portraying a GOP victory as one that would undo "all the good stuff that we've done," and arguing that Republicans would "take your rights away from you."
"We have made so much progress in the last four years on workers' rights. We're going to do more on rent stabilization and protecting people's jobs," Sisolak told union members. "But all the progress that we've made is on the line right now."
Across early polls, the state's top races — even if still within the margin of error — have shown a distinct advantage for Republican candidates.
That edge has emerged in no small part over broad and long-running voter concerns about the economy that have overshadowed other issues, including ones Democrats have sought to relitigate in the late stages of the election such as abortion and the Jan. 6 insurrection.
An early-October poll from The Nevada Independent/OH Predictive Insights showed 35 percent of respondents naming the economy as their top concern on the November ballot, well above the next closest issue, education, at 18 percent.
And as candidate debates have grown scarce — major candidates in the U.S. Senate race and two of the state's competitive House races have not met at all on the debate stage, and the two gubernatorial candidates only once — a historic surge in advertising spending by both parties has barraged voters with messaging from Republicans tying Democratic candidates to the Biden White House's economic policies.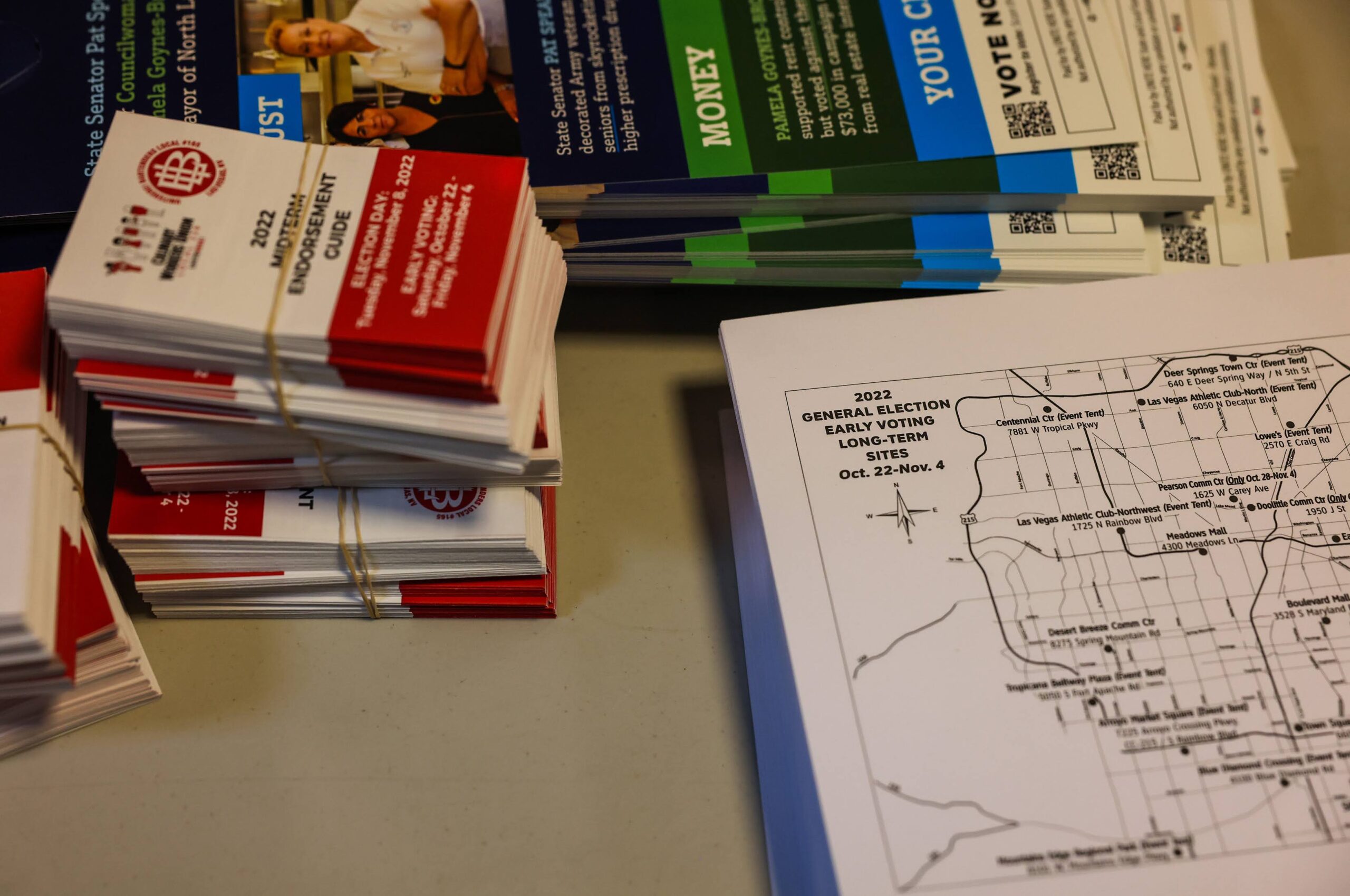 In that environment, how much has the powerful Culinary Workers Union's strategy changed?
According to union Secretary-Treasurer Ted Pappageorge: "Not much."
"Nevada is not a blue state," Pappageorge said in an interview. "It's not blue, it's not light blue, anybody thinks that it — they're just nuts. It's a battleground state and there is division."
In that environment, the union has sought to vastly expand its on-the ground operation. It has pledged to knock on a record 1 million doors statewide by Election Day this cycle, upping its target from 650,000 doors in 2020.
On Monday, the union announced it already surpassed that 2020 threshold, with just over three weeks left before Election Day.
In getting its message to voters, the union has touted its "neighborhood stability" ticket, railing in campaign materials and in public announcements against corporate "Wall Street landlords" and calling, among other priorities, for rent control in Clark and Washoe counties vis-a-vis a 5 percent cap on rent increases per year.
"We ask folks, 'guess what costs more than gas?'" Pappageorge said. "It's rent."
Culinary has also paid particular attention to candidates who backed the contentious "right to return'' bill, SB386, in the last legislative session. That measure — passed on a party-line vote, with Democrats in support and Republicans opposed — guaranteed the rights of gaming and hospitality workers laid off during the depths of the pandemic to return to their old jobs. It was signed last summer by Sisolak.
"We had a big fight, and you know what? Every single Republican voted no on SB386," Pappageorge told the crowd on Saturday's kickoff, prompting a round of boos. "We got that bill through, but we needed help … [Sisolak] jammed that bill through and he made sure we were able to go back to our jobs."
But on the ground, the range of the union's door-knocking operation includes more than just union members themselves.
On Monday, knocking on doors with campaign flyers in hand, was Febe Rodriguez, a 16-year veteran of the Bellagio's housekeeping staff and longtime Culinary Union shop steward. She was joined by 18-year-old Amari Bryant, the son of a culinary member and a full-time UNLV student studying architecture and psychology whose first election will be 2022 — and who was looking for a way to volunteer.
"If I can get active in it, I should help," Bryant told The Nevada Independent.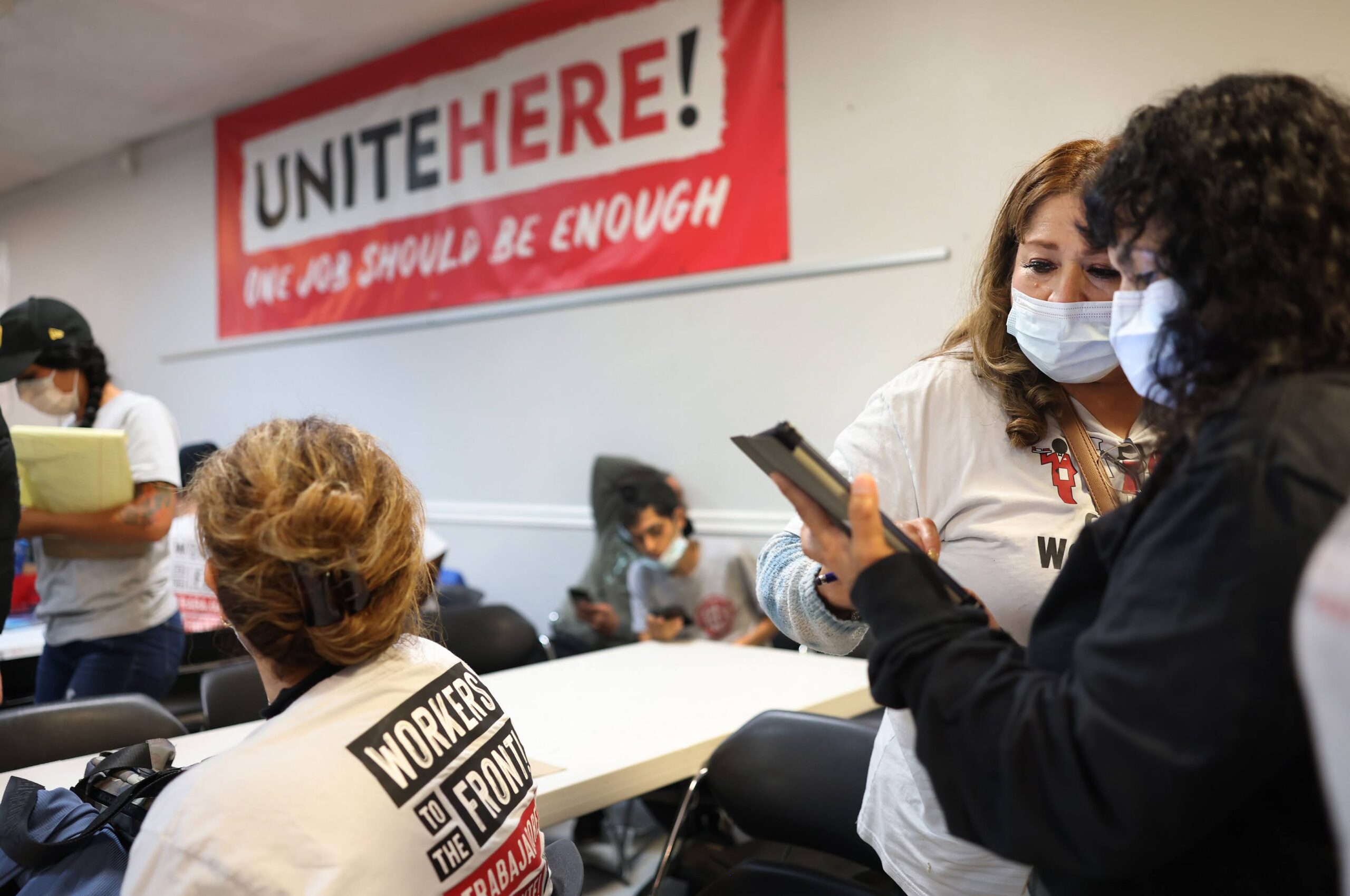 The pair are a small part in a much wider Culinary canvassing operation that has been operating nearly every day of the week since April, and has only accelerated as the election has drawn closer — an election-style Groundhog's Day where every new day brings more doors to knock on.
On Monday, Rodriguez and Bryant started their day by snaking around a quintessential old Las Vegas neighborhood, a place with wide streets lined with thick-trunked palm trees and unique mid-century houses, nearly all equipped with "beware of dog" signs.
Aside from an inauspicious start — the very first door was answered by a self-described lifelong Republican with no intentions of backing the Culinary's preferred ballot — those answering the door were receptive, and some had already voted. Others posed for pictures with the canvassers, or paused to joke with them.
Rodriguez said that response had been typical, based on her experience canvassing so far. Las Vegas, she said, "is a Democrat town."
Whether those Democrats show up to vote in a year where the fundamentals continue to favor Democrats remains unclear. But according to Pappageorge, "we're seeing a lot of enthusiasm at the doors and that people want to vote."
"I always say there's the polls and there's the world of Twitter, and then there's the real world of what happens when you knock on somebody's door and talk to them face to face," he said.
The Nevada Independent is raising $200,000 by Dec. 31 to support coverage of the 2024 election.
Tax-deductible donations from readers like you fund this critical work.
If you give today,your donation will be matched dollar-for-dollar.
Give + Get Matched
Featured Videos