Freshman Orientation: Senator Carrie Buck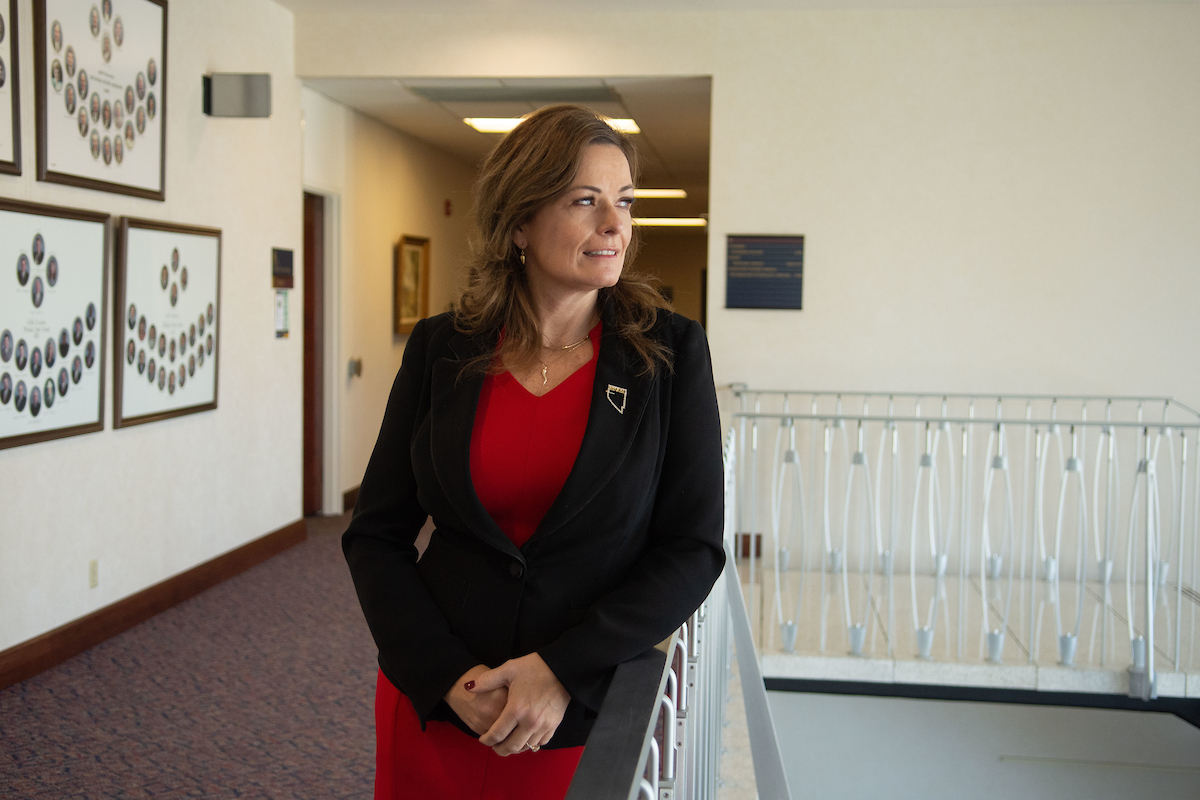 As in sessions past, The Nevada Independent is publishing a series of profiles featuring all the new lawmakers in the state. This is the third installment of more than a dozen. Check back in coming days for additional stories on new legislators' backgrounds, interests and policy positions.
Freshman Republican who succeeds Democratic Sen. Joyce Woodhouse (D-Las Vegas).
Represents District 5, which includes parts of Henderson and the Las Vegas Valley east of Interstate 15.
District 5 leans slightly Democratic (36.9 percent Democratic, 31.8 percent Republican and 24.4 percent nonpartisan in the 2020 election).
Buck did not have a primary opponent in the 2020 election.
She won a narrow victory over Democrat Kristee Watson in the 2020 general election, with a 329-vote margin out of more than 67,000 votes cast.
She will sit on the Education and Legislative Operations and Elections committees.
FAMILY AND EDUCATION
Buck was born and raised in Sioux City, Iowa, and earned her undergraduate degree at Montana State University before moving to Las Vegas to begin her teaching career in the 1990s.
She also achieved a master's degree in administration and supervision from the University of Phoenix and a doctorate in organizational leadership from NOVA Southeastern University. She is married and has four children.
CAREER
Buck has a long career in education, starting out teaching English language learners at an elementary school in Las Vegas and eventually rising to become principal at C.T. Sewell Elementary School. She then transitioned to a charter school network, the Pinecrest Academy, where she rose to become lead principal and executive director of the network.
She currently serves as the president of the Pinecrest Foundation, a registered nonprofit that helps fund charter school educational initiatives including scholarships for students.
PROFILE
Carrie Buck's love of teaching started with her sister.
Growing up in an isolated rural community, Buck said that after school, she would head home excited to "play school" and teach her sister everything she had learned from school that day (she takes partial credit for her sister ending up in a gifted and talented program).
After graduating from college, she moved to Las Vegas in 1996 to take a teaching job in the Clark County School District. She started as a teacher for nearly three dozen English language learner students, most of whom spoke Spanish but also others who spoke Japanese and Swahili.
"I remember driving on the I-15 South and seeing the lights for the first time," Buck, 49, said. "And then I had a little anxiety, because it is a culture shock. Moving from these small little areas to a big city, you just don't know what to expect, but it has been nothing but amazing."
Buck continued rising up the ranks in the education world until she became principal of C.T. Sewell Elementary in the middle of the 2005-06 school year. At the time, the school was one of the worst-performing elementary schools in the state, but Buck attracted local and national attention in her efforts to turn the school's fortunes around and eventually earn distinction as a National Title I School.
She left the school in 2014 to become principal of the Pinecrest Academy charter school in Henderson. She left that position in 2019 to become president of the affiliated nonprofit Pinecrest Foundation, which provides scholarships and funding for other programs for the charter school network.
"It's been a great perspective being in a traditional school district, and then moving to a charter school district, and seeing all the ins and outs of school financing, and all of it comes into developing a strong instructional plan that serves kids," she said.
Her interest in politics started back when she was still principal at Sewell, saying she initially contacted former Assembly Republican Leader Paul Anderson about possibly running for an Assembly seat. But instead, she opted for a run for a state Senate seat in the 2016 election and lost a close race to incumbent Joyce Woodhouse (D-Las Vegas) by fewer than 500 votes.
Buck also made headlines in 2017 when she was put forward as a potential candidate during a series of recall efforts targeting Democratic state senators, including Woodhouse. The recall efforts ultimately failed, and Buck later privately apologized for her role in the process.
Buck ran again for the same seat in 2020, this time narrowly defeating Democrat and political newcomer Kristee Watson by 329 votes out of more than 67,500 cast in the district (Woodhouse was prevented by term limits for running again).
Buck is one of four freshmen in the Senate, and the only Republican elected in a competitive district. She said she hoped to put her head down and focus on passing her priority bills, but wasn't concerned if her proposals were held up or blocked for overtly political reasons.
"I learned by (watching) what happens to others," she said. "And so when leaders treat others poorly or unprofessionally or lock it out as they have in the past, that's just what is expected," "So there may be a little anxiety about that but I'm a big girl, I signed up for this, and I'm willing to take whatever...comes my way. I can handle it."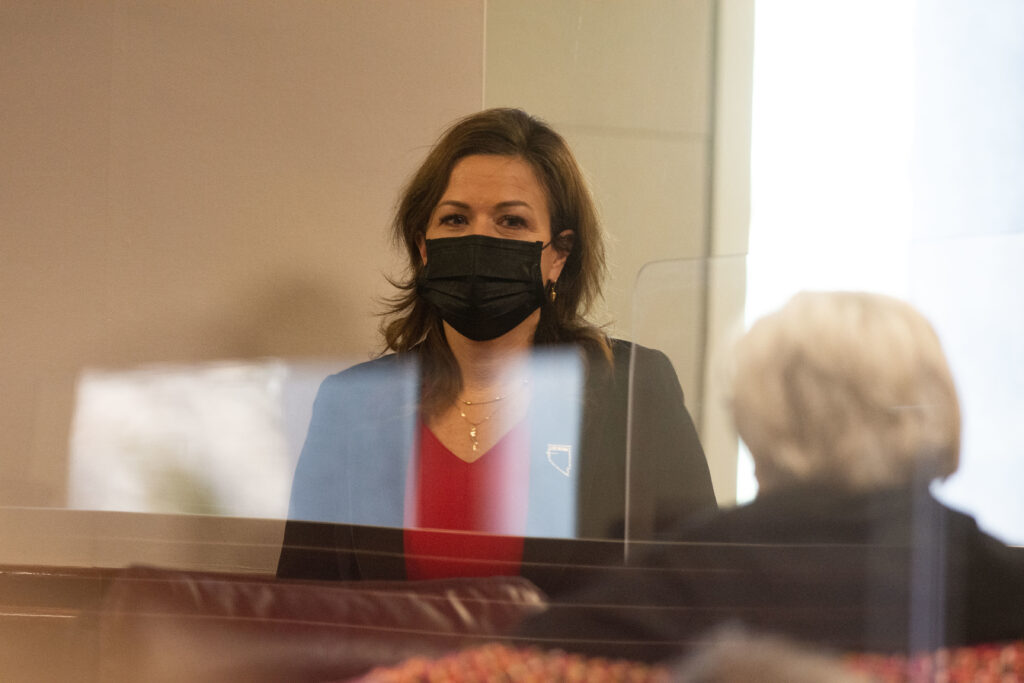 ON THE ISSUES
COVID vaccines
Buck said she doesn't plan to immediately get a COVID-19 vaccine, and disclosed that she and her husband, who works for the Henderson Police Department, both had the illness in December.
She said her symptoms were like a mild flu, but acknowledged that it "can hit anyone differently, so you just don't know." While she doesn't have any reservations or concerns about the vaccine, she said that she would prefer to wait until more people in the general public begin to receive it.
"I have a lot of between 65- and 70-year-olds that are emailing me wanting the vaccine, so until constituents are vaccinated, I think I can wait," she said.
Education changes
Unsurprisingly, many of the bills that Buck plans to bring forward in the 2021 session have to do with education.
One "simple fix" she'll be proposing has to do with making the GPA weights for dual enrollment college courses taken by high school students equal to the higher weights given to Advanced Placement classes. She's also working on a proposal with fellow Republican Sen. Scott Hammond to provide internships for high school students and dropouts.
She also plans to introduce a bill that would ensure teachers and government employees receive training about their publicly funded retirement system and benefits.
And while it may not be a piece of legislation, she said she also wanted to ensure that no bills are passed that affect the carryover dollars or reserve accounts budgeted by individual school principals — a topic that came up but was abandoned by the Clark County School District during the 2020 policy-focused special session.
"The reason you save money as a school leader is because if the following year you're asked to make a 15 to 20 percent cut, that you can keep your staff because it brings consistency for kids," she said. "And that's what they need. Your staff doesn't want to have to worry about transferring schools and all this upheaval. They work the best when there is trust and that there's a leader that's going to go to bat for them."
Taxes
Buck declined to stake a position on the sales and gaming tax initiatives backed by the Clark County Education Association and currently in the Legislature, saying she wants to "see how this plays out."
Lawmakers have a 40-day clock from the start of the legislative session to take up the measures, or else they'll head to the 2022 ballot. Democratic leadership in the Legislature have said they don't plan to support the measure.
As for the trio of proposed constitutional amendments raising taxation rates on mining that passed during the 2020 special session, Buck said she would support "bringing mining into the conversation" but was leaning against what Democratic lawmakers had passed last summer.
"I don't believe in isolating industries to tax them and turning people on each other," she said. "Because then you never know who's next on the dinner plate."
ID cards for inmates
Buck also said she's working on a bill with Republican Sen. Ira Hansen to fix issues with identification cards for former inmates.
State lawmakers in 2017 passed a law requiring prison officials to verify an inmate's true name and age with a birth certificate before issuing any identification cards after they're released from state custody, but prison officials estimated that difficulties in meeting the higher standard meant nearly half of released inmates didn't have any form of identification when they leave.
Buck said that left former inmates having to wait weeks to get other forms of identification, which makes it harder for them to return to normal society.
"Inmates that have messed up in their life but served their time and are out, we need to get them into the workforce and get them (to be) productive individuals as soon as possible," she said.
Election integrity
Asked whether she believed that massive amounts of voter fraud caused former President Donald Trump to lose Nevada in the 2020 presidential election — something the president's campaign has claimed but that has been denied by Republican Secretary of State Barbara Cegavske and in courts around the state — Buck demurred.
"I don't know, I don't know that," she said. "I mean, I just don't know. I wasn't presented with any evidence. I didn't see for myself any nefarious happenings. So I haven't been briefed on that."
Buck said she thought election officials should ensure that death records are closely compared to voter files, and noted that several of her Republican colleagues plan to introduce bills related to election procedures and processes, although she said she didn't think they'd "see the light of day" in a Democrat-controlled Legislature.
She said she was uneasy about the close vote margin and issues with ballots in the Clark County Commission race between Ross Miller and Stavros Anthony, but didn't outright say that fraud had or had not occurred in any races on the 2020 ballot.
"That's a really tough question because I don't know," she said. "I do think that there were different things that were happening, but I don't have proof of anything, so I'm not going to be one that's going to be shouting that because I'm not an attorney with proof."
Updated on Feb. 5, 2021 at 2:46 p.m. to correct that Buck's husband works for the Henderson Police Department, not the Las Vegas Metropolitan Police Department.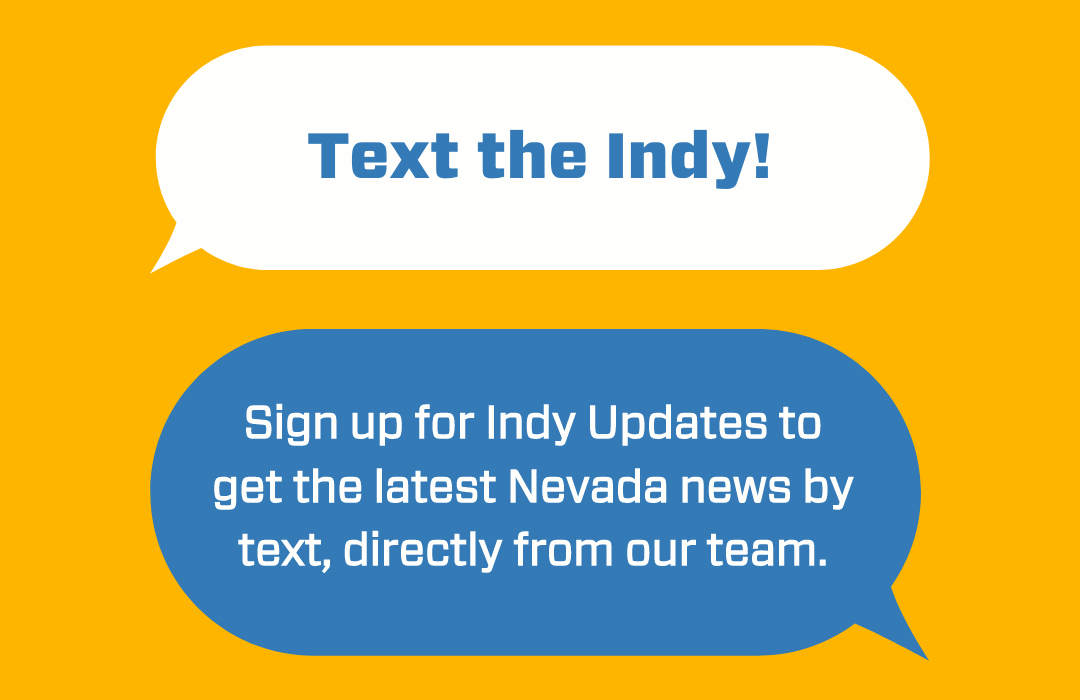 Featured Videos
Comment Policy (updated 4/20/2021): Please keep your comments civil. We reserve the right to delete comments or ban users who engage in personal attacks, use an excess of profanity, make verifiably false statements or are otherwise nasty. Comments that contain links must be approved by admin.