GOP state Senate candidate asked 2016 opponent for forgiveness on recall efforts, help with job search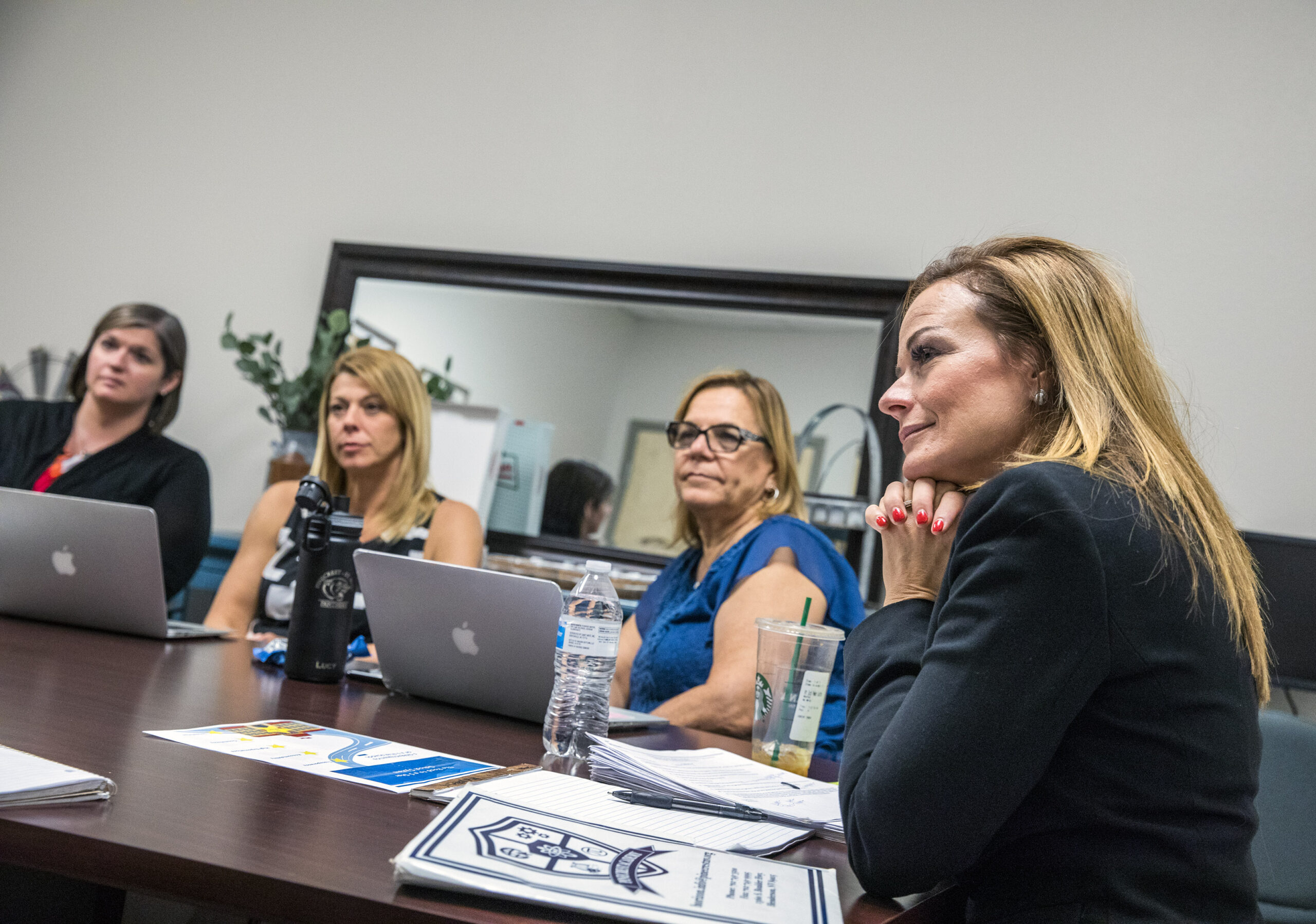 Republican state Senate candidate Dr. Carrie Buck sent multiple text messages to Democratic state Sen. Joyce Woodhouse earlier this year expressing regret for her role in an earlier attempt to recall Woodhouse and asking for her help in applying for a high-profile position with the state.
Buck, who ran against Woodhouse in 2016 and announced her intent to run for the term-limited senator's seat again last week, was listed on documents filed by recall organizers in late 2017 as the candidate to replace the incumbent in a drawn-out and ultimately failed recall effort.
Buck sent several text messages to the senator throughout late January and February 2019, ahead of a state Supreme Court hearing on the Republican-backed efforts to recall Woodhouse and fellow Democratic Sen. Nicole Cannizzaro.
The messages, which Woodhouse provided to The Nevada Independent and were confirmed as legitimate by Buck, include requests for an in-person meeting and feedback on her resume as part of her application for the role of state superintendent — saying that she could "improve efficiencies" at the state Department of Education because of her experience running a charter school network and as a teacher in the Clark County School District.
Buck was one of 33 applicants for the position of state superintendent; Gov. Steve Sisolak eventually appointed Jhone Ebert to the position in March.
The text messages also include an apology for her role in the attempted recalls, and to "mend things and see how I can help."
"I'm not a recall candidate as signatures were not qualified and I don't want to run for state senate ever again," she wrote in a text message sent on Feb. 13. "I truly thought this was over a year ago. I would love the opportunity to sit face to face with you and apologize."
Woodhouse, who declined the requests for a meeting at the time, said in a statement on Wednesday that she thought the text messages were "highly inappropriate and unprofessional," raising concerns with Buck's request to apply for a "position she wasn't qualified for" in the midst of legal efforts to dismiss the recall efforts.
"From my point of view, the entire proposal felt very transactional," she said in an email. "The texts were unseemly and unbecoming of someone who aspires to be a public servant."
In an interview, Buck said she had sent the text messages as a "peace offering," with no "malicious intent."
"I just wanted to put politics aside, and sit down with the woman, and see what can we do to help kids," she said.
Buck also said that she decided to mount another run for the state Senate seat after securing permanent employment with the Pinecrest Academy, getting family support and seeing less education "accountability."
She said that part of her reason for reaching out was to bury the hatchet with Woodhouse, whom she accused of interfering in her attempts to gain employment elsewhere, but declined to name specific roles she had applied for.
"There's a vendetta there on her part," Buck said.
Asked to comment on the allegation, Woodhouse said, "The only job I have ever prevented Carrie Buck from getting was representing District 5 in the State Senate."
The recalls, which were funded by the Republican State Leadership Committee and championed by former Republican Senate Leader Michael Roberson, initially targeted Woodhouse, Cannizzaro and Republican-turned-independent Sen. Patricia Farley.
The initial paperwork filed to recall Woodhouse was spearheaded by former Republican Assemblyman Stephen Silberkraus, who listed Buck as the intended replacement for Woodhouse if the recall attempt was successful and a special election was held. Buck said she "absolutely" regretted her role in the process, but noted that the recall effort was already "in motion" when she was asked if her name could be added to the recall documents.
Democratic lawmakers sharply criticized the attempted recalls as an abuse of the system; stating that they were filed more for political reasons than any personal malfeasance or abuse of office. The recall efforts targeting Woodhouse and Cannizzaro were initially deemed to have enough signatures to trigger a special election, but a District Court judge reversed that decision and declared the recalls dead after determining hundreds of so-called "post submittal strike requests" (requests by voters to remove their name from a recall petition after it was filed with the secretary of state's office) were legitimate.
A last-chance appeal filed to the state Supreme Court was heard in March 2019, with the state's highest court ruling in favor of the Democratic senators and finally ending the recall attempts in April 2019.
Inspired in part by the recall efforts, state lawmakers in 2019 approved a bill making various changes to the recall process and adding additional barriers before a recall election can be verified.
Buck narrowly lost her bid against Woodhouse in the 2016 election, with the incumbent squeaking out a 469-vote win out of more than 54,000 cast. Woodhouse is barred from running again because of legislative term limits; the Senate Democratic Caucus has endorsed literary nonprofit worker Kristee Watson in her bid for the seat. Buck was endorsed by the Senate Republican Caucus on Tuesday; a spokesman for the caucus declined to comment on the text messages.
Carrie Buck/Joyce Woodhouse text exchange by Riley Snyder on Scribd
Featured Videos
Comment Policy (updated 4/20/2021): Please keep your comments civil. We reserve the right to delete comments or ban users who engage in personal attacks, use an excess of profanity, make verifiably false statements or are otherwise nasty. Comments that contain links must be approved by admin.