State Senate recall case targeting Democrats argued before Supreme Court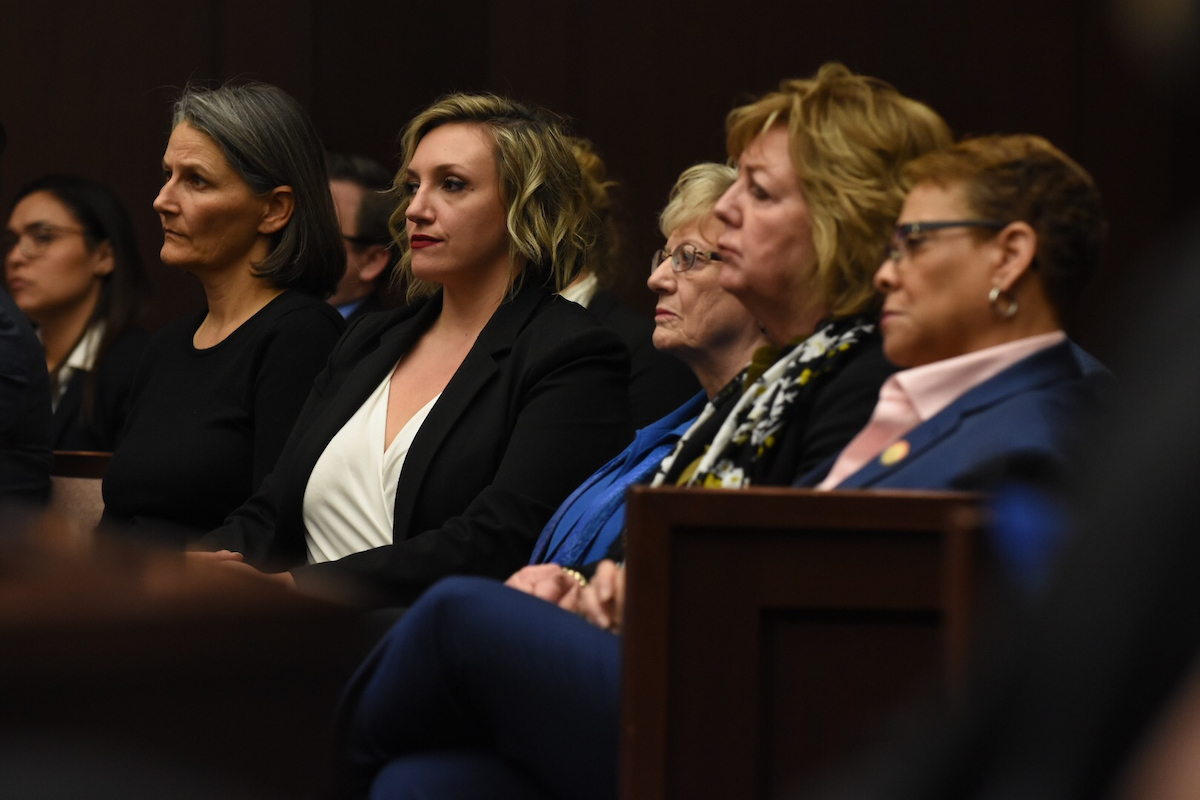 Attorneys on both sides of attempted recalls of two Democratic state senators argued for what could be the final time before the Nevada Supreme Court on Monday, part of a last-chance appeal that could either drive a final nail in the coffin of the recall efforts or result in an unprecedented special recall election.
In oral arguments before the justices on Monday, attorneys Marc Elias and Michael K. Wall made their final pitches to the seven members of the state's highest court, as part of an appeal made by backers of the recalls challenging a Clark County District Court's decision finding signatures for the recalls were insufficient for a special election.
Although the court's decision will likely come in weeks or even months, it will determine whether the 18-month-plus process to qualify the recalls are finally squashed, or if Republicans will be given a long shot attempt to unseat two Democratic lawmakers and move the balance of power in the state Senate from a 13-8 Democratic majority to a narrow 11-10 split between the parties.
At the heart of the 30-minute oral argument was debate over so-called "post submittal strike requests," which are forms allowing people who initially signed the recall petition to remove their names from the list after the petition is turned in to state officials.
Clark County Judge Jerry Wiese ruled in March 2018 that the state law allowing the strike requests was constitutional — despite a challenge by attorneys for the recall organizations — reducing the total signature count to below the threshold needed for a special recall election. But backers of the recall efforts appealed in May, asking the state Supreme Court to overturn Wiese's decision on the withdrawn signatures and requiring a full verification of all petition signatures, which could — depending on if several alleged incorrectly stricken signatures are added back — bring the number of signatures to recall Woodhouse to the required level.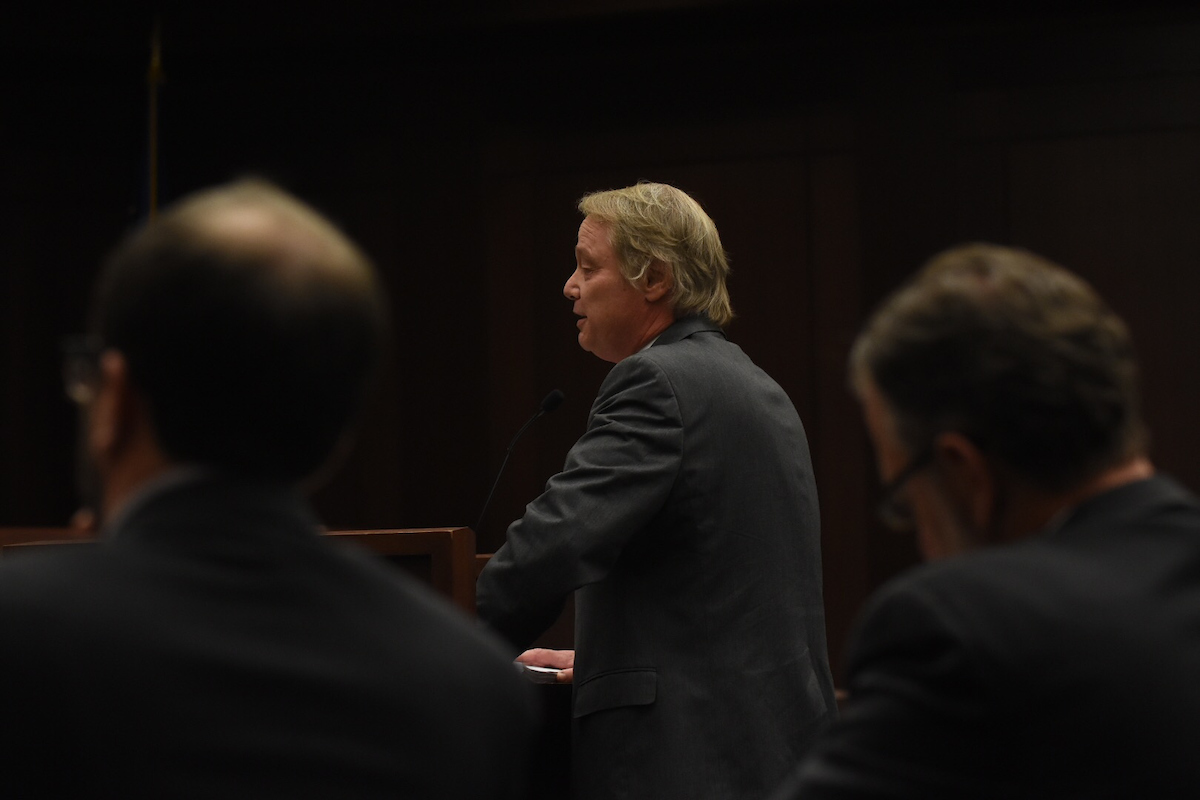 Wall, an attorney with the firm of Hutchison and Steffen, urged members of the court to follow the plain language of the state Constitution, which holds that if the target of a recall doesn't resign within five days after a recall petition is filed, a special election "shall be ordered" within 30 days for an election.
"The Constitution demands that," Wall said. "The Legislature can't get together and adopt a statute and amend it in 2001 in a manner that allows them to stop the recall election. That's not a statute that is in aid of the recall. That's a statute that undoes the recall, and makes the recall almost an impossibility."
Wall said that recall provisions were effectively "denied if it's delayed," saying that the post-submission withdrawal requests were akin to a game where the other player continues to play and score after time runs out.
"A withdrawal is like a voter in a regular election changing their mind multiple times before they vote in a poll," he said. "A strike request is like somebody going to the polls and voting, and then having second thoughts and saying I want to withdraw my vote."
But Justices Elissa Cadish and James Hardesty both noted that if the court granted the request of the recall backers, the court would be effectively granting a path forward for a recall election despite a full count of the submitted signatures showing that the number of valid signatures was below the threshold, with or without the challenged withdrawn signatures.
"I guess the question is, if we were to agree with your point, we would be sanctioning a recall based upon verified signatures that did not meet the constitutional or statutory requirements," Hardesty said.
Under Nevada law, qualifying a recall election is a tall order. A successful petition requires signatures from 25 percent of voters who cast a ballot in the last election of the targeted office-holder, gathered within a 90-day period. Signatures are reviewed by local and state election officials, who take out invalid signatures in order to determine whether or not the petition hits the required threshold.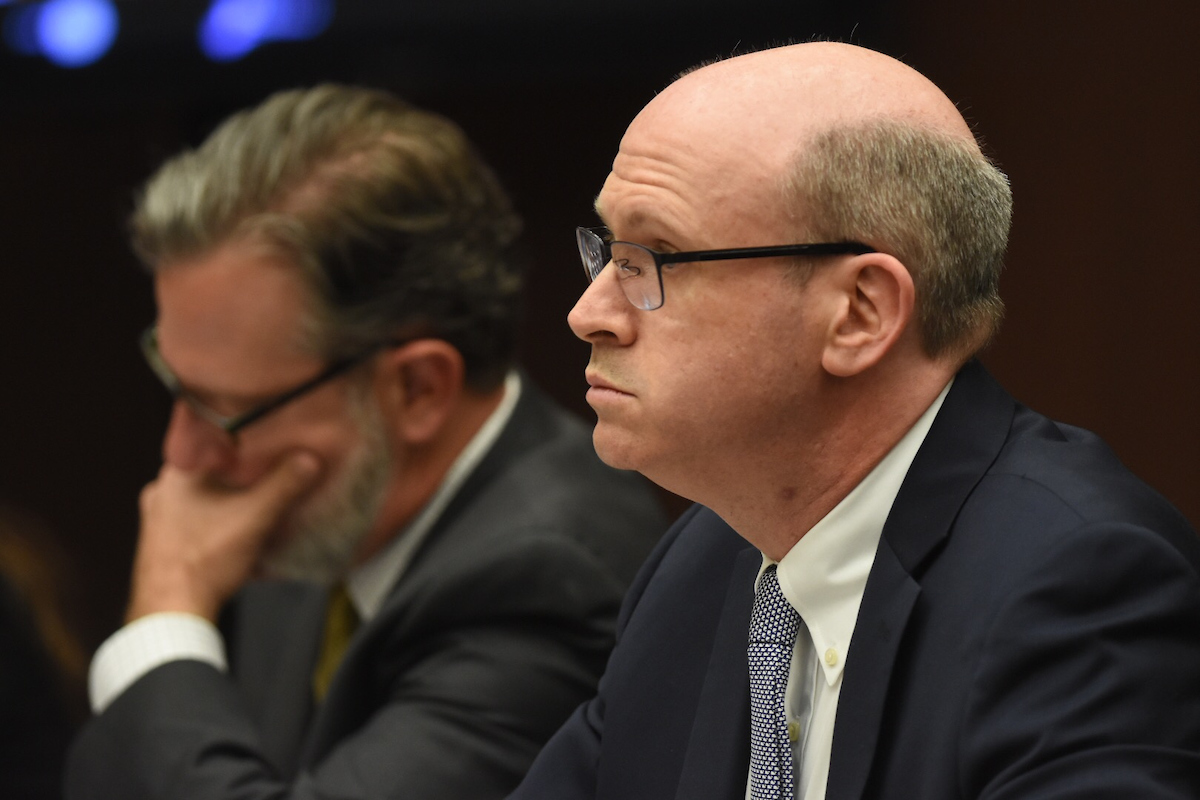 Elias, representing the state senators, said it would create a truly "absurd result" if the court were to rely on signature numbers garnered by signature sampling when it had a full count already available.
"If you take a step back, the objection coming from the other side is that we should remain blind to what the actual number of signatures is, and that we should only go with the statistical estimate of the signature number, rather than the actual of the signature number," he said.
He said complaints by recall backers about alleged errors made by the county register on signature count should be invalid, as the case could not drag on forever as parties fought over a small batch of signatures with questionable validity.
"I've been involved in a lot of election disputes, and I've won some and I've lost some," he said. "But at some point, the counting stops. You don't get to just keep telling the court, 'well, keep counting until I get the number that  I want.'"
Funded by the Republican State Leadership Committee and championed by former Republican state Senate Leader Michael Roberson, recall efforts against Democratic Sens. Joyce Woodhouse, Nicole Cannizzaro and Republican-turned-independent Sen. Patricia Farley were launched in the fall of 2017. Taking advantage of Nevada's lack of a requirement for grounds to bring a recall, backers of the efforts used largely partisan language to support the recalls, including citing the targeted senators' support for a so-called "sanctuary state" bill and other measures supported by Democrats in the 2017 session.
The petitions targeting Woodhouse and Cannizzaro were initially declared to have enough signatures to qualify for special recall elections, but Democratic group challenges and inclusion of the post-submittal strike requests drew the number of valid signatures for both petitions below the needed threshold.
Both Cannizzaro and Woodhouse said in interviews that they were confident with their cases heading into the oral arguments, and both said they were prepared for the contingency of having to run in a special election if the court reversed the District Court's decision.
"We've always known that there are any number of ways in which this could ultimately end, and if we have to run in an election, then I stand ready and willing to do so," Cannizzaro said.
Both seats will be on the ballot in 2020, though Woodhouse is prohibited from running again due to term limits.
The two senators introduced a bill draft request last June related to recall elections, but no final legislation has been introduced. Cannizzaro said the bill was still being worked on, while referencing an audit of the Nevada secretary of state's office that found a better sampling methodology would have resulted in the recall petitions not being declared initially sufficient for a special election.
Woodhouse, who attended the hearing along with Cannizzaro and nearly half a dozen other state senators, said she was prepared to finish out her term regardless of whether or not a special election happens, but sounded some notes of frustration at the long-running legal battle over the recalls.
"It's just unfortunate that it's dragged on like this, and so much effort and expertise and money has been expended on something that is ridiculous," she said. "The will of the voters put Senator Cannizzaro and I in the office, and we haven't done anything wrong, so the recalls are just inappropriate."
Jacob Solis contributed to this story.
Featured Videos
Comment Policy (updated 4/20/2021): Please keep your comments civil. We reserve the right to delete comments or ban users who engage in personal attacks, use an excess of profanity, make verifiably false statements or are otherwise nasty. Comments that contain links must be approved by admin.