Second GOP-backed recall attempt targets independent state Sen. Farley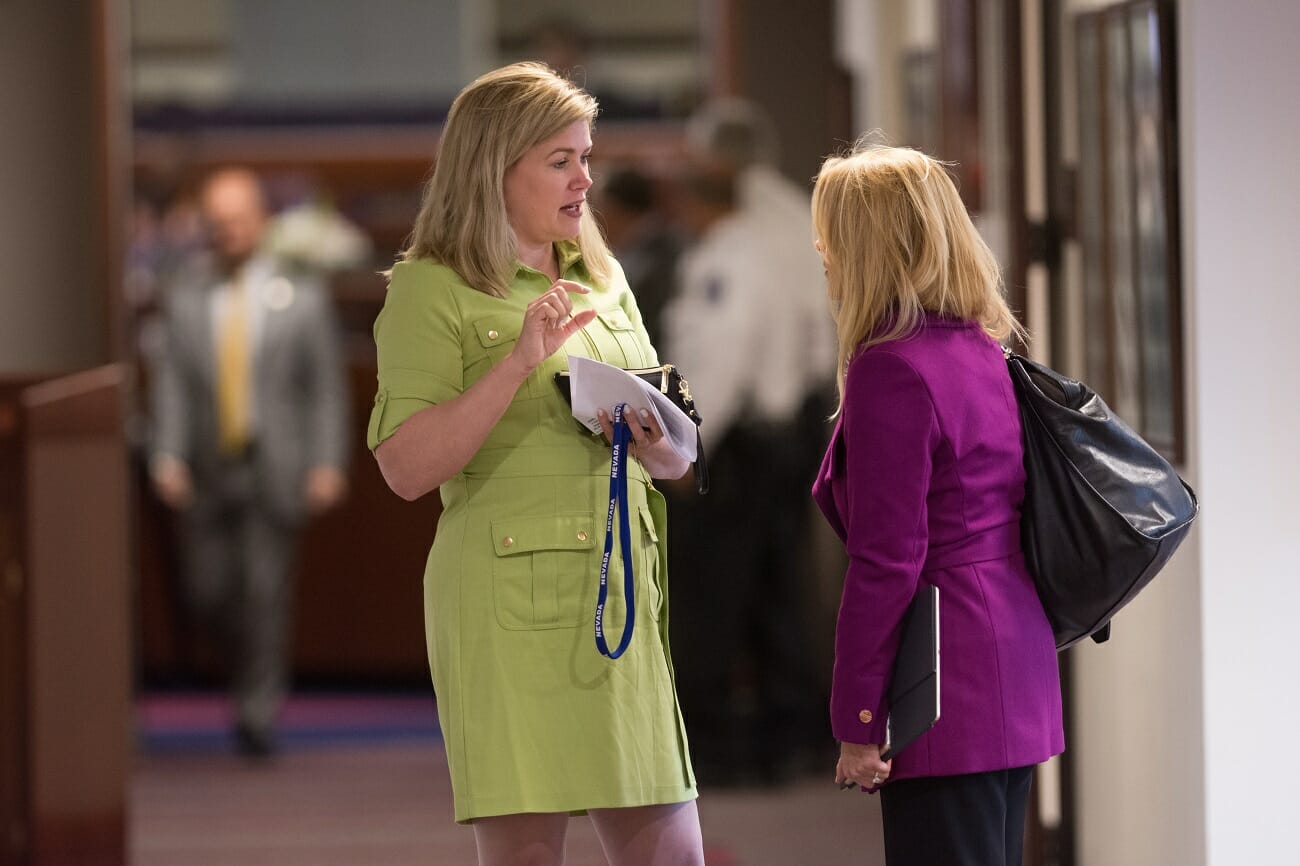 Just days after a former lawmaker filed a petition to recall a Democratic state senator, a second effort is underway to remove independent legislator Patricia Farley from office.
The effort, though, comes as Farley has already decided not to seek another term, she told The Nevada Independent.
The one-page notice of intent to recall Farley filed today does not state why the former Republican senator, who now caucuses with the Democrats, is being recalled from office, but another document indicates that the intent is to replace her with Jared Glover.
The document to recall Farley from her District 8 seat was signed by Annalise Castor, a supporter of Lt. Gov. Mark Hutchison's 2014 campaign and vocal advocate for the Clark County School District reorganization; Kevin Kean, a board member for the conservative Keystone organization; and John Gibson, chairman and president of the Keystone board.
Gibson said in a phone interview Friday afternoon that he was approached roughly 24 hours ago about getting involved with the petition by Ryan Hamilton, a consultant with j3 Strategies. Robert Uithoven, who heads the firm, is a campaign consultant for Republican Attorney General Adam Laxalt, who is expected to run for governor in 2018, and a lobbyist for Las Vegas Sands, owned by billionaire Sheldon Adelson.
Gibson said that he respects and likes Farley, who he called a "very successful businesswoman," but that he was "extremely upset" with her and other lawmakers who voted in favor of a $1.1 billion tax increase in 2015 and a bill to remove the prevailing wage exemption for construction for schools and the Nevada System of Higher Education in 2017. (Sandoval vetoed the measure.)
"I haven't done this before. This is difficult for me," Gibson said. "I'm afraid we have to take a stand now publicly, and this is a way to take that stand."
Gibson said that he didn't have a copy of the actual petition himself and noted that the notice of intent to recall did not specify the reasons for recalling Farley. But he said that Hamilton told him verbally the rationale for recalling Farley — the tax vote, criminal justice reform efforts in the Legislature, increasing the cost of school construction by leaving the prevailing wage in place and education reform — and they were all points he agreed with.
"Obviously I agree with this," Gibson said. "Had you said, 'Mr. Gibson, write something down,' I probably would've written down the same thing."
He said that he did not know who else was involved with the measure, other than attorney Jacob Reynolds at Hutchison & Steffen, the law firm run by Lt. Gov. Mark Hutchison. Daniel Stewart, who recently left a job as Gov. Brian Sandoval's general counsel, is also working on the recall efforts at the firm.
Asked whether Republican state Sen. Michael Roberson was involved with the recall efforts, Gibson said that he couldn't answer that but noted that he "wasn't happy" with Roberson's vote on the $1.1 billion tax increase in 2015 either. He said he didn't know who else was behind the measure or who was funding it and directed all other questions to Hamilton.
Reached by phone Friday afternoon, Hamilton said, "I have no comment. I have nothing to say about it. I've got to go."
Efforts to reach the Castor and Kean were not immediately successful on Friday.
Farley, who told The Nevada Independent two weeks ago that she would decide soon whether she'll run again, said she found out about the recall on Friday morning. She called it a "stunt" without a clear purpose or reason.
"In general I think it's gutter politics at it's best," she said. "I think when you have a party that lacks a substantive policy agenda, and the inability to communicate, with the middle party and their voters, the only opportunity they have is to do politics. The nation is tired of it, and Nevada is tired of it."
In a later statement, Farley said she had decided not to run for re-election or any other political office in 2018 given her decision to become a licenced foster parent in October.
"With this change to my family and personal commitments, I will not be a candidate for any office in the 2018 election," she said.  "I believe my time and efforts are better focused on my children and their cousins."
The first recall effort to come to light this week targeted Woodhouse, who represents District 5. Former Assemblyman Stephen Silberkraus, his wife, Chelyn Sawyer, and Henderson resident David Satory filed a notice of intent Aug. 2 to recall Woodhouse and replace her with Carrie Buck, who challenged her but lost in the 2016 election.
A signature-gatherer who knocked on one door in Henderson on Thursday gave Woodhouse's support for a "sanctuary city" bill as the reason that she was being recalled. Woodhouse co-sponsored a piece of legislation that would have limited the ability of local law enforcement to provide immigration data to federal authorities and a bill to prohibit government entities that maintain information about a person's immigration status to disclose that information to the federal government, except under certain circumstances.
Farley indicated that she believed the recall was being done as a political stunt to gauge which issues would motivate voters, as opposed to a specific vote or stance on an issue.
"They can't even articulate what they're doing in the election recall notices. I think they're out at doors, trying to test what works at the door," she said.
Republicans, specifically Republican Senate Leader Michael Roberson, seized on immigration during the session, decrying Democrats' efforts as tantamount to making Nevada a "sanctuary state." Roberson introduced his own bill to prevent cities or counties from adopting policies that prohibit, limit or discourage local law enforcement from cooperating with federal immigration authorities and is chairing a committee to introduce a ballot measure in 2018 to "prevent sanctuary cities in Nevada."
Republican Gov. Brian Sandoval, who can't seek re-election because of term limits, distanced himself from the recall effort when asked about it in Las Vegas on Friday.
"I had no knowledge that they were going on," he said. "It's something I'm not going to be participating in. They're on their own."
Meanwhile, Senate Majority Leader Aaron Ford released a statement defending Farley and bashing Republicans' petition effort.
"Senator Farley has been exceptional to work with, she is in public service for all the right reasons, and she is a valued, respected member of our caucus," Ford wrote. "I will reiterate again that this backroom scheme by Republicans is a revolting attack against outstanding women Senators, an insult to Nevada voters and taxpayers, and a blatant abuse of the recall process. The individuals behind this effort should stop hiding from the public and justify this campaign to steal seats in the Nevada Senate."
Silberkraus and Buck have not responded to multiple phone calls. A phone number listed on the recall committee registration form also went straight to a voicemail that has not been set up.
Woodhouse released a statement Thursday, describing the recall effort as an "abuse" perpetrated by people who are still bitter about the 2016 election results
Farley had been personally recruited by Roberson for her successful 2014 run for Senate. But the two had a falling out over what Farley said was Roberson's unwillingness to accommodate her schedule as a single mother, and she announced before the 2017 session that she'd registered as nonpartisan and would caucus with Democrats.
That gave Democrats a 12-9 advantage on many party-line votes. Democratic Senate Leader Aaron Ford added further fuel to his strained relationship with the Senate's minority leader by appointing Farley to the Legislative Commission and not including Roberson on the powerful interim panel, which is usually divided evenly between the parties but now has a Democratic bent.
District 8 covers a western portion of the Las Vegas Valley, including parts of Summerlin.
This story has been updated with the news Farley is not seeking re-election.
Update 8-17-17 at 2:43 p.m.: This article has been corrected to reflect the fact that Democratic Sen. Joyce Woodhouse was a co-sponsor on SB389, not a sponsor.
The Nevada Independent is raising $200,000 by Dec. 31 to support coverage of the 2024 election.
Tax-deductible donations from readers like you fund this critical work.
If you give today,your donation will be matched dollar-for-dollar.
Give + Get Matched
Featured Videos