In spite of amendments, Democrats insist ex-felon voter rights idea 'absolutely not' dead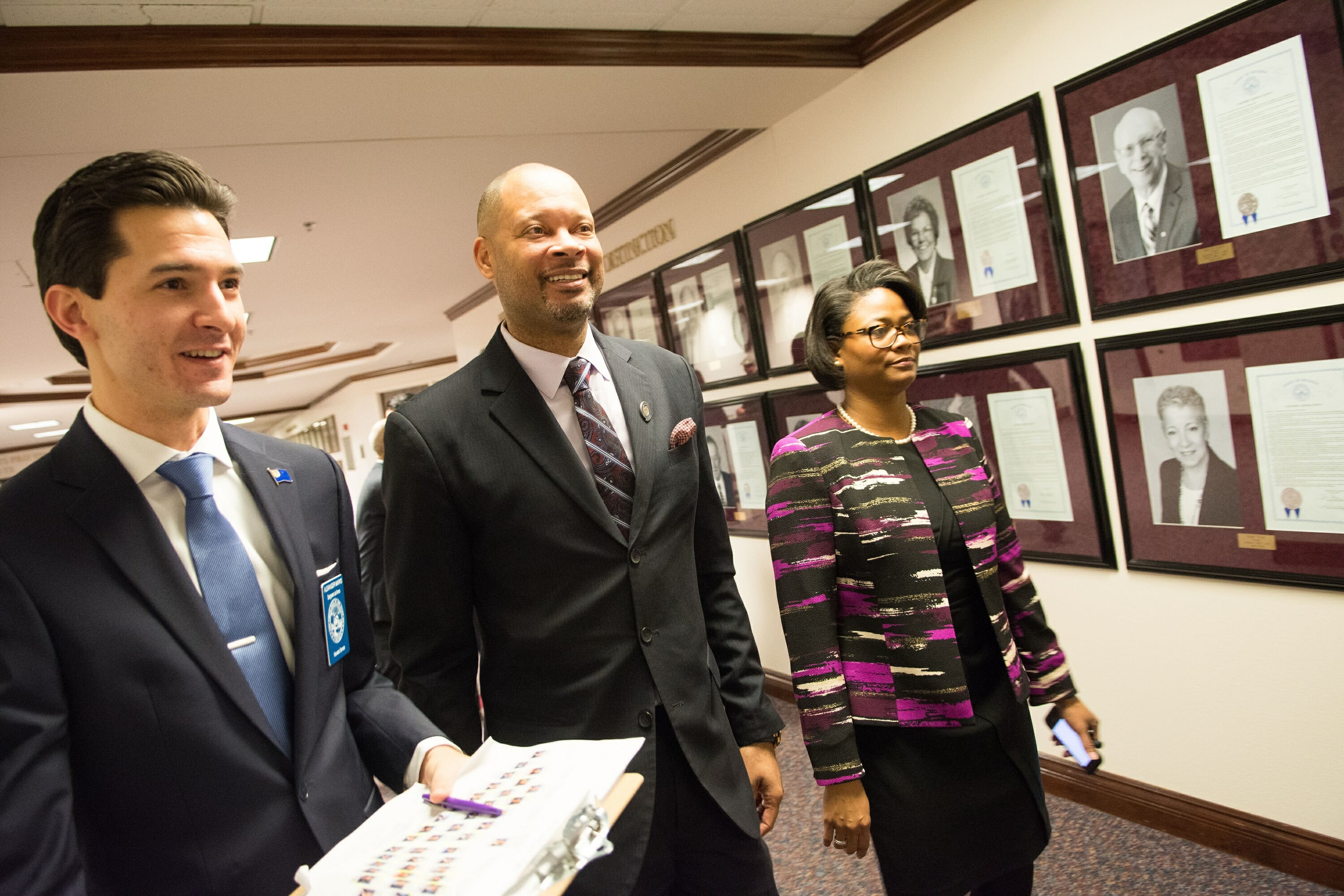 A Democrat-backed bill that would have restored voter rights to some ex-felons was scaled back Wednesday to a measure changing eligibility requirements for criminal record-sealing, but sponsors say that doesn't mean the controversial effort to restore voting rights for former prisoners is dead.
In an unusual procedural move, Democratic Senate Majority Leader Aaron Ford's bill SB125 — which had passed the Assembly Corrections, Parole and Probation Committee on May 9 — was sent back to the same committee Wednesday and the old vote was revoked. The scaled-back version of the bill was brought up for a new vote, and passed with one Republican, Assemblyman Ira Hansen, opposed.
Restoring voting rights for ex-felons has been a partisan flashpoint this session, and a bill attempting to do so was vetoed by Gov. Brian Sandoval in 2011. Sponsors say they believe they can make their bills different enough than the vetoed bill that they could get Sandoval to sign it.
Ford said the gutting of his bill was "absolutely not" a sign that the voting concept was dead, adding that "it remains an important priority for us."
"There were several vehicles out there that address this issue in different ways … and what we've done is taken a more expansive approach to look at it," Ford said. "So my bill addresses one component of this issue, there are other bills that issue the voting component."
Democratic Assembly Speaker Jason Frierson, meanwhile, plans to amend his own ex-felon voting rights bill, AB181, in the hope of attracting some bipartisan support. He said that he and Ford agreed that his bill would focus on voting rights restoration while the Senate majority leader's would focus on record sealing.
"I am taking a little bit more time to see if we can get some bipartisan support and hearing and getting some input," Frierson said about his bill, which has been sidelined on the chief clerk's desk but is also exempt from legislative deadlines. "I think that we are close to moving it one way or another. I made a few adjustments in a bipartisan effort anyway with the hope that would take into account some concerns and maybe get some extra votes."
Frierson's original bill would have allowed certain individuals — those convicted of a category A felony, a category B felony involving the use of force or violence resulting in substantial bodily harm or two or more felonies — to have their voting rights automatically restored two years after discharge from parole or probation or release from prison, instead of requiring them to petition the court to have their rights restored as it the case under current law.
Felonies in Nevada are categorized on a scale of A to E, with category A felonies being the most severe and carrying the stiffest penalties.
The amendment removes the expedited voting rights restoration procedure for category A, category B and repeat felons, among other technical adjustments, Frierson said.
The rest of the bill — which allows those convicted of category B felonies without the use of force or violence resulting in substantial bodily harm and category C, D and E felonies to immediately have their voting rights restored upon release from prison or discharge from probation or parole, regardless of whether they were discharged honorably or dishonorably — will remain in place, Frierson said. The bill also retroactively restore civil rights to Nevada residents who were discharged from probation or parole or released from prison after serving their sentences before October 1, 2017.
The governor, for his part, has remained relatively vague on the issue, saying in March that he looked forward to working with the speaker on justice and the justice system. But Frierson said in an interview last week that he wants to shape his bill into something that addresses the concerns the governor expressed in his 2011 veto message and that the governor's office has been open to a dialogue.
"The governor's office is interested and open to the conversation as well — I think that over  in the executive they certainly appreciate that I wasn't going to put them in a position of contradicting their own veto message," Frierson said.
Feature photo: Aaron Ford, center, and his wife Berna attend the governor's State of the State address in Carson City on Jan. 17, 2017.
IndyFest is proudly sponsored by:
Comment Policy (updated 4/20/2021): Please keep your comments civil. We reserve the right to delete comments or ban users who engage in personal attacks, use an excess of profanity, make verifiably false statements or are otherwise nasty. Comments that contain links must be approved by admin.