Indy Q&A: Speaker Jason Frierson on the new mining tax, death penalty repeal and school funding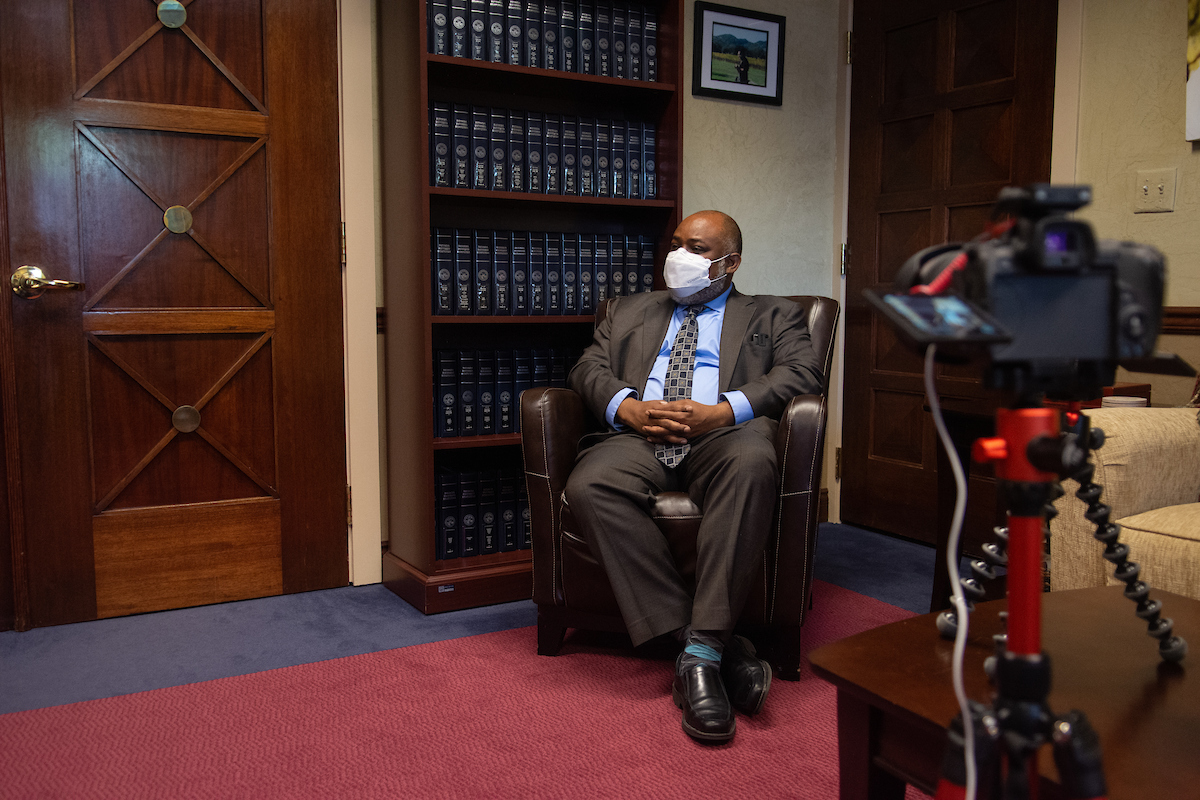 With the dust of the 2021 legislative session finally settled, few individuals played more of a prominent role in the outcomes of the session than Assembly Speaker Jason Frierson (D-Las Vegas).
Frierson, who underwent treatment for prostate cancer in March, played a crucial role in negotiating the final mining tax package that won support from a broad swath of interest groups — not only the mining industry, but also progressive groups, the Clark County Education Association (CCEA), broader businesses interests and enough Republicans to clear the required two-thirds constitutional hurdle for a new tax increase.
The final negotiated package ensured that proposed mining tax constitutional changes and a pair of CCEA-backed tax initiatives will be withdrawn from the 2022 ballot — a win for both a mining industry that feared a large tax increase and Democratic lawmakers who were hesitant to appear on a potentially unfriendly midterm ballot with multiple tax increases.
In the middle of all of it was Frierson, who sponsored the mining tax bill. He gave more details on how the final "deal" came together in an interview with The Nevada Independent on Monday.
The Assembly leader also gave a rundown of enhanced K-12 education funding and what lawmakers want the Commission on School Funding to do in the interim, and all but declared another sales tax hike to help fund education off the table.
Frierson also gave more details on the demise of efforts to repeal the death penalty this session and why the Assembly advanced the measure. He also discussed when and if a special session on federal COVID relief funding may be called, and what his future in public office may hold — including potentially the position of Clark County district attorney.
The interview below has been edited for clarity and length.
How did "the deal" come together, from your perspective?
The mining deal reflected a tremendous amount of collaboration ... I think it was great that the industry came forward and represented being a willing payer, and a participant and wanting to do their fair share. And, of course, when the economy turned down and the value of gold went up, we recognized that we needed to take further steps to diversify our economy.
I think that COVID certainly helped develop momentum to one resolution to invest in public education. There was obviously, out of our control, CCEA's effort with a couple of ballot initiatives that I think brought more folks to the table. And then of course, last special session, both the Senate and Assembly resolutions that proposed to approach generating greater revenue from mining also provided motivation for folks to come to the table.
Those resolutions were designed to … put a measure before the people, because I think our legislative institution was tired of not making progress in that regard. And so it was up to them to come together and offer something that was an alternative. And they did just that.
How did you guys get to a place where even folks on the left were OK with this?
I met with progressives weekly, all session, but also met with the business community all session, I met with labor all session, I met with various stakeholder groups all session to hear from them.
And I think across the board, while everyone had what they thought would be an ideal amount or a minimum, everyone also agreed that we needed to have meaningful movement towards increased revenue from mining for education.
While we would have liked 200, 250 million, maybe even 300 million, these are all projections that aren't certain anyway. At the end of the day, when I'm at the door with voters, and I'm talking about having meaningful increases in contributions for public education, they're not going to split hairs over whether it's 170 million or 175 million. They wanted to see a meaningful contribution, and I think what we were able to accomplish did just that.
It seems the structure was set, and then came negotiations about what concessions would be made. Can you tell us how that developed?
The first step was, what will it take to get the Democrats in the Assembly and the Senate across that finish line? If we don't have them, then it would be a lost cause.
And then after that, we can start to talk about how we could get two or three Republicans across the finish line to support the cause and what it would take to get them there.
Why did it happen so late?
I certainly would have preferred that it happened sooner. But again, legislation is the art of compromise. And so I don't know that we had Republican colleagues ready to give up a two-thirds vote.
The Commission on School Funding calls for researching new revenue ideas. They came out with a report in April pointing to sales and property tax. What more do you want them to do?
What I don't think that they had the benefit of is knowledge that we were going to make a record investment in public education, that we were going to fast forward what was, by some studies, projecting periodic increases over a 10-year period. We made a record investment right off the bat, and I think that changed a lot of the approaches that were laid out.
So we would like for them to continue to look at not only how much money we need, but other sources and other ways to get to that point.
You have been public against raising the sales tax because of its regressive nature, but the other recommendation was the property tax. Are you calling on people to be studying that over this interim?
I'm calling on [the commission] to look at all options, and look at all options that do it not on the back of hardworking families.
Last interim was a difficult interim with COVID and our inability to meet in person, folks concerned about getting ill. We look forward to this upcoming interim; I think there's going to be a much more productive and traditional interim session where we can have those conversations, bounce ideas off of each other.
Is it safe to say that as long as your leader I mean, the sales tax is off the table?
I believe that increasing a sales tax in a state that already has a high sales tax is a regressive approach, and does the opposite of what we're talking about doing.
I think that we're going to consider all options that make sense, so long as it doesn't do it on the backs of the folks that can sustain it the least.
You just finished this exercise of pulling all stakeholders together to get more education money, but the commission is calling for about $200 million more every year beyond where we're at. Is that daunting to you?
Well, first, I think that the $200 million per cycle mark was, again, before we made the unexpected $500 million investment in education, plus provide not only $170 million in new revenue, but $140 million of existing revenue dedicated expressly for education.
I think that we need to continue to work towards making increases in our support for public education. I think that it pays dividends in our workforce, and in the quality of our education. I think that increases the chances of more industries coming to Nevada when we improve investments in our public education system.
You put in a bill draft request before the session for a constitutional amendment that would have gotten rid of the two-thirds requirement if a tax went directly to K-12 education. Why did that concept not advance?
I think that legislation is the art of compromise. That was a reflection of the frustration that I've seen over the past decade or more of an unwillingness by a two-thirds majority of the Legislature to increase funding for public education.
But we provided an alternative ... and I have never lost hope in finding bipartisan solutions. I have said, since I became Speaker, that I will always extend an olive branch across the aisle to try to get us where we need to go. And we were able to do that without putting another measure on the ballot.
Some of the groups that are very closely watching the funding formula are looking at how the base per pupil funding compares to what it was in legislatively approved 2019 levels. Do you feel confident that it's higher or lower than what it was in 2019? And how relevant do you think that question even is?
I think it's relevant. And I think whether or not the numbers, historically, that have reflected Nevada's investment in per pupil spending have been accurate, we have money outside of the base that was not taken into account. And so I believe that what we have right now is a more efficient and effective way of providing per pupil spending than the way that we've done it.
So we've gotten rid of our old funding formula, we have changed our formula so that the money follows the student, and I believe we've done it in a way that makes it more challenging and more difficult to supplant versus supplement education funding. So I believe it is a smarter way to fund public education moving forward.
We're not done, this is just the beginning. For folks that think that we moved backwards, I just disagree. I think we moved forward in the structure of how we fund education, and provided alternatives that allow us to put additional dollars on top of that base funding.
What protections are there against the supplanting of the net proceeds of minerals tax, now that it is earmarked for education?
I think that the protections are a simpler and more transparent, straightforward way of funding public education, and a will of an electorate to do that. We have come together, and I think we recognize now that we cannot move backwards.
I think ... that's going to be the expectation of legislators moving forward is that we continue to make progress and that we don't move backwards. So it's accountability and transparency. But I think that we have collectively the will, in a bipartisan way, to continue to value public education.
Sitting here with the benefit of hindsight, is there is there anything that you would have done differently in terms of the death penalty repeal bill?
At the end of the day, my caucus believed that it was a priority. And as you saw, my entire caucus supported the cause. This isn't new, we've been talking about this for some time. And it's not because of the nature of our day jobs. I've been a public defender, I have been a deputy district attorney, and efforts previously have failed, regardless of which side of that issue in my day job we're on.
But moving forward, we thought this year, with the COVID economic downturn and the challenges with our budget, that this was an appropriate time to reconsider whether or not that's a wise use of our public dollars.
I think that what it showed is that we're not monolithic, we all have different concerns. And I think on that particular issue, there was a desire to have a much more thorough, broad conversation in a regular interim, where we didn't have limitations that we have this last interim, and I respect that outcome.
But my job as leader of my caucus is to empower the members of my own team. And in this case, we felt like it was the right time and the right opportunity to have that conversation. But ultimately, it didn't result in a bill on the governor's desk.
And so I'm confident we'll continue to work together this upcoming interim ... to talk about whether or not there are other compromises or alternatives that we were not able to talk about this session.
Did you know that the governor would have the position that he did — that he would oppose the full repeal of the death penalty — before the death penalty repeal bill came up for a full vote in the Assembly?
I didn't. And I think that we had not decided whether or not it was going to be a full repeal, or a scale back on the circumstances under which somebody could seek the death penalty. I think it was an adjusting matter that we had discussions about and tested with our colleagues both internally within the Assembly, as well as conversations with the Senate.
So we didn't know for sure, but we weren't sure what version would ultimately be moved. And I don't think that we foreclosed the ability to have conversations about different versions up until the last day of session. But again, it wasn't able to get across the finish line. That's the process, we dust off, and we get back to work.
Even the governor said the issue for him is that he hadn't had enough conversations about it. Do you think that's going to resolve the concerns?
I don't think it's a simple issue at all. I think that there are victims, groups that have strong feelings about it … there are families that have been impacted in the criminal justice system. I think that there are advocates on both sides of the issue. It's a complicated and emotional issue, and I think it's worth having extensive conversations about.
The Assembly believed that we had considered it and we had considered it in the past and not moved forward. And I think if there's an interest in having greater conversation about it. It is not a simple issue by any means.
Do you know of any specific conversations that are planned, or people reaching out trying to set things up at this point?
I don't. We're less than a month out of session.
We have lots to be proud of that we're focusing on. We'll again test our messaging and talk to our constituents after the session to find out what they're interested in continuing to consider as a policy matter moving forward.
Do you share the opinion of some criminal justice advocates that district attorney offices are overzealous in pursuing the death penalty?
We have not carried out the death penalty in some time. I know that there's litigation going on right now, I won't comment on that. But I think that we have to culturally, as a state, look at our criminal justice system, and the best way to use our public dollars in a way that advocates for criminal justice that protects victims, that protects the community, but it's also responding to a desire to be more responsible with our public dollars.
Look, I've been in the DA's office, I've been in the public defender's office, I think that there are valid concerns across the board. And that's what this conversation is about. It's about balance and having collective discussions about it.
Do you have an interest in eventually running for Clark County District Attorney or another position outside of the Legislature?
My job's not done here. I'm proud of the work that we've done, and I'm looking forward to the impact that's going to have on Nevadans. I'm proud that we've done it in a bipartisan way.
So I haven't made a decision about what's next for me, that's a conversation that when we all recover, and figure out what the path forward looks like, we'll have a conversation with our families about what's next for us.
Do you have any interest at all in the Clark County DA's office?
There are a lot of different ways that I feel like I could contribute and help the community. I think that's certainly a possibility. That's something I have considered and discussed with close friends and colleagues.
But I've also been able to do tremendous things in the Legislature. I have an obligation to continue to do that, to continue to bring up new leaders and train them and get ready. I'll have to decide what the best way moving forward is to serve the community, and when myself and my family have figured that out, we'll take that next step.
Do you have any more clarity now that we're two weeks out for the session on whether the distribution of federal COVID aid needs to be addressed in a special session?
Well, we advanced legislation that prioritized where we want to spend those dollars. We worked with both the Senate and the governor to set a framework of how we want to spend those dollars.
But the guidelines were lengthy, and so we're going to have to continue to look at and analyze those guidelines and figure out whether or not the framework that we've provided thus far is enough. I do believe that the guidelines call for public input, so to the extent that we can have that type of dynamic, without having a special session, it would be great. I'm not entirely sure we'll be able to do that.
So you haven't asked the governor or expressed that we're going to need a session this summer?
No, we've talked about it since the guidelines came out, we've talked about how we'd like to see those dollars used and, and what the process would look like.
To the extent that we're able to distribute federal dollars with the structure that we already put forth, we'll do so. To the extent that we ultimately decide there are other things that we need... that we were unable to include in the structure, in that 120 days, we'll have a conversation with the governor and with the Senate about the best way to be able to do that.
Do you have a sense of when this special session to do the redistricting process is going to happen?
I don't. I think that the census data finalization is what we need. It was originally September, I believe it's gotten moved up slightly to possibly in August, and then we'll have to work within that structure to have public input and do the normal things that we do every 10 years to get public participation in order to be responsible with drawing maps. But we're not there yet.
Is there any desire to potentially merge those two into one special session to both deal with ARP money and redistricting?
No … we haven't had that conversation. But I think redistricting is a huge undertaking that deserves a separate conversation without unduly politicizing it.
We don't even know we'll have to have a special session for the purposes of redistributing federal dollars.
What are the next steps for you and for Democrats in the state to try to end up to be the first state in the presidential nominating process?
We'll continue to work with the DNC and the RNC to make sure that we're complying with the rules. Again, we can only meet for 120 days every other (year). But this was never for Nevada. This was because we believe Nevada is a more accurate reflection of where the country is going, and we believe that Nevada is a more fertile ground for candidates to make their case.
And so they can continue to go to states that don't reflect the direction the country's going in, or they can come to a state of manageable size that allows them to test their messages.
Now the state GOP has moved in a different direction, but this was certainly a bipartisan led conversation prior to session starting. So we're going to continue to advocate for and work with both the DNC and RNC. And we will land where we land.
If the RNC and if the state party aren't on board with moving Nevada off the calendar, does that kneecap this whole effort?
I'm confident Nevada is the best state for serving candidates and testing messages. So we're not going to violate our DNC rules. We're not going to put our Republican colleagues in a position of violating RNC rules.
We believe we have a strong case to make. And if the DNC and the RNC agree with us, then Nevada will be first. And if they don't, we will have to live with the confines of our statute, and our statute is currently consistent with our guidelines for the DNC and RNC.
What can you say about why a 'Death with Dignity' bill allowing for physician aid-in-dying didn't move forward?
At the end of the day, I don't believe that it had the support to move forward. As we do every session, [we] started to pivot our focus on the things that we knew have at least a chance of moving forward, and I think that's reflected in the demise of that bill and many other bills.
What would you say was the biggest accomplishment, and the biggest disappointment of the 2021 session for you?
I'll say the biggest accomplishment for me, despite having challenges with COVID and access to the building, was advancing record increases in support for public education. I think that that is by far the best thing that we could do, the thing is going to have the longest impact in our state for our families. So I'm most proud of that.
We don't advance bills without the intention of trying to get some progress on those policies. And so all of those are a disappointment. But focusing on the positive, I'm proud of what we were able to actually accomplish. And for everything else, as we do every session, we dust off, to get back to work, and find out what we can advance and what common ground we can find moving forward.
The Nevada Independent is raising $200,000 by Dec. 31 to support coverage of the 2024 election.
Tax-deductible donations from readers like you fund this critical work.
If you give today,your donation will be matched dollar-for-dollar.
Give + Get Matched
Featured Videos