Mixed signals from governor, election considerations blamed for failure of death penalty repeal effort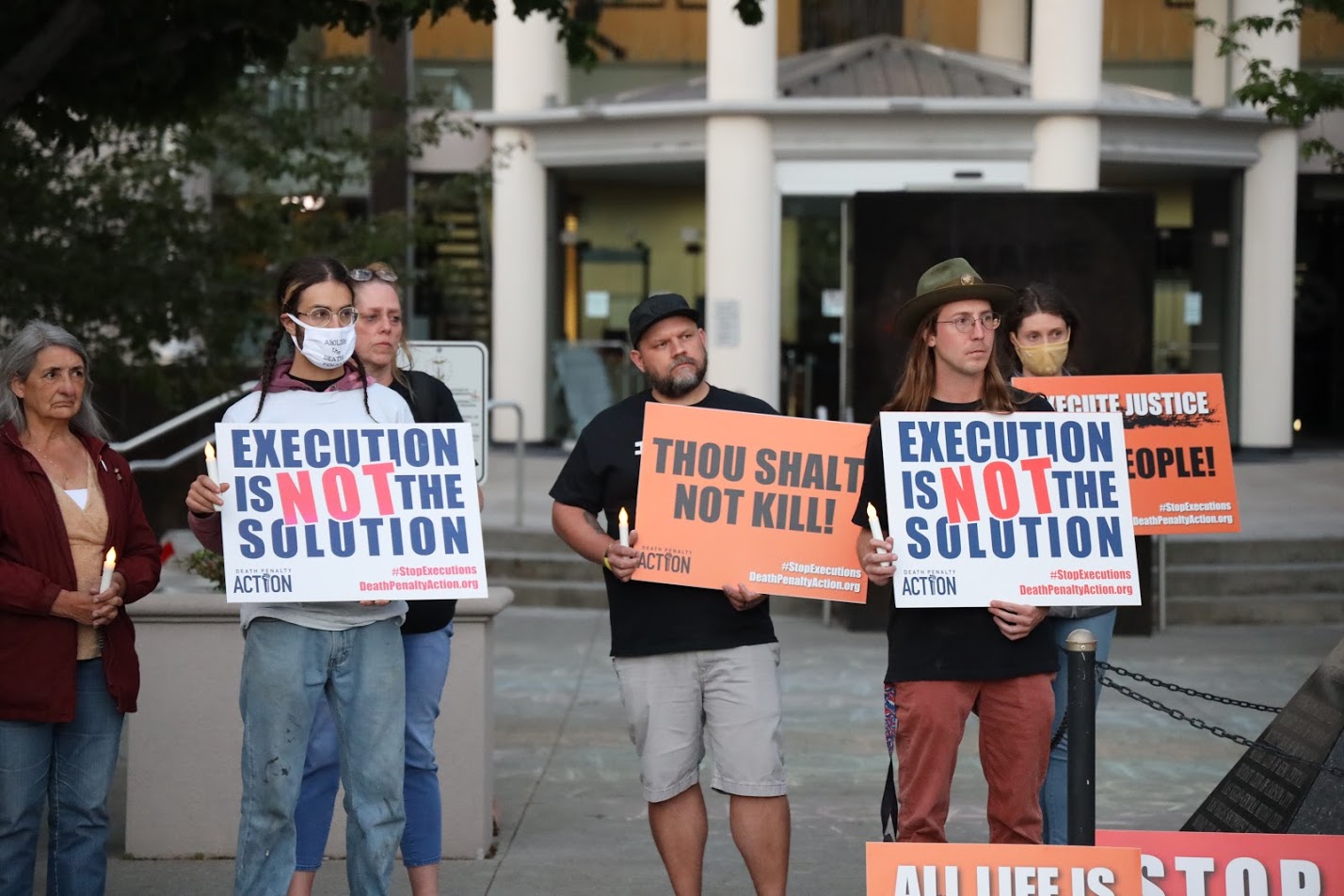 After more than 20 years of trying to ban the state's death penalty, and following former death penalty stronghold Virginia's repeal of capital punishment in mid-March, activists hoped that the 2021 legislative session would finally be the time for Nevada to end capital punishment.
But in spite of the state's Democratic trifecta, those efforts culminated in one of the biggest heartbreaks of the session for criminal justice reform advocates when the bill was spiked by Gov. Steve Sisolak and legislative Democratic leaders earlier this month.
Though no one has been executed in the state since 2006, the Clark County district attorney's office is now pushing for the execution of Zane Floyd, who was convicted of killing four people inside a Las Vegas grocery store two decades ago. Advocates said the move made passing a repeal even more urgent this session.
So why did repeal fail?
No single cause of death is named on the legislative coroner's report, but interviews with involved parties suggest a combination of factors — ranging from personal belief, mixed gubernatorial signals, potential election-related considerations and the fact that the two senators responsible for hearing the bill work for the Clark County district attorney — helped kill the measure and keep Nevada as one of 24 states with the death penalty.
The entire debate takes place against the backdrop of a state still closely divided in party registration, with some top senators — including Senate Majority Leader Nicole Cannizzaro (D-Las Vegas) — winning election by a single percentage point. Republicans flipped several legislative seats in the 2020 election, and Gov. Steve Sisolak's expected re-election challenger in 2022 is Clark County Sheriff Joe Lombardo — a candidate likely to highlight a message of law and order.
Those political dynamics make public opinion a key consideration, but the data has been somewhat inconclusive. A 2017 poll commissioned by The Nevada Independent indicated that most Nevadans support the death penalty, but advocates have long questioned whether the solid tilt toward capital punishment had to do with the way the poll question was phrased.
Anti-death penalty activists commissioned a new survey released earlier this year that showed much closer results — and even a slight lean toward abolition — when questions were phrased differently.
Past legislative sessions have often seen a small group of progressive Democrats introduce capital punishment repeal bills, but the measures never advanced far, with leadership hesitant to push a politically dicey issue through the process in the face of a likely veto. In 2017, Gov. Brian Sandoval signaled opposition to a repeal bill, and after getting one committee hearing it was never brought up for a vote.
So, when Assembly members this session voted on party lines to abolish the death penalty, with Republicans opposed, activists celebrated the measure's move out of committee to a floor vote, the furthest the concept had ever traveled in the Legislative Building. They said the bill was essential to doing away with an "eye for an eye" mentality and a practice they say does not help hurting families move on from violence, disproportionately affects people of color and is an expensive endeavor that could lead to killing innocent people.
Opponents, including Clark County District Attorney Steve Wolfson and individuals who have lost loved ones to violence, however, pushed back against the repeal, saying the death penalty is necessary as a prosecutorial tool and should be an option for individuals who committed atrocities such as the October 1 shooting.
"There are differences between perpetrators and crimes," Wolfson told the Las Vegas Review-Journal in April. "I strongly believe that the death penalty should be reserved for the very rare and extreme circumstances. … The solution is to engage and refine the law, not abandon an option the voters support."
During a hearing on the measure in late March, lawmakers also heard from Jennifer Otremba, who described the murder of her 15-year-old daughter Alyssa in 2011 near her Las Vegas home. Javier Righetti, who was 19 at the time of the killing, received a death sentence in 2017.
"He did not consider Alyssa's life. Why should his life be considered?," Otremba said. "I waited five and a half years for justice for my daughter, and if I have to continue to fight politicians for the rest of my life to ensure that justice is served, then I will do that."
The measure had faced an uncertain future in the Democrat-controlled Senate — which is helmed by Cannizzaro, a prosecuting attorney for the Clark County district attorney. Cannizzaro was repeatedly noncommittal when asked whether she would allow the bill to get a hearing if it passed the Assembly, including in a Nevada Independent forum ahead of the session in January, and maintained that noncommittal stance for months.
Senate Judiciary Committee Chairwoman Melanie Scheible (D-Las Vegas), a fellow prosecutor in the district attorney's office and the key gatekeeper on the decision to give the bill a hearing, had appeared willing to give the bill a chance. Prior to the session, she had indicated her support for efforts to abolish the death penalty, and said just two weeks before the bill died that she would be willing to hear it if an amendment was brought forward addressing the concerns expressed by Sisolak.
During a brief interview with The Nevada Independent on Thursday, Scheible said she would have considered an amendment with a broad base of support, but that nothing came to fruition.
Schedules are constantly moving, she said, adding that she tries to make sure there is always time to hear a bill, but "it takes a lot of people in this government to make such a sweeping change and so without full consensus, we weren't able to."
Scott Coffee, a public defender, said a proposed amendment that had been drafted but never released publicly tracked closely with what the governor said was palatable — making exceptions for mass shootings and terrorism. The organization Gun Violence Archive has set a definition of mass shooting as four people shot but not necessarily killed in a single event.
That's partly why an abrupt announcement — memorialized in a series of synchronized press releases from the governor and legislative leaders — that Nevada leaders were scrapping the bill came as a shock to those working on the cause.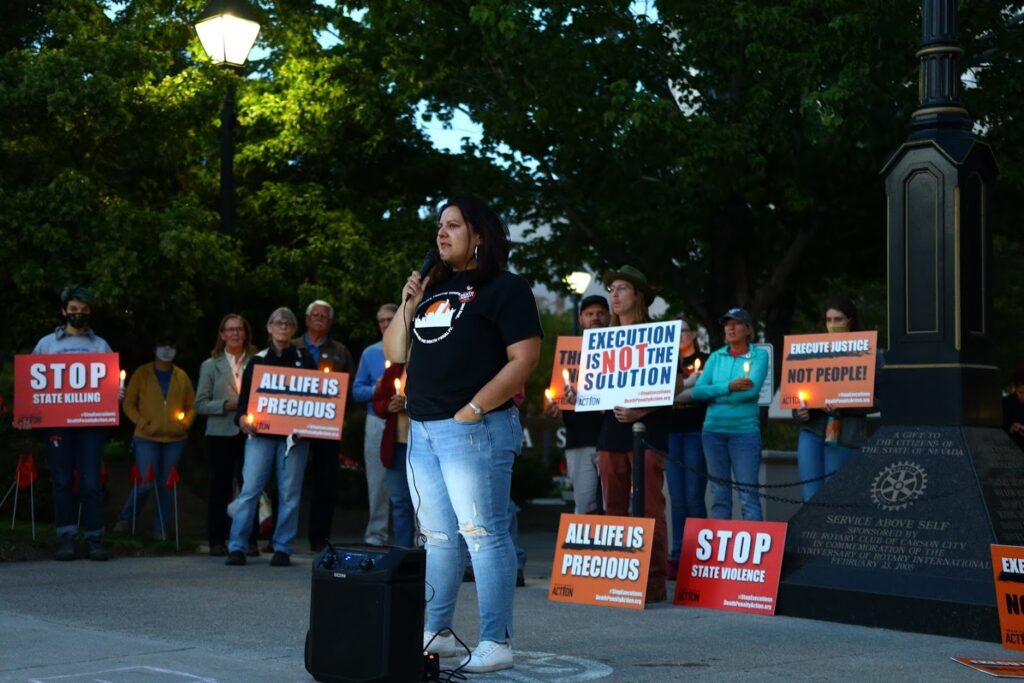 Branden Cunningham and Mark Bettencourt, leaders of the Nevada Coalition Against the Death Penalty, told The Nevada Independent that there were ongoing conversations surrounding an amendment to the bill prior to its demise.
"From everything we heard, [Scheible] was willing to work and hear the bill," Cunningham said. "We had heard that she had set time aside to hear the bill … the calendar was open … and instead of a hearing we got the three statements that came out."
Coffee said the press releases announcing that the bill would not advance were a surprise to him. Up to that point, advocates were actively working on the issue, hoping to connect lawmakers with the pollster commissioned by the coalition to assuage concerns.
"I have to believe the concern was over losing Senate seats," Coffee said. "There's always another election. There's always another excuse."
He said he wishes the governor would have shown more initiative on the matter but ultimately blamed senators for not hearing the bill.
"The Senate got accommodated on everything they asked for," Coffee said. "It's laughable to talk about how good we did on criminal justice reform when we can't get a vote on a platform issue."
Shortly after the announcement that the bill was dead, Cannizzaro defended the progress the Legislature had made on bail reform and police use of force, challenging people who say the Legislature was not doing enough. Asked whether she was personally in favor of a bill with a carveout for crimes such as mass shootings, Cannizzaro demurred.
"I don't think that I am opposed to having conversations on this topic. That has been happening," Cannizzaro said. "Obviously Chair Yeager worked to try to come up with some compromise, and we're just not going to be able to get there."
Though she supports the abolition of the death penalty, Scheible said the decision to not hear the bill was part of a broader discussion.
"I do work in a team and part of my job as the chair of a committee is to ensure that I am making good policy decisions, not pushing my own personal agenda," she said. "Sometimes I get to do the things that I personally want, sometimes I do the things that we need as a state, the things that my body supports, that our coalition supports, and so it's a group effort."
That group effort started and ended with Sisolak, the state's first Democratic governor in two decades after his election in 2018, but who also was chair of the Clark County Commission when the worst mass shooting in American history took place in his jurisdiction. Sisolak was at the forefront of the response to the 1 October massacre and has talked about the effect the incident had on him personally and on his views of capital punishment during his 2018 campaign and beyond.
Sisolak had previously affirmed without qualification that he opposed the death penalty, but he never formally endorsed the legislation. Asked about the bill as the session progressed, Sisolak stuck tightly to talking points — even reading from a prepared statement when asked an impromptu question about the Assembly passing the bill — to emphasize that he opposed capital punishment but believed the measure is necessary for specific situations, such as mass shootings.
Sisolak's hesitation over the legislation was likely heightened by the coming entrance of Lombardo into the 2022 governor's race, where Democrats — with Joe Biden in the White House — are generally expected to suffer some midterm losses. Republicans in state and nationwide have used a pro-police campaign message in recent election cycles, so a death penalty repeal may have added more fuel to that campaign fire.
Past governors — such as Brian Sandoval in 2015 and Kenny Guinn in 2003 — opted to wait until their second term in office, post-midterms, to tackle high-profile policy goals.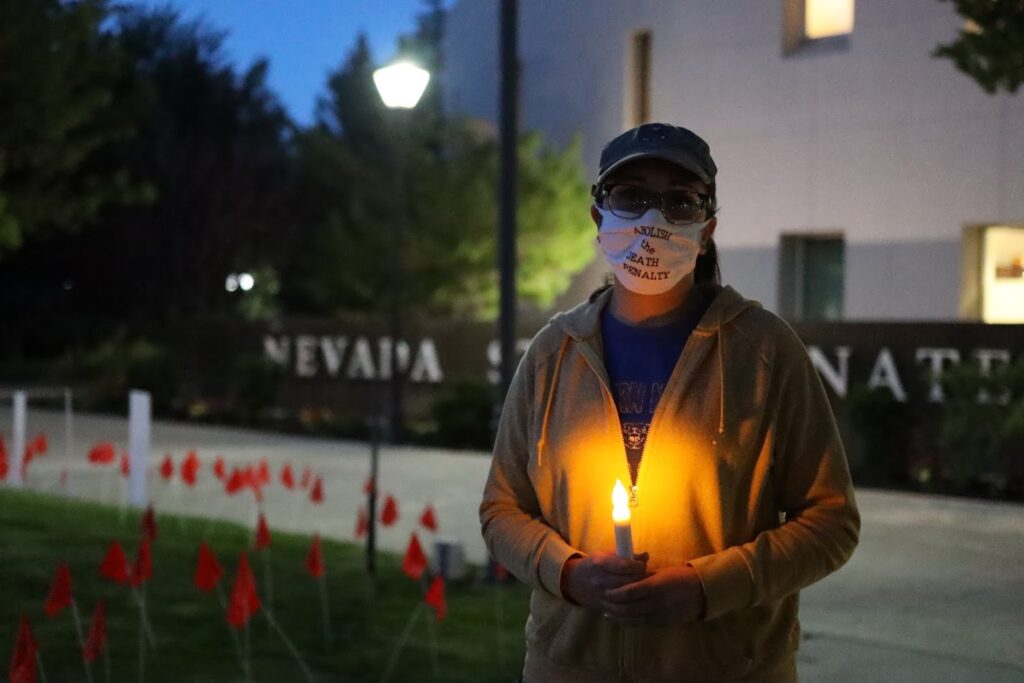 Activists and advocates criticized lawmakers for not giving the bill a public hearing, though, calling the decision "undemocratic" during a protest and vigil last Monday.
"You have to answer to the people," Leslie Turner with the Mass Liberation Project said during the protest. "It doesn't make sense that the death penalty bill is dead now, with no explanation, no checking in with the community."
Cunningham said those pushing for the abolition of the death penalty spoke with various senators and that it seemed as though most of them were open to considering the legislation.
At least one Republican lawmaker was a likely supporter of the bill — Sen. Scott Hammond (R-Las Vegas).
"Generally I'm in favor of repealing it," he said in an interview on Tuesday. "I think it makes a lot of fiscal sense, I think it makes a lot of moral sense."
Though she was disappointed and frustrated by the death of the bill, Monique Normand, an anti-death penalty activist whose uncle was murdered in 2017, told reporters after the vigil and protest that the death penalty would not have brought her uncle back and the fight is far from over.
"People's lives are on the line," she said. "We do have to hold [lawmakers] accountable and we can't just let them get away with, 'you're gonna vote for us.' No, we don't have to vote for anyone, we can withhold our votes, our votes matter. Our lives matter."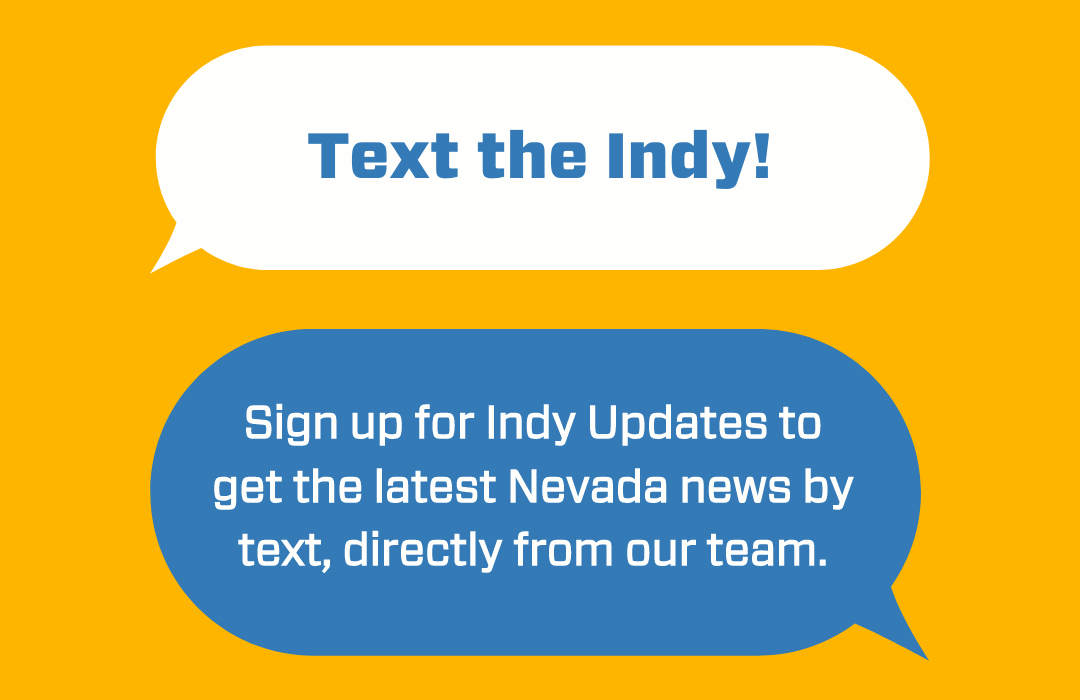 Featured Videos