Police union launches campaign attacking Cannizzaro over alleged lack of support for law enforcement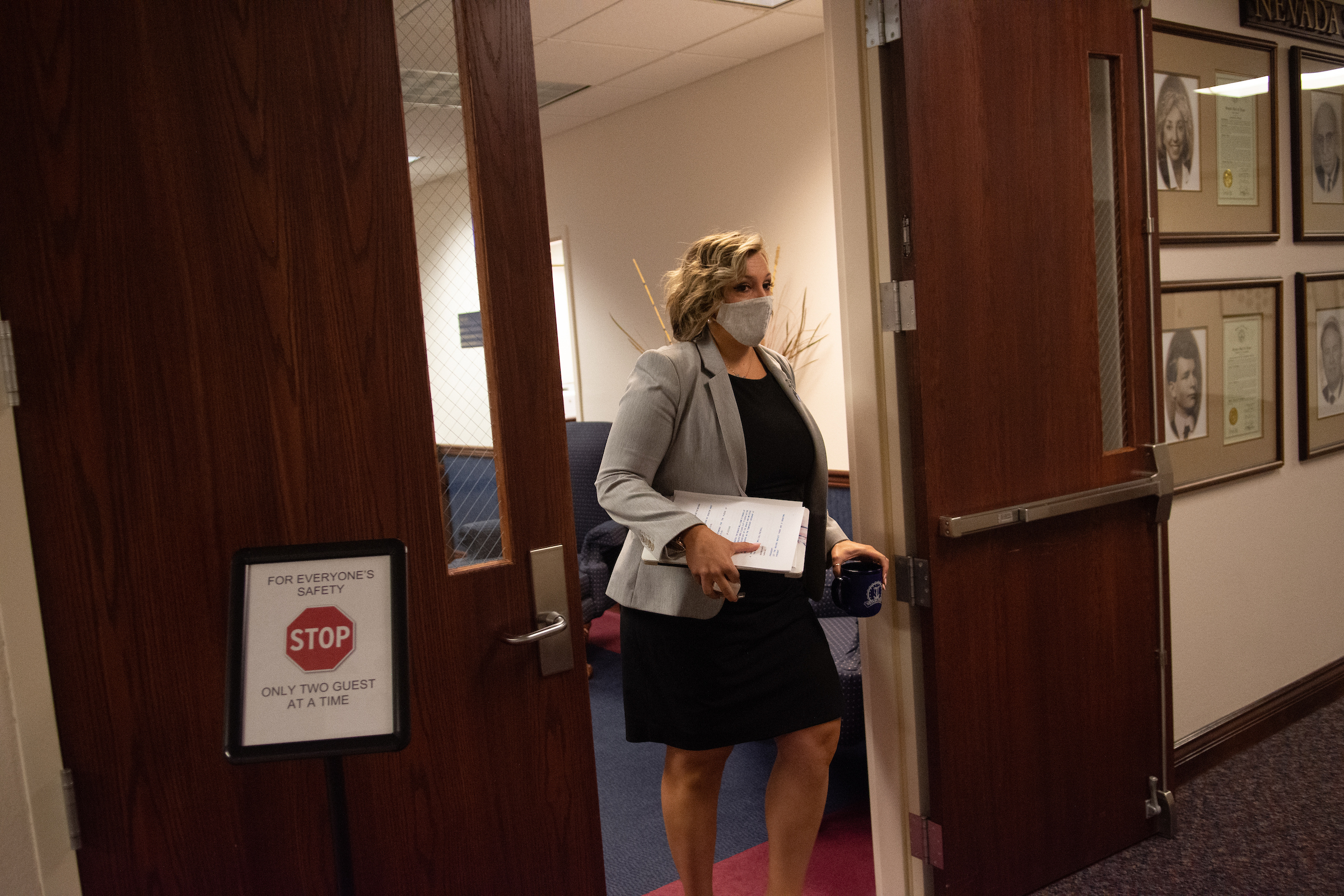 The Las Vegas Police Protective Association is going on the offensive against Democratic state Senate Majority Leader Nicole Cannizzaro, kicking off an independent expenditure campaign against the Democrat's re-election campaign after lawmakers rolled back a bill granting additional protections to officers accused of misconduct.
The LVPPA, which represents active and retired members of the Las Vegas Metropolitan Police Department, has created a political action committee and launched a website, social media ads and two videos attacking Cannizzaro for allegedly siding with "criminals over law enforcement". Cannizzaro is locked in a re-election race against Republican April Becker, who has been endorsed by the LVPPA.
It's the latest development in an acrimonious political divorce between state Democrats and the LVPPA, which broke from the ranks of most organized labor organizations to endorse President Donald Trump and a mix of other Republicans on the 2020 ballot, including congressional and state Senate Republican hopefuls.
In a statement, Senate Democratic Caucus Executive Director Cheryl Bruce said the attack was disappointing given that Cannizzaro is employed as a prosecutor with the Clark County district attorney's office, working in the office's gang unit.
"At the same time LVPPA is sending out blatantly false information about her record on public safety, Senator Cannizzaro is prosecuting a double homicide case, among other violent criminal cases," she said in an email. "Attacking a prosecutor who is risking her own safety to keep our streets and families safe is the worst kind of lie."
Though the union endorsed Cannizzaro and all other state Senate Democratic candidates in the 2016 election cycle, it soured on the Democratic Senate leader after lawmakers in a late summer special session approved a bill rolling back parts of a 2019 bill that granted several powers and protections to officers accused of misconduct.
Criminal justice advocates pushed hard for that legislation, SB2, amid a nationwide reckoning and renewed focus on police violence and misconduct stemming from the death of George Floyd in Minneapolis. But it was opposed by several police unions, including the LVPPA, as an unnecessary reaction removing protections for accused officers.
The LVPPA did not return an email request for comment.
The campaign so far includes a 15-second video stating Cannizzaro is "on the wrong side of the law" after passing a bill that "lowered sentences for drug traffickers and burglers (sic)." Similar language is used in a Facebook ad that began running on Wednesday, stating "our families aren't safe with Nicole Cannizzaro."
It's an extremely simplified reference to a 157-page bill passed in the 2019 Legislature, AB236, a sweeping criminal justice reform measure that originated from a Department of Justice study and recommendations as to how to cut costs and reduce the state's prison population. Among its many changes included lowering the state's "strict" rules on drug possession and sales, and changes to state laws on burglary
The bill was initially opposed by police departments and prosecutors, but was amended in the Senate by Cannizzaro to address some of those concerns raised by district attorneys and other law enforcement agencies. The final version of the bill passed on a 19-2 vote in the Senate.
Per legislative minutes, the LVPPA did not testify on the bill during any of the three public hearings held on the measure.
That social media ad redirects to a website — "Corrupt Cannizzaro" — that outlines a barrage of attacks against her, including supporting bills that her lobbyist husband's clients supported, attempting to raise her salary (through supporting a change to annual legislative sessions), raising taxes and holding "closed-door" special sessions over the summer.
Democrats currently enjoy a 13-8 seat advantage in the 21-member state Senate, but are playing defense in two suburban Las Vegas districts (Cannizzaro and termed-out Democratic Sen. Joyce Woodhouse) while backing candidates against Republican Sens. Scott Hammond and Heidi Gansert.
Cannizzaro, who took over the Senate majority leader position in 2019 after the resignation of former Sen. Kelvin Atkinson, who pled guilty to federal charges of misappropriation of campaign funds for personal use. She won a narrow victory over former Assemblywoman Victoria Seaman in the 2016 general election, prevailing by slightly more than 1,000 votes out of more than 56,000 cast.
Cannizzaro has been endorsed by the Nevada Association of Public Safety Officers (NAPSO), a separate organization representing more than two dozen law enforcement organizations. That organization is separate from the "Public Safety Alliance of Nevada," which includes the LVPPA.
"She has a strong record on public safety, and that's why as Nevada's largest law enforcement Coalition, we continue to proudly endorse her re-election campaign," NAPSO Executive Director Rick McCann said in an email. "We know Nicole, and we trust her."
Comment Policy (updated 4/20/2021): Please keep your comments civil. We reserve the right to delete comments or ban users who engage in personal attacks, use an excess of profanity, make verifiably false statements or are otherwise nasty. Comments that contain links must be approved by admin.