Speaking Up: How 57 people ended one lawmaker's pattern of misconduct at the Legislature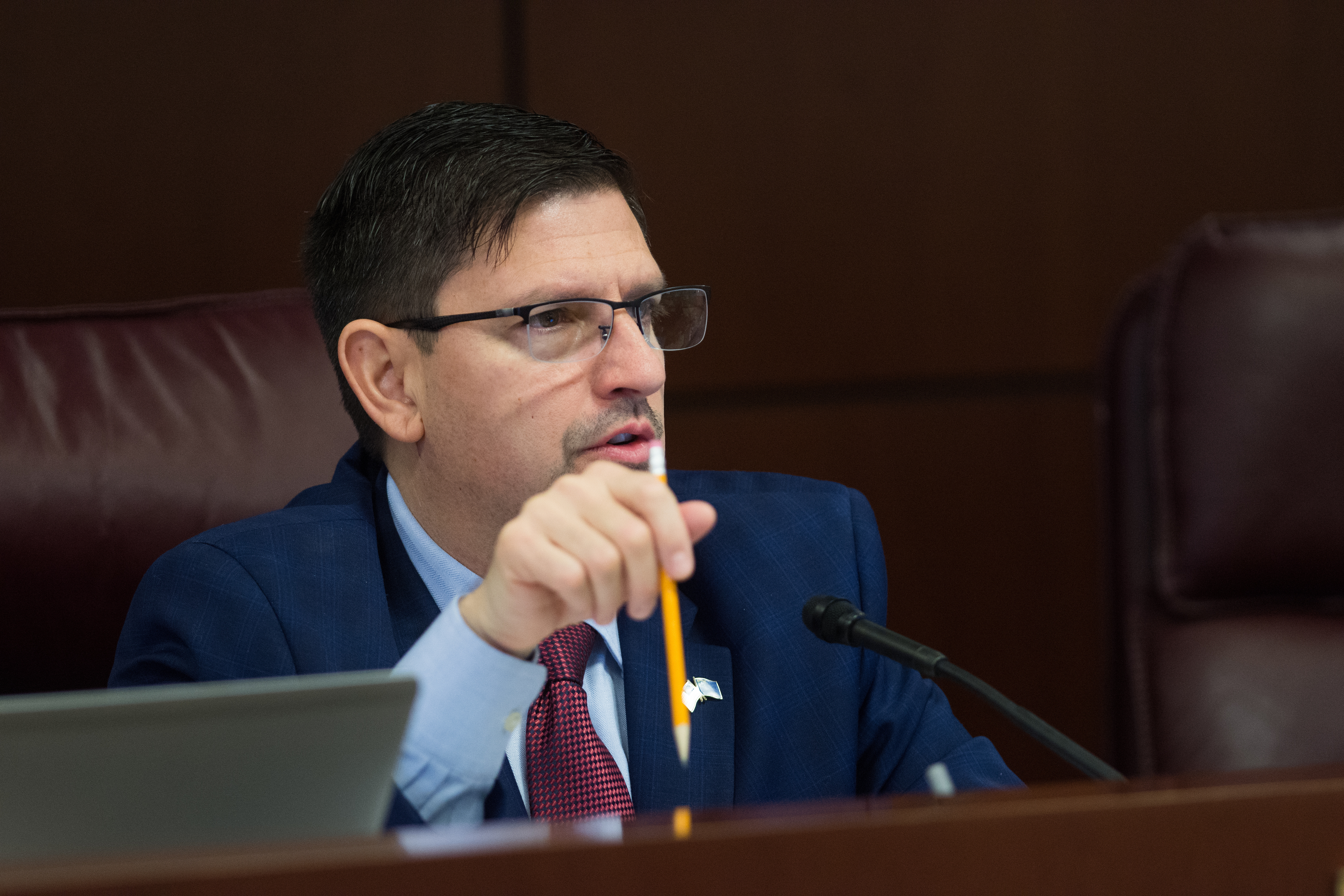 The rumblings started quietly, as they often do.
It was the second to last week in April, the time in the session when the legislative building is abuzz in the face of the looming ax of deadlines. But beneath the hum were whisperings of a different sort between some of the female interns.
Kimberly Mull, a lobbyist for victims' rights, started picking up on some of the chatter in the lobbyists' room between a small group of women. It was just threads at first — talk about longtime Democratic Sen. Mark Manendo's "weird" behavior — that slowly came into relief.
One of the interns came into the lobbyists' room one day, visibly upset, telling her friends that "the man is just a horrible, horrible creep person," Mull recalled. When Mull asked what was wrong, the woman told her: "Manendo."
When Mull asked for more information, the women described uncomfortable comments Manendo made to them. They weren't sexual in nature, Mull said, but "the gist of it was him saying that they didn't realize that they weren't too good for anybody." The women told her that Manendo "was trying to flirt and stuff with us" but was "pissed off" because they "wouldn't give him the time of day," Mull recalled.
Mull, herself a survivor of sexual assault, said she immediately knew something was wrong.
"All my feelers are up, and I'm like, I need to figure out what's happening," Mull said.
So she started talking to them one by one, asking them what had happened. The allegations, she said, ranged from Manendo commenting on the fit of an intern's dress to him sending a message to an intern on LinkedIn past midnight saying "when I hear that you and some of your friends are talking crap about me but you try to connect with me (on LinkedIn) it's kind of offensive just saying!"
Mull found the LinkedIn messages "way inappropriate, way threatening" and "creepy as hell for anyone, let alone who he's sending it to," a woman in her early 20s. Because the conversation was in writing, Mull asked the young woman if she had thought about reporting it.
"She was like, 'Kim, we're interns,'" Mull recalled. "She's like, 'No one is going to listen to us. He's a senator. No one is going to listen to us. We have no one to go to.'"
At that point, the interns' allegations against Manendo could have been handled as in prior legislative sessions. They could have been presented to leaders firsthand or brought forward by a confidante. Legislative leaders could have talked with the women, asked them to write down their complaints. Leaders could have talked to the director of the Legislative Counsel Bureau, asked him to interview the women.
The women could have, as some have in past sessions, declined to make formal allegations, afraid of losing their jobs, damaging their reputations or facing retribution if word got out, and instead simply warned women new to the building to keep their distance from Manendo.
But that's not what happened.
What happened is two senators took the allegations seriously when approached, an independent investigator was hired, and 57 individuals felt comfortable enough under the promise of confidentiality to share either first-hand experiences or otherwise bear witness to what a press release summary of an unreleased investigator's report described as Manendo's "unacceptable actions" this session and in prior sessions, ranging from "sexual comments and advances to aggressive, confrontational, and harassing conduct." That finding prompted Manendo to swiftly resign.
It was the most tangible action taken in recent memory to address harassment in a setting that some in the legislative building glibly refer to as "summer camp." Most lawmakers and lobbyists travel 450 miles and live away from their home in Nevada's small capital city for the 120-day session.
Just across the street from the Legislature, a wine bar hosts receptions for lawmakers and lobbyists almost nightly, with special interest groups footing the bill for food and alcohol. The party often continues late into the night at one of a handful of bars frequented by legislative types, with little time for sleep before coffee-clutching lobbyists and lawmakers return to work for 8 a.m. committee meetings.
The social scene can help foster all-important relationships needed to pass bills, but it can also create an environment for abuses of power. Most of the relationships at the Legislature aren't governed by a traditional employer-employee dynamic, so when someone crosses a line, there's often no clear method of recourse, and the gossipy, "high school"-like atmosphere can make it uncomfortable to report.
Although most requested anonymity out of fear of retaliation and professional consequences, six of the nearly five dozen individuals who spoke with the investigator have come forward to The Nevada Independent to share previously unreleased accounts of the senator's behavior. In the wake of sexual harassment allegations against film producer Harvey Weinstein and a slate of powerful men, some say they want to ensure the public realizes the pain and shame that victims feel, empower others to speak out and help prevent such conduct in the corridors of power.
"It is important to me that women support one another and speak out to prevent further incidents," one lobbyist wrote in an email in which she reported adverse interactions with Manendo to Senate Majority Leader Aaron Ford on May 3, just two days before news of the investigation became public. "In the end, I feel it is my duty to report, not for my sake, but because everyone in this building should feel safe and not worry about walking alone in a hallway."
Manendo did not respond to multiple requests for comment via telephone, text message, email, Facebook and Twitter from the Independent, which presented him with a detailed list of the specific allegations in the story and details about the circumstances surrounding the independent investigation. (A read receipt on Twitter confirmed Manendo saw the message.)
Manendo did not publicly comment on the investigation while it was ongoing, though his lawyer said at the time they were "confident that (Manendo) will ultimately be exonerated." In his resignation letter, Manendo did not address the investigation or any allegations against him, simply saying, "I feel now is the time to step aside and look for other opportunities to serve others."
An "embarrassing and scary" encounter
One of the earliest signs that 2017 would be a decisive session in Manendo's 22-year legislative career came in February, the first month lawmakers convened in Carson City. A male lobbyist and a female lobbyist who spoke with the Independent described an encounter that happened during a typical evening in the state capital featuring a social reception and drinking.
The male lobbyist said the night began with an uneventful conversation with Manendo at a wine bar across from the Legislature. As a way to excuse himself to go to a birthday party at a different bar, the male lobbyist told the senator that he needed to walk his dog.
Manendo later arrived at the second bar, where the male lobbyist and the female lobbyist were dancing. In an effort to smooth over the white lie about walking the dog, the male lobbyist walked over to strike up a conversation with the senator.
Manendo accused the male lobbyist of ditching him at the last bar, and then asked the lobbyist whether he was going to sleep with the female lobbyist.
"I said 'No, we're just friends, and also, she's married,'" he said. "Then he responded that married girls are the best types because they don't talk."
The male lobbyist said he felt uncomfortable with the locker room-style talk objectifying women but felt pressure to continue the conversation, especially because he was working on a bill with Manendo. He steered the discussion to a more general talk about the challenges of dating during the legislative session.
"'Your pee-pee must be lonely,'" Manendo replied, according to the lobbyist, who said he remembered the phrasing because it was "such a weird, kiddie thing."
The female lobbyist said she spoke to Manendo a little later in the evening, unaware of what had transpired earlier, and the conversation led to a discussion about why she was opposing a bill. Manendo grew angrier and angrier, she said, until he slammed his hand on a table very close to her.
"I thought he was going to hit me," she said. "It was absolutely insane how angry he got. There were other people around me, making it more embarrassing and scary."
She said Manendo's friends grabbed him and removed him from the bar.
"At that point I didn't feel that had any connotation to it at all, and I thought it was a bad drinking thing," she said.
But after she reached out to Manendo's office the next day in hopes of making amends, the male lobbyist she had been out with the night before contacted her and told her what Manendo had said before her own interaction with him at the second bar.
"He'd been having a sexual conversation about me," the female lobbyist told the Independent. "I felt very violated."
She brought the matter up to her boss, who directed her to take her concern to Ford. After gathering up the courage, she said she spoke to the Senate leader, who confirmed to the Independent that he received a report on a Friday, the day after the alleged incident.
Ultimately, Ford and the female lobbyist agreed that the situation could be handled with a strong reprimand and a directive that Manendo not interact with her.
Ford said that, after the meeting with the lobbyist, he had a conversation with Manendo accompanied by a formal letter of reprimand, drafted by legislative legal counsel. The letter listed possible remedies such as being removed from other committees, censured by the Senate and temporarily suspended or expelled by the Senate.
When the lobbyist testified at a committee on which the senator sat, she said "he was cordial enough" and asked questions, and also abided by the directive in social settings.
"I think it was handled very appropriately," the female lobbyist said. "There's this rhetoric going around, the connotation that Sen. Ford could have done more. He was incredibly supportive."
Although she said she had no further trouble with Manendo, others who spoke with the Independent said hers was just the first of numerous reported incidents that took place this spring.
"Should have been taken care of a long time ago"
Toward the end of April, Mull was considering what to do and who to approach about the allegations against Manendo — unaware at the time of the female lobbyist's conversation with Ford and the subsequent reprimand — when she heard a story that snapped her into action.
It was April 21, a Friday, when one of the interns told Mull that Manendo had grabbed her by the arm and pulled her toward him at a bar. The woman said Manendo was trying to talk to her but she wasn't paying attention to him just prior to the incident, Mull recalled.
"At this point, I went, I'd say, Mama Bear," Mull said. "I said, 'Oh hell no.'"
"If I can get someone to listen, if I can get leadership to listen, would you talk to them?" Mull asked the intern.
"Probably," was the reply. The intern was afraid of losing her job and getting in trouble. She wanted to think about it.
With that "probably" in hand, Mull went to Pat Spearman, one of the two female senators in Democratic leadership. Had it been a Republican, Mull said she would have gone to Republican leadership.
"I didn't want to turn it into a political thing, so I knew I needed to go to who was over them," Mull said.
Spearman's waiting area was crowded that day with lobbyists waiting for their appointments, but Mull told the senator's assistant that it was an emergency, went into the senator's office and closed the door.
As Mull detailed the allegations, Spearman said she felt sick to her stomach. Spearman said she was sexually harassed by a superior officer while serving as an Army captain stationed in Panama in 1986.
A colonel cornered her in his office one day and told her, "Captain, I want to bang your bones," Spearman recalled. When she told him that wasn't something she did, he told her, "Well that's something you probably need to do." When he showed up outside her hotel room door on a Saturday, Spearman had a maid sneak her out through a service elevator.
Spearman never reported either incident while in the Army. She figured that her supervisor wouldn't do anything because he was in turn supervised by the colonel. She said she "made a conscious decision to just suck it up, stay out of his way, make sure I was never any place with him by myself."
When Mull explained the allegations, Spearman immediately thought of her own experience and that she didn't want anyone else to go through the same ordeal.
"There was a part of my mind that went back to Panama in 1986," Spearman said. "And there's a slow rage about that."
Spearman told everyone waiting in her lobby that they would have to wait longer and took Mull directly downstairs to tell Ford, the head of the Democratic caucus, about the allegations. Ford cleared his meeting room, and Mull told him everything she knew — apart from the names of the interns or who they worked for, details she isn't allowed to disclose as a victim advocate. (Victims' advocates are specifically defined in Nevada law and their communications with victims are deemed confidential and privileged.)
Ford said Mull told him about "a young lady who had confided in her" about "inappropriate" and "sex-based interactions that they believed that they had had with Sen. Manendo," though she couldn't provide much more detail other than that she had permission to come let him know. He said he took the allegations "very seriously" and that he told Mull he would look into it as much as the women would allow him to do so.
But he also told her that he would need the women to come forward to him with concrete and specific allegations in order for him to pursue any further action. Ford offered to cancel his flight back to Las Vegas that day and stay through the weekend if anyone wanted to come talk to him, Mull said.
By the time Mull left Ford's office, it was late in the day and most of the women with complaints had either gone home or said that they wanted the weekend to think about whether to come forward. She emailed Ford to let him know that there was no reason to stay through the weekend.
On Monday, April 24, Ford emailed Mull to tell her that no one had yet come to talk to him. She responded by telling him she couldn't force the women to talk and that all she could do is let the women know that he had promised to create a safe environment for them to share their experiences and concerns.
Ford, meanwhile, reached out to legislative lawyers to let them know he had received a third-party report of an allegation against Manendo and that he would likely be looking to have them hire outside counsel to conduct an independent investigation. Ford, a lawyer by profession, said he was "determined" to pursue an independent investigation because he believes in due process.
"I wanted the accusers to be able to feel comfortable speaking to someone that could know what was being alleged, but also have Manendo, have him the opportunity to speak as well, and then an objective viewpoint could be perceived or received from the investigation," Ford said.
The following Thursday Ford stuck his head into the lobbyists' room and asked to talk to Mull in the hallway. He told her that two women had come forward and talked to him, and he wanted to know what more he could do.
"I see this as an opportunity to take care of something that should have been taken care of a long time ago," Ford told Mull. "I don't want men abusing women in this building. What do we need to do to make these girls feel comfortable coming forward?"
Mull found what Ford said striking — she described it as a moment she'll never forget, even if she's in politics another 50 years — that she wrote what he said down in her phone. Ford confirmed that the remark sounds like what he said to Mull that day.
Mull told Ford that many of the women were afraid to be seen going to talk to Ford or legislative attorneys and were worried for their jobs or potential future jobs.
"Everybody knows everything that happens in this building," Mull said.
Ford asked her whether the women would feel comfortable coming forward to an independent investigator. That would mean hiring an outside law firm to interview people and make findings with no employees, staffers or legislators involved, Ford explained.
"That's what we need to do," Mull said to Ford. "If they're not worried about what you or anyone in this building thinks, then they're a lot more likely to come forward."
Ford told her that he would see to it right away.
"Hostile" messages
A 23-year-old lobbyist who spoke with the Independent, but requested anonymity because she fears future employers might judge her for taking her story to the media, said she had been warned at the outset of her job at the Legislature that she should avoid Manendo and never go into his office alone.
But she said she viewed the warnings as simply rumors and wanted to give him the benefit of the doubt.
That changed on March 16, when she says she unintentionally added Manendo as a contact on LinkedIn while sending out numerous invitations to connect on the social networking site. The senator, to whom she'd briefly been introduced a few weeks earlier, initiated a direct message conversation that she described as "totally inappropriate" and "hostile."
"Sorry why did you want to connect here exactly?" he opened, according to screenshots of the midnight exchange provided to the Independent by the lobbyist.
"Oh I'm sorry! I just hit one of those 'connect with people you may know' buttons and didn't look over it," she replied. "I apologize if it came across in the wrong way, I genuinely didn't realize. Please, by all means feel free to disconnect."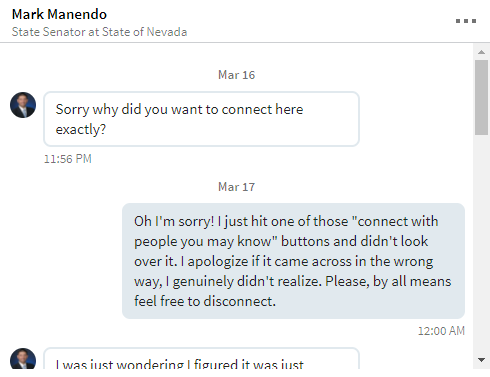 Manendo went on to accuse her and her friends of "talking crap about me" and added that "if you have something to say, say it to me."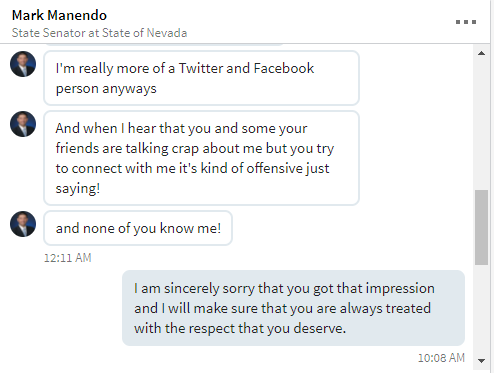 "I have a lot of friends that also watch out for me," he continued. "Who knows, we might even be on the same team on some of these legislative issues so little bit of advice instead of knocking down allies you should protect and defend."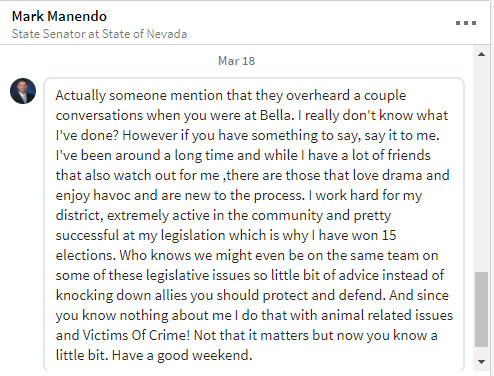 She said the LinkedIn conversation took place late Thursday and early Friday morning, and that she told two of her superiors about it on Monday. One said he would talk to Manendo about the situation, but she doesn't know if that happened.
"We had bills at stake that we needed his votes for," she said, and what's more, her firm didn't want to stir the pot too much. "If you are somebody who starts airing dirty laundry — a lot of people have skeletons in their closet."
She said from that point forward she made a point to keep a "seasoned ally" nearby during social events in order to deter Manendo from communicating with her. While nothing more happened during the session, she said she was scared and anxious when he was present at events.
The lobbyist said she thinks her story is "not the peak" of allegations against Manendo and is not sexual in nature, but she wanted to share it because she thinks the culture in the Legislature needs to change.
"Everyone knows that it's been going on for 20 years," she said. "He may not have even understood that what he was doing or saying was wrong because he's been doing this for so long."
"I don't believe in acting based off of a whim"
Legislative Counsel Bureau Director Rick Combs formally hired Sacramento law firm Van Dermyden Maddux, which specializes in workplace investigations, on Monday, May 1.
The same day, Mull received an email from one of the firm's attorneys, Justin Kochan, asking for her help. She talked to Kochan and said that although she couldn't give him the names of the women without their permission, she could let them know that he was interested in speaking with them.
He told Mull that he wanted to come to Carson City in a week and asked whether there was a good place to meet inside the Legislature. She said no, witnesses wouldn't feel comfortable coming forward if the interviews took place inside the building, and suggested using a conference room inside the library at the Supreme Court building just across the courtyard from the Legislature.
"So that's what we did. He ended up setting up shop next door in the library and had a conference room and no one knew who was coming in and out," Mull said. "No one suspected to go look over there."
Very slowly Mull started getting permission from the women to share their contact information with Kochan, she said. At first it was six or seven. Then another four or five. Then another two or three. Those individuals then mentioned the names of others the investigator should interview. (Kochan said in an email to the Independent that he was unable to comment at all on the investigation.)
Mull said that more people kept coming to her as word of the investigation spread. She said one woman she didn't know came up to her in a bathroom in the Legislative Building and hugged her, telling her "thank you for getting the ball started." The woman told her she regretted ever being alone in Manendo's office with him.
"I don't know what happened, but she's talking probably 10, 15 years ago, and for her to still feel that way, for her to still be hugging essentially a stranger in the bathroom, speaks volumes," Mull said.
In total, Kochan spoke to 58 people for his investigation, including Manendo. Mull estimates that more than 30 of those individuals were people with firsthand accounts about Manendo, based on the number of people she personally spoke with who also told her they spoke to the investigator.
Mull said most of the allegations she is aware of were either what she described as "lewd and inappropriate comments" made by Manendo or "unreciprocated pursuits," where flirtations by Manendo were rebuffed and turned into "aggressive" behavior, such as yelling in a bar or making hostile comments in a hallway.
Ford said he checked in on the investigation multiple times a week as it progressed. The investigator continued to hear about more people wanting to come forward, which required more time to interview those individuals and have follow-up conversations with Manendo about the additional allegations that surfaced.
Ford said he made it clear to both legislative lawyers and the independent investigator that there was no arbitrary deadline for completing the report.
In the waning weeks of the legislative session, with the investigation ongoing, Ford decided to remove Manendo as chair of the Senate Transportation Committee, saying the same day that additional complaints had been brought forward requiring more time to complete the investigation. (Ford said that when he informed Manendo that he was going to remove him, Manendo instead asked if he could resign and Ford agreed to let him do so.)
Ford said that he believed he had received sufficient information as the investigation progressed to strip Manendo of his chairmanship, which gave him the power to allow bills to live or die within that committee, in order to "protect the institution of the Senate" even though the inquiry was not yet complete. Ford said that there were enough concerns raised by people involved about the possibility of Manendo retaliating against them for coming forward that he wanted to ensure anyone testifying before the transportation committee "could get a fair shake" free of any potential involvement with the investigation.
Though some critics have argued Ford should've acted sooner, Ford said he doesn't "believe in acting based off of a whim."
"I wanted the appropriate amount of information given to me so that I can make an informed decision that could be defended based on information that I had received at that point, and that's why I was able to make those decisions when I made them, and not earlier," Ford said.
Then, hours before the end of the legislative session on June 5, Ford formally admonished Manendo in a four-minute long speech on the Senate floor. Ford said that, again, although there had not yet been a determination by the investigator that his Democratic colleague had engaged in any sort of harassment, he had received "sufficient information" that Manendo's behavior was "unbecoming of a senator."
"Although the investigation has focused on more recent conduct, it has become clear to me that the Senator from District 21 has developed a reputation of harassing and intimidating young women at the Legislature and engaging in conduct that makes them uncomfortable and I believe this conduct has had a negative impact on the working environment within the Legislature," Ford said in his speech.
Ford also worked with Assembly Speaker Jason Frierson to introduce several last-minute rule changes that require legislative staff to develop a formal reporting system for complaints, expand the existing harassment policy to cover lobbyists and create a new "Legislative Code of Ethics" section. He said the resolution was introduced in the waning minutes of the legislative session because of how long it took to draft with all the other last-minute amendments and bills being processed at the end of the session.
Finally, on July 13 — more than five weeks after the end of the legislative session and twice that since the investigation began — the investigator submitted his report, finding that Manendo had engaged in at least 14 incidents of inappropriate conduct during the 2017 session, along with instances of misconduct from prior sessions. Ford said it was a "matter of days" between when he received the final report and when he talked with Manendo about either tendering his resignation or bringing the matter before the full Senate; Ford said it was "minutes" between when Manendo offered his resignation and the announcement was made public on July 18.
Asked why it took a few days to approach Manendo, Ford said in a statement that he "worked diligently with the LCB's independent lawyers every step of the way to take immediate actions as quickly as possible" and that "the steps we took were effectively and efficiently vetted to protect the victims who came forward and ensure due process."
The investigator concluded that Manendo had "violated the Legislature's anti-harassment policy; had engaged in multiple and repeated instances of inappropriate, offensive, and unacceptable behavior towards female staffers and lobbyists; and had attempted to interfere with the subsequent investigation into his conduct," according to the summary included in a press release from the Senate Democratic Caucus. Journalist Steve Sebelius, then with the Las Vegas Review-Journal, reported in late June that Manendo contacted one witness and urged her to change her story after she came forward to the investigator.
The press release concluded with a final thought: "In order to maintain the privacy and confidentiality promised to the victims and witnesses who spoke to the independent investigator, the investigative report will not be made public."
"A very sad 'norm' we have created"
Another lobbyist who spoke with the Independent said her adverse experience with Manendo this year wasn't sexual in nature but was decidedly aggressive, leaving her feeling "verbally violated" and nervous about meeting him again.
One of the reasons she hesitated to go public with her account and still wants to remain anonymous is she fears the scrutiny that she could face: criticism that she got herself into the situation, or that it wasn't a big deal and she's overreacting.
"No matter how innocent a person/victim/whistleblower may be, their reputation always suffers," she wrote to Ford on May 3, a few weeks after her encounter. "I am new in this line of work and cannot afford a negative reputation of any sort."
She said she'd met Manendo previously at a reception but didn't have much of a relationship with him. One evening, she witnessed the senator yelling at a woman at a wine bar and demanding to know whom she worked for.
A few days later, she passed him in the hallway where he turned his attention to her: "Why don't you ever say hi to me? You never say hi to me."
She said hello to the senator and continued walking.
Later that day, as she ordered a drink at the same wine bar at Carson City, she said she noticed Manendo staring at her from a few feet away. When she turned to look, he again confronted her.
"Do you know how to talk to people? What's wrong with you? You don't even know how to talk to people," she recalled him saying.
Flustered, she said softly that she did know how to talk with people, and walked away.
"I was talked down to and in a threatening manner," she said. "I guess I just kept picturing being a 21-year-old girl, a 25-year-old girl, and not knowing what to do."
She told her boss and others she knew about the incidents. They told her that the problem had been going on for years and nobody had figured out how to solve it. Weeks later, after agonizing over whether she was being overly sensitive about the situation, she emailed Ford to report the interaction.
"The very first thing I was told was to NEVER go into Manendo's office alone. I was advised that if anything happened I could tell my boss with no repercussions," she wrote. "I am aware that the same direction is given to almost every woman starting. To me, that is a very sad 'norm' we have created."
She says hers wasn't a run-of-the-mill encounter with anger or meanness; as a sexual assault survivor, she recognized in herself the familiar feelings of self-blame and helplessness that such violating situations evoke.
She hopes those in power will recognize the personal risk that people took to report candidly to the investigator. And she hopes that the Legislature, filled with lawyers, will stand up against actions that are hurtful and inappropriate, even if they're not technically illegal.
"It's hard, particularly for lawyers, because that's not breaking the law," she said about harassment. But for those affected, "It caused them pain or worry or fear. It took their power away."
Questions of confidentiality
Shortly after Manendo resigned from the Senate, both the Independent and the Review-Journal filed public records requests for the investigative report. When the requests for the report came in, Mull said both Spearman and Ford immediately contacted her and some of the individuals who spoke with the investigator to ask them how they should proceed.
"What do you want with this report? Are you fine with it going out if we redact names? Are you fine with it if we black out company names? Are you just not okay with it at all?" Mull recalls them asking. Spearman and Ford both confirmed that they spoke with Mull about keeping the report confidential. (Spearman also noted that she doesn't know the identities of the people who came forward with allegations against Manendo; she said she felt like "if they wanted me to know, then my door was open, but no one came to me and I'm okay with that.")
Mull said she spoke with a small group of people who had come forward, and they came to a consensus: They didn't want the report released. Several who spoke with the Independent worried that, even with their names redacted, anyone who works in or around the Legislature would be able to figure out who they are and could possibly retaliate against them for coming forward.
"I need to be able to wake up and navigate my way through that building and be seen as a professional, but to be respected as an adversary," said the female lobbyist who initially reported Manendo's actions in a bar in February about why she wants to remain anonymous. "They may only see me through a certain lens, maybe affecting whether or not they want to have conversations with me, whether they'll come to the table and work with me."
The female lobbyist who said she was confronted by Manendo at the wine bar said she worries that if she's identified, people will look down on her or assume she's making accusations to get attention.
"It's a scary empowerment that all of us came forward but it's our story, it's our experience, and it's nobody's business to publicize it," she said, adding that pressure for the report's release is "another way that men in power can take away our power."
Ford and Spearman heard their concerns and promised to do everything they could to keep it sealed.
"To have Spearman and Ford both say, 'If it's our political suicide to try and stop this, we're willing to take that chance because we want to protect you all' — that was another moment that was one of those moments where like you don't see that every day," Mull said. "I've been in politics in Texas and Oklahoma and D.C., and I've never ever seen anything like I've seen here with legislators. I think it's because it really is that environment here of the people."
Ford said that from the beginning stages of the investigation, the women he spoke with indicated that they wanted confidentiality, afraid of possible repercussions and retribution. Ford said that some of the allegations and the description of events are detailed to the point where even with redactions people would be able to figure out who was involved.
"So we've put out as much information from the report as we could while still protecting the confidentiality to the women who came forward, as was our promise to those individuals," Ford said.
Ford also denied that the investigation was in any way a politically motivated effort to stave off a possible primary challenge by Manendo against Sen. Tick Segerblom for Clark County Commission, as some suggested during the session.
"That didn't even enter my mind, let alone be the furthest thing from my mind. So, you know, it's a flat out lie, and people should be, again, ashamed of themselves for, you know, making such appalling statements about this circumstance," Ford said. "That's not who I am, that's not what I do, and that's not what happened here."
Though Ford, Spearman and Mull each said it was at the victims' requests that the report was kept confidential, that's not the main argument that Legislative Counsel Bureau (LCB) attorneys made in a 37-page denial of the public records requests. Their denial focused primarily on arguing that the state's Public Records Law does not apply to the Legislature due to the separation of powers in state government, as well as legislative privilege and immunity.
Still, the lawyers did emphasize that the Legislature's "paramount constitutional authority" to protect the disclosure of information extends by proxy to protect the privacy rights of those involved in the legislative process who come forward to report workplace sexual harassment allegations. The lawyers also wrote that the Legislature has an interest in protecting "the confidentiality of legislative investigations or communications concerning legislators or the legislative process, including communications with other legislators and legislative staff, with public agencies, officials and employees and with any constituents, lobbyists and other interested persons."
"As a result, the interests of those persons in their individual privacy and the nondisclosure of their communications with legislators and legislative staff are substantial, and their interests clearly outweigh any countervailing interest in public access," the lawyers wrote.
Asked about any conversations he had with LCB lawyers about the public records request, Ford said in a statement that he doesn't "ask the LCB's independent lawyers to make or shape legal arguments in any way, nor do I tell them how to perform their professional responsibilities as attorneys."
"The LCB's lawyers are nonpartisan and are directed by law to provide the Legislature with objective legal advice and analysis based on the current state of the law," Ford said. "The LCB's lawyers drafted the letter in accordance with that legal directive and their professional responsibilities as attorneys."
Ford said in the statement to "turn around now and release the report, which would likely provide enough indicators to expose some of the accusers, would go against LCB's opinion on current law and put these brave women, their careers, and their livelihoods at risk."
"For many of these women who came forward, the idea that this report would be released -- even with their name redacted — is terrifying for them," Ford said. "They should be able to know that their identity and their experiences will not be exposed to their accuser or anyone else because of political games."
Nevertheless, in the wake of recent allegations against Democratic Rep. Ruben Kihuen and the broader national conversation around sexual harassment and assault, some have renewed calls to make the report public. Republican Sen. Michael Roberson said on Twitter that he didn't receive any complaints of legislators from either party when he was Senate majority leader and criticized his counterpart after news about Kihuen, a former Democratic senator, emerged.
"Senator Aaron Ford, today's news is yet another apparent example of sexual predation in your caucus and under your 'leadership'. It's time for you to redact the names and release the damn report or step down and let someone else lead," Roberson wrote on Twitter.
The Laborers' Union Local 872 said in a tweet that it is planning on suing Democratic leadership for the report, saying they "understand that there are (others) that had possibly committed harassment and we want to see if someone is trying to hide it."
Tommy White, the union's head and a close Roberson ally, said Monday that he's working with The Urban Law Firm in Las Vegas and labor attorney David Rosenfeld in California to explore what can be done to compel the report's release. He described the effort as in the "very early stages" and said he hoped the specter of a lawsuit alone might prompt leadership to let the report go.
"It should be public information since it was paid by taxpayer dollars," he said, adding that if he receives the report, he'd like to publish it with harassment victims' names redacted.
White acknowledged that he's had disagreements with Ford on the Raiders stadium, a major Laborers priority, related to a controversial community benefits agreement that Ford has worked on. The union has endorsed Ford's opponent in the attorney general race, Republican Wes Duncan, and White indicated that two other large unions are involved in the fight for the report's release but didn't want to be named because they are considering who to endorse in that race.
To this day, only Ford, legislative lawyers and the special investigator have had the ability to read through the report, according to Ford. Asked whether allegations against any other individuals besides Manendo were included in the final report, Ford said in a statement that no allegations of sexual harassment against any other state legislator, Democrat or Republican, have ever been reported to him.
"If I were to have ever received a complaint about misconduct at any time against a legislator, lobbyist or staff member, I would have conferred with the person making the allegation and would have instituted an independent investigation as I did with Mr. Manendo," Ford said. "The fact that I have not done so for any other individual should answer the question as to whether any others have been implicated at anytime before, during, or after the Manendo investigation."
Others have argued that because taxpayers funded the report — to the tune of $70,000 — the taxpayers should be able to see it. But Mull said without the independent investigator and the promise of confidentiality, no one would have ever come forward with allegations against Manendo.
"Just because it doesn't fit your timeline or your narrative doesn't mean you get to politicize it, especially when they were doing things that we asked," Mull said.
Disclosure: The Laborers' Union Local 872 has donated $75,000 to The Nevada Independent. You can see a full list of donors here.
Related:
Past legislative leaders talk about the lack of consequences for Manendo
Editor Jon Ralston explains The Indy's approach on this story and future stories of sexual misconduct.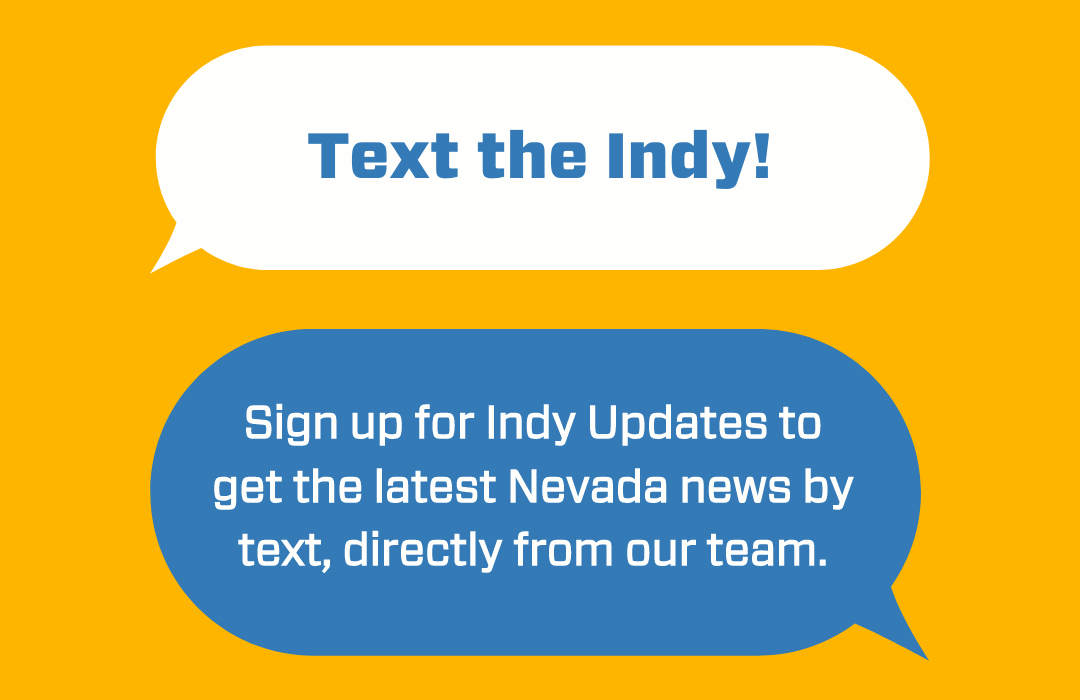 Featured Videos