Tenant advocates fear the worst after Nevada eviction protections expire and are vetoed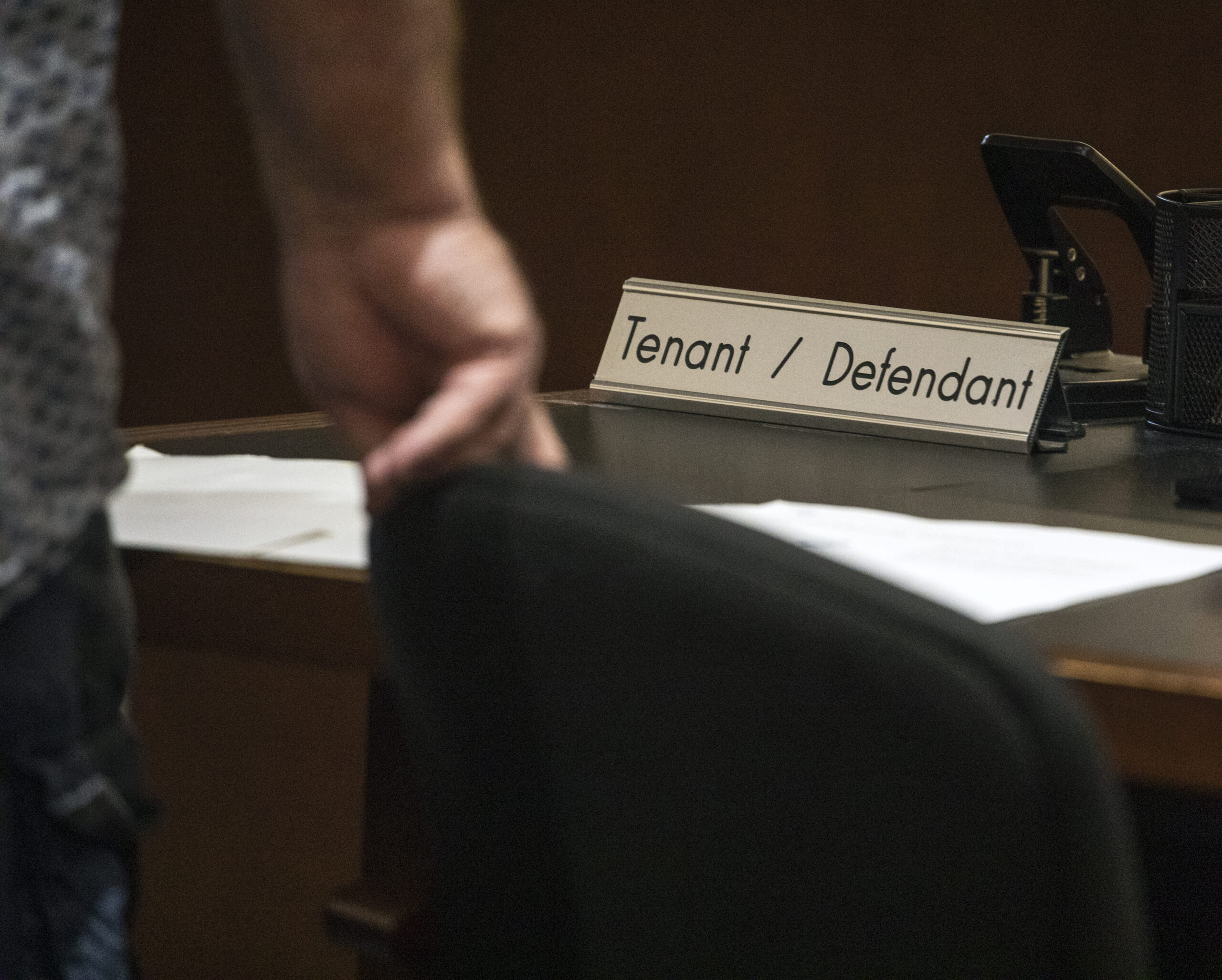 Manuel Ramirez, 67, worked at the Hard Rock Hotel in Las Vegas as a steward cleaning the kitchens at the pool until one day he was hurt trying to move a heavy grill.
During the next six months, Ramirez visited three hospitals for a total of 21 surgeries. Unable to work and with too little money from Social Security coming in to cover rent, Ramirez and his wife, Alice, 63 — who cannot work because of a disability that causes pain and swollen joints — decided to apply for rental assistance through the CARES Housing Assistance Program (CHAP).
CHAP was a program designed by Clark County to assist residents who suffered financial hardship and lacked sufficient income or resources to pay their rental housing costs and utilities because of the COVID-19 pandemic. The program, which was federally funded and doled out hundreds of millions of dollars in its first three years, sharply reduced its eligibility criteria Jan. 23 to continue in a narrow form after large-scale pandemic aid dried up.
Ramirez said he initially applied for CHAP on Oct. 26, 2021. After not receiving a phone call in response, Ramirez checked his email in November and found out he was denied for rental assistance.
After finding out he was denied, Ramirez applied again for CHAP. This time, there was no email. Ramirez started going to the CHAP office in person twice a day. Eventually, Ramirez started going to the courthouse to see what was going on.
"We've been coming to the courthouse [so often] a young lady at the courthouse knows us. She sees us every weekend, every other day. Her name is Patricia," Ramirez said.
The eviction process does not start with a phone call or email, either. For the Ramirezes, it began instead with a notice posted on their door when they could not make rent. After a court upheld the eviction order June 23, Ramirez and his wife are now applying for alternative rental assistance through an entity for veterans — Ramirez is a combat Marine veteran — and need a new place to live before they are required to vacate their current unit before July 4.
Aaron MacDonald, the lead attorney of the Housing Justice Program for Legal Aid of Southern Nevada, a nonprofit organization in Las Vegas that provides representation and legal education to those who can't afford a lawyer, said Las Vegas is currently the "epicenter of this eviction crisis" in Nevada, with 60,000 eviction filings annually for the past two years — double what they used to receive.
The provisions of AB486, a bill passed in 2021 to prevent evictions for people who had applied for rental assistance, expired earlier this month, and Gov. Joe Lombardo vetoed a bill that contained an attempt to extend it. MacDonald said the office is becoming hectic as the protections end and Nevada maintains its unique, rapid summary eviction process.
"We're stressed out. We're struggling to find legal defenses to assist these tenants. We're facing tenants who are shocked and surprised. They thought they did everything they needed to do to protect themselves and have a fair shake or a fair chance to be reviewed for rental assistance that's available," MacDonald said. "But unfortunately, because of the veto of these housing bills, the tenants are being evicted without the right to have a review."
Housing advocates also criticized Lombardo vetoing other housing bills, calling his actions "disheartening," deeply disappointing, disillusioning and "shameful."
"Governor Lombardo's veto of bills designed to curb the housing crisis demonstrates a profound lack of empathy and disregard for the struggles faced by thousands of Nevadans," said Annette Magnus, executive director of Battle Born Progress.
Eviction reforms stall
Over the last decade, the average asking price for an apartment in Las Vegas had increased steadily at a rate of about $45 a year. But average rents took a sudden, $300 leap from 2020 to 2021 at the height of the pandemic.
Though Nevada's rents have declined somewhat from their peak, they are still above what is considered affordable — a third of the average resident's monthly income. In Nevada, the median monthly household income is almost $2,900, but the average asking rent is more than $1,500.
As rents shot up during the pandemic, state and local government officials became increasingly worried about people not being able to afford a place to live.
The federal government stepped in, sending funds to local jurisdictions through the Consolidated Appropriations Act of 2021 and the American Rescue Plan Act of 2021.
During the 2021 session, the Legislature also made efforts to protect tenants from evictions with the passage of AB486, which would delay an eviction proceeding if a tenant has a pending application for rental assistance.
In response to the protections of AB486 expiring on June 5, 2023, Sen. James Ohrenschall (D-Las Vegas) sponsored SB335, which would have extended some of the protections within AB486 as well as prevented tenants waiting for rental assistance from being evicted for 60 days.
However, SB335 failed to receive the approval of Lombardo, who said in his veto message that the bill would "create onerous burdens in Nevada's residential renting market."
Legal Aid of Southern Nevada criticized Lombardo's veto of SB335, along with his veto of other bills that provided tenant protections, including AB340 and SB78.
AB340, sponsored by Shondra Summers-Armstrong (D-Las Vegas), would have changed Nevada's summary eviction practices and required a landlord to make the first filing. The governor said in his veto message that the bill would "impose additional and unnecessary delays and costs to those seeking to remove individuals who unlawfully remain on their property after termination of their lease" and "create an inhospitable environment for residential lessors."
SB78, sponsored by Sen. Fabian Doñate (D-Las Vegas), would have required landlords to disclose fees and prevent them from turning over tenant debt to collections or a credit reporting agency "unless the landlord obtains a judgment against the tenant for any such amount." However, Lombardo vetoed the bill and wrote in his veto message that SB78 was "partially well-intended" but it would "only serve to exacerbate an already challenging period" for renting families.
"Skyrocketing rents have left many in our community home insecure. This burden is especially sharp for our seniors and the disabled," read a statement from the Legal Aid of Southern Nevada. "As a result [of SB335's veto], thousands of Nevadans, who could have maintained housing had SB335 been signed into law, will be evicted and make up the growing ranks of newly homeless."
Lombardo also vetoed AB289, a bill that would have provided rent caps for anyone over age 62 or living off of income from Social Security.
Progressive advocates, including Magnus, argued that the governor was putting billionaires — such as his largest campaign donor — ahead of everyday Nevadans.
Magnus said Lombardo's "willingness to be bought by Nevada billionaires like Robert Bigelow, who continues to profit on the suffering of our neighbors," showed lack of empathy for state residents.
Bigelow, the owner of the Budget Suites of America hotel chain and outer space technology company Bigelow Aerospace, was one of Lombardo's top donors while he was running for governor last fall, contributing nearly $200,000 to Lombardo's campaign through a slew of maximum $10,000 donations from himself and his businesses, including holding companies and multiple Budget Suites of America entities.
He also gave about $25 million to pro-Lombardo PACs before the fourth quarter, then contributed nearly $4 million in the fourth quarter of 2022, making his total contribution to Lombardo-supporting groups about $30 million.
Bigelow has also been a vocal critic of the federal eviction moratorium, calling it "legalized theft" as some tenants didn't pay rent, according to an article by the Associated Press.
Lombardo's office said that any suggestion the governor's decisions are made "based upon campaign contributions is simply ludicrous. Commentary implying otherwise is nothing more than a baseless attempt to distract from Governor Lombardo's historic legislative achievements this session."
Additionally, Lombardo signed several bills that contributed to rental assistance and supportive housing funds. The governor approved AB528 that provided a $100 million matching fund to aid homeless prevention services, as well as AB396, which provides funding for rental assistance and AB 310, which gives $32 million for the Supportive Housing Development Fund.
Even though Lombardo is in the crosshairs, tenant protection and eviction reform bills did not fare much better in previous sessions when former Gov. Steve Sisolak — a Democrat — was in office.
"Time after time we have watched housing justice policies fizzle and stall. The people of Nevada need more and deserve better. Access to affordable housing is a fundamental human right. Vetoing these bills perpetuates systemic injustices and undermines civil rights," said Lily Baran, the program director of American Civil Liberties Union of Nevada.
Beginning of a crisis?
According to MacDonald, Ramirez is one of the thousands of cases legal offices are seeing as eviction protections expire and renters who thought they would receive rental assistance are caught off guard as the revenue no longer comes in.
"We're at the very beginning of the eviction crisis and homeless crisis," MacDonald said.
Now that Ramirez and his wife are losing their housing, he hopes to find another place to live before July 4.
Prior to his court case, Ramirez said he relied on a veterans hotline and friends to deal with the emotional toll the process has had on him, but overall he tries to stay positive, seeing no point in letting his emotions get the best of him.
"I have to be positive, because I'm supposed to be the provider for my family," Ramirez said the day before his eviction hearing. "My children are all grown up. They're all gone. I tell [my wife], you know, 'We're gonna make it, we're gonna make it, just think positive. Things are gonna happen.' There's just nothing else I can do or say."
Updated 6/27/2023 at 9:53 a.m. to include additional funding to Lombardo from Bigelow.
Updated 6/27/2023 at 2:23 p.m. to include additional funding to Lombardo from Bigelow in the fourth quarter.
The Nevada Independent is raising $200,000 by Dec. 31 to support coverage of the 2024 election.
Tax-deductible donations from readers like you fund this critical work.
If you give today,your donation will be matched dollar-for-dollar.
Give + Get Matched
Featured Videos