Esmeralda joins Nye in seeking all-paper voting, hand-counting; changes spur Nye clerk's retirement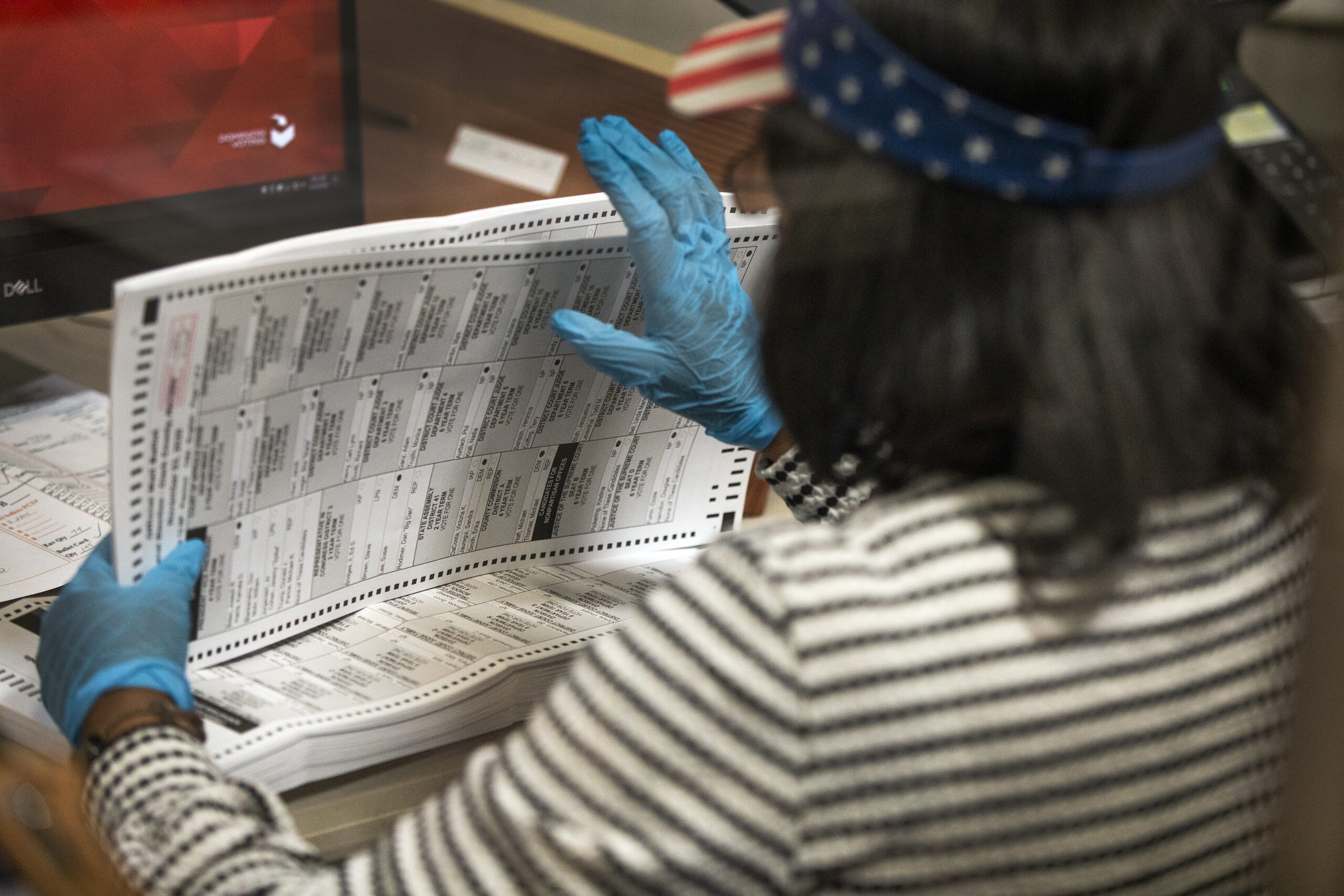 Esmeralda County commissioners voted Wednesday to ask their county clerk to administer all future county elections using strictly paper ballots and hand-counting, the latest rural Nevada county to attempt to overhaul election administration in response to conspiracy theories about the 2020 election.
The vote marks the second major shift away from electronic voting machines in rural Nevada, after Nye County commissioners made a similar request in March. Nye and Esmeralda counties could soon be joined by another rural jurisdiction, Lyon County, where commissioners are set to discuss a similar proposal on Thursday. Commissioners in two other counties, Elko and Lincoln, have also expressed a desire to move away from Dominion Voting Systems, a provider of election equipment.
In tiny Esmeralda County, where there are a little more than 600 registered voters (more than half of whom are Republicans), county commissioners sided with Republican candidate for secretary of state and 2020 election denier Jim Marchant, who pitched the idea for the switch to paper ballots during the meeting on Wednesday.
But LaCinda Elgan, Esmeralda County clerk and treasurer, pushed back on the presentation. She said the county's voting machines have not been connected to the internet, and pointed to the litany of tests and security measures in place to ensure that votes are counted and recorded accurately. Elgan added that some voters in the county want to vote using an electronic voting machine.
As in Nye County, the decision to move forward with the changes to election administration has been left up to Elgan, because the county clerk is elected and not appointed, meaning jurisdictional issues prevent the county commission from ordering the clerk's office to take a specific course of action.
Elgan did not immediately comment on what course of action she would take, but Nye County Clerk Sandra Merlino indicated that it would not be possible to implement the changes in time for the June primary election, which is less than two months. Still, Nye County officials appear on track to implement those changes and hand count the results of the general election this November.
Several people who called into the meeting, including representatives from the ACLU of Nevada and the Let Nevadans Vote coalition, also criticized the proposal, describing it as a form of voter suppression. Federal law requires there to be at least one electronic voting machine at each polling location to ensure voters with disabilities have access to the polls.
Along with Marchant, Mark Cook, a so-called "cyber expert," argued to the commissioners that electronic machines from Dominion Voting Systems used in Nevada, including Esmeralda County, are vulnerable to hacking that could change the outcome of an election. Cook alleged he could switch votes on a Dominion machine through an iPhone within minutes of gaining access to the machine — an allegation Cook has made at other meetings, and that has been disputed by election officials in the state.
The ideas appeared popular in the county commission's meeting chambers, as Marchant and Cook were often met with applause following their remarks. (In 2020, 82 percent of ballots cast for president in Esmeralda County were for Donald Trump.)
Marchant also said his team "could bring in an army" to help the county count votes, and said these presentations were part of a greater plan to overhaul the state's election system.
"I think you're doing a great job," he told Elgan, the Esmeralda County clerk. "Problem is is we have other counties, and we have to get all counties to get on this system … We're trying to get as many of the rural counties as we can to get on this, and then force Clark and Washoe to do the same thing at some point."
Nye County clerk retiring after primary
Amid the overhaul of elections in Nye County, Clerk Sandra Merlino announced plans to retire in the first week of August.
Merlino told The Nevada Independent in an email that she "almost resigned on the spot twice in the last month," but will stay in her position through the primary election in June, as well as all post-election audits and possible recounts, to avoid throwing things into chaos in Nye County.
Her decision paves a clear path for Nye County commissioners' desired transition to all-paper, hand-counted elections. Merlino added that "the candidates running for [her] position want to do everything by hand." After her retirement, the commissioners will have the opportunity to appoint an interim clerk to conduct elections in such a fashion.
"I feel our current system works well and we have had fair and accurate elections as there are so many checks and balances people aren't aware of," Merlino said. "I think there will be a lot of human error going back to all paper and final results could take days. After 20 years, I truly do not want to fight this fight."
During a Tuesday meeting, commissioners took another step toward that change by rejecting a roughly $100,000 purchase of new ballot-sorting technology, leaving the door open for that process to be done by hand.
Earlier this year, lawmakers on the Interim Finance Committee approved an allocation of $2.2 million for counties to handle the transition to mostly mail elections, including some funds for Nye County to purchase the ballot-processing machinery. With the purchase not made, those funds will likely revert back to the state.
As Nye County prepares for a hand count in November, a brief circulated among county election officials highlights the risks of tabulating votes by hand using Nye County as an example.
The brief points to fraud and human error in hand-counting, as well as the extensive time required to manually count thousands of ballots during a period when county election officials are pressed for time, as they supervise the voting process, perform post-election tests and oversee the count.
Voting changes in more counties
Commissioners in two other rural counties have already delayed any consideration of a major change. On Monday, Lincoln County commissioners were preparing to reconsider their relationship with Dominion Voting Systems, the county's provider of electronic voting equipment.
However, commissioners tabled the item, citing an issue with how the two items related to Dominion were presented on the agenda. Still, Lincoln County Clerk Lisa Lloyd, who oversees the county's elections, spoke out against the move.
She said that machines are better at counting than humans, and urged commissioners to take a "wait and see" approach to see how hand-counting election results goes in Nye County later this year.
Lloyd and Elgan also both pointed to recent comments from Assemblywoman Maggie Carlton (D-Las Vegas), who, during an April 1 interim legislative committee meeting, suggested the state should consider taking back funding from counties that have recently moved to change election equipment. A 2017 bill set aside $1.8 million to help many rural counties purchase new Dominion voting machines.
Carlton did not identify a specific process for retrieving those funds, but said the money should be returned to the state if it is not going to be used for its approved purpose.
Though Lincoln County delayed plans to discuss a possible transition away from Dominion Voting Systems — the subject of conspiracy theories regarding unproven widespread fraud during the 2020 election — two more Nevada counties could soon end their relationships with the company.
On Wednesday, Elko County commissioners received an update from the county clerk regarding alternatives to their existing election system, which uses Dominion electronic voting machines.
Though commissioners expressed a desire to transition away from Dominion, potentially to all-paper elections, Elko County Clerk Kris Jakeman attested to her confidence in the county's voting systems and noted that a national shortage of paper and ink could be an issue if the county stopped using electronic voting machines.
Former Republican Gov. Bob List, a consultant of 10 years for Dominion, also spoke at the meetings in both Elko and Lincoln counties to vouch for the accuracy of the machines.
Ultimately, no commissioners put forward a motion to alter the voting system in Elko County. Commissioner Jon Karr said he didn't know how the county could get away from Dominion, after Jakeman said the county could potentially have to pay Dominion financial penalties for canceling its contract, which runs through 2025.
Another commissioner, Rex Steninger, expressed concerns about having enough time to change voting systems before the primary and general elections this year, but said he thinks voting machines can be hacked, leaving open the possibility that Elko County will change its election processes in future elections beyond 2022.
"I don't think there's any sense in switching machines because I've seen the same problems with ES&S machines," Steninger said. "But I think we seriously gotta think about doing something in the future."
On Thursday, after more than two hours of discussion, including a presentation on the debunked allegations of voter fraud in Colorado from Marchant, Lyon County commissioners ditched a scheduled agenda item to get rid of electronic voting machines and follow other counties in moving to hand-counted paper ballots.
Commissioners opted not to make the move after County Clerk Nikki Bryan argued that the switch would be logistically impossible, time consuming and costly, and that many of the issues raised by opponents of current election systems were a function of state law, rather than the administration of the election at the county level.
That includes both the expansion of mail-in voting and the decision to have voters opt-out of receiving their ballot through the mail, as well as the creation of same-day voter registration.
"I absolutely, adamantly disagree with this whole thing," Bryan told the board, referring to the presentation. "We follow state law. And that's the place where all of this needs to be changed."
Commissioners signaled they may seek to send a letter to lawmakers and the governor calling for the implementation of voter ID legislation and the abandonment of expanded mail-in voting, though they took no further action on Thursday.
Check out the graphic below for a roundup of voting changes happening across Nevada.
Updated at 9:00 a.m. on Thursday, April 21, 2022 to include details about Nye and Elko counties, and at 12:55 p.m. to include details about Lyon County.
Reporter Jacob Solis contributed to this story.
The Nevada Independent is raising $200,000 by Dec. 31 to support coverage of the 2024 election.
Tax-deductible donations from readers like you fund this critical work.
If you give today,your donation will be matched dollar-for-dollar.
Give + Get Matched
Featured Videos