Seaman sues fellow Las Vegas City Councilwoman Fiore, alleges assault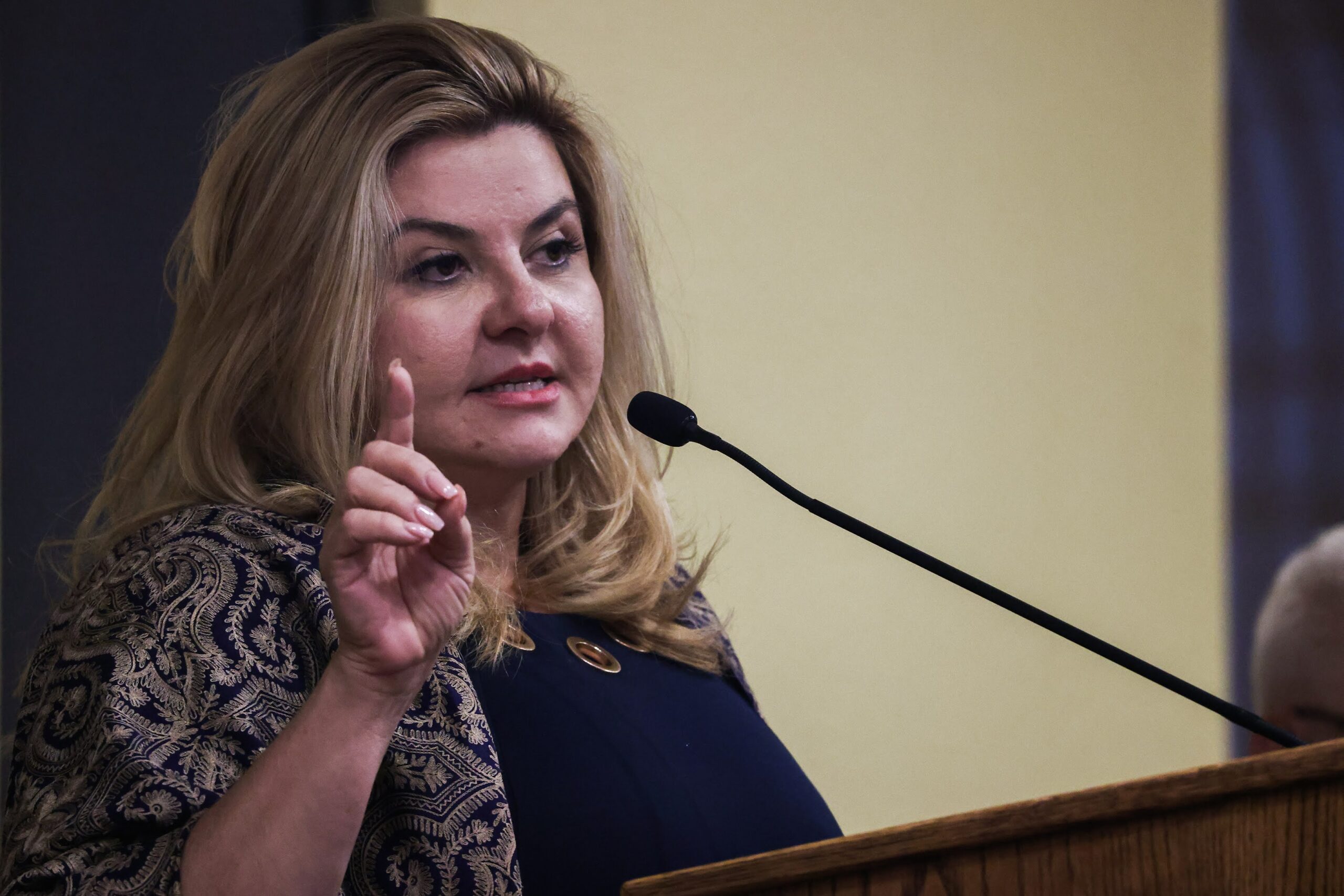 In the latest twist of a fractious relationship between Las Vegas City Council Members Victoria Seaman and Michele Fiore, Seaman filed a lawsuit Monday against Fiore alleging that she violently attacked Seaman and created a hostile and abusive workspace.
Seaman's complaint filed in Clark County District Court seeks general and special damages upwards of $15,000, payment for medical expenses, "general damages for pain, suffering, mental distress, anguish and fear," and for Fiore's resignation from the city council.
Seaman's case revolves around an incident in January 2021, in which she alleges that Fiore — a Republican who is running for state treasurer — violently attacked her, grabbing her hand and "​​pulling, jerking, twisting, and breaking … Seaman's finger in a violent manner." City Hall surveillance videos that captured the physical altercation have been deleted, the Las Vegas Review-Journal reported last year.
Seaman told The Nevada Independent in a phone interview Monday that the lawsuit was a "last resort," after she sought to resolve the situation through the mayor's office, city officials and the human resources department to no avail.
"The only thing the mayor wanted us to do was basically kiss and make up," she said.
Her case also names the City of Las Vegas as a defendant, claiming the city acted to impede the investigation into Fiore's assault, including destroying video evidence, and failed to protect Seaman during the incident.
"The City by and through its employees, agents, elected officials and/or contractors committed the illegal act of destroying evidence of a crime to deprive the public of the knowledge of events which might embarrass, discredit or reflect poorly on the Las Vegas City Council," Seaman's complaint alleges.
The January 2021 altercation marked a tipping point in a feud between the two that had been brewing since the summer of 2020. Beginning around that time, Fiore "began to become increasingly aggressive" toward Seaman because of "differences in opinion about issues and goals for the City Council," according to Seaman's complaint. That hostility included "abusive verbal attacks" at the office and over phone calls, the complaint states.
Since then, the relationship between the two council members, who are both Republicans and former assemblywomen, has been marred by hostility at City Hall. In September 2021, Seaman's lawyers sent a cease-and-desist letter to Fiore seeking to put an end to her aggressive conduct, the Las Vegas Review-Journal reported.
Their relationship continues to affect Seaman's actions at work. She said she has "tried not to be alone at any time at City Hall," because "we don't want another incident to happen" and "we don't want anything said that's untrue."
Seaman also claims to have received little assistance from others at City Hall, including Mayor Carolyn Goodman, and her complaint blames the city for limiting Seaman's efforts to hold Fiore accountable.
"Goodman suggested that if Councilwoman Seaman was experiencing so much distress she might consider resigning," the complaint states.
In the aftermath of the January 2021 incident, Seaman has "suffered symptoms consistent with post-traumatic stress disorder," according to her complaint.
"Councilwoman Seaman spent months suffering physical pain, humiliation, embarrassment, and trauma due to the attack and because the City Council refused to properly address or rectify the verbal, physical, emotional, and mental abuse by Councilwoman Fiore," the complaint states.
She also said that in July last year, she received a death threat at home, though law enforcement were unable to uncover the source of the threat.
Seaman's complaint also lists 10 causes of action for bringing the case forward, ranging from claims of assault, battery and defamation against Fiore to claims of employment discrimination and negligent security against the city.
A spokesperson from Fiore's campaign for treasurer described the lawsuit as an "attempt to stop her from winning this election."
"This will be no more successful than it was in the primary," her campaign said in a statement to The Nevada Independent. "We look forward to the truth coming out as soon as possible."
Update — 9/26/2022 at 12:54 p.m. — This story was updated to include comment from Victoria Seaman.
Update — 9/26/2022 at 1:17 p.m. — This story was updated to include a statement from Michele Fiore's campaign.
The Nevada Independent is raising $200,000 by Dec. 31 to support coverage of the 2024 election.
Tax-deductible donations from readers like you fund this critical work.
If you give today,your donation will be matched dollar-for-dollar.
Give + Get Matched
Featured Videos