Behind the Bar: Following the Blockchains money trail, Capitol Police severely understaffed and return of 'Death with Dignity'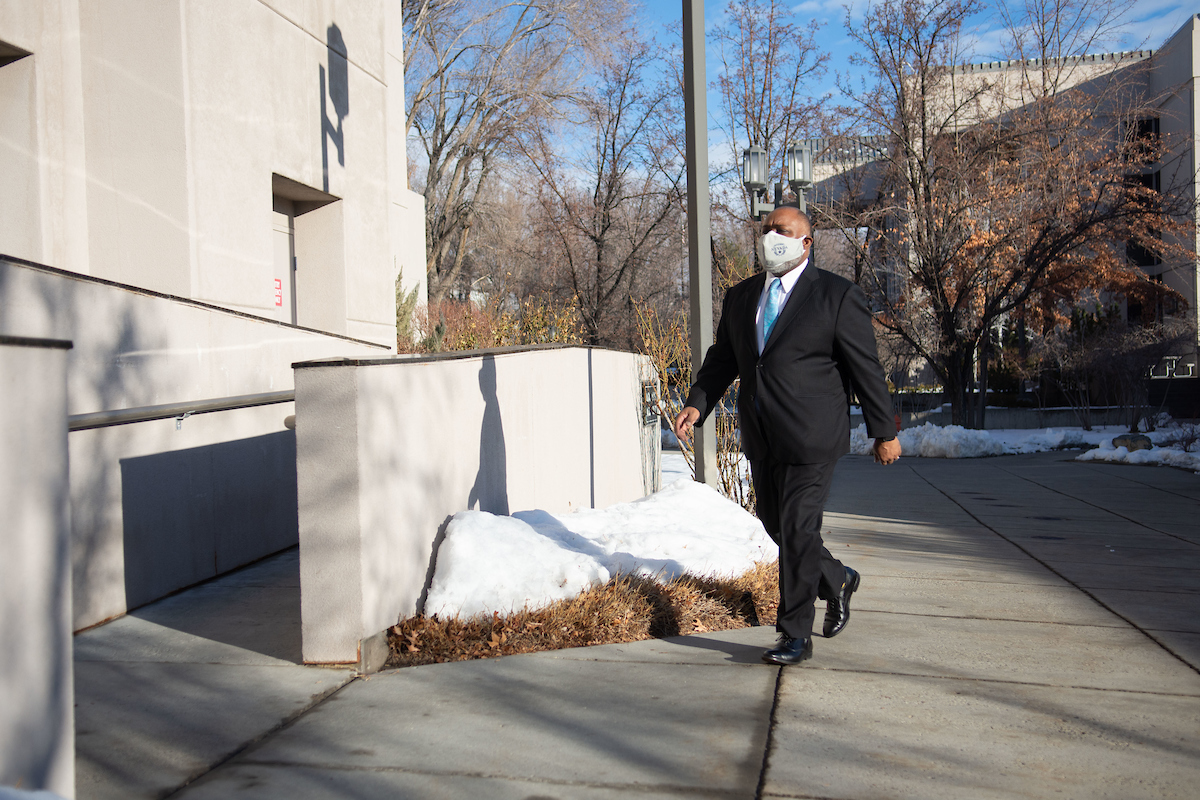 Behind the Bar is The Nevada Independent's newsletter devoted to comprehensive and accessible coverage of the 2021 Legislature.
In this edition: We track campaign contributions from Blockchains LLC, including to a PAC run by Treasurer Zach Conine. Capitol Police are also severely understaffed, and the "death with dignity" bill is back after falling short in 2019.
Check this link to manage your newsletter subscriptions. The newsletter is published on Mondays and Thursdays.
I want to hear from you! Questions, comments, observations, jokes, what you think we should be covering or paying attention to. Email me at [email protected].
~~~
If you missed the announcement on Friday, our entire legislative coverage page is now available in Spanish (direct link here).
This is a huge accomplishment, and ensures that features like the Sisolak Promise Tracker, legislator bios and our major issue tracker are available to readers in two languages. The project only happened this quickly because of the tireless work by Luz Gray, Jannelle Calderon, CJ Keeney and Michelle Rindels to handle translation and other tasks required to convert the page into a second language.
I bring this up not only because I want to promote the hard work of my colleagues, but also to highlight that the language gap can really keep Spanish-speaking Nevadans out of the normal legislative process.
Look, it's hard enough to follow the Legislature in non-pandemic times, with the weird web of rules, arcane legal and procedural steps and all the other confusing process things that make it difficult to follow along if one is new to the process.
Now imagine doing that in your non-native language. (If English is your first language, can you imagine trying to follow the Spanish-language equivalent of Kevin Powers?)
There is a concerted effort this year to get the Spanish-speaking community more involved in the Legislature (the #nvlegES hashtag has sprung up this session, and the Nevada Hispanic Legislative Caucus has taken steps to publicize issues that could be interesting to a Spanish-language audience).
But there is certainly a role for journalists to provide news, context and information to a primarily Spanish-speaking audience. This is a systemic problem — despite increasing diversity in the Legislature, the vast majority of full-time reporters covering the Legislature are white men (including myself).
This isn't a problem that can be fixed overnight. But I think — hope — that continuing to publish and promote high-quality Spanish language content will get a broader audience interested in what happens in Carson City.
— Riley Snyder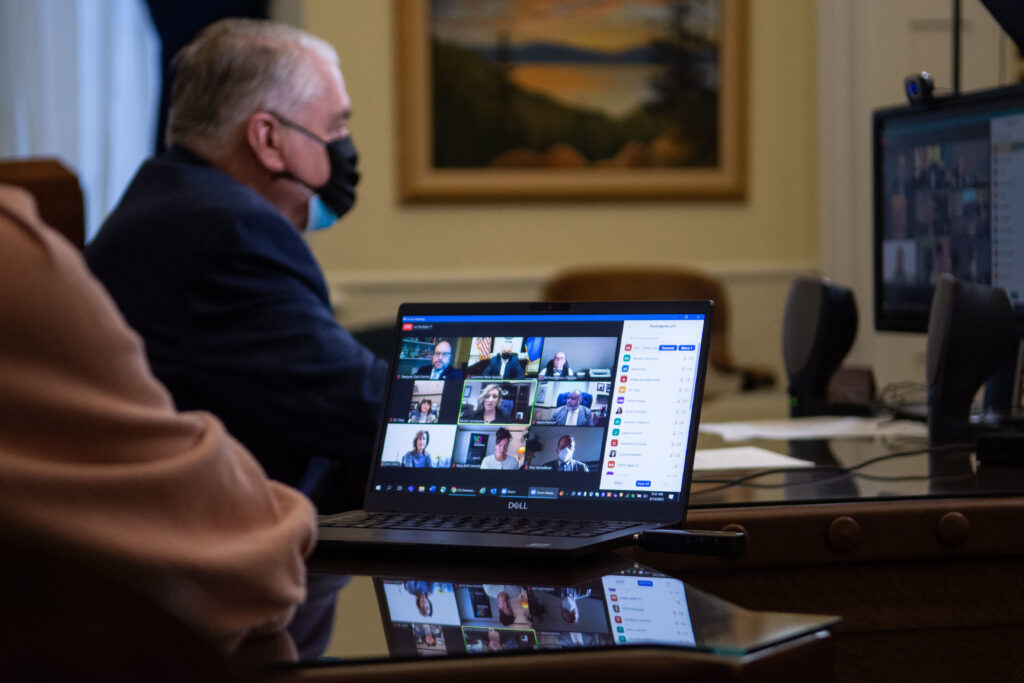 Follow the Money: Blockchains LLC spread the wealth before Innovation Zone reveal
Local and national attention has been showered upon the proposal from Blockchains LLC to create autonomous, self-governing "Innovation Zones" since the proposal was first publicized in the first week of the legislative session.
Since then, few details have emerged from the governor's office or state agencies about the "Innovation Zone" proposals, but it has raised many questions and attracted renewed attention as to why the company with more than 67,000 acres of land in Storey County is pushing for what seems like the 21st century equivalent of a "company town."
But while the proposal may seem fantastical, the company and founder Jeff Berns aren't exactly new faces to lawmakers or Gov. Steve Sisolak — both have made sizable political contributions since the company first came on the scene in 2018.
Many of the larger donations have been documented. Blockchains LLC made max contributions to Sisolak and Republican challenger Adam Laxalt during the 2018 governor's race, and he made a $50,000 contribution to a political action committee (Home Means Nevada) affiliated with Sisolak. Berns also cut a $50,000 contribution to the Nevada State Democratic Party in 2019.
But the political contributions continued into the 2020 election cycle. Berns himself contributed an aggregate of $34,500 to 11 lawmakers, including three of the four legislative leaders and a $10,000 maximum contribution to Republican Assemblyman Jim Wheeler (R-Minden). Wheeler also received a $10,000 contribution from Mary Berns, the wife of Jeff Berns. Wheeler's district includes the headquarters of Blockchains and potential future site of the "Innovation Zone."
David Berns, former president of the company and brother of Jeff Berns, also made a $1,000 contribution to Assembly members Jill Tolles (R-Reno) and $1,500 to Teresa Benitez-Thompson (D-Reno).
Outside of direct contributions, Jeff Berns also made direct contributions to a political action committee affiliated with state Treasurer Zach Conine (Berns also contributed $10,000 to Conine's campaign account in April 2020).
The PAC, "Let's Get to Work Nevada," is registered to Conine and his wife, Layke Martin, and reported receiving $60,000 in contributions from Jeff Berns in 2020 (out of $65,100 total raised through the year). It has little presence outside a bare-bones website, but contributed a combined $20,500 to primarily legislative Democratic candidates through 2020.
In an email, Conine said the PAC was set up to support "candidates and causes that work to advance opportunities for all Nevadans through effective economic growth, strategic investments in infrastructure, and innovative ideas that move our State forward."
"Jeff Berns shares this same vision, and I'm grateful for all of his support to help elect candidates who are dedicated to building a better and more inclusive Nevada," he wrote in the email.
(Disclosure: The Nevada Independent has received donations of $35,000 from Blockchains and $375,000 from Jeff Berns. I've spoken to Berns twice — once for a story where the company purchased a small bank in Las Vegas, and the other time during an Indy fundraising event in February 2020. Berns was dressed as Jon Snow from Game of Thrones.)
Conine and the state Treasurer's Office have been heavily involved in several aspects of Sisolak's economy-focused legislative agenda (including implementation of a small business grant program approved by lawmakers last week), though his office and other state agencies have largely avoided commenting on the Innovation Zone proposal since the State of the State address.
While Berns has made campaign contributions to lawmakers in both parties, the focus on Democratic lawmakers and a PAC supporting them isn't necessarily surprising given that Democrats control both legislative chambers.
There hasn't been much organized Republican push back quite yet on the proposal, though the Nevada Republican Party described the concept in a Facebook post as "Sisolak's new plan to allow Big Tech to create their own governments in Nevada".
— Riley Snyder
Capitol Police severely understaffed after year packed with protests
Low pay and long hours driven by frequent protests in the last year have left the state's Capitol Police Division facing a severe staffing shortage.
During a legislative meeting on Thursday, officials from the Department of Public Safety revealed that of the division's 21 full-time employee positions, nine are vacant and another seven officers have given notices to leave. The Capitol Police Division provides police services to state buildings in Carson City and Las Vegas, including the Capitol Building, Governor's Mansion and the Grant Sawyer Building.
A recurrent topic throughout the meeting was the department's recruitment struggles, which were noted by Sheri Brueggemann, the public safety department's deputy director.
"Again, the pay parity, so the issue with Capitol Police is they are below their sister agencies, which are below the local law enforcement," Brueggemann said.
Those sister agencies, including the Highway Patrol and Parole and Probation division, along with local law enforcement all had to provide help to the Capitol Police last year, with some agencies sending officers from Las Vegas to Carson City, as the division dealt with an overwhelming number of protests.
From March to June last year, the division spent more than 500 overtime hours responding to demonstrations, as well as another 441 overtime hours policing demonstrations from July through February.
Brueggemann described how Capitol Police face a tough job as they are often the first responders to protests at government properties, and because officers in that division earn 15 percent less than officers in other departments agencies, retention is difficult.
But those struggles stretch far beyond the Capitol Police Division. Department of Public Safety turnover exceeded 100 percent in each of the last three years, reaching a high point last year when the number of sworn officers who left the department outnumbered the cadets hired by 81 to 60.
Aside from the pay disparity, the background investigation and hiring process also eliminates a large number of candidates. Mavis Affo, human resources manager for the department, said that it takes about 100 applicants to get five candidates to attend the training academy.
The department could work towards recruiting for each of its individual divisions specifically moving forward, after a state audit recommended that the parole division should adopt a formal plan for recruitment and retention.
— Sean Golonka
Death with Dignity legislation is back after failing to pass in three prior sessions
Nevada lawmakers may once again take up the dicey issue of whether people should be able to take life-ending drugs if they have a terminal illness.
Democratic Sen. Dallas Harris' Death with Dignity bill, SB105, dropped on Tuesday, and she said Democratic Assemblyman Edgar Flores will take up the issue on the Assembly side.
"Believe it or not, as a progressive, sometimes I'd like the government to get out of the way," she said. "I just fundamentally believe people should have a right to do this in discussion with not one doctor, but two."
Gov. Steve Sisolak's office was noncommittal Friday on whether he would sign or veto such a bill. The physician aid-in-dying concept has failed in recent sessions, including in 2019, when such a bill passed out of committee but never came up for a vote on the Senate floor, in spite of the celebrity endorsement of civil rights icon Dolores Huerta.
In 2017, it narrowly passed out of the Senate after a Republican and independent joined Democrats in support, but Democrats Aaron Ford and Mo Denis opposed it. It died in an Assembly committee.
And in 2015, a bill on the issue never came up for discussion. Republican Sen. Joe Hardy, a physician and member of the Church of Jesus Christ of Latter-day Saints, did not grant it a hearing in the committee he chaired.
Republican Sen. Ben Kieckhefer had been a co-sponsor of such legislation in the past, but said he ultimately grew more uncomfortable with the idea as time went on and switched his position.
"I've waffled," he said. "I'm not embarrassed to say that when it comes to questions of life and death and the divine spark, that I struggle sometimes."
Harris said some constraints that have been added to the legislation over time may help allay some of the concerns, potentially making Nevada the tenth state in the country that allows a right to die. She said she knows it won't be an easy discussion.
"I understand the emotion behind it, right?" she said. "I mean, death is the one thing that unifies us all."
— Michelle Rindels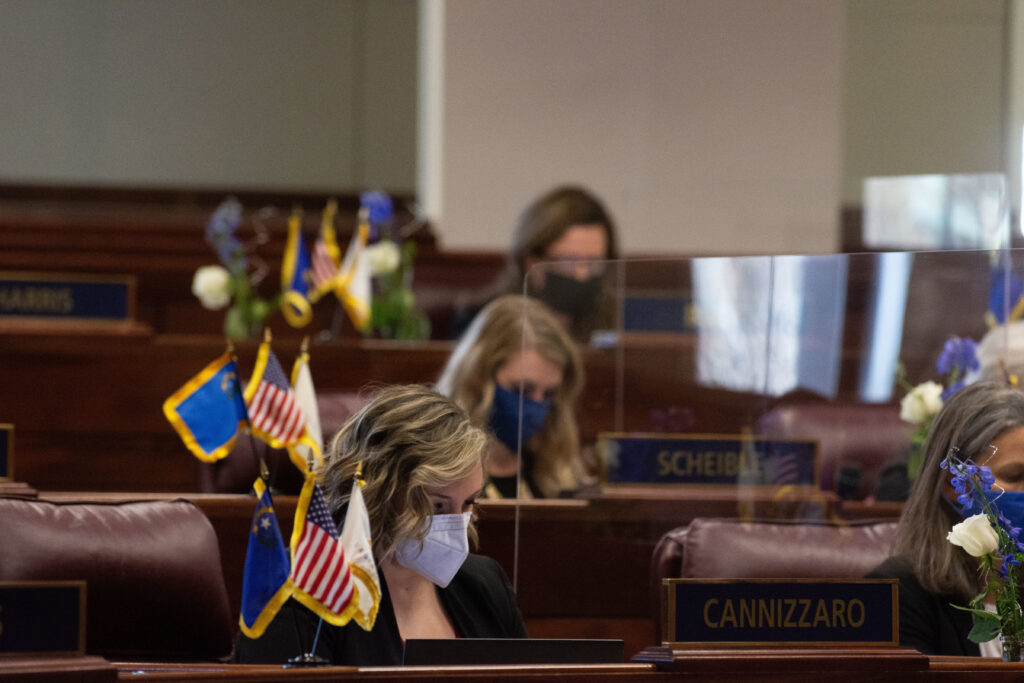 What we're reading
Journalists over-use the phrase "must-read," but this Daniel Rothberg story on Blockchains, Innovation Zones and water rights is, well, a must-read.
Blockchains founder Jeff Berns also did an interview this week with the Associated Press.
Jannelle Calderon on a proposal by Assemblywoman Robin Titus (R-Wellington) to take derogatory language referring to people with disabilities out of the state Constitution.
Our stories on the hearing and signing of the highly touted bill allocating $50 million in grants to small businesses affected by the pandemic.
The number will likely change, but the $1.9 trillion federal aid measure currently before Congress would send $3.9 billion with a 'b' to Nevada, which has potentially major implications for the state budget.
That summer special session for redistricting will now likely be after late September, after the Census Bureau announced another delay in release of information needed to draw new district maps. (New York Times).
More national attention on Nevada's majority-female Legislature (The Recount).
Rural counties want more secrecy on debating projects with major environmental effects. Open government groups and environmental groups say nuh-uh (Nevada Current).
Some transparency concerns with the closed session, though some advocates say remote meetings open testimony to more people (KUNR).
Assemblyman Howard Watts (D-Las Vegas) wants to close the "classic car loophole" (I always enjoy seeing crappy 90s sedans riding around with classic vehicle license plates, but that's just me) (Las Vegas Sun).
Southwest Gas is already pushing back on Assemblywoman Lesley Cohen's (D-Las Vegas) planned bill requiring them to file cost-benefit plans with the Public Utilities Commission every three years (Nevada Newsmakers).
There's a lack of diversity in the marijuana industry (Las Vegas Review-Journal).
The boss did an AMA on Reddit.
UPCOMING DEADLINES
Days to take action on Initiative Petitions before they go to the 2022 ballot: 26 (March 12, 2021)
Days Until Legislator Bill Introduction Deadline: 29 (March 15, 2021)
Days Until Sine Die: 106 (May 31, 2021)
The Nevada Independent is raising $200,000 by Dec. 31 to support coverage of the 2024 election.
Tax-deductible donations from readers like you fund this critical work.
If you give today,your donation will be matched dollar-for-dollar.
Give + Get Matched
Featured Videos