Follow the Money: Nevada Realtors spread the wealth among lawmakers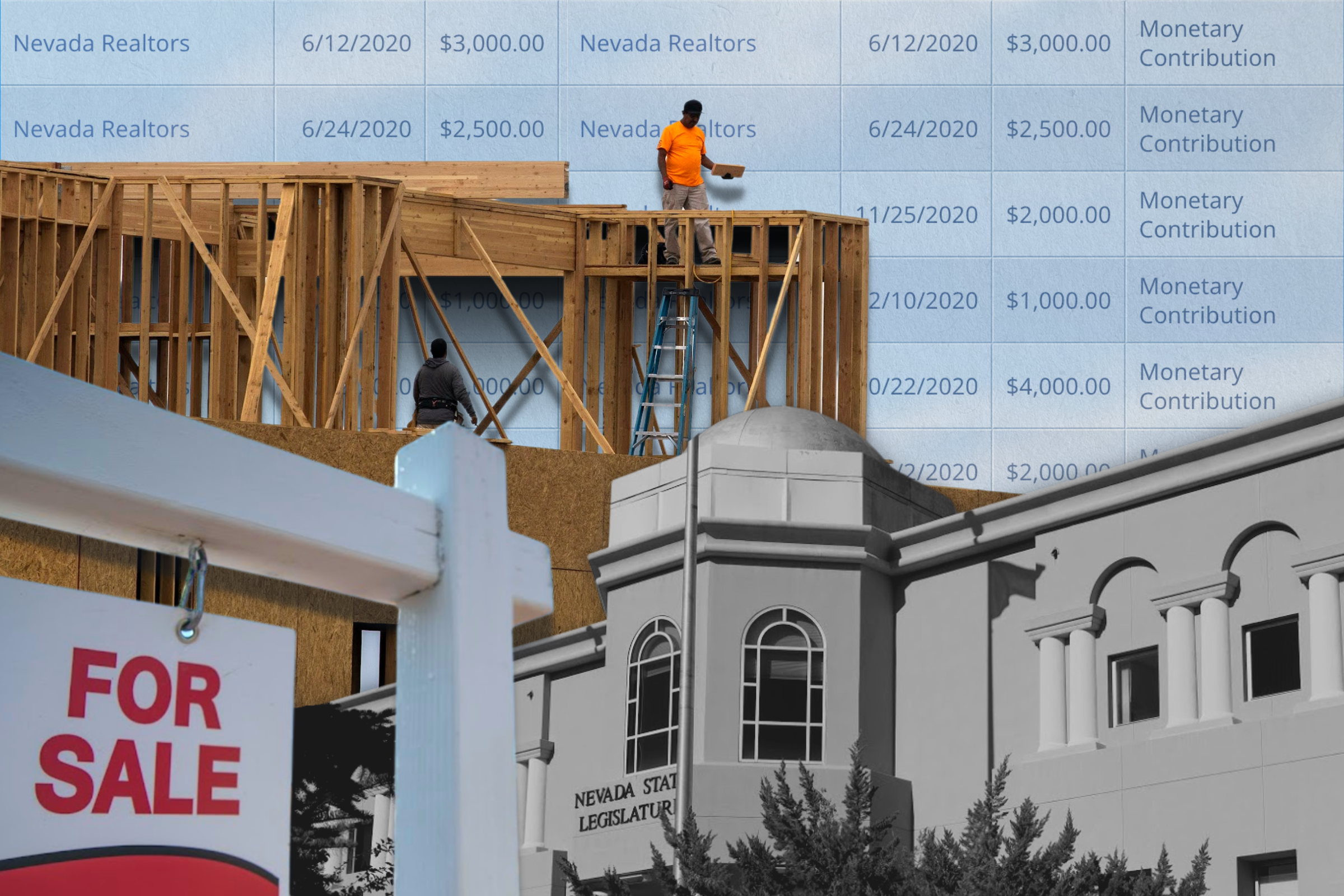 Nevada's real estate and development industry, a perennial powerhouse in campaign financing, contributed nearly $1.4 million to state lawmakers during the 2022 election cycle, with more than 31 percent ($432,500) coming from the Nevada Association of Realtors.
Though that total was outpaced by union and labor groups, which gave nearly $1.5 million, a group of more than 200 real estate agents and development and construction companies gave legislators the second-most money of any one group.
That money was distributed more evenly among legislators from both parties. Unlike the labor groups, which overwhelmingly supported Democrats, real estate companies gave more on average to Republican lawmakers ($25,583 per legislator) than Democrats ($22,628 per legislator).
With land and development a perpetual policy battleground in the Legislature amid long-running fights over land use, property taxes, tenant protections and landlord rights, it comes as little surprise that the industry emerged as one of the cycle's top industries for political contributions.
Despite the industry not topping the donor list as it did in 2020, the nearly $1.4 million in combined giving reflected an increase over previous election cycles. When accounting for all industries, 2022 marked a record year for campaign fundraising in Nevada.
This story is part of The Nevada Independent's "Follow the Money" series tracking money in politics. This installment, and others published throughout the legislative session, will analyze the fundraising activity of state lawmakers, with deep dives into how different industries and top contributors doled out money. Find other installments here.
The data offers a look at how the state's most powerful companies and political organizations contribute to policymakers who set laws affecting businesses and residents alike. It also provides context for the 120-day legislative session, as lawmakers face pressure from the same groups and individuals who donated to their campaigns.
Breaking down the top contributors
Standing alone at the top of the pack, the Nevada Association of Realtors, also known as Nevada REALTORS, gave more money than any other group, contributing more than $432,000 from the association and its multiple political action committees.
By giving through multiple entities, the REALTORS skirted state limits on campaign contributions set at $10,000 per candidate. The group gave $30,000 apiece to Assemblywoman Heidi Kasama (R-Las Vegas), a Realtor and former president of the association, and Assemblyman Bert Gurr (R-Elko), another Realtor who formerly served as president of the association.
The REALTORS notably kicked up their campaign contributions in 2020 after a 2019 legislative session that saw Democratic lawmakers approve tenant protections opposed by the association, including a cap on fees for late rent payments.
Following a 2020 election cycle that saw the real estate industry, led by the REALTORS, contribute more money to state lawmakers than any other group, the 2021 legislative session saw mixed results on housing reforms. Though lawmakers approved increased rental assistance and a bill extending the timeline for notification of rent increases from 45 to 60 days, other efforts to protect tenants — including a bill to abolish Nevada's unique, rapid summary eviction process — failed to advance. This session, Assemblywoman Shondra Summers-Armstrong (D-Las Vegas) has a bill to reform that process.
As housing advocates push again this session for housing reforms and greater tenant protections, Ben Iness, the coalition coordinator for the Nevada Housing Justice Alliance, said there's a "severe, stark imbalance of power between tenants and landlords."
"When we speak about tenants, these are folks who are struggling, week-to-week, month-to-month, juggling ever-increasing rents," he said. "And then compared to landlords and then making our way towards the real estate industry … who have, seemingly in comparison, unlimited resources for attorneys, lobbyists, and then just record-setting or track-leading campaign donations to ultimately protect their profits and influence."
As an example, Iness highlighted a tenants' rights bill (SB218) that passed out of the Senate in 2021 but was killed after not receiving a hearing in the Assembly. The measure was supported by tenant advocates but opposed by the REALTORS and several other industry groups. The bill has returned this session in the form of SB78, sponsored by Sen. Fabian Doñate (D-Las Vegas).
This year, Nevada REALTORS President Tom Blanchard said in a press release the group expects "landlord-tenant reform to be a significant issue" during the session and signaled opposition to any increase in the state's real property transfer tax, assessed when properties are sold and transferred.
"[Nevada REALTORS'] primary goal will be to protect homeowners, especially first-time home buyers, who are least able to afford any proposed increase in such taxes," the statement said.
Such a proposal has emerged as SB68, a bill sponsored on behalf of the Clark Regional Behavioral Health Policy Board that would boost the transfer tax by an additional 20 cents for every $500 in value to pay for a new "Critical Needs Fund." That fund would provide housing assistance for "very" low-income families, or those below 50 percent of the median monthly income in their county.
In Clark County, where the transfer tax is highest, the tax amounts to $2.55 per $500 of value on transfer transactions, or about one-half of 1 percent. However, an investigation from the Las Vegas Review-Journal last year found many of the largest real estate sales involving casinos or other major properties used limited liability companies to skirt paying any transfer taxes.
Behind the REALTORS, only two other groups contributed more than $100,000 to lawmakers: the Southern Nevada Home Builders Association ($128,500), a trade association representing the residential construction industry, and the Associated General Contractors ($117,000), a trade group representing construction industry contractors.
Other home builder groups that work closely together, including the Nevada Home Builders Association ($77,000) and Builders Association of Northern Nevada ($6,000), also made contributions.
This session, the home builders, particularly in Southern Nevada, have prioritized land use planning and keeping construction costs low to ensure rising housing costs do not price residents out of the market.
Amanda Moss, government affairs director for the Southern Nevada Home Builders Association, said in an interview the association is focused on preserving access to the new home market for "as many working Nevada families as possible," pointing to legislation in a variety of policy areas, including education, water and environmental sustainability, that could positively affect the homebuilding industry.
That includes SB144, a bill from Sen. Roberta Lange (D-Las Vegas) to establish a tax credit for people who donate money to career and technical programs, which could expand the state's construction workforce pipeline. Moss also pointed to AB189, a bill from Assemblywoman Sandra Jauregui (D-Las Vegas) to move up summer construction times in Clark County to help protect construction workers.
Moss also highlighted zoning and density as keys to expanding housing availability and ensuring new developments are built efficiently.
Among key players in the residential construction industry, the fourth highest contributor was the Summerlin master-planned community, a development of the Howard Hughes Corp. on the west side of the Las Vegas Valley. The group contributed more than $96,000 to legislators.
Iness said the financial advantage of the industry groups helps provide them with a leg up at the Legislature.
"These groups, these lobbyists, other influencers [have] that kind of direct access. It may be implicit, but also direct access to the Legislative building and process," he said. "I don't know how community members, normal families, normal citizens are supposed to compete with that lack of access."
Breaking down the top recipients
A mix of Democrats and Republicans were among the top recipients of real estate and development contributions. The top eight alone — lawmakers who received at least $50,000 each — collectively received $583,000, or more than $4 out of every $10 contributed by the industry.
The top recipient was Assembly Speaker Steve Yeager (D-Las Vegas), who received $108,500 from real estate and development industry donors. Holding the top leadership position in the Assembly, Yeager led all lawmakers in fundraising during the 2022 cycle and received maximum contributions from an array of real estate groups, including Nevada REALTORS.
In second place, Kasama, a Realtor, received more than $88,000 from industry groups. She's also a landlord and owns four Las Vegas rental properties, according to a financial disclosure she filed with the secretary of state's office. The contributions represent an outsized chunk of Kasama's 2022 fundraising — or nearly a quarter of her $366,000 total.
Not far behind in third, Jauregui received more than $86,000 from donors in the real estate and development industry. Jauregui also reported income from a rental property on her 2023 financial disclosure and from work at a title insurance company.
Other top recipients of real estate and development industry contributions included three lawmakers who each received from $64,000 to $67,000: Assemblywoman Daniele Monroe-Moreno (D-North Las Vegas), Gurr, who is a real estate agent (and whose real estate contributors amounted to roughly 40 percent of his campaign fundraising), and Sen. Rochelle Nguyen (D-Las Vegas).
Another member of the industry was in ninth place. Assemblywoman Danielle Gallant (R-Las Vegas) received more than $46,000 from industry donors, including an array of contributions of $1,000 or less from individual real estate agents. Gallant is a broker and partner at a property management and realty investment company, and she co-owns Gallant Construction with her husband.
In all, a little more than a third of Gallant's $134,000 in total fundraising came from real estate donors.
Follow the Money explained
The Nevada Independent tracked and categorized more than 8,000 donations of $200 or more from Jan. 1, 2021 through the end of the election cycle on Dec. 31, 2022.
Donors are limited to giving a maximum of $10,000 to a single candidate, but major corporations easily surpass that limit by contributing through various affiliated entities or businesses — a process sometimes referred to as bundling.
Some wealthy donors, ranging from lawyers to doctors to casino magnates, may also boost contributions to a single candidate by donating the maximum amount under their name and under their spouse's name.
Each donation was categorized by the industry or field of the organization or individual who contributed, and the entire set of donations was analyzed for patterns and trends. Our analysis has also sought to track bundled contributions where possible, linking contributions from LLCs or subsidiary companies to their largest parent company or individual donor. Total contributions from MGM Resorts International include not only money donated directly from MGM, but also from the properties it manages, for instance.
Data collected does not include donations made to losing candidates, nor does it break down small donations under the $200 threshold or fundraising activity for the many PACs or political groups that spend in support of candidates.
It also excludes Assemblywoman Sabra Newby (D-Las Vegas), who was appointed after the election and did not raise funds.
Still, the $200 threshold captures the vast majority of all the money contributed to elected lawmakers over the last two years. All legislative contributions under $200 in the 2022 cycle — more than 7,400 individual transactions — totaled just $221,000.
———————
Roy Visuett contributed data analysis to this report.
This story is a part of The Nevada Independent's weekly Follow the Money series, which examines the amount of money contributed by major industries to individual state lawmakers. For a list of all our Follow the Money stories, click here.
The Nevada Independent is raising $200,000 by Dec. 31 to support coverage of the 2024 election.
Tax-deductible donations from readers like you fund this critical work.
If you give today,your donation will be matched dollar-for-dollar.
Give + Get Matched
Featured Videos