Lawmakers accept $2.7 billion in American Rescue Plan funds; approve millions for homeowner assistance, education programs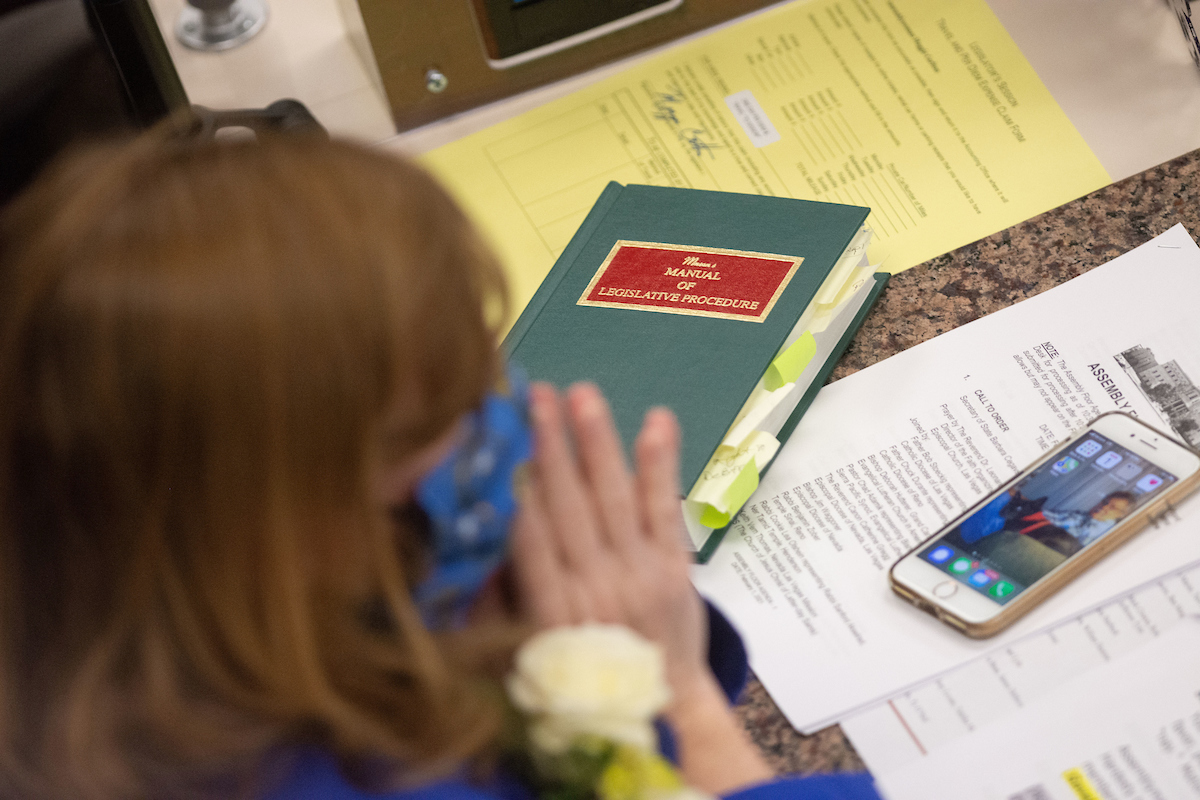 State lawmakers have formally approved accepting Nevada's $2.7 billion share of the American Rescue Plan (ARP) funds, while also approving a slew of initial spending programs including more than $50 million to help low-income Nevadans pay for housing.
Members of the Interim Finance Committee met Tuesday to authorize the governor's office to accept the full ARP allotment and designate allocations of more than $76 million in federal aid programs, including $39.5 million in rental assistance, $12.1 million in homeowner assistance and $13.9 million for the Department of Education to ensure federal relief funds are properly administered.
Tuesday's meeting — the first interim meeting of legislators since the regular 120-day session ended last month — also served to outline how lawmakers and the governor's office plan to spend the multibillion-dollar federal windfall.
The vote taken by lawmakers (which also funds the $5 million in vaccine incentive prizes announced by the state last week) will place the federal dollars into an executive budget account, which lawmakers said they will use similarly to a reserve account and to fund proposed programs after gathering additional public input. The state set up an online portal to accept spending ideas from members of the public, members of executive branch agencies and state lawmakers, and IFC Chair Sen. Chris Brooks (D-Las Vegas) said it has received about 1,000 submissions since it opened in April.
Lawmakers stressed that the votes on Tuesday were not intended to leapfrog other priorities for the federal funds — including legislation passed just weeks ago requiring the state to spend $335 million of the allotment to pay back money borrowed from the federal government to sustain unemployment benefits and $54 million to modernize the state's unemployment insurance system.
"This is the agreement that we have, and we just want to make sure it's very clear to folks that we can walk and chew gum and fix two or three problems at the same time," Assemblywoman Maggie Carlton (D-Las Vegas) said during the meeting.
Brooks said that the $2.7 billion was only a portion of the estimated $7 billion total in federal monies coming to the state in the form of direct grants to school districts, counties and cities, and myriad other programs. With all the different pots of money, he said lawmakers "want to make sure that there's no waste, and that it's going to the best and highest use, and there's no duplication."
Here's a look at some of the major funding allocations made by the committee on Tuesday:
Homeowner assistance program
Programs to help tenants catch up on rent have been up and running for the last year, but a vote on Tuesday gets the ball rolling on an entirely new, $121 million program to support struggling homeowners.
The Homeowner Assistance Fund is targeted toward property owners who have faced hardship since late January 2020 or after on account of the pandemic. Because the state needs time to set up a portal and put the project out to bid, it will probably take at least 90 days before applications are accepted.
Instead of being disbursed through the state and local government agencies, the fund will be managed by the Nevada Affordable Housing Assistance Corporation, which previously had been administering money from the U.S. Treasury's Hardest Hit Fund that supported 18 states affected most by the Great Recession.
The Hardest Hit Fund was a $200 million program that ultimately supported about 8,000 individual homeowners. The new Homeowner Assistance Fund is expected to help about 6,800 households.
Carlton said federal COVID-19 aid had previously been reserved to help renters pay their landlords, on the understanding that tenants were exposed to the more immediate effects of the pandemic and mortgage forbearance initiatives would relieve pressure on homeowners. But she said many homeowners have been asking for assistance.
"Seeing a program come forward for homeowners is very gratifying," she said.
Lawmakers approved spending 10 percent of the allotment to get the program up and running, with plans to build out technology infrastructure and ramp up staffing at the corporation that officials say is operating with a skeleton crew. The first initiatives are expected to be the Unemployment Mortgage Assistance Program — which would bring homeowners who are receiving unemployment benefits current on payments and help support a monthly payment — as well as a Mortgage Reinstatement Assistance Program geared toward people who have returned to work and need to get current with payments to avoid a foreclosure.
The unemployment program is expected to be capped at $54,000 per recipient, with the reinstatement program capped at $35,000 per recipient. But officials are eyeing a complete program limit of $100,000 per recipient, with the understanding that the program might evolve over time and people also could need principal reduction.
Officials plan to get the word out through partnerships with housing counseling agencies, legal aid organizations and more than 100 mortgage servicers. The outreach involves coordinated mail campaigns that put special emphasis on hard-hit areas.
The program is expected to last for about five years. Some lawmakers questioned whether the estimated $17 million in administrative costs for the program was too high; officials said the costs stem from the complexity of complying with U.S. Treasury guidelines and the fact that applicants may need widely varying amounts of money.
Preparing for education spending
The committee also approved a round of allocations of ARP funds for the Department of Education that included nearly $14 million to ensure that federal relief funds for K-12 schools are properly administered.
"This is a whole new world for us," said Carlton, who also serves as vice chair of the committee. "So we just want to be able to build in some of that transparency and ongoing communication between the department and IFC on how these dollars are spent in the future."
In order to ensure the department's spending of ARP funds is in compliance with guidance from the U.S. Treasury, the agency plans to use $431,000 of federal Elementary and Secondary School Emergency Relief (ESSER) funds to hire an "education programs supervisor," who will help oversee the rollout of ARP funds over the coming years.
The additional funds for the department will go toward other temporary positions aimed at supporting the administration of ARP funds, as well as a few other small programs, including $400,000 to help the department in its transition to the new funding formula.
However, one project included within the department's allocation of ARP funds was hotly contested during the meeting — a request for $10 million to contract with an external auditor who would help ensure the department remains compliant with ESSER and ARP requirements.
Some lawmakers questioned whether the audit would be needed and how long the contract would take, while others expressed concern over giving the agency the full $10 million for a multiyear contract when the department still needs to reach an agreement with a third party to complete the audit.
"We totally appreciate the audit function," Carlton said. "Not with the Department of Education, but with other departments, we've had problems where we've given it all to them and found out at the end that none of it worked. And we ended up in a lawsuit, and we had to fund it all over again."
The committee settled on allocating $5 million for the contract, with plans for the department to come back to the committee when it needs the rest of the funding for the audit contract.
The IFC additionally approved $1.8 million for the department with the goal of identifying and supporting the needs of homeless students.
However, IFC Chair Chris Brooks questioned the breakdown of that allocation across different county school districts. The breakdown was not available for public viewing.
"Why does Carson City — a population of 50,000 people — get $170,000 and Clark (County) — population of two-point-something million — get roughly twice that $342,000?" Brooks asked.
Seng-Dao Yang Keo, director of the Office of Student and School Supports for the department, explained that districts are awarded the grants competitively based on a variety of factors that include percentage of youth who are homeless and county capacity for serving those youth, which is why "one might see the disproportionality."
Through ARP funding for homeless children and youth, the state will eventually be getting another round of funding of nearly $5.3 million to support that same population.
Other allocations
The committee approved a wide swath of work programs during the Tuesday meeting, including a few smaller allocations of ARP funding.
One allocation of federal funds will grant the Nevada Arts Council nearly $800,000 from the National Endowment for the Arts to help support non-profit arts organizations and individual artists as they recover from the pandemic.
The committee also approved $2.7 million to improve access to Supplemental Nutrition Assistance Program (SNAP) benefits by bolstering the infrastructure of the program, which includes expanding the program's call center capacity and reducing call center wait times. The allocation is meant to ensure benefits can better reach underserved communities.
Another allocation of a little more than $100,000 in ARP funds, along with more than $200,000 in CARES Act funding, will go towards setting up the Office of Small Business Advocacy, which was established by AB184 during the 2021 legislative session. The office is meant to provide assistance directly to small businesses owners, including connecting those owners directly to economic relief programs.
After some discussion, committee members approved an allocation of around $2.5 million in federal funds aimed at addressing health disparities among at-risk and underserved populations. Sen. Julia Ratti (D-Sparks) commended the Department of Health and Human Services' ability to coordinate and work with a variety of stakeholders during the pandemic, but noted that "we also want to do a better job specifically on health equity, specifically on disparate impact."
DHHS officials responded that the department is looking at continuing to fund its Office of Minority Health and Equity and support its Minority Health and Equity Coalition. Tina Dortch with the office of Minority Health and Equity said that the office has been cultivating relationships in minority communities and will keep working with those communities. Dortch added that the additional funding will allow staff to continue to develop those relationships and build out existing programming.
Legislators on the committee also approved allocating $283,000 to the Department of Motor Vehicles for computer programming costs associated with legislation approved in the 2021 session, including measures decriminalizing traffic tickets (AB116), changes to special license plates for the Las Vegas Golden Knights (AB123) and the "Divine Nine" Black sororities and fraternities (SB163) and prohibiting the suspension of driver license fees by a court over unpaid fees or fines (SB219).
Updated on June 24, 2021 at 8:25 a.m. to correct the amount of funding allocated to the DMV for implementation of bills passed by the 2021 Legislature.
The Nevada Independent is raising $200,000 by Dec. 31 to support coverage of the 2024 election.
Tax-deductible donations from readers like you fund this critical work.
If you give today,your donation will be matched dollar-for-dollar.
Give + Get Matched
Featured Videos