GOP senator backs out of deal with Senate Democrats directing new mining tax proceeds toward K-12 education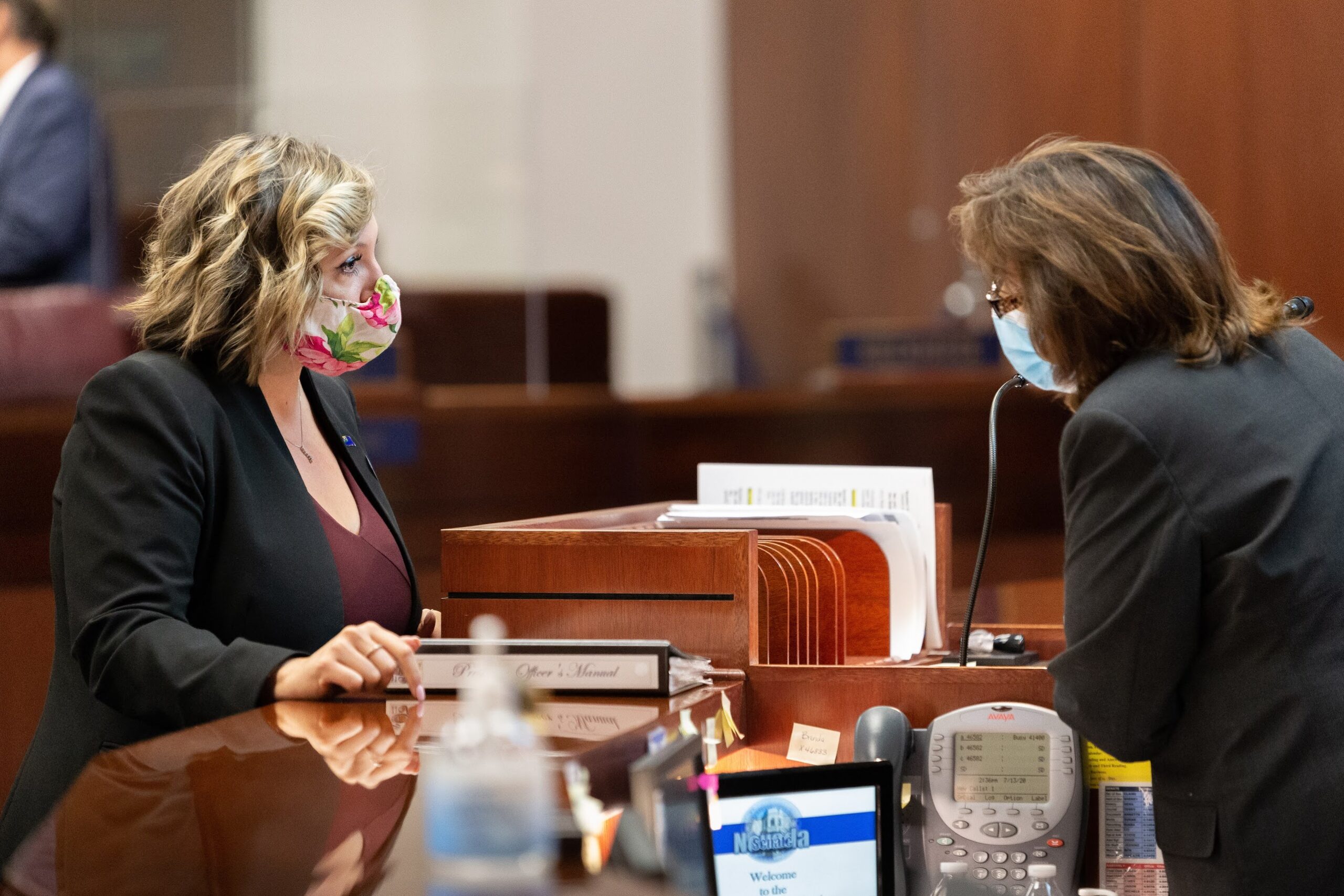 Senate Democrats announced Saturday morning that they had reached a deal to revive legislation removing several mining tax deductions and direct the revenue toward education, which was expected to take a major hit as lawmakers try to close the state's $1.2 billion budget shortfall.
However, just three hours later, that deal appeared to be off the table.
Republican Sen. Keith Pickard was expected to make a motion to reconsider the measure, which failed in the Senate early Friday morning, and join Senate Democrats in support of it with an amendment directing the additional money toward a hard-fought weighted funding formula. However, Pickard told the Las Vegas Review-Journal just before noon on Saturday that he would not be supporting the measure and hinted the Senate Republicans have come up with their own plan.
"The one thing that we realized is that there is so much more to this picture than we can divine in 48 hours and there are opportunities we have the money to fill the gaps and we've proven that with our announcement," Pickard said in a subsequent interview with The Nevada Independent on Saturday, referring to an alternative plan Senate Republicans revealed on Thursday for finding additional revenue and backfilling cuts.
Pickard said that Sen. Joe Hardy has a plan that will generate $600 million to be spent on education, though he did not elaborate on the details. The previous plan Senate Republicans revealed was expected to tap into an estimated $162 million in restored revenue, previously adopted legislative changes and anticipated, but uncommitted, federal Medicaid dollars.
"It makes this plan look like a pittance," he said. "I'm not willing to sacrifice our potential success for this deal. It just doesn't make sense anymore." 
Hardy confirmed that his plan involved a 1.5 cent per kilowatt hour export tax on wholesale renewable energy sold from Nevada to other states. He proposed the concept in 2017 as the bill SB336, but the measure died without ever getting a hearing in the Democrat-controlled Senate.
Major solar projects announced in recent years have sought to interconnect with California's grid with the goal of turning sunny Nevada into a net exporter of clean power. The Silver State could draw significant economic benefits from helping its populous neighbor to the west meet its goal of using 100 percent renewable energy by 2045.
Senate Democratic Caucus Executive Director Cheryl Bruce in a statement earlier Saturday morning said that Senate Majority Leader Nicole Cannizzaro and Pickard spoke "several times" Friday evening and reached a deal on the measure, AB4.
"Leader Cannizzaro offered to amend AB4 to put the additional revenue towards the SB178 K-12 funding formula, and Senator Pickard agreed to make a motion to revive the bill," Bruce said. "We expect a vote in the Senate this morning to raise revenue that will serve some of the most disadvantaged students in the state."
Lawmakers in the 2017 legislative session passed SB178, a bill championed by Senate Democrats that allocated millions of dollars toward implementation of a long-sought weighted funding formula. It gives schools that are not already receiving Zoom or Victory program investments a $1,200-per-student boost for each child in the lowest quartile for academic performance or who is receiving free or reduced-price lunch.
The $70 million backing that measure, along with several other marquee K-12 education initiatives such as a $31 million Read by Grade 3 literacy program created under Republican leadership, have been on the chopping block. Democrats introduced a budget restoration plan late Thursday restoring about $127 million in planned cuts, which only included about $4.1 million in K-12 restorations.
Pickard told The Nevada Independent on Friday that he would be willing to vote for the tax if the money was earmarked for education, after making a statement during the floor vote on the bill early Friday morning to that effect.
"If they were to come back and create language in the bill that moved this money to education, I already said I'm a yes," he said in an interview on Friday. "So it's not a change in position for me."
Clark County Education Association Executive Director John Vellardita confirmed in a text message Saturday morning that he spoke with Pickard on Friday and encouraged him to back the mining proposal if the additional dollars went toward education.
The powerful teacher's union played a key role in electing Pickard to office in 2018, endorsing him over Democrat Julie Pazina, and helping carry him to a 24-vote victory. That prevented Democrats from holding supermajorities in both chambers of the Legislature, requiring them to win over at least one Republican to pass any taxes.
During floor sessions late Thursday and early Friday, Democratic lawmakers pitched the hastily introduced bill as bringing equity to a tax structure that has long favored mining companies. Republicans, however, criticized how fast the bill was moving through the legislative process and raised concerns that the bill could have unintended consequences for the mining industry.
The legislation proposes limiting companies to 60 percent of the deductions they would normally take and, in combination with another bill requiring double payment of mining taxes this year, would generate an additional $102 million in revenue for lawmakers to apply to their $1.2 billion budget shortfall. In 2019, the mining industry grossed $7.8 billion, but taxes were only applied to the $2.5 billion in net proceeds that year.
Tyre Gray, the head of the state's mining association, said he wasn't informed until shortly before the bill was announced about the plan, and joined a chorus of pro-business groups in a statement criticizing efforts to tax single industries as opposed to designing taxes more broadly.
If the Senate does end up reconsidering the measure and approves it, it will need to return to the Assembly for members there to concur on the amendment. Assembly Speaker Jason Frierson said his members are supportive of the plan.
"If AB 4 is returned with an amendment directing money towards SB 178, my members would be onboard," Frierson said in a text message.
Dozens of progressive activists and others had testified in favor of having the mining industry pay more as the state reels from coronavirus-related shutdowns. Since statehood, the industry has had its more favorable tax structure focusing only on the net proceeds enshrined in the Constitution, and over the years has been allowed a growing list of additional deductions for the costs of doing business.
On Saturday morning, groups that had repeatedly made the pitch to raise mining taxes over the 11 days of the special session celebrated word of an agreement.
"We are pleased to hear this news! The pressure put on the Legislature through our rally as well as the thousands of letters, calls, and public comments by educators demanding new revenue and funding healthy schools has worked," the Nevada State Education Association said in a tweet.
Jackie Valley contributed to this report.
The Nevada Independent is raising $200,000 by Dec. 31 to support coverage of the 2024 election.
Tax-deductible donations from readers like you fund this critical work.
If you give today,your donation will be matched dollar-for-dollar.
Give + Get Matched
Featured Videos