Former Assembly Speaker lays out vision for his new role as Nevada's U.S. attorney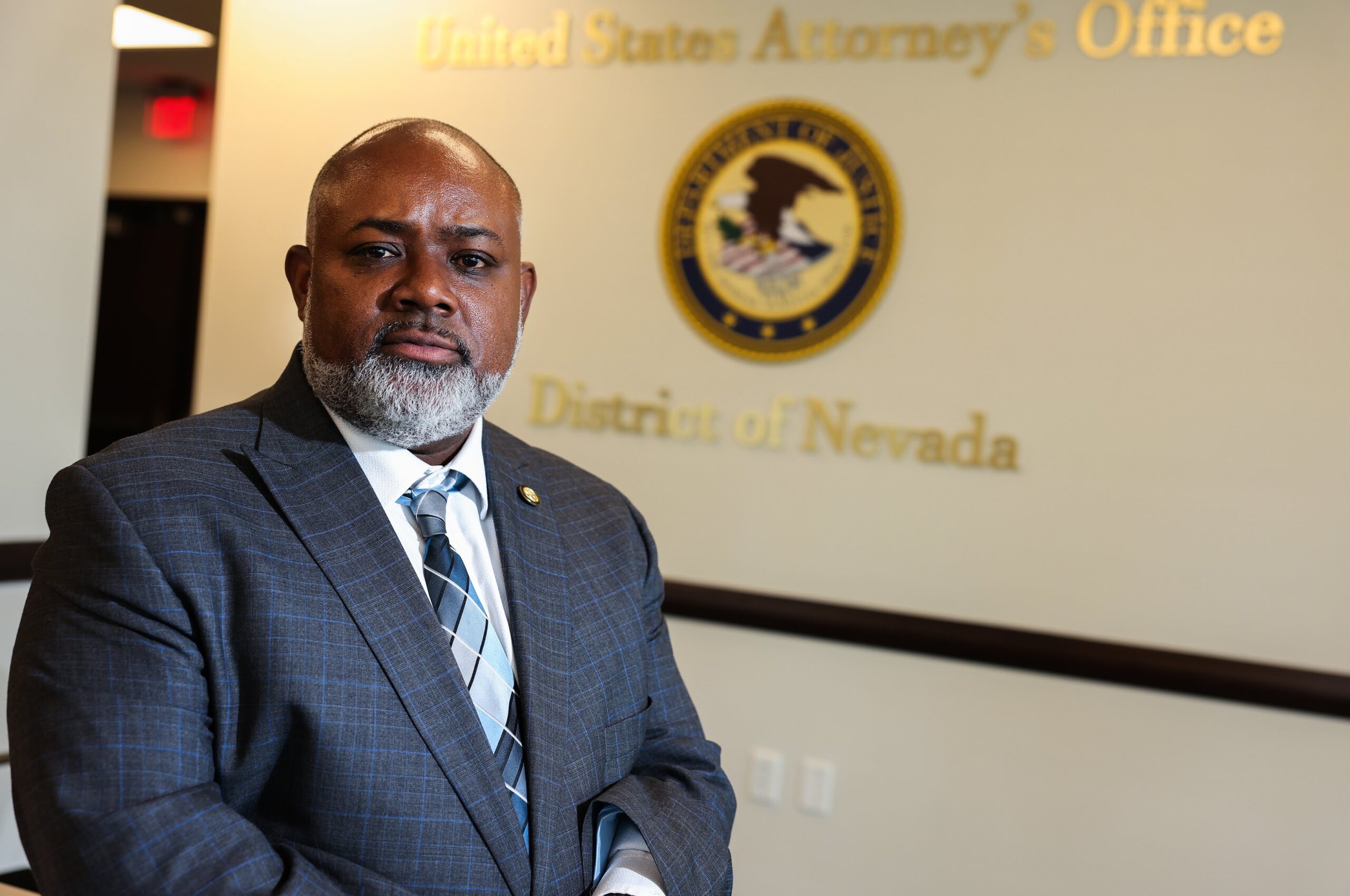 After more than a decade in state politics and an even longer career in the courtroom, Jason Frierson has a new boss: the federal government.
"I've always been in some type of advocacy position," Frierson, the newest U.S. attorney for the District of Nevada, said. "This is the first position within my legal practice where I'm — and I'm honored to be — an extension of the United States … That's new for me. But you know, public service has obviously been part of my entire adulthood."
The U.S. attorney for a given district operates similarly to the way a state attorney general might, only on the federal level — prosecuting federal criminal cases and representing the U.S. government in court when sued.
And notably for Frierson, who spent a decade running for election and re-election in the state Assembly, the position is appointed, not elected, to a four-year term.
A former public defender, Clark County prosecutor and most recently the Speaker of the Assembly, Frierson was confirmed by the U.S. Senate back in April. He replaced interim U.S. Attorney Christopher Chiou, who had stepped in after the departure of Trump-appointed U.S. Attorney Nick Trutanich.
Though originally from Los Angeles, Frierson has lived in Nevada since 1998, earning an undergraduate degree from UNR and, later, a law degree from UNLV. That experience, he said, combined with his legal experience on both sides of a courtroom, have "been a tremendous help."
"These are things that have made me sensitive to issues that affect the entire state, the entire district," he said.
But Frierson, also the first Black man ever to hold the job of U.S. attorney for the District of Nevada, said that his personal experience — in addition to working as both a prosecutor and defense attorney — gave him "a balanced perspective of what justice looks like."
"When I was sworn in, quite frankly, I got a little emotional," Frierson said. "Because this kid from Compton, who didn't always know if police would show up when we called, now is the face of effectuating justice for the whole district of Nevada."
Frierson added that his appointment carried an "incredible responsibility to do it right."
"I may be the first African American U.S. attorney in the history of the state of Nevada, but I don't want to be the last," he said.
Frierson spoke to The Nevada Independent for an extended interview last week, detailing his priorities in his new role, including tackling violent crime, the opioid crisis, human trafficking and more.
Tackling violent, gun and drug crime
In the wake of the pandemic and in the middle of an election year, the public perception of crime has sharpened to a razor-focus on murder rates that have risen as coronavirus-induced shutdowns ended. That focus comes despite mixed crime trends elsewhere, and as the number of property crimes in Nevada have increased while the rate of violent crimes have decreased.
Frierson said that, "as the economy comes back [from COVID], that's had an impact on crime rates," and that his role as U.S. attorney was in large part to partner with investigative agencies — the FBI and Drug Enforcement Administration (DEA), among others.
But, he said, so too does his office partner with "non-law enforcement" groups that he called "often our most valuable asset" in providing public safety and solving crimes.
"We have to have those relationships," Frierson said. "That means we have to be present in the community. We can't only show up when there's a crisis. We have to have existing relationships and ongoing communication so that there's trust in the community and the community knows that we're going to follow up and delivering that justice."
Frierson also raised concerns about an increase in the prevalence of privately made or 3D-printed firearms — sometimes called ghost guns — or firearm parts, including parts that can convert semi-automatic weapons into fully automatic ones.
"At the end of the day, we want to nip it in the bud and make sure that we intercept those components or guns as they're coming into the state or being made or trying to leave the state and be sold," he said. "It's a priority that we engage with every step of that investigation to try to take those guns off the streets."
And amid concerns about an increase of the powerful opioid fentanyl in the illegal drug trade, Frierson said his office had begun collaborating with the DEA on public education campaigns.
"The DEA's model is 'one pill can kill,'" he said. "And this is going to be a significant public education campaign, that we're going to have to be consistent and ongoing to make sure that we protect our community and, in particular, our kids from that epidemic."
Frierson also pointed to the current opioid crisis as a far cry from the War on Drugs of the 1980s and beyond, pointing to a new level of sophistication in the drug trade, such as the production of "rainbow colored" opioid pills or the smuggling of separate drug components that are combined later.
The bottom line, he said, is "we're not talking about marijuana plants."
"This is not just impacting low-income communities. This is impacting every community," he said. "It doesn't matter whether you're rich or poor, whether you're a minority or not."
Human trafficking
Though recent changes in the last decade have opened the door to more state-level prosecutions, human trafficking — and sex trafficking, in particular — have long remained the domain of federal prosecutors.
Between 2010 and 2020, nearly three dozen people were charged with federal trafficking offenses, though the annual number varied widely, ranging from as many as eight to none at all, according to numbers compiled by the Human Trafficking Institute.
Asked whether the U.S. attorney's office had done enough on the issue, Frierson said "you can always do more, without question."
Pointing to parts of the hospitality industry — including professional sports teams, conventions, and the tourism corridor in Las Vegas — Frierson said that "we have a lot of dynamics that, I think, are inviting to folks that have unlawful intentions."
"I came from a child welfare perspective where I'm aware that there are 14-year-old runaways, both locally and from out of state. They get trafficked here, they get groomed, they get recruited and ultimately kidnapped," he said. "It's absolutely a priority of mine to make sure that we send a message that it is not welcomed here in Nevada."
Among minors who are trafficked, cooperation with police often remains relatively low. A nine-year-long study conducted by Arizona State University and the Las Vegas Metropolitan Police Department found just 28 percent of victims cooperated with police — a rate authorities attributed to the traumatic after-effects of the trafficking.
Frierson said that, like other priorities for his office, he had been in contact with "community partners" on the issue, in part to increase communication and ensure the public is comfortable coming forward and reporting trafficking crimes.
"All those things are going to be vital in our ability to make human trafficking a priority, and to see it through with proven results."
Civil rights
In the midst of ongoing national discussions over civil rights and the interaction between police departments and the people — especially people of color — Frierson said civil rights enforcement was both a focus of the Department of Justice and "it's always been a priority of mine."
"Upholding the law is the number one objective," he said. "I think delivering justice to everyone, including civil rights, is also part of what we do. But we also have an obligation to do it in a humane way."
Frierson, who sits on a subcommittee of U.S. attorneys on civil rights, said that he had "an obligation" to remain involved with crime prevention programs, including diversion or other pre-trial services aimed at reducing recidivism rates, such that "we have an outcome that's appropriate based on the individual case."
Asked about the broader political rifts emerging as Democrats and criminal justice advocates have lobbied for police reforms — and received pushback from police departments in the process — Frierson said that "we're in unprecedented times" and that "government is under more scrutiny than I think it ever has been," both in the criminal justice sphere and in politics more broadly.
Frierson also described the civil rights issue as a "steady effort" of developing and maintaining relationships between law enforcement and community groups, relationships that would "go a long way" in addressing civil rights concerns as they emerge. .
"I think if we can continue to have relationships with our partners, but also with our community partners, and break down some barriers — have more collaboration and communication than antagonism — I think we go much further in making sure that folks' rights are protected."
Building Tribal relationships
Asked how he would address the relationship between his office and the state's Native American communities, Frierson — who sits on a subcommittee of the U.S. attorneys focused on Native American issues — said that "it's important that we make sure those tribes know that we're here to deliver justice to them as well."
Frierson said that his office had begun a tour of tribal leadership in Nevada, hoping to avoid meeting them for the first time because "there is a crime that occurred or there's a grievance."
In recent years, indigenous leaders and activists have pushed for political action on the issue of missing and murdered indigenous women, in particular. As part of those investigations, the U.S. Attorneys Office has played a key role, especially as those cases often involve multiple tribal and state entities.
Referencing the investigation of certain crimes on Indian reservations, Frierson admitted that "it's difficult," in part because "in tribal communities, there's not always that trust, and so there's not always that flow of information and communication that helps solve crimes."
"So I believe it's part of my job, to establish those relationships and build those bridges," he said.
The Nevada Independent is raising $200,000 by Dec. 31 to support coverage of the 2024 election.
Tax-deductible donations from readers like you fund this critical work.
If you give today,your donation will be matched dollar-for-dollar.
Give + Get Matched
Featured Videos