Nevada's rising murder rate spawns political attacks, despite broad declines in crime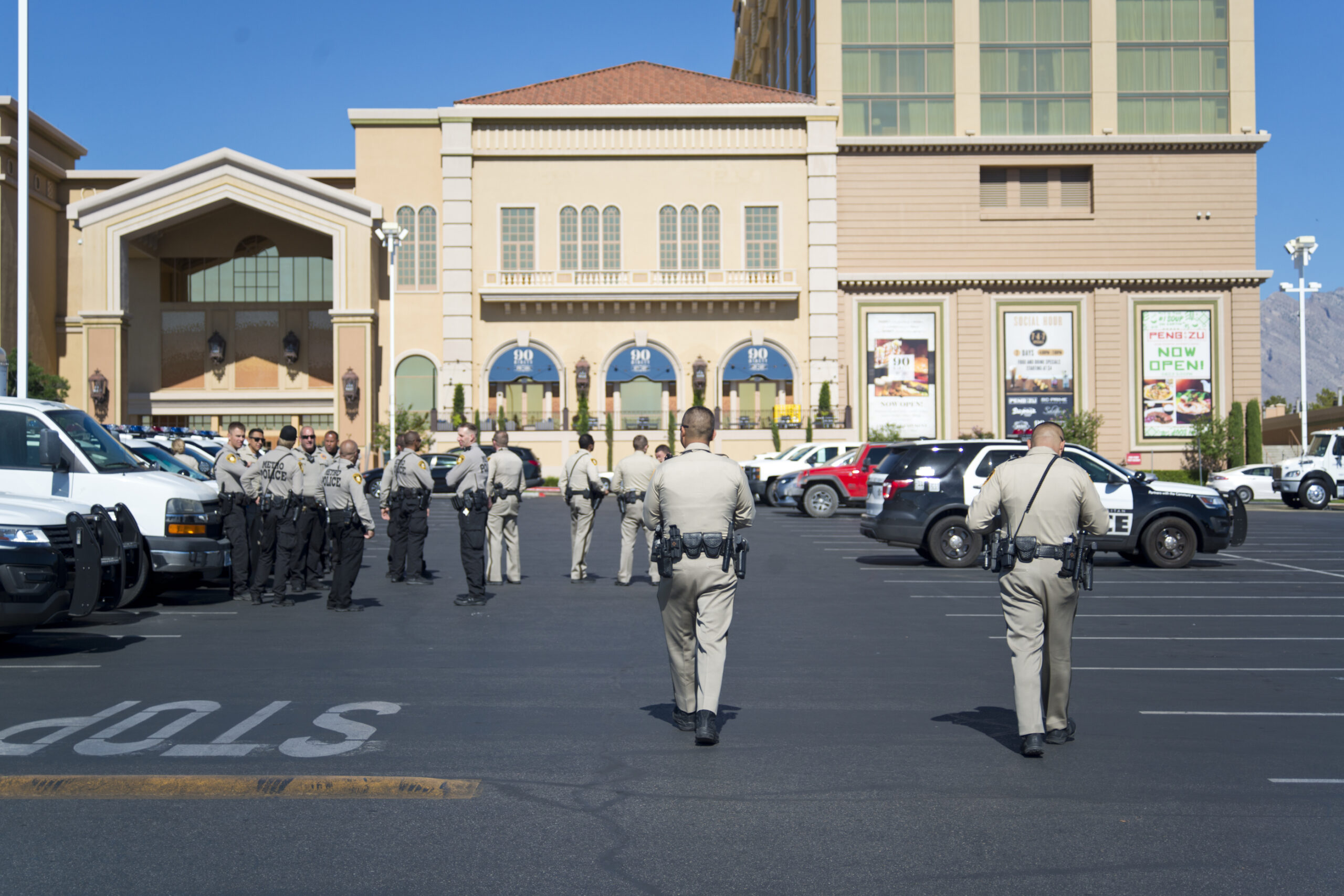 Last year, the United States recorded the largest single-year increase in the murder rate since national record-keeping began more than 60 years ago. In Nevada, the murder rate rose 27 percent from 2019 to 2020.
Ahead of the 2022 elections, some candidates have used the climbing number of murders as political ammunition. Republican gubernatorial candidate Dean Heller has pointed blame at Democratic Gov. Steve Sisolak for the escalating violence, while Nevada Democratic Victory (the Washoe County branch of the state party) has attacked Clark County Sheriff Joe Lombardo for soaring homicide rates in the Las Vegas Valley. Outside groups supporting Lombardo are running major television advertisement campaigns touting the safety of Las Vegas last year compared to other major cities.
But those narrow and at times conflicting assertions do not capture the complexity of changes in crime.
Though Las Vegas, like many other major cities, saw murders and assaults rise last year amid protests that were at times violent and restrictions on public activity brought on by the COVID-19 pandemic, Nevada continues to see its lowest levels of crime in decades.
But the broad declines in crime over the past few years have been inconsistent. Urban areas of the state largely saw the number of aggravated assaults rise last year and fall this year, and police departments in Southern Nevada are still facing a protracted wave of homicides. Meanwhile, violent and property crime rates are continuing their downward trends.
Major Nevada police departments reported those changes in crime for 2020 and the majority of 2021 through broad data on violent crime (a category composed of four offenses: murder and nonnegligent manslaughter, rape, robbery and aggravated assault) and property crime (composed of four offenses: burglary, motor vehicle theft, larceny and arson).
Ernesto Lopez — a research specialist with the Council on Criminal Justice, a group of criminologists and policy and law enforcement experts focused on solutions for the criminal justice system — told The Nevada Independent that there were limited opportunities for criminal activity last year because of lockdowns and restrictions on public activity put in place to mitigate the spread of COVID-19. He theorized that those limited opportunities would likely have led to a decrease in all crime.
But some categories of crime have defied that explanation, as assaults climbed and the significant increases in murders in major U.S. cities last year has continued into 2021.
Researchers have explored the wide range of reasons that explain the increase, from the police killing of George Floyd in May 2020 and the ensuing protests to the stressors of the pandemic to a proliferation of guns. But Lopez noted that those reasons are difficult to separate, comparing it to trying to pick out a specific ingredient in a soup.
"Seasonings, flavors, they all make the final product, and each contributes their own amounts to the flavor," he said. "And that's kind of what it is when it comes to a lot of crime, even violent crime. There are all these different things, especially during this period, that are co-occurring. And it makes it really difficult to separate those effects."
Efforts to understand all of the reasons for the increase in murders will take time, as city-level police departments often see a lag in reporting data, and research does not happen in a flash. But broad data on criminal offenses in Nevada is available for past years dating back to 2014 and for the majority of 2021.
The Nevada Independent aggregated and analyzed data from Nevada Crime Online — a site managed by the Department of Public Safety where crime data is continuously collected from all law enforcement agencies in the state, validated and then made available for reporting — to explore changes in crime rates in the past five years and during the pandemic, in particular. Some police departments, such as Las Vegas Metropolitan Police Department (Metro), also publish crime data through annual reports. But the data in those reports can be limited by the static nature of their presentation, while Nevada Crime Online offers greater uniformity in reporting across jurisdictions.
Our analysis found that murders rose significantly across the state last year and have continued to increase in Southern Nevada throughout 2021. The state also saw aggravated assaults rise last year, driven by increases in the state's three most populous cities, but assaults and overall violent crime rates are down once again this year, resuming a yearslong downswing in violence. Meanwhile, property crime rates dropped significantly last year in Clark County but increased in Reno. And in rural parts of the state, crime rates have fluctuated unevenly over the past few years partly because of the low frequency of crime in those areas.
Crime in 2020
In 2020, statewide violent crime and property crime rates dropped to their lowest levels in decades, with recorded instances of burglary, larceny and robbery each significantly declining. But murders and aggravated assaults rose, driven by increases in Clark County and Washoe County.
Lombardo, in a letter included in Metro's 2020 annual report, noted the difficulties his agency faced in stopping growing violent crime trends last year.
"Many jurisdictions across the country saw significant surges in violent crime as 2020 progressed," he wrote. "Locally, we were able to curtail most violence while experiencing small upticks in assaults and homicides."
The small upticks Lombardo referred to were an increase in reported murders from 85 to 100 and an increase in aggravated assaults from roughly 5,200 to more than 6,200 — the highest total reported since 2016. The number of assaults reported last year remains low compared to the past 15 years, however, as data reported to the FBI shows the department saw at least 6,500 aggravated assaults each year from 2006 to 2016.
Still, the rising levels of violence drew the ire of locals in Southern Nevada last October, amid a streak of aggravated assaults on the Las Vegas Strip.
Despite the increases in violence, an advertisement paid for by Better Nevada PAC that launched last month seeks to highlight the safety of Las Vegas under Lombardo's leadership as sheriff, juxtaposed with footage of "radical, anti-police riots" in other cities during protests against police brutality last year.
Though the ad states that "businesses were not destroyed," more than 24 businesses in downtown Las Vegas were damaged by vandalism after protests in May 2020, according to the Las Vegas Review-Journal.
Lombardo has laid blame for issues with public safety at the feet of Sisolak and lawmakers in Carson City, who have passed bills in recent sessions decriminalizing minor traffic offenses, expediting pretrial release hearings and aiming to reduce the prison population.
"Bail reform, sentencing reform, handcuffing of police, all that matters. And that's indicative of the crime rates that are occurring across the United States right now," Lombardo said during a Zoom question-and-answer session with members of the Nevada Firearms Coalition in June. "The crooks are getting more rights than the victims."
During a speech announcing his candidacy for governor, Heller similarly attacked Sisolak. He claimed that in Sisolak's one term in office, Nevadans were more likely to become a victim of violent crime. Across the state, the rates of homicide, rape, robbery and aggravated assault were lower in 2020 than in 2018 — the year before Sisolak took office.
Heller also erroneously said that since 2018, "violent crime and murders in Clark County have gone up." In 2018, there were nearly 14,000 violent crimes and 168 murders reported in Clark County, and last year, the county saw less than 12,000 violent crimes and 131 murders. This year, the county is on track to see another decline in violent crimes.
Though Metro reported more violent crime offenses in 2020 than in 2019, the department still saw lower levels of violence last year than in the several years preceding 2019. That difference may have been caused, in part, by the significant reduction in Las Vegas tourism last year. Generally, experts say that Nevada's crime numbers likely trend higher because of the state's heavy reliance on the tourism industry bringing large numbers of people. Last year, the city drew roughly 19 million visitors, compared to more than 40 million in each of the six previous years.
Police departments in Reno and Henderson, meanwhile, reported higher counts of murders and aggravated assaults in 2020 than in the prior year, and North Las Vegas reported a significant decline in aggravated assaults that helped offset the rise in assaults reported in other populous areas of the state.
Crime rates across Nevada also remain significantly lower than in the 1990s.
William Sousa, a criminologist and director of the Center for Crime and Justice Policy at UNLV, said that many police departments have gotten better at proactive policing in that time.
"Police have become much better at identifying the problem and understanding the problem and addressing the problem rather than just reacting to incident after incident after incident," he said.
In the past few years, violent and property crime rates have continued to decline significantly in Clark County. But across the state, year-to-year changes in crime have been more erratic, and 2020 presented a host of new challenges.
(Editor's note: Continue reading after the graphs.)
Crime in 2021
Through the first eight months of 2021, violent crime rates have continued their yearslong downturn stretching back to 2015 — largely reversing upticks reported in select jurisdictions last year — but Southern Nevada continues to face a prolonged murder spike.
From January through July of this year, Metro reported 76 murders, compared to 49 during the same period last year. Through August, the Henderson Police Department reported as many murders as it did through the entirety of 2020. And through July, the North Las Vegas Police Department reported three more murders than in the same timeframe last year.
The escalating murder rate has brought with it a slew of child and adolescent victims in Southern Nevada.
Through Sept. 17, Metro reported in its weekly "murder stat sheet" that the department has seen 14 murder victims under the age of 20 this year, compared to eight during the same time frame last year. The rising number of youth homicides comes amid a surge in child and teenage gunshot victims across the U.S. over the past 18 months.
The rise in murders has also spawned political attacks on Lombardo.
Last month, Nevada Democratic Victory spokesperson Mallory Payne accused Lombardo of neglecting his duties as sheriff — saying in a statement that residents of Las Vegas were seeing climbing homicide rates and "paying the price," while Lombardo focuses on his gubernatorial campaign.
Though he did not directly attack Lombardo, Heller has also been critical of law enforcement policies in Las Vegas. In October 2019, Metro suspended a partnership it had with federal immigration enforcement officials following a court decision and questions about whether the collaboration leads to unconstitutional, warrantless arrests.
"This is what happens when Las Vegas becomes a sanctuary city. This is what happens when you kick ICE out of Metro down in Las Vegas. This is what happens when you do catch and release. Violent crime escalates, and it is through the roof right now," Heller said during a radio interview in September.
In a statement released in October 2019 after Metro's partnership with immigration enforcement officials was suspended, the agency indicated it would "continue to work with ICE at the Clark County Detention Center in removing persons without legal status who have committed violent crimes."
Despite increasing murder rates, other violent crimes are declining across the state this year.
Through July, aggravated assaults in Metro's jurisdiction are on par with lower numbers reported in 2017 and 2019, compared to recent highs in 2018 and 2020. And the department is on track to see significantly less violent crime overall than in any of the previous seven years — historical data on Nevada Crime Online begins with the year 2014.
The Reno Police Department has similarly reported declines in aggravated assaults and violent crimes, and the North Las Vegas Police Department is on track to see a decline in violent crime offenses for the fourth straight year.
However, Lombardo has said that overall crime is rising in the Las Vegas Valley because of an increase in property crimes.
"So what is driving those numbers … is the property crimes, and it's opening up the community, it's a comparison to last year when basically we were shut down as a society," he said at a Hispanics in Politics event in Las Vegas earlier this month.
Though Southern Nevada has seen more property crimes through the first eight months of 2021 than during the same time last year, Metro is on track to see significantly fewer property crimes this year than in the years preceding 2020.
While some of the challenges police departments and citizens faced in 2020 have lessened — including restrictions on public activity brought about by the COVID-19 pandemic and mass protests against police violence — other factors affecting crime rates and behaviors have also changed in 2021. Tourists have returned en masse, the state still has one of the highest unemployment rates in the country and people are facing the long-term physical and mental health effects of the pandemic.
Understanding crime statistics
At its core, crime is a complex action — there are myriad factors that affect and differentiate each offense. As Lopez noted, those factors are difficult to separate. Because of that, claims that blame a single policy or an individual politician for changes in crime are typically incomplete and misplaced.
Population density and urbanization can affect crime rates — Clark County is home to nearly 73 percent of the state's population, but in 2020, roughly 77 percent of violent crimes and property crimes in Nevada occurred in the county.
Policing is also an important factor. And amid the recent spike in homicides, some researchers have pointed to changes in policing as one possible cause for the increase.
Last year, Las Vegas and Reno saw heated and at times violent protests against police brutality in the immediate aftermath of the police killing of George Floyd in Minneapolis — more than two dozen police officers were injured (including the paralyzation of officer Shay Mikalonis) while dozens more protesters were arrested or forcibly dispersed from protest areas. One civilian, Jorge Gomez, was killed by Metro officers during the protest, in what was ruled a justified use of deadly force.
At the same time, police departments across the country faced changes to their operations because of the COVID-19 pandemic and dealt with calls from progressive Democrats to reduce police budgets and roll back "tough on crime" policies that have disproportionately harmed the poor and people of color. Some candidates have openly opposed those calls, though. In a video announcing his candidacy for U.S. Senate, Republican former Attorney General Adam Laxalt speaks over footage of violent protests from last summer and says that the "radical left" and other groups are taking over the country.
Lopez noted the impact that the turmoil seen in the past 18 months can have on officers.
"When we think of policing, we should also think of police officers who are employees … If employees [are] told that you are bad at your job, you are the cause of social problems, that you go around killing people for no reason, that makes you not want to do your job," Lopez said. "So that has negative impacts when it comes to more proactive policing."
This guide may also be limited in parts by the availability of data. For example, Nevada Crime Online does not have data on violent crime in Henderson Police Department's jurisdiction for February 2017, and statistics may change as police departments report data from earlier years.
Over the next year, candidates will likely continue to boil complex crime statistics down to simplified political attacks that may place blame on a single person or policy. But as Sousa notes, the context of the past year and a half and how crime rates change moving forward are especially important to keep in mind and understand when discussing crime during the pandemic.
"I think that what we may find is that a lot of the data that occurred over the last year … we have to look at that in context of what's going on, you know, around the country and around the world," Sousa said. "Now, whether in the next two or three years, the numbers return to where they were prior, that remains to be seen. But I think it also depends a little bit on how criminal justice agencies react to the numbers that are happening."
Featured Videos
Comment Policy (updated 4/20/2021): Please keep your comments civil. We reserve the right to delete comments or ban users who engage in personal attacks, use an excess of profanity, make verifiably false statements or are otherwise nasty. Comments that contain links must be approved by admin.