Lombardo points to pandemic, state lawmakers as crime rates rise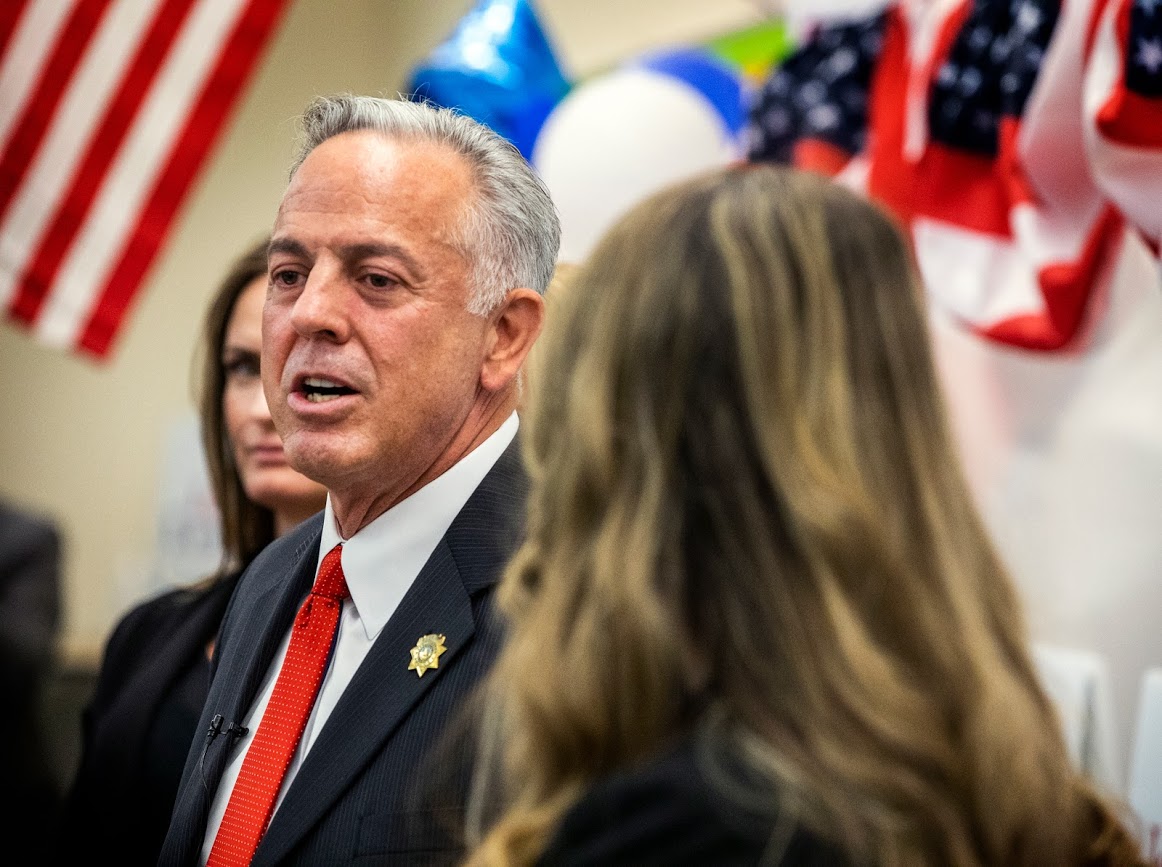 Even as crime rates have continued to increase through 2021, Clark County Sheriff and Republican gubernatorial hopeful Joe Lombardo argued Wednesday that rates in Las Vegas remain "very good" compared with the country at large. 
Speaking at a breakfast meeting of the group Hispanics in Politics, Lombardo characterized an overall 5 percent crime increase in Las Vegas as "fortunate," given the breakdown of those offenses. Property crimes have increased 8 percent year-to-date, while violent crimes have declined by 12 percent.
"What is driving those numbers ... is the property crimes," Lombardo said. "It's opening up the community, it's a comparison to last year when basically we were shut down as a society and … all the things that go along with a pandemic and anxiety associated with that — that has had a direct effect on what we're dealing with in crime and the crime picture."
After the event, in an interview with The Nevada Independent, Lombardo said that though "all the chips fall on me" as head administrator at Metro, there also "absolutely" remains some legislative culpability for those increases.
"Crime is nuanced. It goes up and down through history," Lombardo said. "And we're currently dealing with all the anxiety associated with the pandemic, the lessening of certain sentencing provided by the Legislature, the softening on discipline associated with crimes, sentencing, all that. I think all that has an effect on what we're experiencing, not only in Nevada, but in the United States."
Among a slate of criminal justice measures passed during the 2021 legislative session was AB440, which requires police to issue citations, rather than effect arrests, for any misdemeanors outside of repeat offenses, violent crimes or "certain other prohibited offenses."
"Simply providing a citation is detrimental to what we do in police work," he said, referring to AB440.
Even so, Lombardo said he believed some sentencing reform remained necessary, though he did not clarify what that reform ought to be. Instead, he noted that the "situation we're put in, it has a lot of unintended consequences."
Lombardo, in an interview, also weighed in on two key campaign issues — immigration and litigation surrounding the 2020 election.
Immigration
Despite tweeting on Sept. 10 that he had a "zero tolerance" policy on illegal immigration, Lombardo appeared to walk back that statement on Wednesday. When asked, he said instead that characterization of his view — and the actions of the Las Vegas Metropolitan Police Department — was "not accurate."
"I have a proactive policy on addressing immigrants, undocumented immigrants that have committed crimes, and our immigration policy at LVMPD is to address those individuals who have been arrested," Lombardo said during the Hispanics in Politics breakfast. "Individuals that go through the community, that are in the community and contribute to the community, even though they're undocumented or not documented, we do not address those proactively as a law enforcement agency."
The comments come as Lombardo has attempted to reframe his role in the immigration debate, including a decision he made in 2019 to withdraw from a controversial cooperation agreement program with Immigration and Customs Enforcement (ICE), known as 287(g).
Created in 1996, the program allowed ICE to enter into agreements with state and local law enforcement to more easily identify, detain and deport undocumented immigrants by allowing local police limited immigration enforcement powers. Though ICE has hailed the program as a long-term success, critics have accused 287(g) of leading to unconstitutional arrests.
Metro, under Lombardo, suspended its participation in the program in the wake of a federal court ruling in California that found so-called "ICE detainers" to violate 4th Amendment protections. The decision came at a heated moment for the issue nationwide, as the Trump Administration frequently threatened to retaliate against jurisdictions deemed to be "sanctuary" cities or states.
However, in July, Lombardo told a private meeting of a local women's Republican club in Las Vegas that he "removed" roughly 10,000 undocumented immigrants from Nevada. On Wednesday, he clarified that figure stretched over the course of his career, noting the deportations likely averaged 1,100 annually over the last three years.
He also said the number tended to fluctuate year to year and presidential administration to administration, where the prioritization of certain crimes has changed — in particular, increasing from President Barack Obama to President Donald Trump.
However, Lombardo also said he did not believe such immigration enforcement policies have strained the relationship between police and the Hispanic community.
"I think the program or the organization or the policies that we operate under are conducive to what even the immigrant community wants," he said.
Re-litigating the 2020 election
When asked if Nevada should be included in a nationwide audit of the 2020 election results in the style of the controversial audit in Arizona, Lombardo said he "can't opine on that because I'm not aware of that."
The movement for audits of all 50 states has gained steam among a core subset of Republicans who believe, despite evidence to the contrary, that widespread fraud occurred in the 2020 presidential election.
Though the Arizona audit, conducted by a firm with ties to the "Stop the Steal" movement, showed a margin of victory for President Joe Biden wider than the official count, audit proponents cast the final report as a success that showed the final results were "inconclusive."
The audit has been widely criticized by current and former election officials and analysts, with some arguing the audit materially undercounted the number of ballots cast.
Still, the internal pressure among Republican officials led leaders in Texas to call for their own audit of election results in four key counties.
In Nevada, Assemblyman Jim Wheeler (R-Minden) was among 92 state legislators to sign on to a letter from Arizona State Sen. Wendy Rogers calling for such an audit. Wheeler joins the ranks of a handful of Republican candidates up and down the ballot making similar calls, including secretary of state candidate and former Assemblyman Jim Marchant.
Featured Videos
Comment Policy (updated 4/20/2021): Please keep your comments civil. We reserve the right to delete comments or ban users who engage in personal attacks, use an excess of profanity, make verifiably false statements or are otherwise nasty. Comments that contain links must be approved by admin.