As protests and violence come to Nevada, police, electeds and activists forced to have 'tough conversations'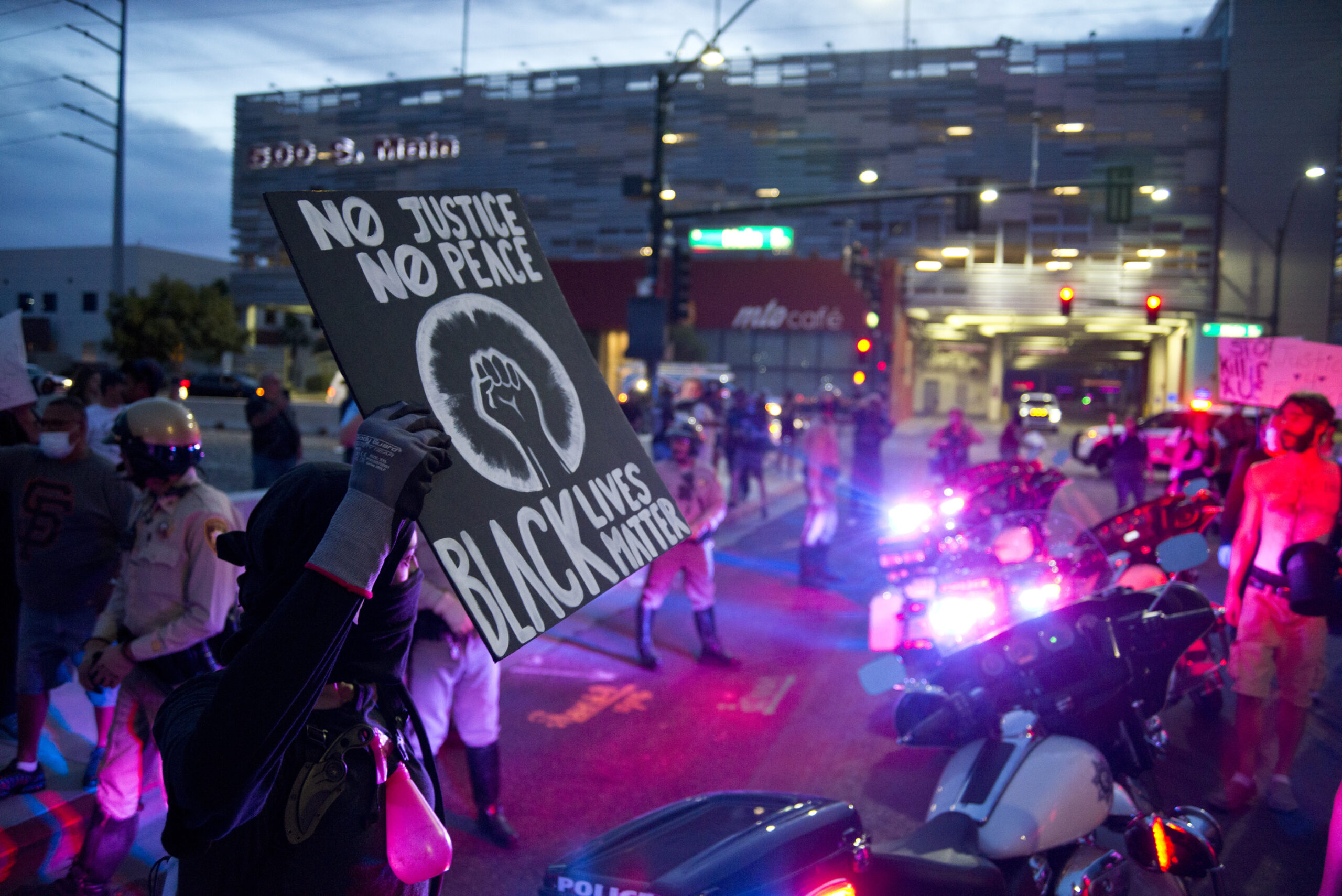 It was about 7:30 p.m. on Saturday in downtown Las Vegas when Mauricia Watkins yelled, "Your phone is your only advocate," her voice cracking until someone arrived with a megaphone to help her. She urged the crowd to document everything to hold the police accountable.
Even at the protest against police brutality after the killing of George Floyd in Minneapolis last week, demonstrators were concerned about law enforcement violence. Watkins was one of the thousands of protesters in Las Vegas and Reno this week who have participated in peaceful demonstrations that have been punctuated by looting, vandalism and violence.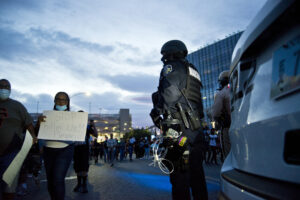 The protesters Saturday were angry — angry about systemic racism, angry about police brutality, angry enough to put their health at risk in the middle of a pandemic. Their frustration filled Las Vegas Boulevard. Marchers made their way down the boulevard and back to Fremont Street.
A line of police was blocking off access to 8th Street. Officers in riot gear broke through the line and cuffed a protester. Occasional water bottles were flung at police as arrests started to pick up. In one arrest, a man was thrown down, his feet came off the ground and his glasses flew off.
With more arrests, came more water bottles and other items targeted at police. A glass bottle shattered, followed by another. As the tension between the two sides continued to mount, one protester near the back of the crowd said over a megaphone "I feel like shit's about to pop off."
Shortly after, police deployed tear gas canisters and fired non-lethal projectiles.
The crowd scattered almost immediately.
"We were having a very peaceful protest on Saturday," said Korey Tillman, a Ph.D. candidate at UNLV who is studying police violence. "When we marched downtown, every time we turned a corner, there would be another blockade by Metro. They were setting up these barricades."
Tillman said it felt like the Las Vegas Metropolitan Police Department was waiting for violence.
"It's an example of them baiting protesters into violence," he said. "When they respond to violence, the violence to police officers occurs. And then they start to call the arrests."
But for police, especially in Las Vegas, the protests around the country have little precedent.
"From people I've talked to, these protests are like nothing they've ever seen in their entire career," said Tom Roberts, a Republican assemblyman and former Metro police officer, in an interview Wednesday. "And this is from all over the country. They are all talking about the same thing. Bricks being thrown at police officers. Frozen water bottles. Fireworks. Glass bottles."
On Tuesday, Roberts called for the Legislature to convene a special session to discuss police reform, a tweet that was liked by legislators in both parties. Roberts, in an interview, said that it was important for elected leaders to talk publicly about the issue and start a dialogue.
He said that Metro has progressive policies compared to other agencies, but there is space for improvement, and a legislative session would send a signal to protesters that leaders are responding.
"If these protests are truly about police reform..., our leaders should be talking about it," Roberts said. "And they should be out in the public saying we hear you and we're going to talk about it."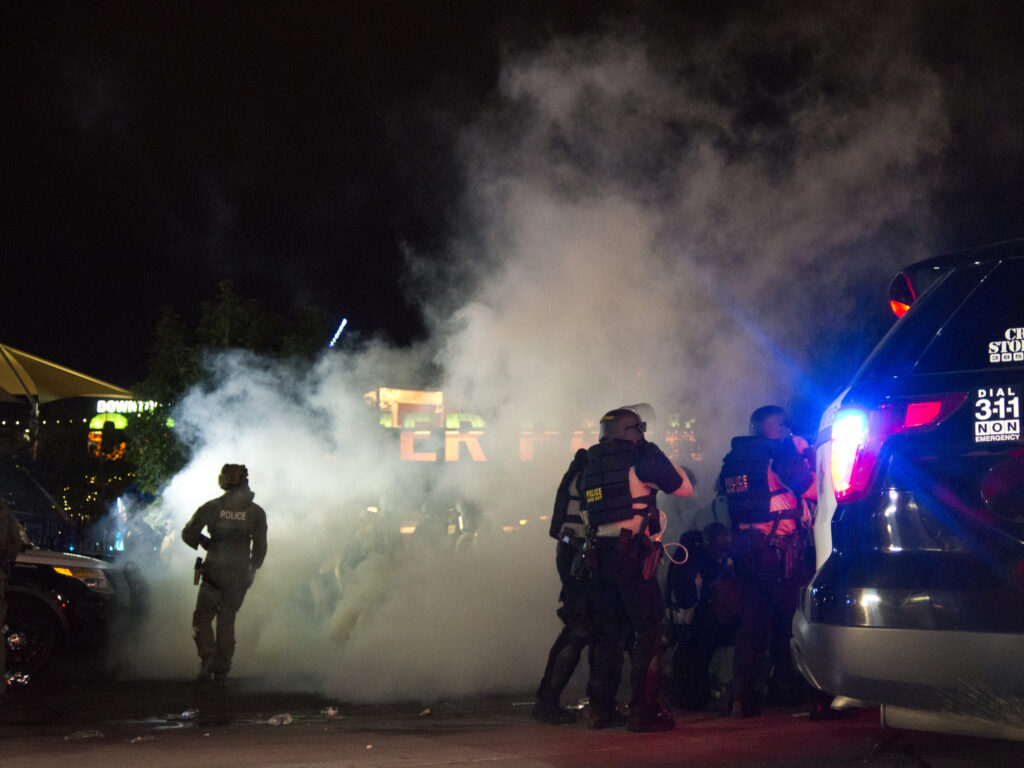 Escalating tensions, recorded on video
Law enforcement officials from both Washoe and Clark counties have characterized the majority of protesters as peaceful. Clark County Sheriff Joseph Lombardo even went as far as saying Sunday that "less than 1 percent" of people demonstrating intended to cause destruction.
Still, both police departments have deployed large groups of officers in tactical gear, prepared to launch tear gas and projectiles. On Saturday evening in Reno, the National Guard was on call, and guardsmen were also called to assist in Las Vegas, Metro announced on Tuesday.
It comes as questions, across the country, have emerged about the excessive use of non-lethal crowd control weapons to police the George Floyd protests. In Nevada, weapons from tear gas and projectiles to flashbangs and pepper spray were deployed to disperse the protests.
During a press conference on Tuesday, Metro presented a clear narrative. Deputy Chief Jim Seebock said that Metro shared the protesters' frustration at the killing of Floyd and respected their right to protest. But he said as the nights had gone on, the protests had grown violent.
"Those that seek to break the law stay behind," he said, describing how the protests evolve into the night. "These people are clearly not here for peaceful purposes. They are set on damaging our community, our businesses and to cause harm to our officers and the people in the area."
Seebock said these demonstrators have used rocks, bats, axes and glass cutters. Seebock said that, as of Tuesday, at least 25 Metro officers had been injured while patrolling the protests. On Monday, an officer was hospitalized after being shot during a demonstration. That night, another officer shot and killed, 25-year-old George Jorge Gomez after police said he raised a firearm.
Metro lobbyist Chuck Callaway, on Wednesday, presented photos at an emergency Clark County Commission meeting of weapons brought to protest. He said the force has seen an increase of violence unlike what Las Vegas saw during the Rodney King riots in the 1990s.
"I've never seen anything like it before," he said. "It's disturbing, quite frankly."
On Wednesday, federal prosecutors charged three white Nevada men in a right-wing conspiracy to instigate violence during the recent protests. The three men with military backgrounds met at earlier demonstrations this year to reopen businesses shutdown by the coronavirus pandemic.
Law enforcement officials in Reno, which saw a day of large protests on Saturday, presented a similar narrative. A peaceful demonstration that turned to violence and vandalism, warranting a heavy police response. On Saturday evening, demonstrators threw rocks and water bottles at a police line. Those responsible for the unrest were agitators from out of town, officials said.
But reported arrests, at least from Reno, show most people arrested were from the area.
And photos, videos and firsthand accounts show a forceful police response on large crowds that included demonstrators who were not instigating violence, an action that some advocates worry might have contributed to a cycle of force between protesters and police over the past week.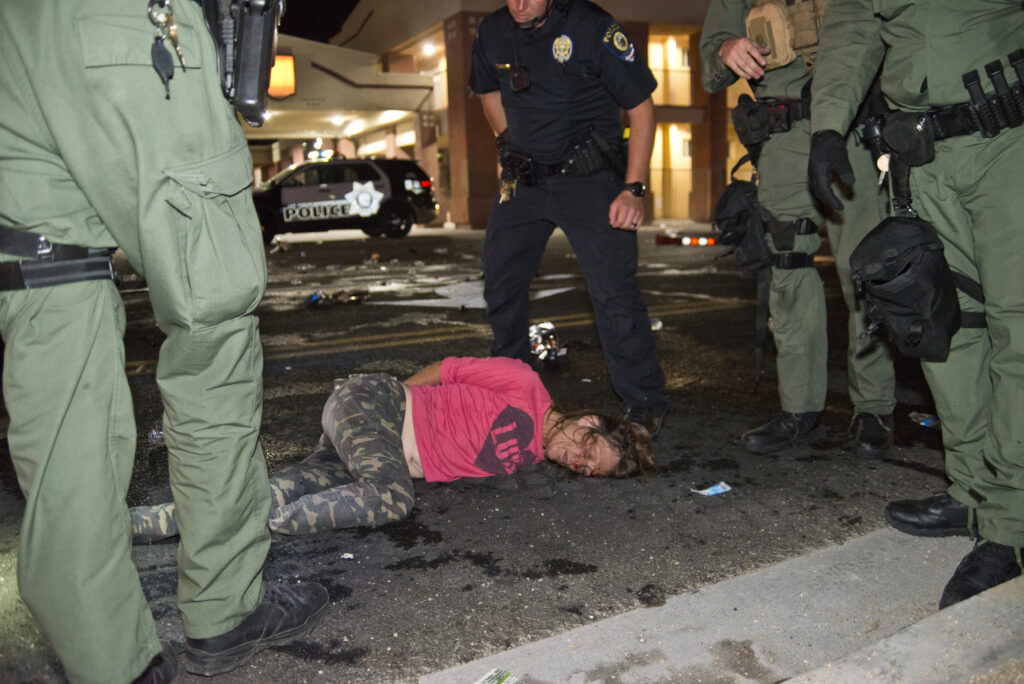 Several of these videos, posted on social media, were shared widely. Rapper Lil Nas X tweeted a video posted by Las Vegas Locally that showed a Metro officer grab a man walking across the street, and drag him by his backpack on a sidewalk. It has 18 million views. At the Clark County meeting on Wednesday, Commissioner Justin Jones recounted how an attorney in town was waiting for a ride after a protest and thrown to the ground and handcuffed by police officers.
When asked for further comment on its use of force during demonstrations, Metro referred to its transparency policy.
In Reno, videos showed rounds of tear gas deployed in crowds, affecting journalists and demonstrators alike. The activity in Reno has prompted an ACLU observer to file a complaint. At a meeting Wednesday, Reno Police Chief Jason Soto, who is serving as acting city manager, said he was instructing the acting police chief to review the department's use-of-force policy.
"To get back to peace, that moment's always contextualized and very hard to define," Tillman said during an interview Tuesday. "I think the problem lies before the violence starts."
He said the issues lie with the policies and mechanisms police use to respond.
That the protests are occurring during a pandemic, Tillman said, creates that much more risk.
"Having to go through this protest to show solidarity has forced me to battle this question, he said. "Do I go risk my life and exposure to COVID for a cause that is threatening my life daily?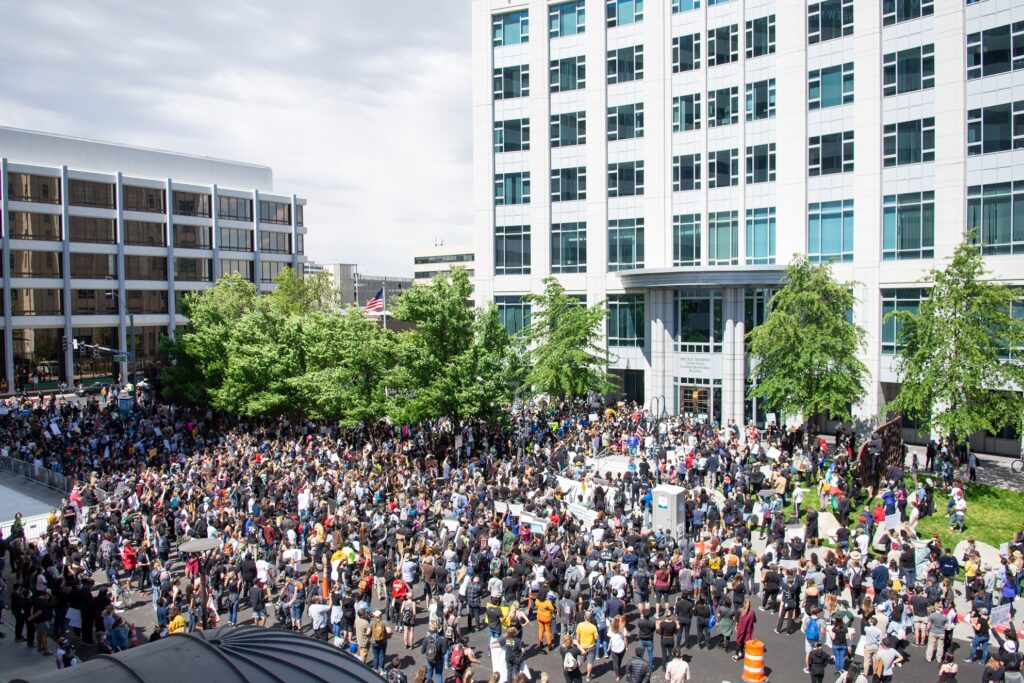 'Really tough conversations'
Everett George traveled from Fallon with his brother Saturday to attend the protest in Reno.
George, a 27-year-old Paiute and Shoshone artist, joined the peaceful demonstration around 3:30 p.m. in downtown Reno and continued to march throughout the day. George said he never felt in danger but said the hurt and fear were palpable. At one point, he heard glass break.
A small group of people had broken into City Hall. The group caused extensive damage to the building, even setting a fire while there were still people working there.
Then the police arrived with tear gas. George, a bystander, was talking after the protest as he was hit by the gas. George said that it came so quick he "didn't even know what it was" at first.
"People started running cause it affected anybody in the plaza. It doesn't matter if they were part of the protest," George said in an interview Tuesday. "It doesn't matter if they were part of the people that actually did the stuff at City Hall. It was whoever was around, they got hit."
Reno Mayor Hillary Schieve imposed a curfew and police told the crowd to disperse. Still, around 8:00 p.m., a crowd of more than 100 was gathered in downtown Reno, standing on the Virginia Street Bridge, opposite a police line in front of City Hall. Most people in the crowd remained largely peaceful, but a small group occasionally threw water bottles and rocks.
In successive intervals that seemed to grow faster throughout the night, the police responded with tear gas and projectiles to disperse the crowds. They were aimed at the large crowd, which included many non-violent demonstrators holding signs that were condemning police violence.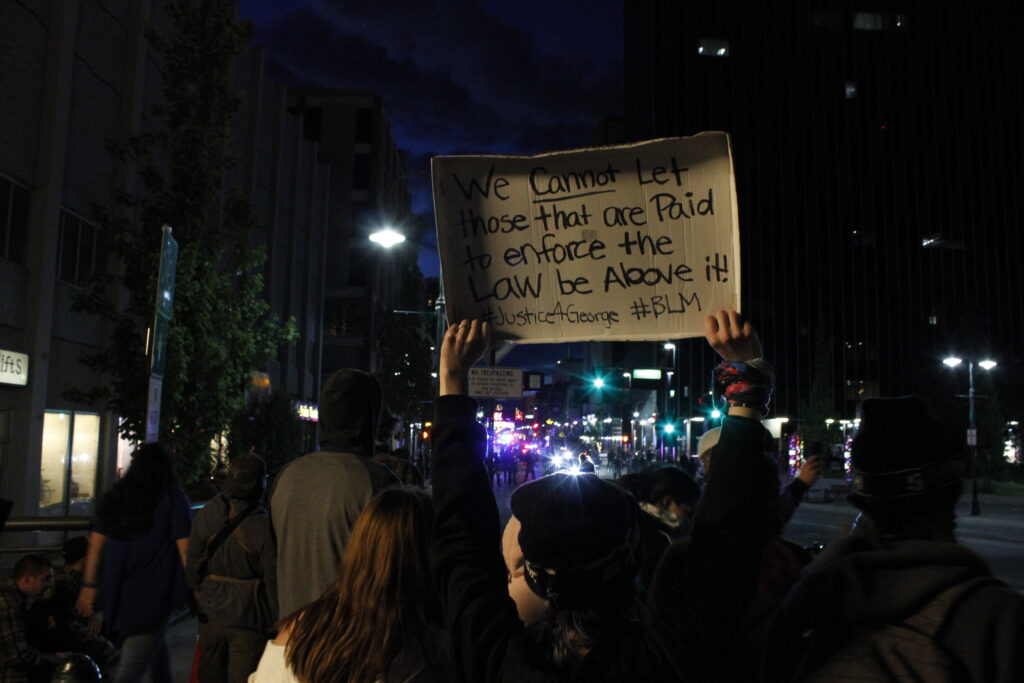 Two of those point-shoot projectiles hit Holly Welborn, an ACLU attorney observing the protest, and another projectile hit her colleague.
"This was an incredibly exhausting and multi-faceted day," she said.
When incendiary graffiti was scrawled on its headquarters, the department turned a cheek. At the earlier protest by the federal building, she said the police showed an incredible amount of restraint with barely any law enforcement present. She added that the department's tactical response to the City Hall break-in was appropriate, given the immediate risks that it posed.
But she said putting the National Guard on-call and using tear gas and flashbangs to disperse the crowds in the evening amounted to a show of excessive force, given that there were only about 200 people left at that time. On Wednesday, she filed a complaint after she was hit twice by a nonlethal projectile, despite wearing a vest identifying her as an observer.
Similar equipment was used in Las Vegas over the past week. After media reports surfaced over the weekend that Las Vegas police had indiscriminately fired rubber bullets into a crowd, striking two journalists, Metro clarified Monday that they did not use the rubber bullets being used elsewhere in the country, but instead "pepper balls" or pepper-spray bullets.
A non-lethal projectile loaded with a chemical irritant similar to pepper spray, pepper balls, much like their rubber-bullet counterparts, can still cause severe injury or death if they strike a person in the wrong place — such as when a 21-year-old college student, Victoria Snelgrove, was killed by Boston police using pepper-spray bullets to suppress a baseball-related riot in 2004.
Welborn wonders if the response could have been more targeted toward those inciting violence.
"It seems like the default solution are the militarized weapons or these so-called non-lethal weapons that actually inflict a lot of harm on individuals," Welborn said in an interview.
For Reno, the issue is a newer one, and Welborn acknowledges the challenges that face law enforcement officers who must distinguish peaceful protesters for violent agitators in a crowd.
"We're going to have really tough conversations," she said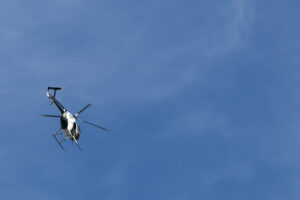 Both urban and rural police departments have taken advantage of a Department of Defense program, known as a 1033 program, that has allowed Nevada law enforcement agencies, like others around the nation, to acquire military equipment.
In Nevada alone, police departments have spent hundreds of thousands, sometimes millions, on surplus equipment ranging from mine-proof vehicles to night-vision goggles to helicopters, according to a review of government documents by the nonprofit Marshall Project.
Among the 31 local law enforcement agencies in Nevada that participated in the program, the single largest buyer by far was Metro, which spent more than $7 million on military surplus for helicopters, engines and tactical gear, according to federal records of those transactions.
In comparison, many of Nevada's smaller departments or sheriff's offices spent as much or more on similar tactical equipment. The Washoe County Sheriff's office — the second largest buyer through the 1033 program in the state — spent more than $2 million through 2014, including nearly $1 million on a utility helicopter, $41,000 on 83 rifles and another $20,000 for 22 sets of "night vision viewing sets."
Today, local police departments in Nevada still maintain millions of dollars worth of military equipment that could be used when law enforcement intervenes. At least one agency — the Henderson Police Department — has sought to enter into the 1033 program in 2020.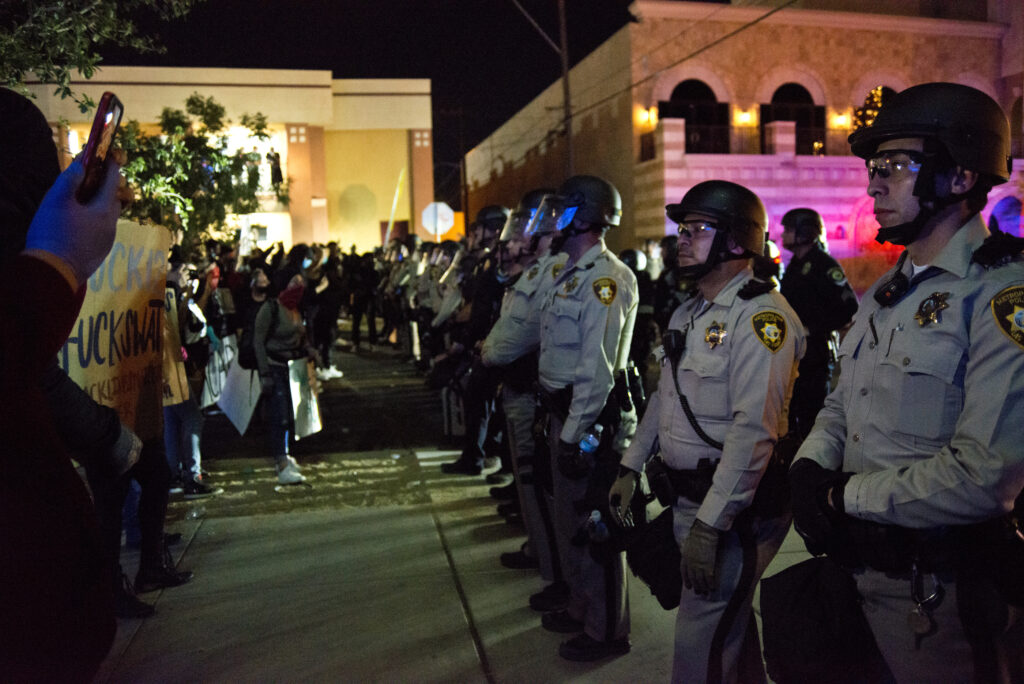 The conversation starts
In Reno and in Clark County, the really tough conversation turned public on Wednesday.
In the morning, Metro came before the Clark County Commission advocating for an ordinance that would ban demonstrators from carrying backpacks, coolers, strollers and luggage, a move the agency argued would enhance public safety for the vast majority of peaceful protesters and officers. But it was criticized by the public for potentially making it harder to protest at rallies.
Commissioners tabled the ordinance, many noting that it needed to be tweaked.
And throughout the meeting, they engaged in a larger discussion about the protests and Metro's response to them. Commissioner Lawrence Weekly raised the incident of an attorney being handcuffed after leaving a protest this week and waiting for a ride-share. Weekly noted that the attorney was also hit by pepper spray bullets, which left a large purple and black mark.
"We all cried on the phone yesterday in tears," Weekly said. "A bunch of men crying."
He said that Metro had an opportunity to provide a model, but needed to address some issues.
"We have an opportunity to be a model for the state and talking to commissioners across the state, they are saying 'wow, you guys really are doing some good stuff from community policing to the whole nine yards," Weekly said. "But there's also still some other underneath-the-skin type issues — there are some blatant issues that really need to be addressed."
Metro has touted dozens of reforms made in the last decade that have sought to boost transparency and broadly reduce the use of deadly force by its officers.
Those reforms came, in part, in the wake of a 2011 investigation by the Las Vegas Review-Journal that found Metro alone was responsible for 310 shootings and 115 deaths between 1990 and 2011. That investigation later triggered a review of the department's use of force by the U.S. Department of Justice and ultimately led to the massive internal overhaul of the department's use of force policies.
Callaway noted that it was frustrating that police officers were being painted with a broad brush across the country, but said it was unfortunate that peaceful protesters were being painted with a broad brush too, with their actions conflated with agitators who are seeking violence.
Commissioner Jim Gibson emphasized accountability for use-of-force in real-time.
"We're definitely not perfect and, yes, you hit the nail on the head — accountability on the frontline, especially in these situations we've seen over the weekend where emotions run high and passion is out there, and people are very passionate about these issues," Callaway said.
On Wednesday, Reno took one formal step to bolster accountability.
In a press conference, Soto said that it has been an expectation, for years, that officers step in to stop inappropriate use-of-force if they see an officer using it on the frontlines.
"We don't have that in policy," Soto said. "And it's a policy that we should have written down so our officers understand that if they don't do that, they're subject to discipline."
Charges of excessive force are not unique to Metro.
According to the Mapping Police Violence project, which tracks police shootings, use of force by the Reno Police Department killed 14 people between 2013 and 2019. Combined with Reno's relatively small population of roughly 225,000, it puts the per capita killings from the department at 8.9, or more than double the 4.2 per capita killings attributed to Metro.
Soto said the city's numbers don't support that finding, and he wondered if the report included other agencies in the region, including the Washoe County Sheriff's Office.
"That was a shocking statistic to hear," he said. "Our data doesn't support that."
In Las Vegas, volunteer legal observers will now be at the protests to answer questions about what rights protesters have, Gov. Steve Sisolak said in a press release on Wednesday.
"To all Nevadans lawfully protesting in the Valley this evening and this week: volunteer lawyers will be observing these protests," said in a statement. "These legal observers will be wearing red T-shirts that say "LEGAL OBSERVER" — if you have any questions about how to lawfully express your rights or what conduct is lawful, please seek out one of these volunteers."
By 11 p.m. on Saturday night in Reno, law enforcement officers had pushed protesters toward a parking lot straddling downtown and midtown. Most of the crowd had dispersed. Vehicles had been damaged, including one set on fire. And individuals had looted several stores.
As tear gas filled the parking lot, some people were watching in front of an adjacent bar. Javon Williams said he had participated in the protest earlier in the day, but at this point in the evening, he was trying to observe what was going on. He said he felt a lot of animosity and anger.
Williams, who introduced himself as a comedian, said that he was there to get material.
"As a comedian, I wanted to put myself in everyone else's shoes and actually see the situation as it was going on," he said of the protests, which were being live-streamed on local TV and social media. "You can't really understand it by sitting at home and watching it on TV."
In an interview later this week, he said that police "could have done a better job."
And in a reference to UNR alumnus and former quarterback Colin Kaepernick, he said: "They could have prevented a lot of what happened Saturday if they had just taken a knee."
The Nevada Independent photographer Daniel Clark, intern Tabitha Mueller, reporter Jazmin Orozco Rodriguez and reporter Jackie Valley contributed to this story.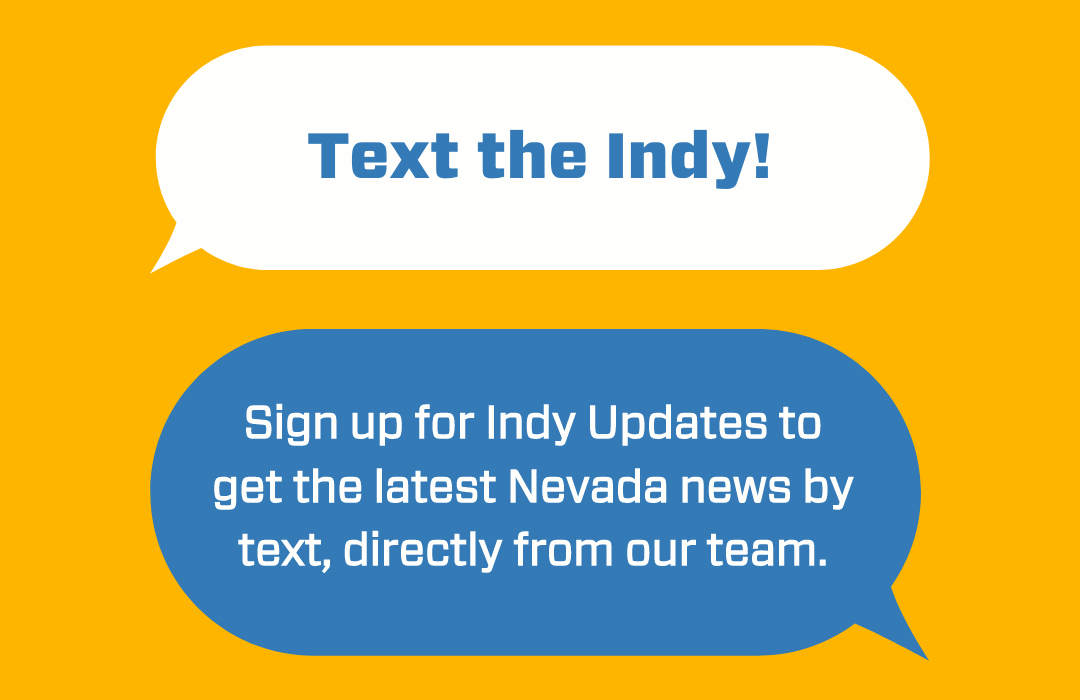 Featured Videos