Follow the Money: Breaking down more than $1 million in union and labor group spending on legislative campaigns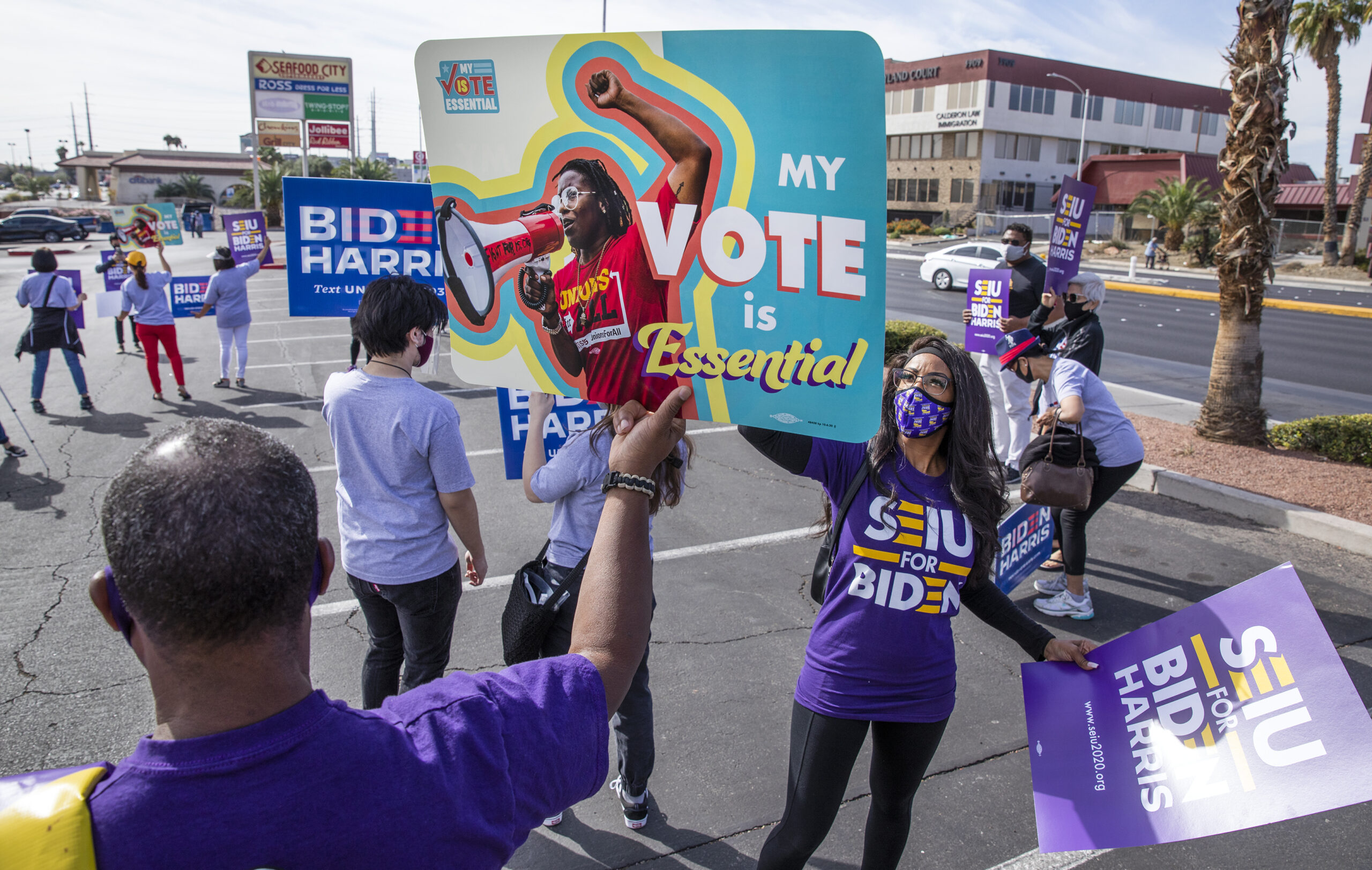 As in most election years, no single group of political donors was a bigger booster for legislative Democrats than labor unions, which shelled out more than $1 million on legislative campaigns in 2020, of which roughly 94 percent went to Democrats.
Still, it was a sharp drop in contributions from labor groups, which doled out nearly $1.4 million during the 2018 midterm elections and almost $1.7 million in 2016.
In order to assess broad trends in campaign spending, The Nevada Independent categorized and analyzed more than 7,700 contributions of more than $200 made to sitting Nevada lawmakers in 2019 and 2020.
These contributions capture nearly all campaign spending in the two-year cycle, and more broadly show to whom the largest contributions flowed and how much those contributions were worth in the aggregate.
The data in this story represent a slice of the broader whole: 746 unique contributions from 63 donors — from union-controlled political action committees to a handful of individual union leaders — fell into the broad category of unions and labor.
There are, however, some points not captured in these data: 11 sitting legislators did not receive any contributions from union or union-affiliated donors. That group includes two Democrats — Sen. Fabian Donate (D-Las Vegas) and Assemblywoman Tracy Brown-May (D-Las Vegas) — who were appointed after the 2020 election; one Democratic senator, Sen. Melanie Scheible (D-Las Vegas), who was not up for re-election and raised the least of any sitting lawmaker last cycle; and eight Republicans.
Also excluded are any funds spent on losing candidates, a group that includes a handful of well-funded Democratic incumbents and challengers in highly competitive districts in both Reno and Las Vegas.
Breaking down the top contributors
Unlike some other industries, where the largest contributions are clustered among a handful of wealthy donors at the top, labor contributions were largely spread across dozens of unions. Few groups gave lawmakers more than $50,000, and only one gave more than $100,000.
Even so, taken together the top 10 donors still comprise a majority of all labor contributions, roughly 56 percent, with the bottom 53 donors making up the remainder.
Among the smaller labor donors, many unions still gave in relatively large amounts, comparative to small donors in other industries. An additional 17 donors gave between $35,000 and $10,000, and just 13 donors gave less than $2,000.
Below is a donor-by-donor breakdown of the three largest labor contributors.
Leading the pack of PACs was the only six-figure union donor last cycle: the American Federation of State, County and Municipal Employees (AFSCME), which cumulatively gave 31 legislators — all Democrats — $114,500.
AFSCME has long been a campaign booster for state Democrats, most recently spending more than $3.7 million on Gov. Steve Sisolak's 2018 gubernatorial campaign ahead of a push to allow state workers to collectively bargain in 2019.
But even among AFSCME contributions given solely to legislators, spending dipped by roughly 25 percent in 2020, down from the $153,000 the union spent in 2018.
Senate Majority Leader Nicole Cannizzaro (D-Las Vegas) — who spent much of 2020 locked in a highly competitive re-election campaign — was the only lawmaker to see a maximum $10,000 contribution from AFCSME. 
Three other legislators — Assembly Speaker Jason Frierson (D-Las Vegas), Assemblywoman Teresa Benitez-Thompson (D-Reno) and Assemblywoman Elaine Marzola (D-Henderson) — received $7,500, while the remaining 27 recipients received $6,500 or less.
The Service Employees International Union, which represents service employees and hospital employees, among others, contributed $75,500 to 25 Democrats last cycle, enough to make it the second-largest labor donor.
Even so, SEIU's legislative campaign spending dropped by nearly 29 percent in 2020, down from $106,000 spent in the 2018 cycle.
Once again, Cannizzaro was the sole legislator to receive the $10,000 maximum from SEIU, with Frierson and Assemblywoman Michelle Gorelow (D-Las Vegas) following behind with $7,500 each.
Five legislators — Sen. Pat Spearman (D-North Las Vegas), Sen. Dina Neal (D-North Las Vegas), Assemblywoman Lesley Cohen (D-Henderson), Assemblywoman Shondra Summers-Armstrong (D-Las Vegas) and Assemblywoman Claire Thomas (D-North Las Vegas) — received $5,000, while the remaining 17 received $3,000 or less.
The Nevada State Education Association, the statewide teachers union, came up as the third-largest donor last cycle, contributing $73,000 to 29 legislators (all Democrats).
But amid widespread school closures and months of uncertainty over the future of in-person teaching, that topline figure is a sharp drop from similar spending in 2018, when NSEA contributed more than twice as much — $154,500 — spread across 35 lawmakers.
In 2020, no legislator saw the maximum from NSEA, though Assemblywoman Natha Anderson (D-Sparks) — who at one time led the Washoe County Teachers Association union — did receive $9,000. Frierson and Assemblywoman Brittney Miller (D-Las Vegas) followed behind with $5,000, while the remaining 26 recipients received $4,000 or less.
Notably absent from the legislative fundraising rolls is the state's other major education union: the Clark County Education Association, which gave just $5,000 to Sen. Mo Denis, the chair of the Senate Education Committee.
Instead, much of CCEA's fundraising — $190,000 in raw contributions and more than $107,000 in additional in-kind contributions — went to Strategic Horizons PAC, a group founded by the union in 2019 with the aim of drastically boosting state funding through tax increases.
Breaking down the top recipients
Though legislative leaders often see more contributions than rank-and-file members, a disproportionately vast share of the union total went to the state's two Democratic leaders — Senate Majority Leader Nicole Cannizzaro (D-Las Vegas) and Assembly Speaker Jason Frierson (D-Las Vegas) — who combined to received more than 30 percent of all union contributions last cycle.
Cannizzaro in particular, who led all recipients with more than $196,000 in union and labor contributions, was an outlier among both her fellow senators and all legislators taken together. Of more than $346,000 raised by state senators of both parties from labor groups, nearly 57 percent was raised solely by Cannizzaro.
Overall, nearly all union-related contributions — roughly 94 percent, or more than $970,000 — went to legislative Democrats. Only a handful of public safety-related unions for police and firefighters gave to both Republicans and Democrats, and of those unions, only the Las Vegas Police Protective Association gave more to Republicans ($8,500) than to Democrats ($7,500).
Over the coming weeks, as part of our Follow the Money series The Nevada Independent will be publishing deep dives into the industries that dominated legislative campaign spending in the 2020 campaign cycle. To see previous installments, follow the links below:
Tim Lenard, Riley Snyder and Sean Golonka contributed to this report.