Indy Gaming: As $2.3B Sphere nears completion, developers say 'the investment is warranted'
Ahead of U2 residency, an analyst said there 'isn't sufficient info yet' to gauge the financial performance.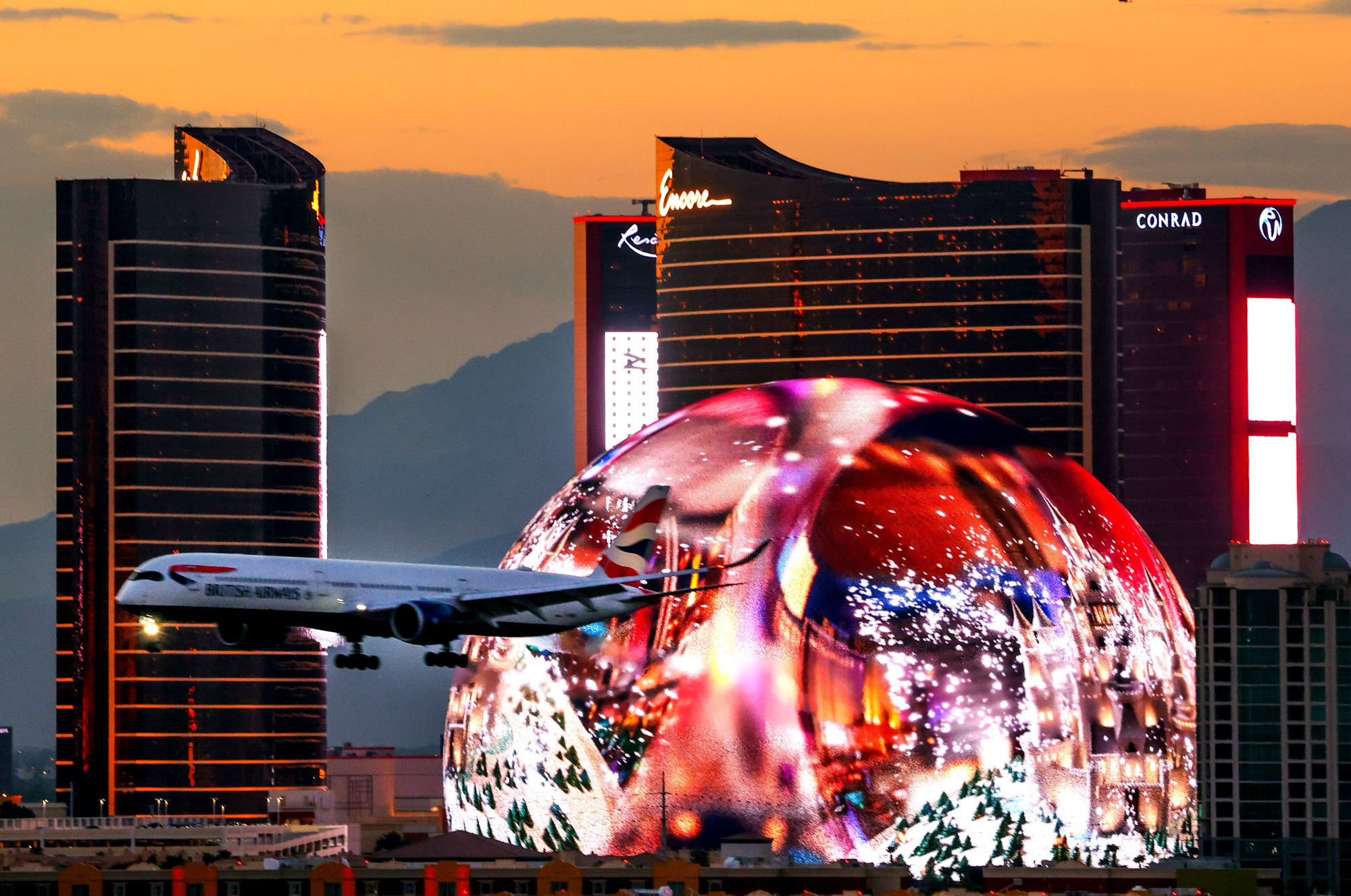 Good morning, and welcome to the Indy Gaming newsletter, a weekly look at gaming matters nationally and internationally and how the events tie back to Nevada.
If a colleague or associate emailed this newsletter to you, please click here to sign up and receive your own copy of Indy Gaming in your inbox. - Howard Stutz
---
James Dolan didn't expect to spend $2.3 billion building a 17,500-seat Las Vegas entertainment venue.
Circumstances, however, shifted surrounding the Sphere in Las Vegas, including a name change earlier this year.
On Sphere Entertainment's fourth-quarter conference call last week, the executive chairman and CEO was asked about "strategic transactions" undertaken by the New York-based company, including its spin-off from Madison Square Garden and the sale of a 66.9 percent interest in Tao Group Hospitality for $550 million.
"Can you explain why you believe this investment makes sense and will generate an appropriate return, given that level of investment you put in?" analyst Brandon Ross from LightShed Partners asked Dolan.
"That's a very complicated question, but I do believe that the investment is warranted," said Dolan, who also blamed the pandemic for extending the construction process that began in 2018.
"I think we're still in good shape. The business is really built on the notion of changing the model that is currently used to operate entertainment venues," he said.
Sphere in Las Vegas costs more than the 65,000-seat, $1.9 billion Allegiant Stadium, as well as the proposed 33,000-seat retractable roof Oakland A's baseball stadium for $1.5 billion. Unlike the two sports venues, the Sphere was built without public financing.
Sphere is scheduled to open Sept. 29 with the first of 25 performances by rock band U2. Dolan said it was built on a business model where the 17,500-seat venue could be busy throughout the year. In addition to U2, Sphere executives are exploring residencies by other well-known performers.
"I'm not concerned at all about getting talent," Dolan said.
Also, "Postcard from Earth," the original immersive production that runs year-round with changing content, is scheduled to premiere Oct. 6.
Macquarie Securities analyst Paul Golding said in a research note following the earnings call that Sphere Entertainment "provided little additional clarity on the venue's event schedule and financial potential." Golding added that, "There isn't sufficient info yet in our view to assess forward-looking performance for the venue."
The Sphere's interior includes a 160,000-square-foot LED display that wraps around the audience.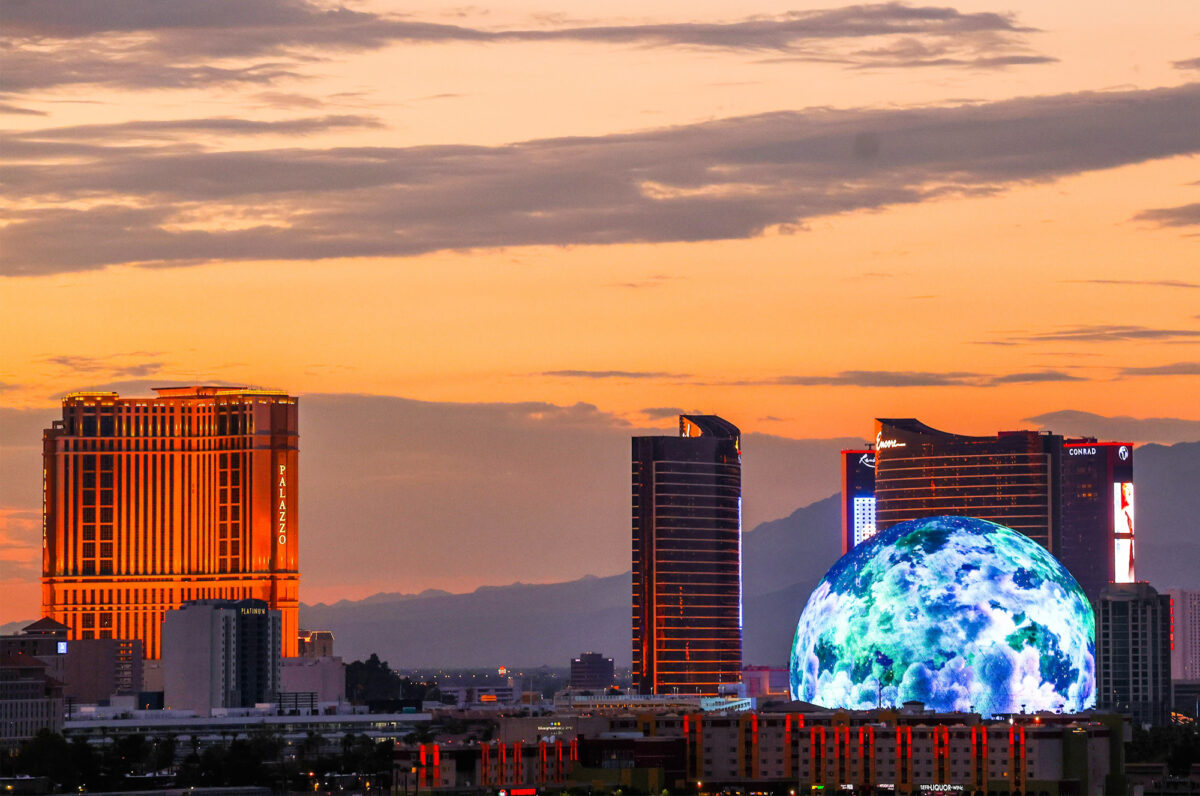 Sphere — which dropped MSG from its name earlier this year following the spin-off from MSG Entertainment — completed primary construction in June and illuminated the 580,000-square-foot exosphere, the largest fully programmable LED screen on Earth, for the first time during the July 4 holiday, which drew worldwide attention.
Construction crews are in the process of finishing the venue's interior spaces and exterior grounds.
Sphere and NV Energy announced a 25-year agreement last week for the venue to largely be powered by solar electricity. Sphere is maximizing the amount of available green power by using a dedicated renewable battery storage that will be developed by NV Energy, the state's primary electric utility.
The agreement is subject to approval by the Public Utilities Commission of Nevada. In their filing with the commission, NV Energy requested a decision be made by February 2024.
"We designed Sphere to minimize environmental impact and to help create a sustainable operation well into the future," said Sphere Chief Operating Officer Rich Claffey.
The Sphere's exterior could soon be populated with advertising and promotional messages. Dolan told analysts that it was a difficult process to sell sponsorships until the screen was illuminated last month.
"That sort of ignited their interest and we've been pursuing and starting now to sign up advertisers and sponsors," he said. "It's an experiential medium and that really is the new entertainment form of the future. They want to be a part of it."
Dolan said Formula One will have a multiday takeover of Sphere's exterior and interior during the Las Vegas Grand Prix on Nov. 16-18 and be prominently featured as part of the track.
"This will be a high-profile opportunity to showcase the venue to the millions of race fans watching around the world," Dolan said.
Versions of the Sphere could be built in other markets, Dolan said, but at a smaller scale with as few as 2,500 seats.
"We've done a lot of innovation in the construction area and we have architectural plans that allow us to go into multiple marketplaces," he said.
---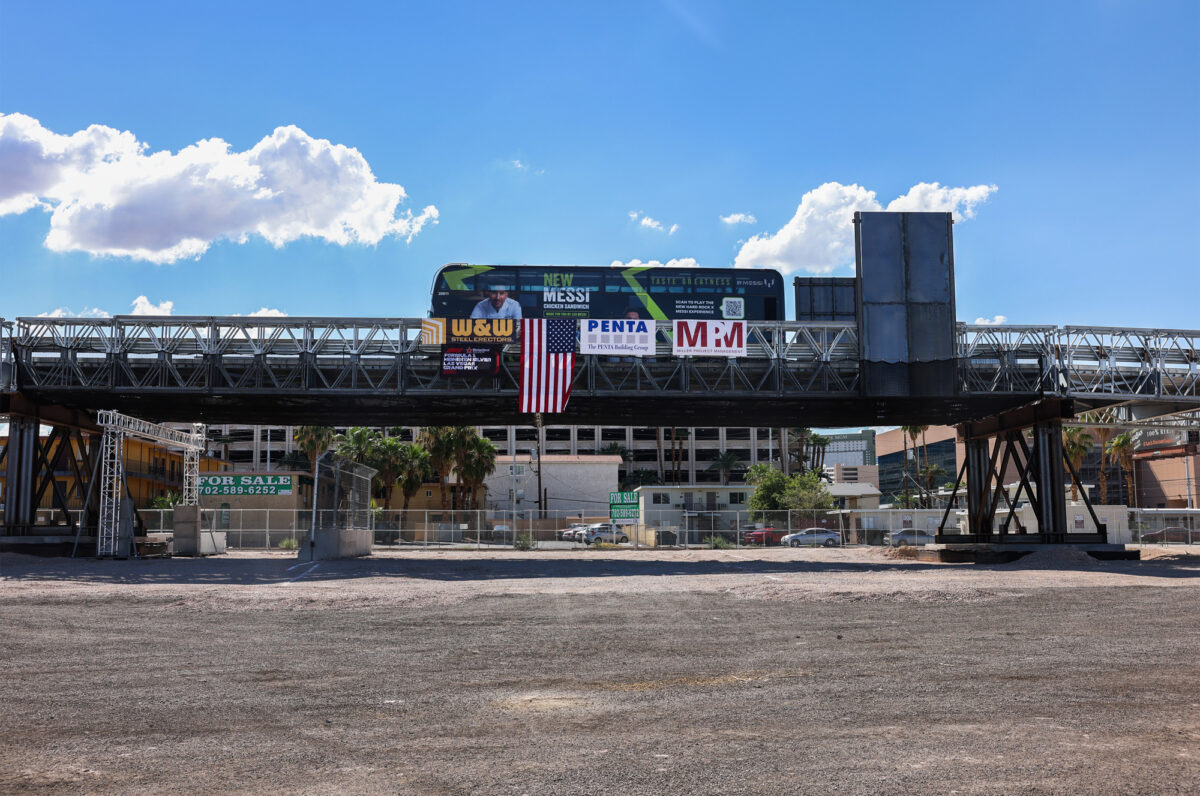 Temporary bridges to be added as Las Vegas Grand Prix racecourse takes shape
To display the sturdiness of the temporary vehicular bridges that will be used at several locations around the 3.8-mile Las Vegas Grand Prix racecourse, project officials had a double-decker bus drive across the platform, showing it met all safety standards.
That drive was just for cameras.
Earlier in the day, a fully loaded ladder truck from the Clark County Fire Department drove across the bridge.
"When we close the entire circuit for 3.8 miles, we have to still be able to get inside to 23,000 rooms on the resort corridor that are captured along the circuit," said Terry Miller, the racecourse project manager from Miller Construction Management. The company is overseeing all facets of the Formula One event, including the development of the $500 million paddock building.
The structure, one of two 760-foot two-lane bridges, is being dismantled at its temporary site on Tropicana Avenue behind the MGM Las Vegas and will be reassembled, along with its counterpart, in the middle of Flamingo Road across Koval Lane.
Two smaller vehicular bridges will be constructed for the Nov. 16-18 race — one across Harmon Avenue and another on Sands Boulevard across Koval Lane.
"This bridge behind me is a key component, not only of how we get our customers over the track as it's being raced," Miller said last week at a tour of the site. "It's also important for our emergency service providers."
The Flamingo Road bridge comes in 14 sections — seven segments per bridge — and has 15-foot clearance for the Formula One vehicles as they race north on Koval toward the Sphere in Las Vegas.
During the race, when the circuit is closed from 7 p.m. to 2 a.m. each day, the Flamingo temporary bridge will be open only to credentialed vehicles, such as law enforcement and emergency personnel.
On the off-race hours, the bridge will be open to all motorists, serving as a vehicular bypass at the Flamingo and Koval intersection.
Miller said there are 24 openings along the Las Vegas Grand Prix course that will be closed during the race, qualifying and practice sessions. When events end in the early morning hours, Las Vegas Boulevard, Koval Lane and other roads used in the course will be open to the public, "so our resort partners can do their business."
At the same time, Miller said "you and I will be able to actually drive our personal vehicles on the track during the non-race times. Las Vegas Boulevard becomes another public road again."
---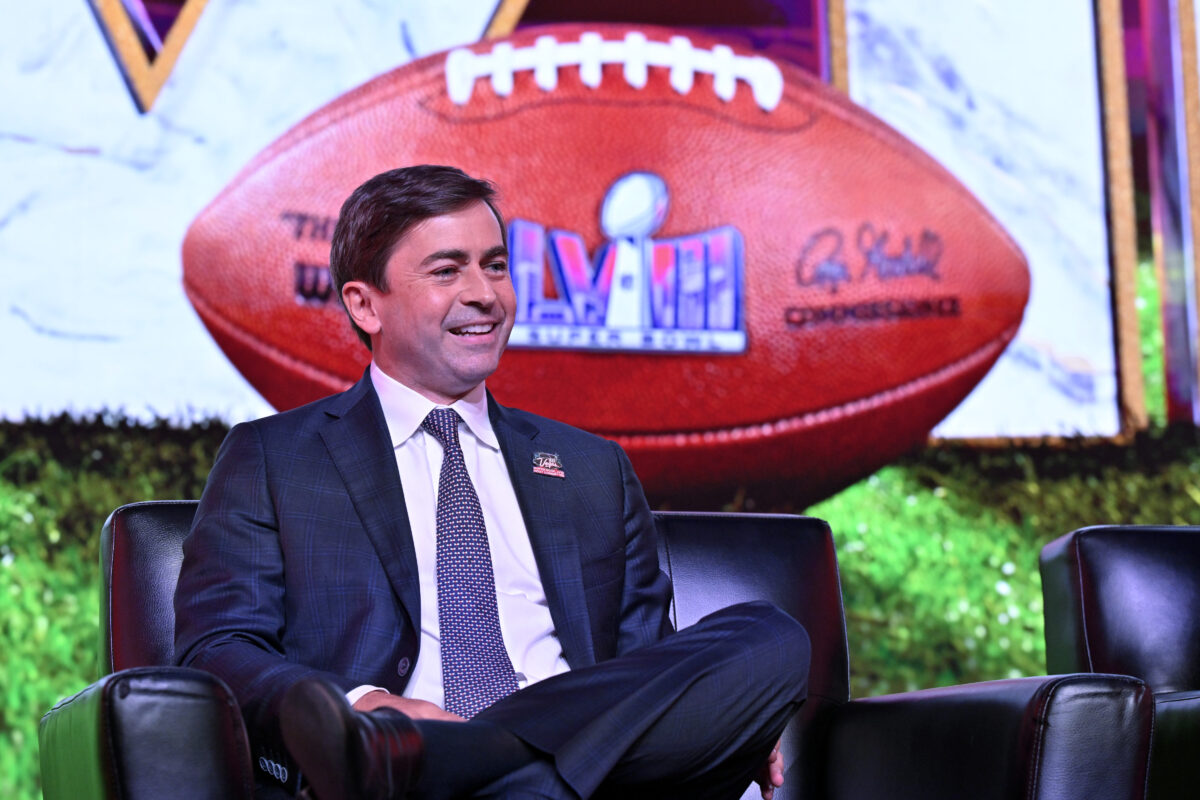 NFL officials say Las Vegas unlike any city to host the Super Bowl
With close to 152,000 hotel rooms — 156,000 once Fontainebleau opens in December — Las Vegas provides a setting that organizers of Super Bowl festivities could only dream about.
During a kickoff event last week for Super Bowl LVIII in Las Vegas, officials for the Feb. 11 game at Allegiant Stadium said Las Vegas offered multiple venues and locations not found in other cities for the weeklong activities that serve as a prelude to the actual championship game.
For example, the four-day Super Bowl Experience, the league's family-friendly interactive theme park, requires 500,000 square feet of space. It will be housed at the Mandalay Bay Convention Center
"In some cities, you only have one option," said Sam Joffray, CEO of the Las Vegas Super Bowl LVIII Host Committee. "Here, there are four convention centers that could have hosted this event."
Mandalay Bay is also hosting the media center, which is the hub for press activity, including the game's "Radio Row" area, throughout the week.
Joffray, who has been involved in 27 previous Super Bowls, including games in New Orleans, Tampa, Los Angeles and last year's Super Bowl in the Phoenix suburb of Glendale, said Las Vegas is markedly different from other past sites owing to its sheer number of venues.
"When somebody comes in and says they need to have a party for 2,500 people, we can give them 20 different options," Joffray said. But it also "makes the job a bit harder" in helping businesses narrow down a choice.
NFL Executive Vice President Peter O'Reilly, who oversees the league's major events, said anytime the Super Bowl is held in a new city there are always challenges and questions. Las Vegas is much different given the large number of hotel venues and the tourism-based economy.
League officials gathered ideas from two Pro Bowl events and the NFL Draft, which Las Vegas hosted in April 2022. They have also watched how the Las Vegas Raiders utilize the space around Allegiant Stadium on game days.
"Obviously, Las Vegas is a city that knows how to put on big events," O'Reilly said. "[The Pro Bowls and the Draft] were great in building relationships and understanding how things work. We've got hundreds of people here this week to do planning and we'll be here up to the game to work on any challenges."
O'Reilly said the good news is Las Vegas is already known for drawing large crowds during Super Bowl weekend. Adding the actual game is just another layer.
"Certainly, there are plenty of hotels, but just thinking about the logistics of moving people around and what that game day experience looks like is what we're working on," O'Reilly said.
Joffray said NFL representatives will be in Las Vegas for the Formula One Las Vegas Grand Prix on Nov. 16-18 to study how the market handles the expected large crowds and street closures. As for Super Bowl LVIII, he suggested "bring your walking shoes" to get around the Strip.
"Nine times out of 10, you will be able to get from this party to that party faster by just walking than trying to drive there," Joffray said.
---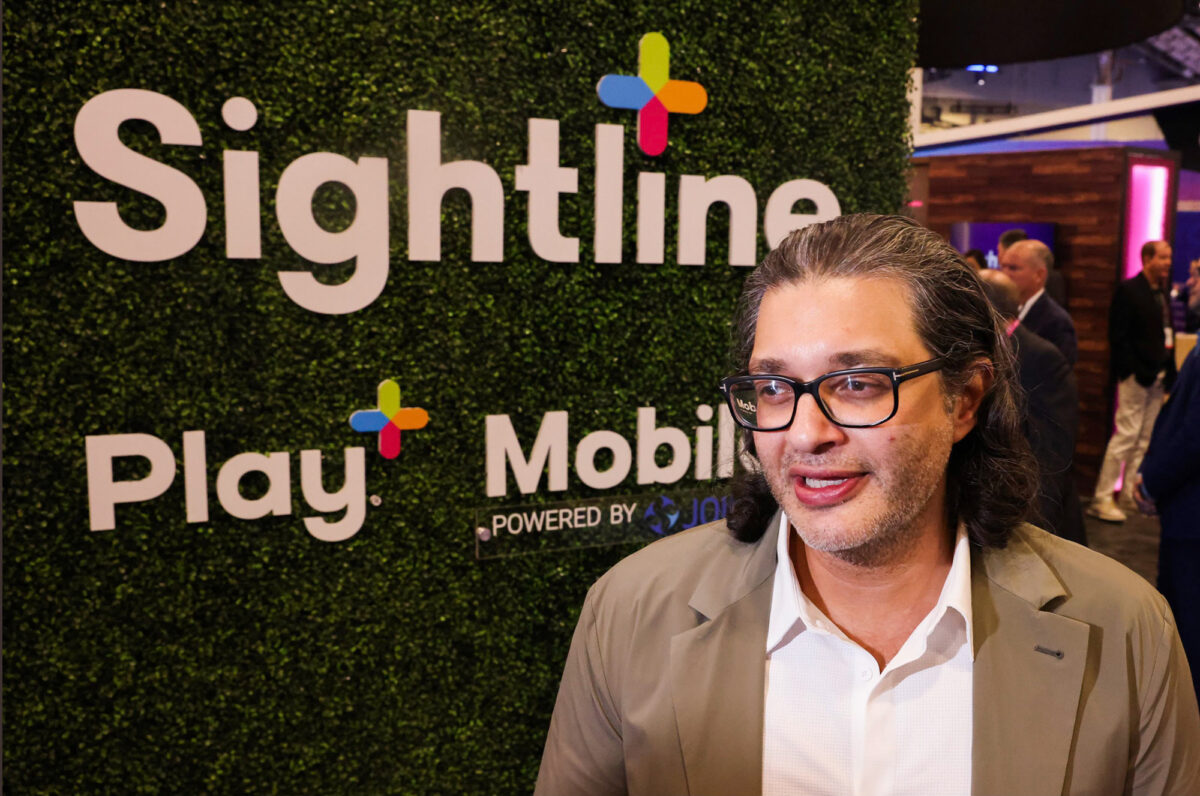 Quotable
Via press release from Sightline Payments
Omer Sattar, one of the co-founders of the cashless payment provider, dropped "co" from his CEO designation and is now the Las Vegas-based company's sole chief executive. It was not disclosed why former co-CEO Joe Pappano departed Sightline. Among the other changes was Mike McManus becoming president of customer innovation. He had been CEO of Joingo, a mobile technology provider Sightline acquired in 2021.
"As we envision Sightline's imminent and promising future, spearheading the industry's innovation emerges as our foremost endeavor. Mike McManus is equipped with the requisite skills, experience, and vision to actualize our commitment to the industry. Our motto remains clear: Innovate, and then innovate some more."
- Omer Sattar, CEO, Sightline Payments
Via note to investors from CBRE Equity Research
Gaming analyst John DeCree threw up the caution sign last week in a research note on Las Vegas-based regional casino operator Full House Resorts. He said the company, which has a temporary casino in Waukegan, Illinois, has planned a December opening for a $250 million hotel-casino in Cripple Creek, Colorado, and is expanding its Bay St. Louis, Mississippi property, faces challenges due to a softening gaming market in the U.S.
"The casino industry has been coping with inflationary pressures for over a year now. However, we have seen a greater impact on the cost structures of sub-scale operators, which have less purchasing power and operating leverage to absorb steeper cost increases. At the same time, revenue trends have been reverting to pre-pandemic levels, particularly in Mississippi."
- John DeCree, analyst, CBRE Equity Research
The Nevada Independent is raising $200,000 by Dec. 31 to support coverage of the 2024 election.
Tax-deductible donations from readers like you fund this critical work.
If you give today,your donation will be matched dollar-for-dollar.
Give + Get Matched
Featured Videos