'Compassionate conservative' Scott Hammond leaves Senate early to lead workforce agency
The term-limited Republican is known for proposing a polarizing school choice program, casting decisive crossover votes and his basketball skills.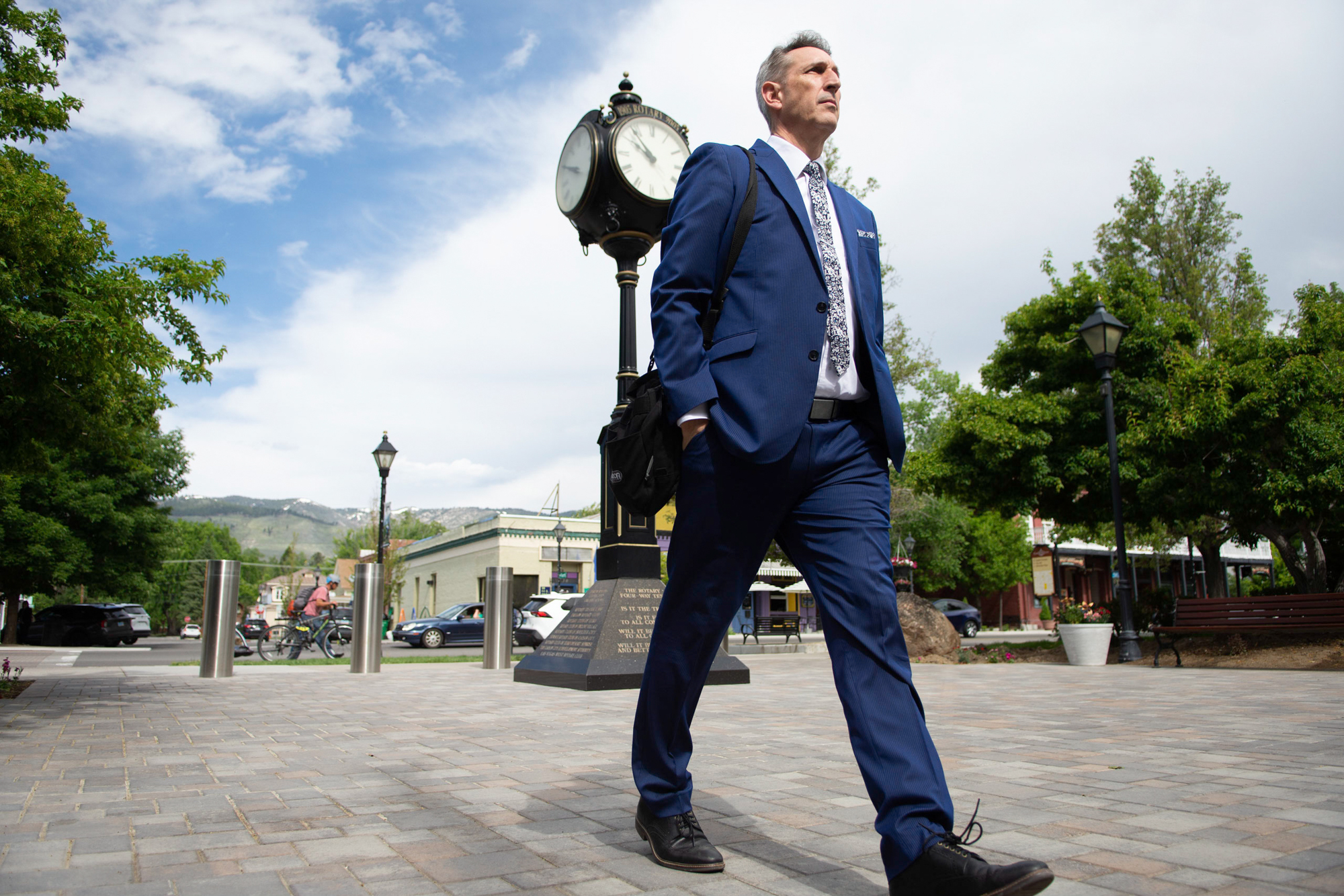 Growing up in the 1,200-person town of Delta Junction, Alaska, where neighbors helped each other when in need, shaped a lot of whom former Sen. Scott Hammond (R-Las Vegas) is — a conservative who even progressives speak highly of.
The 56-year-old represented Senate District 18 in Las Vegas for a decade before resigning Oct. 26 and accepting the governor's appointment to lead the Governor's Office of Workforce Innovation (GOWINN) effective last Wednesday. Hammond's tenure in the Senate was set to end in 2024, and was prohibited from running again due to term limits.
In a previous interview, Hammond said his desire to run came from the motivation to prove that everyday people can hold office "if they can prove to the people who live in their area that they are worthy of their time, their vote and consideration."
"I just really believe that anybody can do that if they go out there and really prove to everybody that they have the best interest of that community at heart," he said.
Hammond said his wife believed that his "even-keeled temper" and attitude were needed in state politics, and convinced him to run for office again even after an unsuccessful bid for the Assembly in 1996.
He was elected to the Legislature in 2010 after winning the Assembly District 13 race by more than 5,000 votes over Democrat Lou DeSalvio, now president of the Laborers Local 872. The district covers neighborhoods in the northwestern part of the Las Vegas Valley.
In all of his elections, Hammond says he followed the same strategy.
"I knocked on as many doors as I possibly could … to talk to people, find out what was going on in the community, their concerns," he told The Nevada Independent in a June interview about his 2010 campaign. "That's kind of my approach ever since, and it won me several elections after that."
Hammond — who becomes the 14th legislator not to seek the same seat the lawmaker held in the 2023 session — will be leading an office focused on promoting apprenticeships and work-based learning and developing career pathways. In a statement announcing the appointment, Gov. Joe Lombardo credited Hammond's "visionary leadership and commitment to serving others time and time again."
For Hammond, helping others comes naturally.
"A part of [Delta Junction], Alaska, goes with me everywhere I go," he said in June. "It was very common in that community, where if somebody found out that somebody needed help, they just showed up and started chopping wood, or they started working on their car, or they plowed their street, got rid of snow."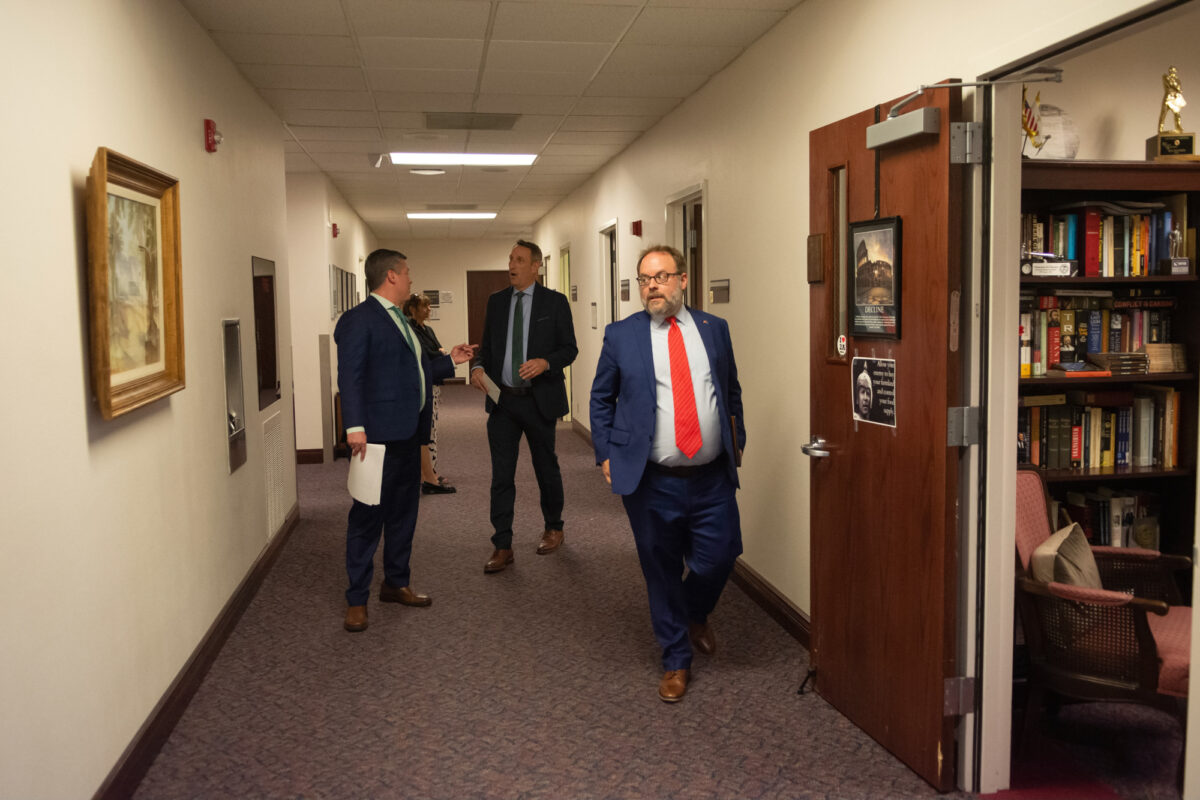 'The easiest person to work with'
The former small-town teacher and high school sports coach made Nevada home 24 years ago, later climbing the ranks of the Legislature where he served as co-minority whip for six years.
Following a single term in the Assembly, he ran and won a race to represent Senate District 18 in 2012, which includes the most northern parts of the Las Vegas Valley. He won re-election two more times, in 2016 and 2020.
Hammond also made an unsuccessful bid in the crowded Congressional District 3 race in 2018, losing the Republican primary to lawyer and businessman Danny Tarkanian, who was defeated in the general election by Rep. Susie Lee (D-NV).
After a 16-year career in the Clark County School District teaching Spanish and social studies, Hammond became a founding board member of Somerset Academy of Las Vegas in 2016, a charter school system in Southern Nevada that has seven locations.
He speaks three languages fluently: English, Portuguese (learned while serving as a missionary in Portugal for The Church of Jesus Christ of Latter-day Saints) and Spanish, which he learned while studying abroad in Chile.
In 2014, Hammond became the director of community outreach at what he described as the "pro-employer" Nevada Contractors Association, where he helped build pathways from schools into construction trades through career and technical education.
He's won favorable reviews even from those on opposite sides of critical issues such as abortion and public funding for private education.
"He has actually been … like the easiest person to work with," said Laura Martin, the executive director of the Progressive Leadership Alliance of Nevada. "Not even the easiest Republican, just person. Because there are some Democrats who are very difficult to deal with and I think it goes a long way just to have an honest conversation with constituents."
Hammond was one of only a few Republicans to join Democrats in 2015 to support a contentious, record-breaking tax package proposed by then-Gov. Brian Sandoval that massively enhanced education funding (Hammond cited the passage of his bill that session to greatly expand school choice as a reason for the vote). This year, he cast the deciding vote in the Senate to pass the state budget, ending a standoff between the parties that forced the Legislature into a special session.
"This had to be done. We needed to end this," Hammond told reporters after the vote.
Unforgettable moments
Even after Hammond ran for office, he continued to teach government and Spanish at Indian Springs High School in the small community of Indian Springs, 45 minutes north of downtown Las Vegas. It's a job he held until 2015, becoming assistant principal at Somerset Academy Lone Mountain charter school that year until 2016.
He said he was heavily motivated to run for office by a desire to "open up the educational system."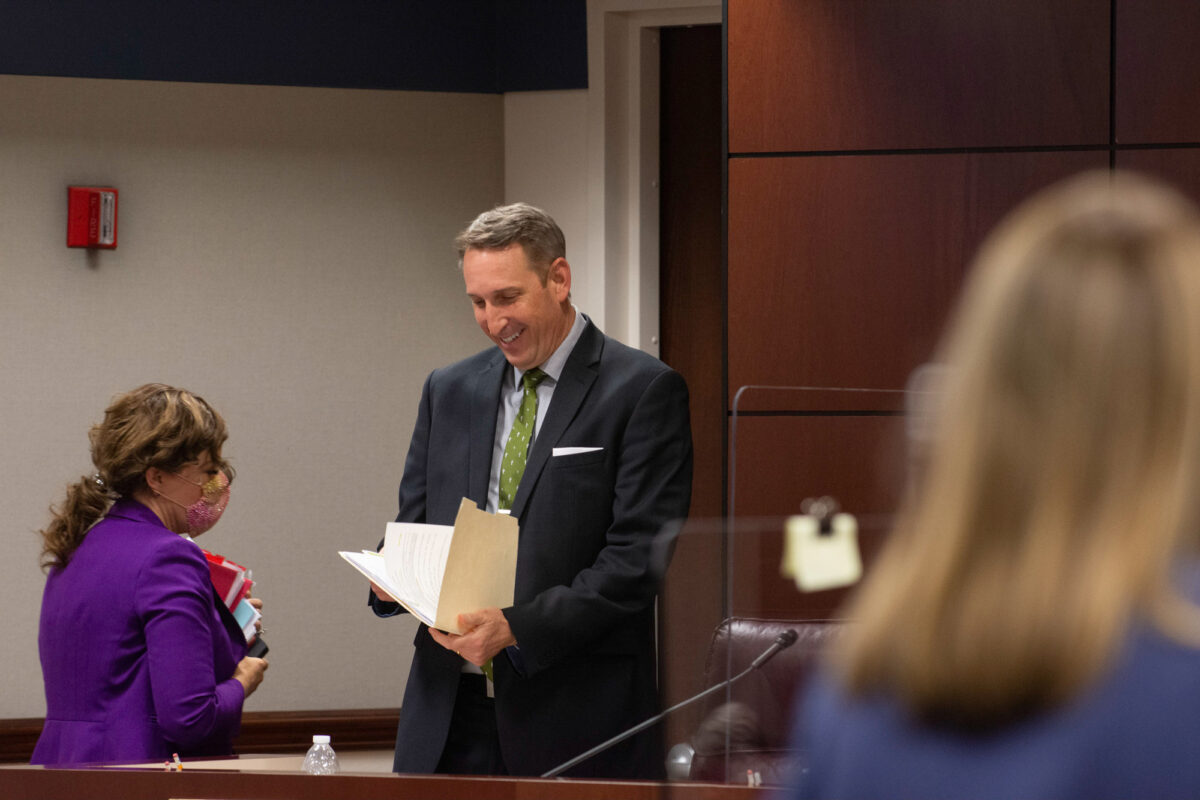 "Just like a whistle tells the factory it's time to stop for a break, the [school bell] told you it's time for lunch or time to go home," Hammond said. "That's the factory-style model [of education] that hasn't changed for 100 years, but you're starting to see now, that it just isn't serving what our kids need."
He said his most unforgettable moment in the Legislature came with the controversial passage of SB302 in 2015, during a rare period in which Republicans controlled both houses of the Legislature and the governor's office. He sponsored the legislation — the first of its kind nationwide — that authorized voucher-style Education Savings Accounts (ESAs) for all children in Nevada, allowing state funds to be used for private school tuition or other qualified educational expenses.
According to Grant Hewitt, who worked closely on the issue at the time as the chief of staff for Republican then-treasurer Dan Schwartz, ESAs caused "very ugly fights" at the statehouse, though Hammond "was never fazed."
"Sometimes you just find that these [education voucher] battles to empower families are just very, very long and very difficult," he said. "So for a politician to get there, have the court send it back and then eventually have partisan politics, repeal it from the law — through all of that he never gave up, he just kept looking for another tool."
ESAs never got off the ground — their funding mechanism was deemed unconstitutional by the Nevada Supreme Court, and Hammond's 2015 bill was repealed by Democrats after they retook control of the Legislature in 2017. Heated debate over more modest school choice programs in Nevada — such as Opportunity Scholarships — continue to this day.
Democratic former Sen. Mo Denis (D-Las Vegas), who served with Hammond in both the Senate and the Assembly, said he thought school choice initiatives were premature, stating in a July interview with The Nevada Independent that public schools should be fully funded before moving money out of the system.
Despite differences in political party, Hammond and Denis share similar backgrounds — both focused heavily on education policy as legislators, are members of The Church of Jesus Christ of Latter-day Saints and both are basketball enthusiasts — known as key players when Democrats and Republicans face off in a charity basketball game each session.
"I think a lot of the things that Scott really worked hard on and wanted to promote, have some merit in what he's trying to accomplish," Denis said. "But I think it's too premature to talk about some of those things when we haven't adequately funded the majority of the kids that we have."
Other bills Hammond said he was proud of include 2017's SB175, which designated May 18 as Asian Culture Day in Nevada.
"I worked a lot with community leaders to find the right day and the right way to say thank you for your contribution," he said.
He's also proud of sponsoring and helping pass SB305, a 2021 bill which repealed a law that blocked access to organ transplants for children with severe autism or Down syndrome. He said it followed a national trend of prohibiting medical providers from denying transplants to people with disabilities.
Hammond also championed two policies that never passed in the state despite his efforts in multiple sessions — authorizing Medicaid coverage of donor breast milk, and mandating the installation of cameras in special education classrooms with hopes to ward off abuse. And like many Republicans in the Democrat-controlled Senate, he had a low success rate in the 2023 legislative session — just two of the 17 bills on which he was the lead sponsor were signed into law.
Outside of the policy debates, Hammond pointed to tragic moments in the legislative community as ones that stuck with him, such as the sudden death of Assemblyman Tyrone Thompson (D-Las Vegas) in the midst of the 2019 legislative session.
"When he passed away, that had a very chilling effect on a lot of us [at the statehouse]," Hammond said. "We kind of all stopped still for a while. We all sort of took stock of who we were, what we were doing and whether we were doing the right thing for the right reasons like he was."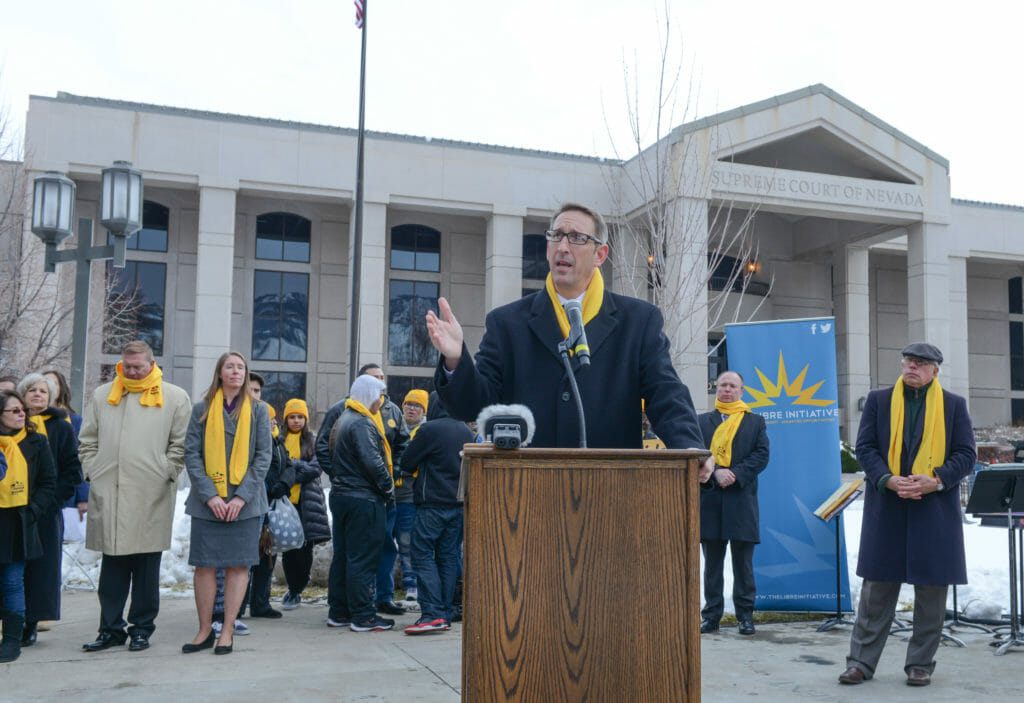 Hammond said Nevada politics have changed over the years and not for the better, highlighting the "good ole days" of the late Joe Dini, a Democrat who was elected to the Assembly in 1969 and became the longest-serving speaker in Nevada, and the late Republican Sen. Bill Raggio Jr., who served in the Legislature for 56 years from 1972 to 2011.
He said earlier in his career, officials worked with each other to ensure legislators "got something passed for their constituents," sharing their most important bills early in the legislative session. Now, he says, some lawmakers obscure what they are most passionate about to avoid having the policy leveraged for a vote on another measure.
"It happened to me, with the [Education Savings Accounts] in 2019," Hammond said.
'Rainbow family'
After serving nearly 14 years as a lawmaker, he said he looks forward to spending more time with his "rainbow family," which includes his wife and four children — three of whom are adopted and are different ethnicities, and who range in age from 12 to 23.
"I think I've given what I needed to, and it's time for somebody else to take over," he said.
Hammond, who opposes abortion, told The Nevada Independent in 2018 that early in his marriage, his wife had a miscarriage four months into the pregnancy, which made him realize "how precious every life is."
The couple thought they wouldn't be able to have children naturally, so they decided to adopt. Their first child, Tomás, now 23, was adopted in 1999. Olivia, now 18, was adopted from San Diego, California.
"And then our third daughter came along the old-fashioned way, which was a blessing," Hammond said. Sofia, 16, is now a junior in high school.
Their last adoption came during Hammond's first session in 2011, from a friend's adopted daughter in Fairbanks, Alaska who wanted her child, Isabella, now 12, to join their "rainbow family."
He said he has included his family in his political work and he is looking forward to "transitioning back into the community" and "being Dad all the time."
"I've tried to include my family in everything I've done," Hammond said. "I think I've done a really good job doing that."
The Nevada Independent is raising $200,000 by Dec. 31 to support coverage of the 2024 election.
Tax-deductible donations from readers like you fund this critical work.
If you give today,your donation will be matched dollar-for-dollar.
Give + Get Matched
Featured Videos