Horsford, Hardy set for House rematch; Tarkanian wins feisty GOP House contest; Heller, Rosen to face off for Senate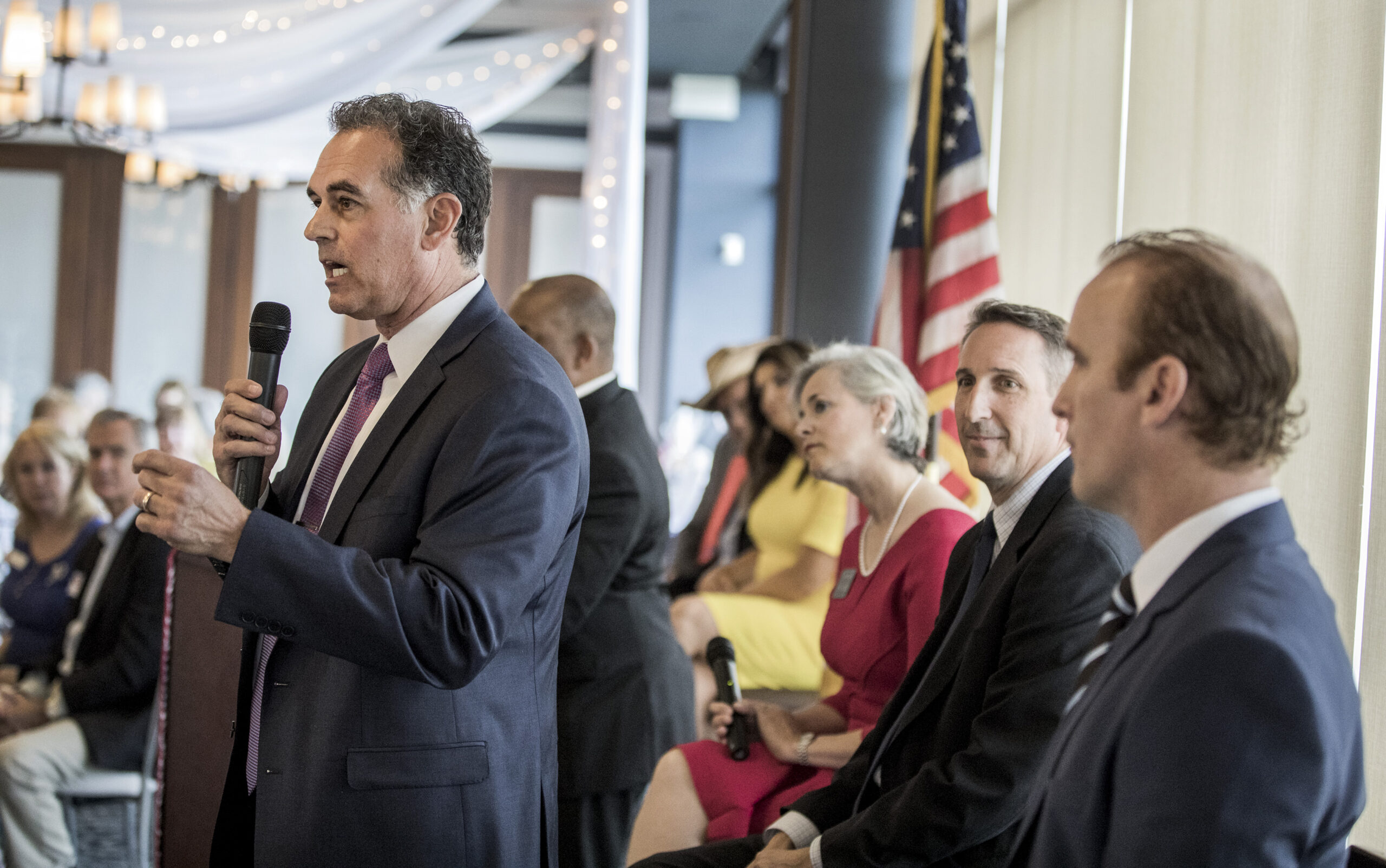 Two competitive primaries in the two most important congressional races in Nevada this year ended up not being quite as close as expected once the results were tallied Tuesday night.
Businessman Danny Tarkanian emerged from a nine-way Republican primary in Nevada's 3rd Congressional District with 44 percent of votes Tuesday night while former Rep. Steven Horsford handily defeated his five Democratic opponents in the 4th District with 62 percent of the vote.
Tarkanian will go on to face Democratic education advocate and philanthropist Susie Lee in the general election, while Horsford will again face off against former Rep. Cresent Hardy, who defeated Horsford in the 2014 election. Neither Lee nor Hardy faced a serious primary threat.
Primaries for the marquee race in the general election went exactly as expected Tuesday night, with U.S. Sen. Dean Heller and freshman Rep. Jacky Rosen easily coasting past primary challengers Tuesday night in their bids for the U.S. Senate. The two will face off in the November election in what will be one of the closest-watched U.S. Senate races in the country.
Heller won 70 percent of votes in the Republican primary, while Rosen secured 77 percent of votes among Democratic voters. Rosen's longshot Democratic primary challenger, Jesse Sbaih, only received 3 percent of the votes, less than Nevada's "none of these candidates" ballot option, which received 7 percent of the vote.
Polling in the race has shown the two candidates to be essentially tied — a poll by The Mellman Group commissioned by The Nevada Independent in April found Heller leading Rosen by a narrow 39.7 to 39.3 percent difference. Without a serious primary challenge, the two candidates have already been at each other's throats over the past few months, with Rosen highlighting Heller's recent support of President Donald Trump after keeping his distance from the future president during the 2016 election and Heller training some of his fire on fundraisers Rosen has held with actor Jane Fonda and late night television host Jimmy Kimmel.
None of the three federal races that will be competitive in the general election came very close on primary night, though the heated 3rd District contest came the closest with Tarkanian defeating former television reporter Michelle Mortensen by a little under 20 points.
Tarkanian, in an interview with The Nevada Independent, said that he and his campaign team "felt very good" headed into primary day and that "every indication" had him winning by double digits.
Tarkanian — who was the Republican candidate in the 3rd District during the 2016 election and narrowly lost to Rosen — jumped into the race the day filing closed after President Donald Trump nudged him out of a Republican U.S. Senate primary against Heller. Despite the late entry, Tarkanian had an edge over his opponents in terms of both fundraising and name recognition, owing to his father being the late UNLV basketball coach Jerry Tarkanian.
"We felt confident that the anticipation or the anxiety that maybe what you are seeing and hearing is inaccurate and you can still lose," Tarkanian said. "So until the numbers come up, you don't have that sense of relief and then they did come up as good as it did. I felt really good about it."
Mortensen, who received 25 percent of votes in the primary, did not return calls for comment Tuesday night, but tweeted out her congratulations to "all of tonight's winners."
State Sen. Scott Hammond, who took home a little under 17 percent of votes Tuesday night, said in an interview that the campaign "didn't go as expected," and noted Tarkanian's name recognition and money in the race. But he immediately threw his support behind Tarkanian and said that he looks forward to working with the new governor and ensuring that Republicans in key races win.
"It was as good as I can expect, I suppose," Tarkanian said. "When you lose, I was brought up, you congratulate the ones who go on top."
A fourth candidate, former Clark County Republican Party Chairman David McKeon, emailed out his congratulations to Tarkanian. McKeon only took in about 5 percent of the vote in the primary.
Tarkanian said that he wasn't surprised by Trump's support — which actually was a point of contention among the other candidates — since he was one of the president's most vocal supporters in Nevada during the 2016 campaign.
"The fact that President Trump came out and supported me in my race wasn't a surprise and I hope it wasn't a surprise to the residents of Nevada because I've been supportive of what he is trying to do which is America First policies," Tarkanian said. "I believe very strongly in those policies. I think the end results we are seeing with the economic resurgence attests to that."
Tarkanian said that, starting tomorrow, his campaign will turn all of its attention toward the general election, focusing on getting the necessary campaign infrastructure in place, getting the message out and also raising money needed to pay to get that message out.
Lee, in a statement, said that "voters will have a clear choice to make in November" without specifically naming Tarkanian.
"I know that they will embrace my proven track record of solving problems and improving lives for families in Southern Nevada," Lee said.
Horsford, who previously represented Nevada's 4th Congressional District between 2013 and 2015, won his six-way Democratic primary by a much larger margin than Tarkanian's. The former congressman beat out his next closest opponent, state Sen. Pat Spearman, by about 46 percentage points.
Horsford, in a statement, thanked his supporters, volunteers and organizers, calling them his campaign's "grassroots backbone" that would carry them to victory in November. He also thanked his primary opponents.
"To every candidate who ran in the Democratic Primary: thank you for rallying Democrats in Nevada's Fourth Congressional District," Horsford said. "Your passion for service is inspiring and I will fight for our shared values."
Spearman came in second in the Democratic primary with 15 percent of votes, Medicare for All activist and political newcomer Amy Vilela came in at 9 percent and Nevada System of Higher Education Regent Allison Stephens received 6 percent of votes. Neither Spearman nor Vilela returned calls from the Independent, nor did they send out statements or post on Twitter about the results of the election; Stephens, in a tweet, congratulated Horsford on his victory and said that she looks forward to working with him.
Horsford will go onto face Hardy in the general election, essentially a rematch of their 2014 race. Hardy coasted to victory in his Republican primary with 47 percent of the vote. He told the Independent that he sees it as an opportunity to "serve and do the things" he did when he represented the district between 2015 and 2017.
"I think if we just do the hard work we can get back there," Hardy said. "We are just flat out going to get out and knock on doors. That's how won the last one. This doesn't mean I will knock on all the doors. You won't get to know all your constituents if you don't reach them."
Neither Horsford nor Hardy had initially planned on running for the seat and only cast their hats into the ring after Democratic Rep. Ruben Kihuen decided not to run for re-election after a series of allegations of sexual misconduct surfaced against him in December.
The races for Nevada's 1st and 2nd Congressional District are almost sure locks for Democratic Rep. Dina Titus and Republican Rep. Mark Amodei come November. Titus easily won a Democratic primary against Reuben D'Silva with 79 percent of the vote, while Amodei coasted to victory in his Republican primary against former Assemblywoman and U.S. Senate candidate Sharron Angle with 72 percent of votes.
Clint Koble, a former state director for the Department of Agriculture's Farm Service Agency, clinched the victory among a group of Democratic candidates making a longshot bid for Amodei's seat, beating Patrick Fogarty by only 2.3 points. No Democrat has come within five percentage points of beating a Republican for the seat.
Updated 6-13-17 at 8:57 a.m. to include final vote totals from the Secretary of State's website.
The Nevada Independent is raising $200,000 by Dec. 31 to support coverage of the 2024 election.
Tax-deductible donations from readers like you fund this critical work.
If you give today,your donation will be matched dollar-for-dollar.
Give + Get Matched
Featured Videos