The longshots: Six Democrats compete for Nevada's safest Republican district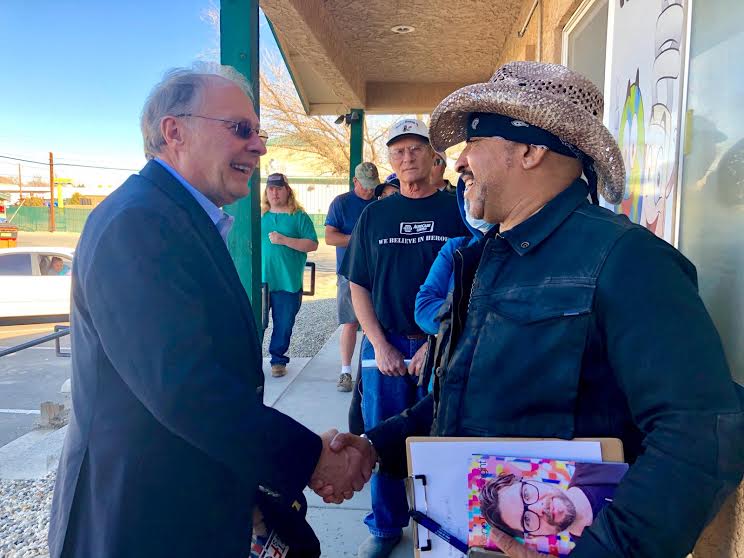 Since Nevada's second congressional district was created after the 1980 census, no Democrat has ever won. Many have tried, but even in good years for the Democratic Party, none of its candidates have prevailed in a district that includes Reno and most of the rural counties.
Simply put, the electorate is a "tough nut" for a Democrat to crack, said Chip Evans, the party's candidate last cycle and a former chair of the Washoe County Democratic Party.
"My optimistic self says there is some set of circumstances upon which a Democrat can win that district," he said. "My realistic self says that is always going to be a low percentage shot."
No Democrat has ever come within five points of defeating a Republican in the district. The closest race was in 2006 when Jill Derby, a regent in the Nevada System of Higher Education, lost to then-Secretary of State Dean Heller by 5.4 points. Most candidates lose by more than 20 percent.
As pundits across the country predict a "blue wave" in reaction to President Donald Trump, six primary candidates are banking on a set of circumstances emerging by November that make a Democratic victory possible in a district considered safe for Republican incumbent Rep. Mark Amodei. That all starts with winning the primary after voting closes on Tuesday.
In low-key campaigns marked more by cordiality than divisiveness, as in other primaries around the state, the candidates have sought to differentiate themselves in ways that are reflective of the different factions within the party. Among the six candidates, there's a "Berniecrat," a data-driven scientist, a rural Democrat, a centrist and a candidate who dubbed himself an FDR Democrat.
Structurally, the district's registration breakdown leans Republican by about 50,000 voters, or 12 percent of registered voters, compared to Democratic voters, who comprise about 31 percent of registered voters. But there is an interesting variable. The district also has a high percentage of voters who identify with neither of the two main parties — about 27 percent.
The hope for a Democrat, after the primary, would be to bring some independents around. But the question of whether a candidate could make the pivot remains a question. And whichever Democrat advances to the general election will likely start at a financial disadvantage. Amodei, the likely Republican candidate, had $307,648 on hand as of late May. That is two times as much as Democratic candidate, Patrick Fogarty, who had the most cash on hand in the primary.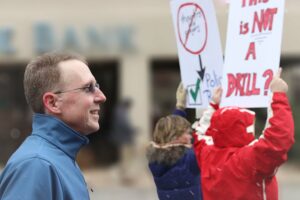 Fogarty, whose campaign theme is "A Fair Shake," said he sees the cycle as less of a "blue wave" and more of an "orange wave," a direct reaction to Trump. As a result, he foresees the possibility of picking up independent and moderate Republican voters turned off by Trump.
If Fogarty predicts the national political landscape will reflect an "orange wave," his campaign could be seen as an orange reaction. In an interview, Fogarty, who ran a biotech startup, said he's always been a Democrat but watching the Trump administration pushed him into the race.
"Why I decided to get in this race is largely because of what's been going on in the last year and a half," he said. "Almost 70 million people — that's the number I've heard — have taken to the streets to protest for one thing or another. To me, that symbolizes that our representation system is not listening and not working. That outrage is partly what's affecting me as well."
His three top issues: health care, campaign finance reform and tax reform.
"We are paying so much for so little every year," Fogarty said of the health-care system.
He said that he supports efforts to expand Medicare, a move he argued would cut costs.
For nearly all of the candidates, health care is a top issue. Many Democrats see incumbents like Amodei as potentially vulnerable because of votes in Congress to repeal and replace the Affordable Care Act. Rick Shepherd, a self-described "Berniecrat" who also ran in the 2016 primary, said rural Nevadans have expressed frustrations to him over Amodei's votes.
"They blame Mark for that," said Shepherd, "and rightfully so."
Clint Koble, a former state director for the Department of Agriculture's Farm Service Agency who is making a run in the primary, also supports expanding Medicare to all Americans.
But for Vance Alm, a Reno physician running for the seat, health care is personal. Alm, who runs a family practice, says he sees every day the ways in which the health-care system is broken. He argued the federal government should play a greater role in health-care decisions and every person should have access to health care. But he stopped short of Medicare-for-All.
James Douglas Hurley, another candidate, did not respond to a request for an interview.
The sixth candidate, Jack Schofield Jr., lives in Clark County. In an interview, he said he has not had the resources to campaign in the district. Schofield described himself as an FDR Democrat.
"You could say I'm an outsider running for office up there," he said.
To run for Congress, you must be an inhabitant of the state you are representing, not the district.
A successful Democrat in the state's traditionally Republican congressional district would need to strike a difficult balance, Evans said. The candidate would need to be progressive enough to motivate traditional party activists but moderate enough to appeal to the Republican district.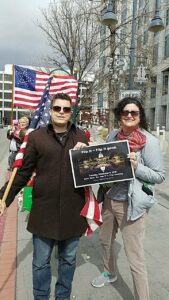 "What you would hope for is there would be an alignment between the candidate's position on the political scale and the voting population and the people who work to get the vote out," said Evans, who is now running for Washoe County assessor. "It didn't line up well for me in 2016."
Evans also stressed the importance of resource issues to voters in the district.
"Issues around land use and conservation and environmentalism turned out to be much more complicated than the simple boxes we try to put those in," he said.
For this reason, Koble said he is most prepared to run a competitive general election campaign. Koble, who grew up in rural North Dakota and has worked in rural Nevada for a decade, said that he has a good understanding of the land and water issues that affect rural Nevada.
"I was once a farmer," he said. "I own a gun. I understand rural communities."
In addition to working as the state director for the farm agency, Koble touted his work helping rural Nevada companies through the Nevada Small Business Development Center. Last week, Koble earned a big endorsement from the American Federation of Government Employees.
Koble, who served at the farm agency under President Barack Obama, said he too has been frustrated with the Trump administration's actions. He cited the Republican tax bill, which he called "unfair," and actions to weaken protections for public lands and the environment.
After Tuesday, the race will become an uphill battle for whoever moves onto the general.
But there is at least some reason to be hopeful about the general, Fogarty said. He rattled off districts that Trump won by margins higher than 15 points where Democrats have competed, often successfully, in special elections. In districts that were not considered competitive, Fogarty said Democratic challengers have competed better than expected, even if they lost. He cited the special election in Arizona's 8th Congressional District, where Trump won by 21 points. The Democratic candidate who ran lost within a five percent margin. To Fogarty, that suggests that a Democrat could be viable in the Northern Nevada district Trump won by a 12 percent margin.
"That's what I'm looking at and what I'm thinking," he said.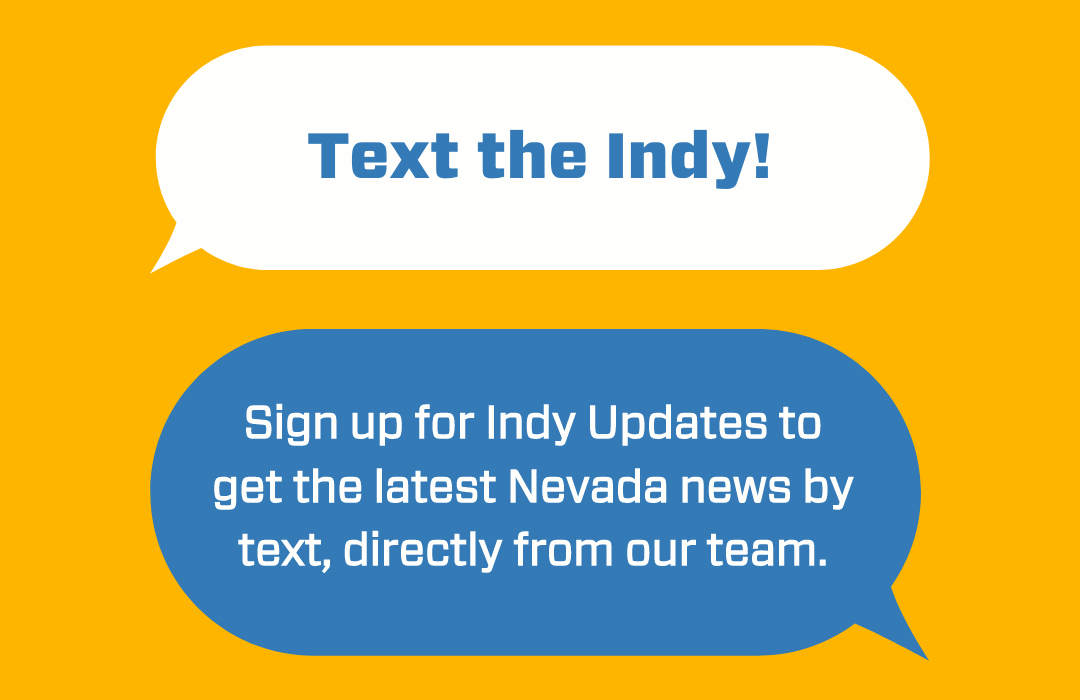 Featured Videos
Comment Policy (updated 4/20/2021): Please keep your comments civil. We reserve the right to delete comments or ban users who engage in personal attacks, use an excess of profanity, make verifiably false statements or are otherwise nasty. Comments that contain links must be approved by admin.