Follow the Money: Labor, real estate are top contributors to Nevada lawmakers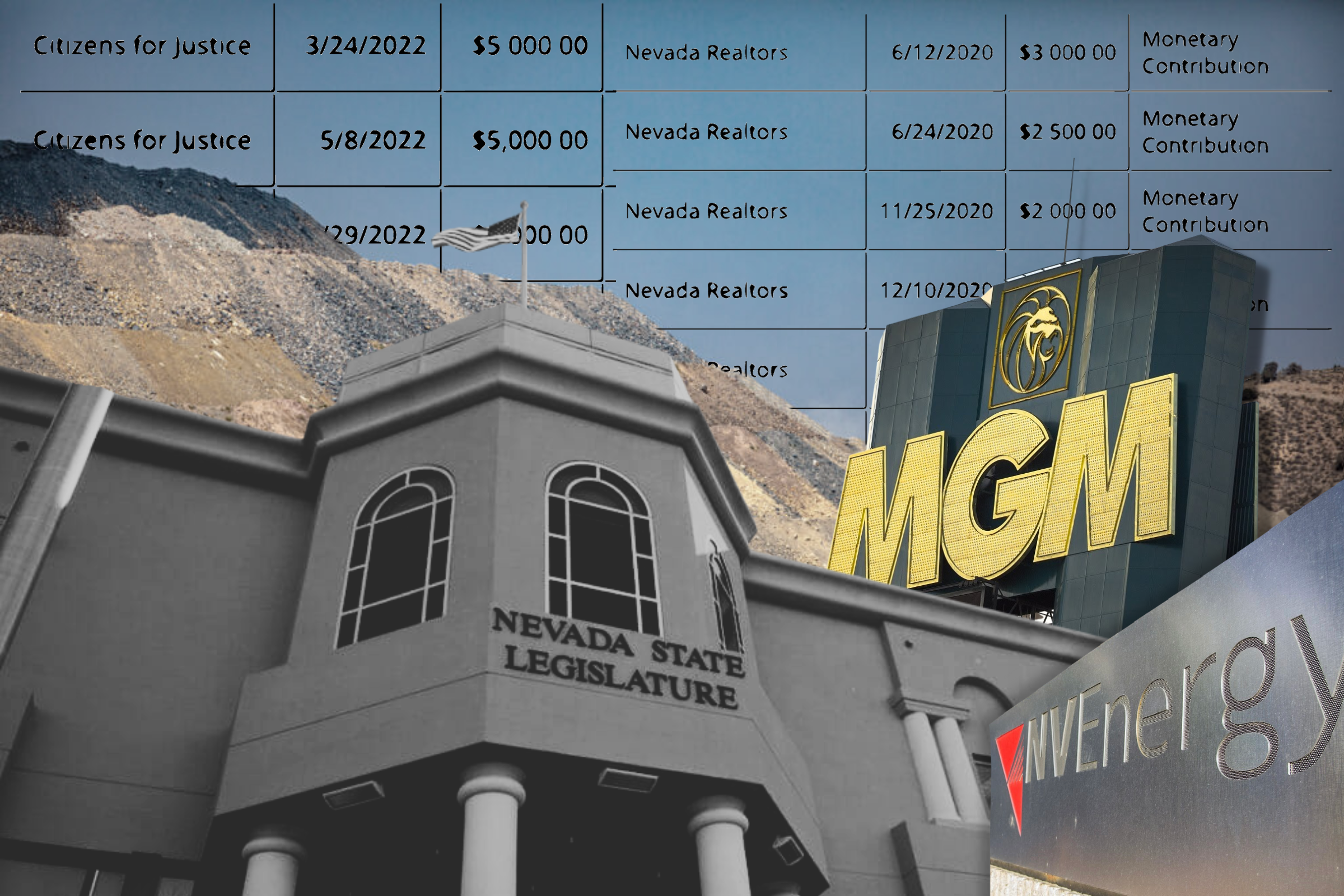 Amid a record cycle for campaign fundraising in Nevada politics, more than $13 million in big-money contributions flowed to 62 state lawmakers during the 2022 election cycle, with financing dominated by labor and union groups, real estate and development companies and the gaming industry.
Organizations and individuals in those three groups contributed more than $4.1 million — or nearly one-third — of all money given to legislators during the cycle. The Nevada Association of Realtors led all individual donors, just as it did in 2020, by giving more than $432,000 to lawmakers during the 2022 cycle.
The most recent election cycle also represents a return to prominence for the gaming industry, which had long been one of the top industries funding state legislative campaigns but pulled back on spending in 2020 as pandemic-spurred shutdowns roiled the Las Vegas Strip.
This story is part of The Nevada Independent's "Follow the Money" series tracking money in politics. This installment, and others published throughout the legislative session, will analyze the fundraising activity of state lawmakers, with deep dives into how different industries and top contributors doled out money. For a breakdown of which lawmakers received the most money, you can read the first installment of our series here.
The data offers a look at how the state's most powerful companies and political organizations contribute to policymakers who set laws affecting businesses and residents alike. It also provides context for the 120-day legislative session, as lawmakers face pressure from the same groups and individuals who donated to their campaigns.
Breaking down the top industries
Among 25 different industries categorized by The Nevada Independent, union and labor groups led the way with a combined $1.48 million contributed to 59 state lawmakers — a shift from recent years, in which the real estate and development industry topped the charts in contributions.
More than 50 individual unions contributed about 11 percent of all big-money contributions.
Still, realtors, developers and construction companies were not far behind, giving a combined $1.39 million through nearly 900 contributions from more than 220 companies, PACs and individuals.
The gaming industry followed, dishing out $1.23 million — more than 10 percent of which ($130,000) went to the Legislature's lead fundraiser, Assembly Speaker Steve Yeager (D-Las Vegas).
Other major donor categories included giving from other candidates or politicians ($1.13 million), the health care industry ($1.07 million), political groups ($976,000) and law firms, lawyers and other legal groups ($874,000).
Among the industries or groups tracked in The Nevada Independent's analysis, just five gave less than $100,000: payday lenders ($87,000), information technology companies ($82,000), tribal groups ($68,000), marijuana companies ($63,000) and agricultural companies ($25,000).
Breaking down the top donors
Among individual donors, no single group or person gave more money to lawmakers than Nevada Realtors and its associated political action committees. Spreading $432,500 across 52 individual legislators, the Realtors once again rose to the top of the major-donor pile ahead of a legislative session in which key housing issues, including discussions over affordable housing and renewed interest by both parties in addressing the state's summary eviction laws, are expected to hit the floor.
Contributions from the Realtors were split nearly evenly between the parties, with 54 percent ($233,000) going to Democratic legislators and 46 percent ($199,500) going to Republican legislators.
Key players in the gaming industry were near the top. MGM Resorts International, which owns or operates 14 Las Vegas Strip hotels, contributed the second most at more than $277,000 to 40 individual legislators — an amount that included $50,000 from MGM-owned Bellagio. More than 80 percent of MGM's contributions went to Democratic lawmakers who hold majorities in both chambers of the Legislature.
In seventh, the Nevada Resort Association, an advocacy group representing the state's largest industry, and its affiliated PAC contributed $180,000.
In third place was Citizens for Justice, a PAC representing the interests of the state's trial lawyers. Perennially among the state's top campaign spenders, the group gave 43 lawmakers $269,000. That sum marks a middle ground over the last three cycles — in 2018, the PAC gave $305,000, and in 2020, it gave $203,500.
This year's trial lawyer contributions come with a wrinkle as battle lines have been drawn between lawyers and doctors over a potential proposal to end caps on medical malpractice lawsuits. Though a website to attack the move on behalf of doctors was set up ahead of the session, no equivalent doctors' PAC cracked the $100,000-donor mark. But one hospital group, HCA Healthcare ($157,500), and pharmaceutical trade group PhRMA ($112,000), did.
Though the energy industry landed ninth on the combined list of top contributors, two major utilities emerged as top individual donors — NV Energy and Southwest Gas. In a reversal from previous years that saw the state's major electric service provider top this category, Southwest Gas contributed more than $196,000 (fourth most) compared with nearly $185,000 for NV Energy (sixth most).
Even as the mining industry was among the smaller overall donors at just 14th, one single mining donor — Nevada Gold Mines, a joint venture between Barrick Gold and Newmont — emerged as the fifth-largest individual donor with $193,500 in legislative contributions. That amount accounts for nearly two-thirds of the $306,000 contributed by all mining-related donors.
Long one of the biggest economic drivers for the state, especially in Nevada' rural center, mining has come under increased scrutiny from the Legislature over sweetheart tax deals. That scrutiny culminated last session in the first substantial tax increase for the industry in years, with revenue earmarked to pay for education.
Other donors rounding out the top 10 included Karla Jurvetson ($176,800), a California-based physician and major Democratic donor, and AFSCME ($161,000), a large union representing state and local government workers.
The largest single donor of any labor group, AFSCME's contributions come as lawmakers are expected to debate substantial increases to state worker pay, amid ongoing concerns over burnout, turnover and high vacancy rates that have devastated some state agencies.
Follow the Money explained
The Nevada Independent tracked and categorized more than 8,000 donations of $200 or more from Jan. 1, 2021 through the end of the election cycle on Dec. 31, 2022.
Donors are limited to giving a maximum of $10,000 to a single candidate, but major corporations easily surpass that limit by contributing through various affiliated entities or businesses — a process sometimes referred to as bundling.
Some wealthy donors, ranging from lawyers to doctors to casino magnates, may also boost contributions to a single candidate by donating the maximum amount under their name and under their spouse's name.
Each donation was categorized by the industry or field of the organization or individual who contributed, and the entire set of donations was analyzed for patterns and trends. Our analysis has also sought to track bundled contributions where possible, linking contributions from LLCs or subsidiary companies to their largest parent company or individual donor. Total contributions from MGM Resorts International include not only money donated directly from MGM, but also from the properties it manages, for instance.
Data collected does not include donations made to losing candidates, nor does it break down small donations under the $200 threshold or fundraising activity for the many PACs or political groups that spend in support of candidates.
It also excludes Assemblywoman Sabra Newby (D-Las Vegas), who was appointed after the election and did not raise funds.
Still, the $200 threshold captures the vast majority of all the money contributed to elected lawmakers over the last two years. All legislative contributions under $200 in the 2022 cycle — more than 7,400 individual transactions — totaled just $221,000.
---
Roy Visuett contributed data analysis to this report.
This story is a part of The Nevada Independent's weekly Follow the Money series, which examines the amount of money contributed by major industries to individual state lawmakers. For a list of all our Follow the Money stories, click here.
The Nevada Independent is raising $200,000 by Dec. 31 to support coverage of the 2024 election.
Tax-deductible donations from readers like you fund this critical work.
If you give today,your donation will be matched dollar-for-dollar.
Give + Get Matched
Featured Videos