Follow the Money: Tracking more than $607,000 in legislative campaign contributions from lawyers, legal groups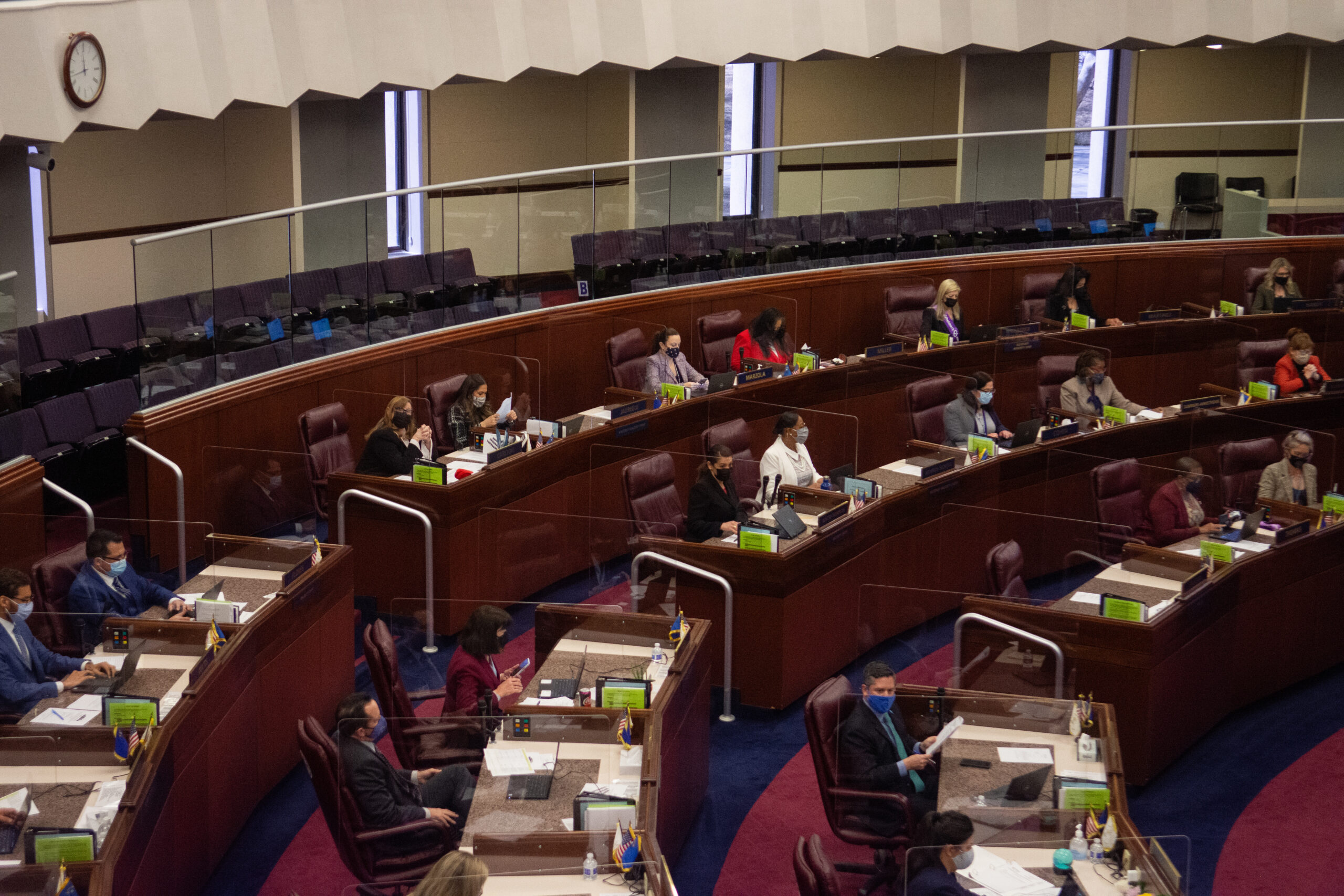 With nearly a quarter of the Legislature holding legal day jobs or with a J.D. on their wall, it comes as little surprise that law firms, legal groups and lawyers contributed more than $607,000 to legislative campaigns last cycle.
It was enough to make lawyers the seventh biggest "industry" in terms of legislative campaign contributions, though, amid the pandemic, it was still a slight drop from the $630,000 the group gave lawmakers in the 2018 cycle.
These contributions favored Democrats by a margin of more than 3-to-1, likely buoying some Democratic campaigns in an election that saw the party's hold on the Legislature slightly erode.
Though Democrats maintained control of both chambers, Republicans gained one seat in the 21-person Senate and another three in the 42-seat Assembly. They trail 12-9 in the Senate, and 26-16 in the Assembly.
In order to assess broad trends in campaign spending, The Nevada Independent categorized and analyzed more than 7,700 individual contributions of more than $200 made to sitting lawmakers in 2019 and 2020.
These contributions capture nearly all campaign spending in that period, and more generally show to whom the largest contributions flowed and how much they were worth overall.
The data in this story show only a slice of the campaign finance pie: 540 contributions from 172 contributors broadly fell under the umbrella of "lawyers and legal groups."
However, two legislators are not included in this analysis: Sen. Fabian Donate (D-Las Vegas) and Assemblywoman Tracy Brown-May (D-Las Vegas). They were both appointed to fill vacancies in February, after contributions to lawmakers were frozen ahead of the start of the legislative session.
Contributions overall favored Democrats $470,451 to the Republicans' $136,880 — with Senate Majority Leader Nicole Cannizzaro (D-Las Vegas), a deputy district attorney in Las Vegas, leading the way with $48,581 in legal-industry contributions.
Unlike many of Cannizzaro's major donors in other industries, however, no top donor gave her campaign the $10,000 maximum allowed under Nevada campaign finance law. The firm Lewis Roca led all of Cannizzaro's legal donors with a $7,000 contribution, though the firm Holland & Hart gave $6,500 and four others gave $5,000.
Other top recipients were largely Democrats, including Assemblywoman and attorney Elaine Marzola (D-Henderson) with $45,800; Assembly Speaker and public defender Jason Frierson (D-Las Vegas) with $45,250; and Assemblyman and attorney Edgar Flores (D-Las Vegas) with $30,500.
Only one Republican (and the only non-lawyer among the top recipients), Sen. Heidi Gansert (R-Reno), made the top-five recipients with $29,450, and no other Republicans cracked the top 10.
Unlike some other major industries, contributions from lawyers, law firms and legal groups were generally diffuse. Only six lawmakers received more than $20,000, with a median haul of $7,750.
Though the total amounts of legal donations received by lawmakers remained comparatively small, several of the biggest industry donors gave so much that they were among the biggest legislative donors of the entire cycle.
That includes the top three donors — the trial lawyer's PAC Citizens for Justice ($203,500) and the firms Lewis Roca ($103,000) and Kaempfer Crowell ($60,250). 
Together, those three donors combined for more than 60 percent of all legal or law firm money contributed last cycle. Expanded to the top 10 donors, big-money contributions greater than $5,000 accounted for nearly 79 percent of all industry donations.
In all, the remaining 162 smallest donors gave $128,081 in the aggregate, or about 21 percent of the total.
A trial lawyer PAC founded as a means to oppose corporate backed efforts at "tort reform" meant to restrict jury trials in civil cases, Citizens for Justice is often among the biggest legislative donors of any industry in any given electoral cycle.
2020 was no different, as the PAC doled out more than $203,000 to 36 legislators. That money widely favored Democrats, who received $180,000 to the Republicans' $23,500 in the aggregate, or a per-lawmaker average of $6,206 to just $2,257.
Almost half of the total, $90,000, came in maximum contributions to nine different Assembly Democrats, including six lawyers — Frierson, Flores, Marzola, Assemblyman Steve Yeager (D-Las Vegas), Assemblywoman Lesley Cohen (D-Henderson) and Assemblywoman Rochelle Nguyen (D-Las Vegas) — and three non-lawyers: Assemblywoman Sandra Jauregui (D-Las Vegas), Assemblywoman Brittney Miller (D-Las Vegas) and Assemblyman Howard Watts (D-Las Vegas).
Three more lawmakers, all Assembly Democrats, received $7,500, while the remaining 24 received $6,000 or less, with a median total of $5,000.
A large regional law firm with offices in five western states, including Nevada, Lewis Roca (formerly Lewis Roca Rothgerber Christie) was among the top donors in any industry last cycle with $103,000 contributed across 55 legislators, though almost all of it came in comparatively small amounts.
Those contributions also widely favored Democrats, who received about 2.8 times more than Republicans in the aggregate, $76,000 to $27,000. On average, it amounted to $2,171 for Democrats, and $1,350 for Republicans.
No single lawmaker received the maximum amount from Lewis Roca, though Democratic leaders Frierson ($9,000) and Cannizzaro ($7,000) did receive substantially more than most other recipients. One legislator, Assemblywoman Daniele Monroe-Moreno, received $5,500, while the remaining 52 recipients received $4,000 or less.
A Nevada-based firm with offices in Las Vegas, Reno and Carson City, Kaempfer Crowell gave legislators $60,250 in total last cycle, enough to make it the third largest legal donor with almost twice as much spent compared to the next-nearest donor.
Like the rest of the industry, Kaempfer Crowell's contributions favored Democrats, who received $39,000 in total compared to $21,250 for the Republicans. The difference was much smaller on average, however, with Democrats receiving just $1,258 to the Republicans' $1,118. 
The firm's contributions were universally small, in comparison to other major donors, and no lawmaker saw more than the $3,000-each given to Cannizzaro and Frierson. Senate Minority Leader James Settelmeyer (R-Minden) followed with $2,500, though the remaining 47 recipients received $2,000 or less, including 24 recipients who received less than $1,000.
Tim Lenard, Riley Snyder and Sean Golonka contributed to this report.
As part of our Follow the Money series The Nevada Independent will be publishing deep dives over the coming weeks into the industries that dominated legislative campaign spending in the 2020 campaign cycle. To see previous installments, follow the links below:
Comment Policy (updated 4/20/2021): Please keep your comments civil. We reserve the right to delete comments or ban users who engage in personal attacks, use an excess of profanity, make verifiably false statements or are otherwise nasty. Comments that contain links must be approved by admin.