Follow the Money: Breaking down more than $769,000 in gaming-industry spending on legislative campaigns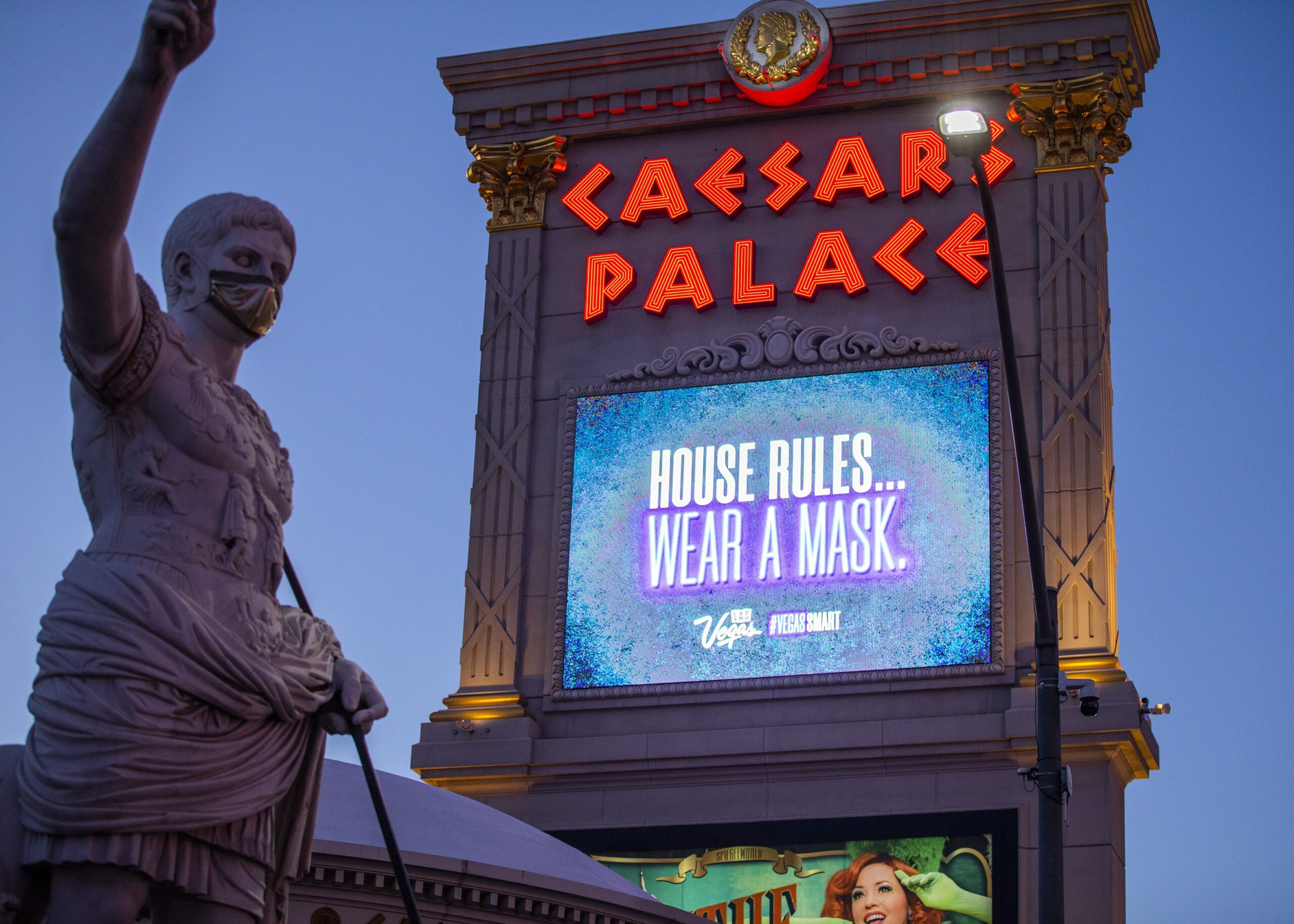 Amid the most dire threat to casino profits in the history of the Las Vegas Strip, a gaming industry hobbled by the COVID-19 pandemic still gave more than $769,000 to 52 state lawmakers over the course of the 2020 campaign cycle.
Even so, the effect of the pandemic on campaign spending was clear: Industry campaign contributions dropped by roughly 52 percent compared to the $1.6 million spent in 2018, and almost 60 percent compared to the $1.9 million spent in 2016.
Among some donors, that drop was even steeper. MGM Resorts International has for years been by far the largest single gaming donor, contributing upwards of $340,000 on average, of which more than two-thirds usually went to Democrats.
But in 2020 — in the midst of the pandemic, land sales and a broader restructuring — MGM gave just $42,000 across its properties and subsidiaries. It's a drop of roughly 88 percent compared to 2018, and it puts the casino giant in the same spending realm as Boyd Gaming ($58,000); the Meruelo Group, which owns the Sahara in Las Vegas and the Grand Sierra Resort in Reno ($52,500); and Golden Entertainment, which owns the STRAT and PT's Pubs, among other casino properties ($44,750).
These spending trends come as a backdrop to the electoral reality of the 2020 cycle. Though Democrats continued control of both houses of the Legislature — extending their state government trifecta for another two years — Republican gains chipped away at the edges of that majority. Republicans gained one seat in the Senate, where they now trail 12-9, and another three in the Assembly, where they are behind 26-16.
In order to assess broad trends in campaign spending, The Nevada Independent categorized and analyzed more than 7,700 individual contributions of more than $200 made to sitting lawmakers in 2019 and 2020.
These contributions capture nearly all campaign spending in that period, and more generally show to whom the largest contributions flowed and how much they were worth overall.
The data in this story show only a slice of the campaign finance pie: 276 contributions from 43 donors fell under the umbrella of the gaming industry.
However, it is important to note that because parent companies often contribute to the same candidates through multiple subsidiaries — a process that effectively allows the largest companies to sidestep legal limits on maximum campaign contributions — this analysis treats those contributions as if they came from the parent company in order to simplify overall spending trends.
Also of note, two legislators are excluded from this analysis: Sen. Fabian Donate (D-Las Vegas) and Assemblywoman Tracy Brown-May (D-Las Vegas). Both were appointed in February by the Clark County Commission to fill legislative vacancies, a point at which contributions to lawmakers had already been frozen ahead of the start of the legislative session.
Though 53 legislators reported receiving at least some money from the gaming industry last cycle, a vast majority of it went to just five lawmakers: Sen. Heidi Seevers Gansert ($161,000), Senate Majority Leader Nicole Cannizzaro ($106,500), Sen. Carrie Buck ($63,500), Sen. Scott Hammond ($60,500) and Assembly Speaker Jason Frierson ($59,500).
Together, those five combined to receive $451,000 in gaming contributions, or about 59 percent of all the money donated by the industry last cycle.
Based on broader trends in campaign fundraising, it comes as little surprise that these five legislators are the biggest fundraisers, as they all were either in highly competitive elections (such as Gansert (R-Reno), Buck (R-Las Vegas) and Hammond (R-Las Vegas)) or were expected to reprise a role in leadership (such as Frierson (D-Las Vegas) — or both (Cannizzaro (D-Las Vegas).
Still, no legislator saw as much gaming money as Gansert, whose $161,000 was more than a fifth of all gaming contributions. Most of that money came in the form of large contributions from the biggest gaming operators, including $30,000 from companies linked to Las Vegas Sands; $20,000 each from Station Casinos properties and companies linked to Marnell Gaming; $17,500 from Golden Entertainment and its subsidiary, American Casino and Entertainment Properties; and $10,000 each from Peppermill Casinos, the Meruelo Group, Caesars Entertainment and Boyd Gaming.
Outside the top five, legislators generally saw little in the way of gaming contributions. 37 of the remaining 47 recipients received less than $10,000, and the median legislative fundraising haul from these gaming donors was just $4,500.
While most industries will have a handful of individual donors contributing a plurality, or even majority of the campaign money, the gaming industry was unique in that it was functionally dominated by the top-10 donors, who combined for nearly 88 percent of all the industry money contributed last cycle.
This is partly because of the construction of this analysis. Contributions by properties or LLCs owned by a parent company — such as the ownership of the Venetian by Las Vegas Sands or the Sahara by the Meruelo Group — were counted under the single umbrella of the parent company.
However, the greater determining factor is simply the increased degree to which the largest gaming companies use their subsidiaries to donate $10,000 maximum contributions to the same candidates. In all, parent companies for Las Vegas Sands, Station Casinos, MGM Resorts International and Golden Entertainment all saw subsidiary companies contribute in combined amounts that exceeded $10,000 for at least one candidate.
Similar spending patterns are relatively rare across other industries, where the mechanisms for spending in excess of that maximum are usually beyond the scope of most donors. Of note, only one other major donor — Nevada REALTORS — contributed more than $10,000 to one candidate, though it did so through a trio of PACs, not corporate entities.
By far the single-largest industry donor and among the largest donors of the entire cycle, the Las Vegas Sands Corporation and two of its subsidiaries, the Venetian Resort and the Sands Expo Convention Center, gave $161,000 to just 13 lawmakers last cycle.
Even so, that total is a far cry from spending by the Sands in 2018 and 2016, when it doled out $240,000 and $310,500, respectively.
That spending could also represent a final salvo for the company in Nevada politics, where it has long been among the biggest donors under the stewardship of billionaire founder and CEO Sheldon Adelson. Widely known for his status as a Republican mega-donor on the national stage, Adelson died in January following a lengthy illness, and the company has since sold its Las Vegas properties for $6.25 billion as it signaled an exit from the Strip and a focus on foreign markets.
Most of the Sands' contributions flowed to state Republicans, with $30,000 each going to Sen. Scott Hammond, Sen. Heidi Seevers Gansert and Sen. Carrie Buck. Some Democrats did see major contributions from Sands companies, however, including Cannizzaro ($30,000), Sen. Pat Spearman (D-North Las Vegas) ($10,000) and Sen. Chris Brooks (D-Las Vegas)($10,000).
One lawmaker, Sen. Mo Denis (D-Las Vegas) received $5,000, though the remaining six — a group of five Republicans and one Democrat, all in the Assembly — received just $2,500.
With $116,000 contributed across 41 legislators from a handful of different properties, Station Casinos was one of few gaming donors to actually contribute more in 2020 than it did in 2018, when it only gave $108,500.
Station Casinos' spending clearly favored legislative Republicans, who received $66,500 to the Democrats' $49,500. On average, it meant individual Republicans received about 55 percent more than their Democratic counterparts, $3,500 to $2,250.
Station Casinos' single largest recipient was Gansert, who received $20,000 in the aggregate. One other lawmaker, Cannizzaro, received more than the maximum ($10,500), while another two — Buck and Assemblyman Tom Roberts (R-Las Vegas) — received $10,000 even.
Most other recipients generally received far less, however, and 32 lawmakers who received at least some money from Station Casinos properties saw $2,500 or less.
Contributing $108,000 across 40 lawmakers, Caesars Entertainment was another gaming donor that saw contributions tick up in a dire 2020. In comparison, the company gave legislators $92,000 in the aggregate in 2018, making Caesars just the eighth-largest industry donor at the time.
Though spending from Caesars slightly favored Democrats overall — $56,500 to the Republicans' $51,500 — individual Republicans still received more money on average, $3,218 to the Democrats' $2,354.
Three lawmakers, Frierson, Gansert and Assemblywoman Heidi Kasama (R-Las Vegas), received the $10,000 maximum, while another three, Cannizzaro ($8,500), Hammond ($7,000) and Assemblywoman Daniele Monroe-Moreno (D-North Las Vegas) ($7,000), saw larger-than-average contributions.
Most recipients received far smaller amounts, however, including 32 legislators who saw $2,500 or less.
Tim Lenard, Riley Snyder and Sean Golonka contributed to this report.
As part of our Follow the Money series The Nevada Independent will be publishing deep dives over the coming weeks into the industries that dominated legislative campaign spending in the 2020 campaign cycle. To see previous installments, follow the links below:
Featured Videos
Comment Policy (updated 4/20/2021): Please keep your comments civil. We reserve the right to delete comments or ban users who engage in personal attacks, use an excess of profanity, make verifiably false statements or are otherwise nasty. Comments that contain links must be approved by admin.