Follow the Money: Major businesses, developers behind Lombardo's $10M fundraising effort
While hotel mogul Robert Bigelow was the governor's primary backer throughout the campaign, gaming giants came out in force with funding after his election win.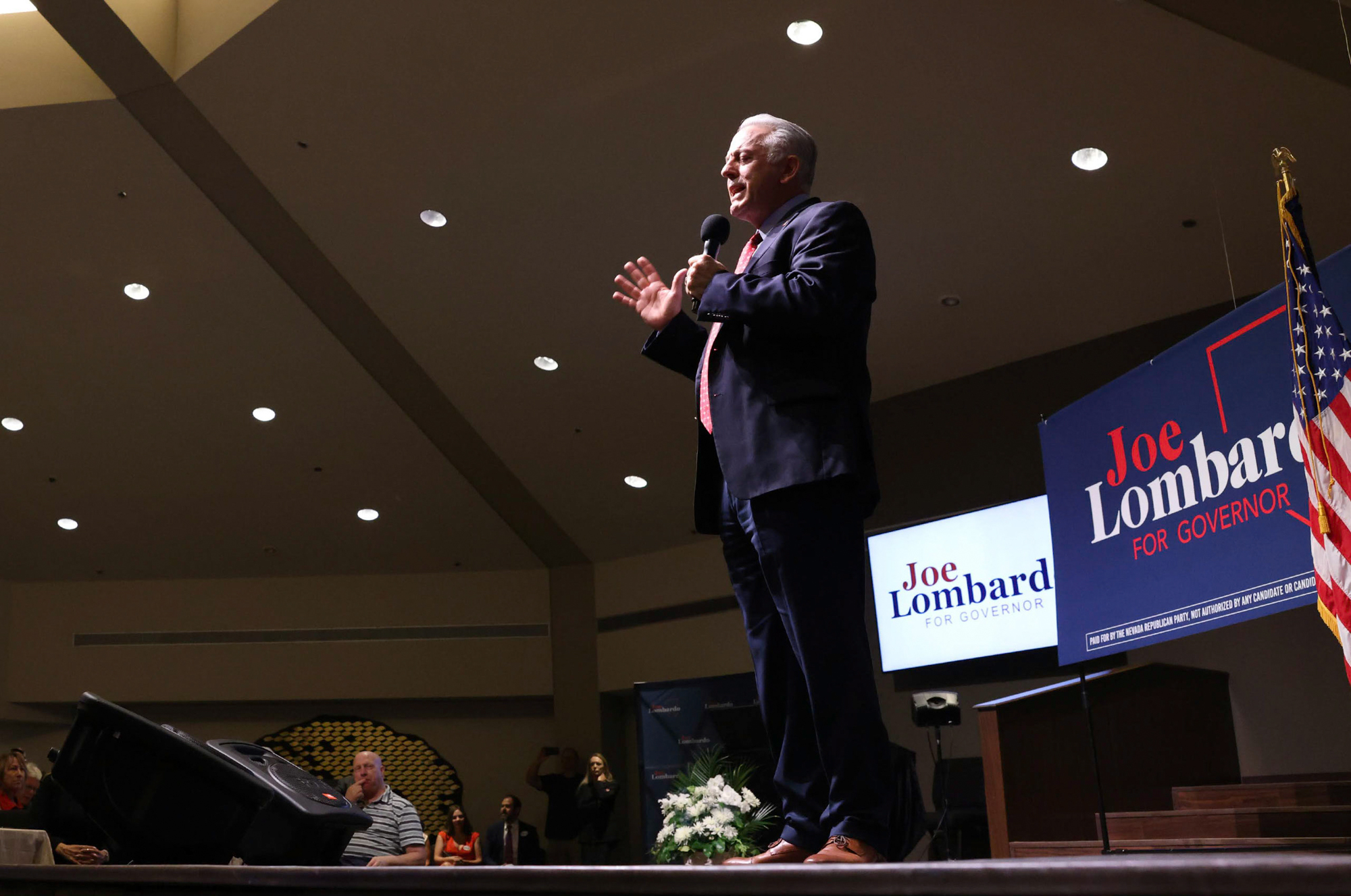 On his path to taking the governor's mansion last November, Joe Lombardo drew support from hundreds of big-money donors, with the majority coming from large businesses and developers, according to an expansive new analysis by The Nevada Independent of thousands of campaign contributions that underscore how major candidates are often financed through "bundling" arrangements that experts say skirt the spirit of campaign finance laws.
The former Clark County sheriff's victory — bolstered by $8.1 million in big-money contributions ($200 or more) — made him the only Republican to unseat a Democratic governor last year, even though he was outraised by a 3-2 margin through Election Day by his opponent, incumbent Gov. Steve Sisolak.
Despite the fundraising gap, Lombardo's most prolific donors reflect his strong base of support as a candidate favored by businesses frustrated with Sisolak's leadership during the COVID-19 pandemic.
While Sisolak benefited from his incumbency and a powerful Democratic fundraising machine, the financial gulf was partially closed by billionaire Robert Bigelow, who contributed millions of dollars to pro-Lombardo PACs and was also the largest individual donor to Lombardo's campaign through Election Day, providing maximum $10,000 contributions using 19 of his own companies.
After the dust of Lombardo's victory settled — raising nearly $2 million between the end of Election Day and the end of 2022 — his other top donor emerged. MGM Resorts International, a global gaming giant with more than a dozen hotels on the Las Vegas Strip, contributed more than $300,000 to Lombardo, nearly all of it just two weeks before he assumed office.
Why give after an election? Even months after Lombardo's electoral victory, the governor's top contributors maintain strong vested interests and support his actions leading the state, whether it be cutting back regulations, aggressively supporting entrepreneurship and economic development or approving legislation that could land a new Major League Baseball stadium in the heart of Las Vegas.
The Nevada Independent compiled and analyzed more than 3,700 contributions of $200 or more reported by Lombardo's campaign during the time period from Jan. 1, 2021, to Dec. 31, 2022. Each contribution was categorized based on the industry it came from, such as gaming or health care, and then further analyzed for patterns.
Despite being subjected to the same fundraising limits as legislative candidates, gubernatorial campaigns often benefit through contribution bundling, wherein a web of interconnected business entities make multiple contributions, each at or below legal limits, to the same candidate.
Aaron McKean, legal counsel with campaign finance watchdog Campaign Legal Center, said in an interview that contribution limits are in place to help ensure that elected officials are accountable to the people rather than "wealthy special interests that happened to fund their campaign."
"That undermines our own system of government because it's supposed to be for the people and not for just the handful of wealthy interests who can spend hundreds of thousands of dollars on campaign money," McKean said.
Despite making big contributions, entities used for bundling are often obscure — real estate holding companies or limited liability companies with alphanumeric names with only a P.O. Box for an address. The Nevada Independent analyzed and cross-checked thousands of these contributions to find connections to major corporate donors, especially in the gaming industry.
Though this data captures the vast majority of Lombardo's campaign fundraising, it does not include the full breadth of the record-setting 2022 election cycle and governor's race in Nevada, such as the $12 million Sisolak raised or the millions of dollars spent by outside groups, due to the scope of analysis required to include thousands of additional contributions.
The breakdown below captures a broad picture of Lombardo's many sources of campaign funds, from gaming giants and the newest Republican megadonor to dozens of other companies that legally circumvented campaign contribution limits by bundling donations.
Nearly a year into Lombardo's term, the data also underscores the politics of a new governor who has pursued his own policy vision in a Democrat-controlled Legislature while juggling the pressures from outside businesses who helped get him to Carson City.
Click here to find out more about how the biggest donors doled out their funds to lawmakers.
Big donors skirt the limits
Despite a state law that limits individual contributors from giving more than $10,000 to a single candidate in an election cycle — $5,000 for the primary election and $5,000 for the general — about 60 individual donors and companies sidestepped this limit by giving through subsidiaries, family members and other creative mechanisms.
Leading the way, as it did for Sisolak in his 2018 win, was MGM, with $315,000 in contributions, almost all of which was given after Lombardo's victory. The contributions came from a mix of obscure business entities, such as "550 Leasing Company II LLC," and major Strip properties, such as the Luxor Hotel and Casino, but nearly all contributions originated from the same Las Vegas-based P.O. Box.
Other gaming companies also gave big. Boyd Gaming contributed $150,000, primarily through various casino properties the company owns. The Fertitta family (led by brothers and Station Casinos leaders Frank Fertitta III and Lorenzo Fertitta) contributed $110,000. Caesars Entertainment gave a combined $100,000.
Bill Foley, chairman of Fidelity National Financial and owner of the Vegas Golden Knights, gave $135,000 to Lombardo. Along with the Fertitta family and Caesars, he made all of his contributions only after Lombardo won the election.
Prior to Lombardo's win, Bigelow — the billionaire owner of Budget Suites of America, a low-income, long-term stay motel chain, and founder of an outer space technology company — was the faraway leading contributor to his campaign.
Using myriad business subsidiaries with obscure names, such as "Bigelow Arizona TX336, LP" and "Sun Harbor Budget Suites LLC of NV," Bigelow contributed $95,000 to Lombardo in August 2021 and another $95,000 after he won the primary election in June 2022.
Lombardo is far from the only candidate to benefit from these bundled contributions. In 2018 and 2022, Sisolak received major funding from MGM and other gaming companies well above the $10,000 limit.
Even if that level of funding does not lead to corruption, McKean said the public should have information about "where the money comes [from]" and transparency on the politician's actions in office.
After almost a year in office, Lombardo has already found himself on the same side of key issues as some major donors.
In June, Lombardo convened a special legislative session to establish a public funding package for a professional baseball stadium for the Oakland A's on the Las Vegas Strip — with the location restricted to the land currently housing the Tropicana. Bally's, the Tropicana's parent company, was not among the top Lombardo gaming donors. But five MGM-controlled properties on the Strip with more than 13,000 rooms are next to the site, leaving MGM as one of the primary beneficiaries of the team's potential relocation to Vegas.
Kenneth Miller, a UNLV political science professor with expertise in campaign finance, said in an interview that unlike at the federal level, Nevada has no rules against corporations donating from their own treasuries to candidates — only rules against a single discrete entity donating more than $10,000. That means in Nevada, he said, companies "can just form new corporate entities ad infinitum, and then continue to donate to the max level."
Miller said that creates a potentially uneven playing field, where a single well-funded donor has an advantage over someone who is capped at giving $10,000.
"Not having a prohibition on corporate donations at the state level leaves us vulnerable to exactly this," he said. "They're going to pay more attention to the $200,000-person's interests, probably."
Several of Lombardo's top donors — including MGM, Bigelow, Boyd and Caesars — did not respond to requests for comment.
Other individuals who appeared among Lombardo's top donors included James Nave, a veterinarian who gave $90,000 through a variety of Las Vegas-area animal hospitals, and Tommy White, the longtime Laborers Local 872 boss who gave $50,000 using several business entities that co-opted the names of prominent political groups, including "G.O.P." and "DNC PAC."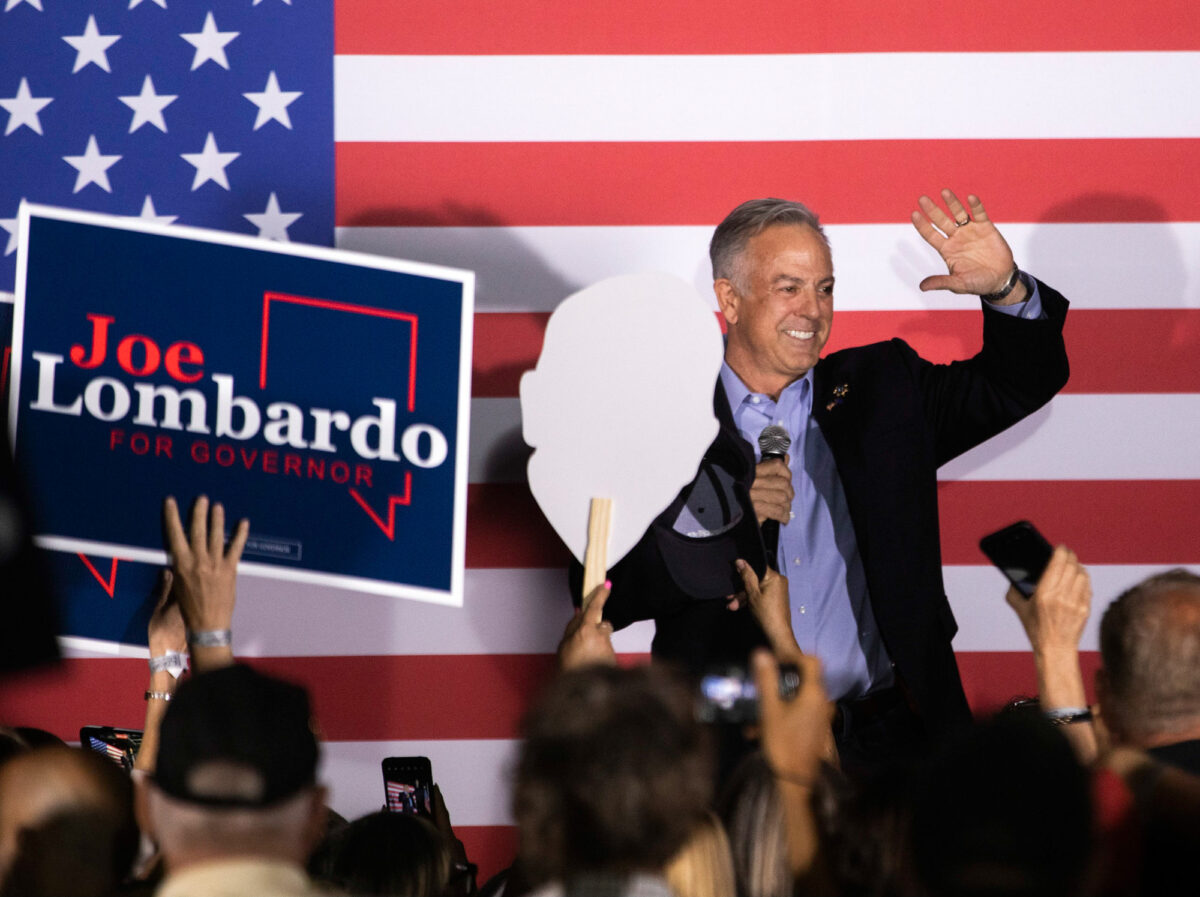 A pro-business, pro-development governor
Across nearly two dozen groups of donors, general business interests ($2.7 million) and companies involved in real estate and commercial development ($1.7 million) ranked as the biggest industries donating to Lombardo.
Donors in the business category include a broad range of service companies, such as waste and recycling group Republic Services ($30,000); wealthy individuals, such as gambler and entrepreneur Billy Walters ($50,000); and others that do not fit squarely into other categories, such as Langley Productions, ($50,000), a California-based company that produces the reality show COPS (which Lombardo once appeared on as an officer).
The real estate and development category includes some major individual developers, including Bigelow ($190,000); industry groups, such as the Nevada Home Builders Association ($20,000); real estate agents, such as Donna Ruthe ($20,000); and construction and contracting companies involved in development, such as XL Concrete Masonry ($20,000).
These big-money donors stood to benefit the most from a Republican who made the economy a central issue of his campaign and firmly declared in his first State of the State address that "Nevada is back open for business." In that speech, he proposed increasing the threshold for the Commerce Tax, an annual tax on gross business revenue exceeding $4 million in a year (a policy that failed to advance this year through a Democrat-controlled Legislature).
In the wake of the legislative session, Lombardo vetoed a raft of bills meant to support affordable housing and tenant protections, citing concerns about placing additional burdens on the rental market. That position landed him on the same side as several real estate groups and landlords, who expressed opposition to potential rental caps and changes to the state's eviction processes.
After assuming office, Lombardo quickly moved to streamline state regulations and professional licensing requirements. That included working with the Gaming Control Board to speed up technology approvals and repeal outdated regulations — moves aligned with another key category of donors.
The gaming industry collectively contributed nearly $1.7 million to Lombardo, though nearly half that amount came only after the election.
Miller said though contributions may not be tied directly to specific votes, there is a connection "between money and access." He described the top categories of donors — businesses, real estate and development interests and gaming — as groups "interested in maintaining good relations with government and maintaining a high level of access."
"So it's not as much as they're picking winners as much as they're backing expected winners," he said.
Miller also said that Lombardo attracted interest from big economic players because he could appeal to independents and has compromised on social issues such as abortion, particularly because he's had to work with a Legislature controlled by Democrats.
"The further you get from the center, the less attractive you are to business interests," he said.
These business interests contributed to both Lombardo and Sisolak.
Foley, for example, through a variety of subsidiaries of Fidelity National Financial, gave $125,000 to Lombardo — but that came months after he gave Sisolak nearly $200,000 in 2021, and years after he was one of 2018 Republican gubernatorial nominee Adam Laxalt's biggest donors.
Even outside the biggest donors, some contributors ended up working closely with the governor.
NV Energy, a Berkshire Hathaway-owned company that serves as the state's primary electric utility and a perennial top Nevada political donor, contributed $40,000 to Lombardo through bundled contributions.
In March, Lombardo signed an executive order calling for a balanced approach to natural gas and renewables and aligning generally with the company's goal of building more in-state energy generating resources.
A company spokesperson said in a statement to The Nevada Independent that "NV Energy appreciates the collaborative relationship with" Lombardo and highlighted their focus on "developing sufficient electric generation and transmission."
Bigelow's backing
Lombardo's access to Bigelow's money helped him stay competitive in a race that Sisolak often dominated in terms of fundraising. McKean noted that someone with deep enough pockets can provide "enormous sums" to outside groups unchecked by the same contribution limits on candidates to essentially run "unending TV ads."
Bigelow directed more than $25 million — far more than Lombardo raised alone — to the Republican Governors Association and a combination of in-state PACs, which spent those funds primarily to support Lombardo.
"There's no doubt that the candidate knows if an industry or a wealthy donor is spending on their behalf, regardless of whether that contribution is direct to the candidate, or if they're doing it through a super PAC, supposedly independently of the candidate," McKean said. "They might take that into consideration when they're making decisions in office, and that's what we have to guard against."
That money was not lost on Democrats. During the waning days of the 2022 election, Sisolak sought to portray Lombardo as a "puppet" of Bigelow, dubbing him "Bigelow Joe" and accusing the billionaire of trying to "buy this election."
Another Sisolak ad hammered Lombardo on the Bigelow donation total — more than $25 million at the time — and aimed to tie Bigelow's opposition to the Democrat over pandemic-era eviction limitations backed by Sisolak.
Sisolak declined a request from The Nevada Independent to discuss the 2022 election.
In an emailed response to questions, Lombardo campaign consultant and longtime Republican strategist Ryan Erwin told The Nevada Independent that, "Whether we like it or not, fundraising is an important part of modern campaigns."
"Despite being outspent by a wide margin by our opponent and allied organizations last year, Gov. Lombardo proved that good candidates with compelling stories and responsible plans for the state's future can overcome campaign funding disparities," he wrote in an emailed statement.
To that end, Erwin argued that fundraising — big dollars or small — was only part of the campaign equation, and touted Lombardo's support as both "wide and deep."
"Any successful large-scale campaign requires a good candidate, message, team, strategy, and execution but it also requires securing the resources necessary to communicate with voters," Erwin said.
Minimal backing from cannabis industry, unions
In a sharp departure from a coalition that helped carry Sisolak to victory in 2018, less than 1 percent of Lombardo's campaign haul came from individuals or groups representing unions or the cannabis industry.
Donors linked to the cannabis industry or unions gave just $95,000 to Lombardo in his campaign out of the more than $10 million raised. By contrast, Sisolak received more than $1.1 million from the two groups in his initial 2018 gubernatorial run, making up more than 10 percent of his total fundraising haul.
Miller described some differences between their donor bases, noting that gaming companies are invested in having access to both sides, while unions are more likely to back Democrats.
Even still, Sisolak's main donors in 2018 primarily came from the business, real estate and gaming industry ranks, just like Lombardo. Half of the money Sisolak raised in 2018 came from those industries, while more than 60 percent of Lombardo's haul were from those sectors.
What comes next?
Lombardo entered Carson City this January facing a Democratic supermajority in the Assembly and near-supermajority in the Senate. He left the legislative session with a record 75 vetoes, and much of his policy agenda watered down.
After 2021 redistricting tilted maps toward Democrats, party leaders are aiming to expand their majority once again — targeting a supermajority that could override Lombardo's vetoes altogether.
Though the governor won't face re-election until 2026, he's endorsed a suite of legislative candidates this year in competitive races, while a PAC supporting him — Better Nevada PAC — has sought to undermine incumbent Democrats through a social media and traditional media blitz tied to links between individual lawmakers and nonprofit entities that received millions from the so-called "Christmas tree" bill passed at the close of this year's legislative session (which Lombardo signed).
Lombardo's strategists are optimistic.
"​​We anticipate that he will have the resources necessary to win re-election in 2026 as well as help other strong candidates win important campaigns in 2024 and 2026," Erwin said.
---
Eric Neugeboren contributed visuals to this story. Roy Visuett contributed data assistance to this report.
The Nevada Independent is raising $200,000 by Dec. 31 to support coverage of the 2024 election.
Tax-deductible donations from readers like you fund this critical work.
If you give today,your donation will be matched dollar-for-dollar.
Give + Get Matched
Featured Videos