Follow the Money: Big-money donors drove more than $11 million in fundraising for Sisolak's 2018 bid for governor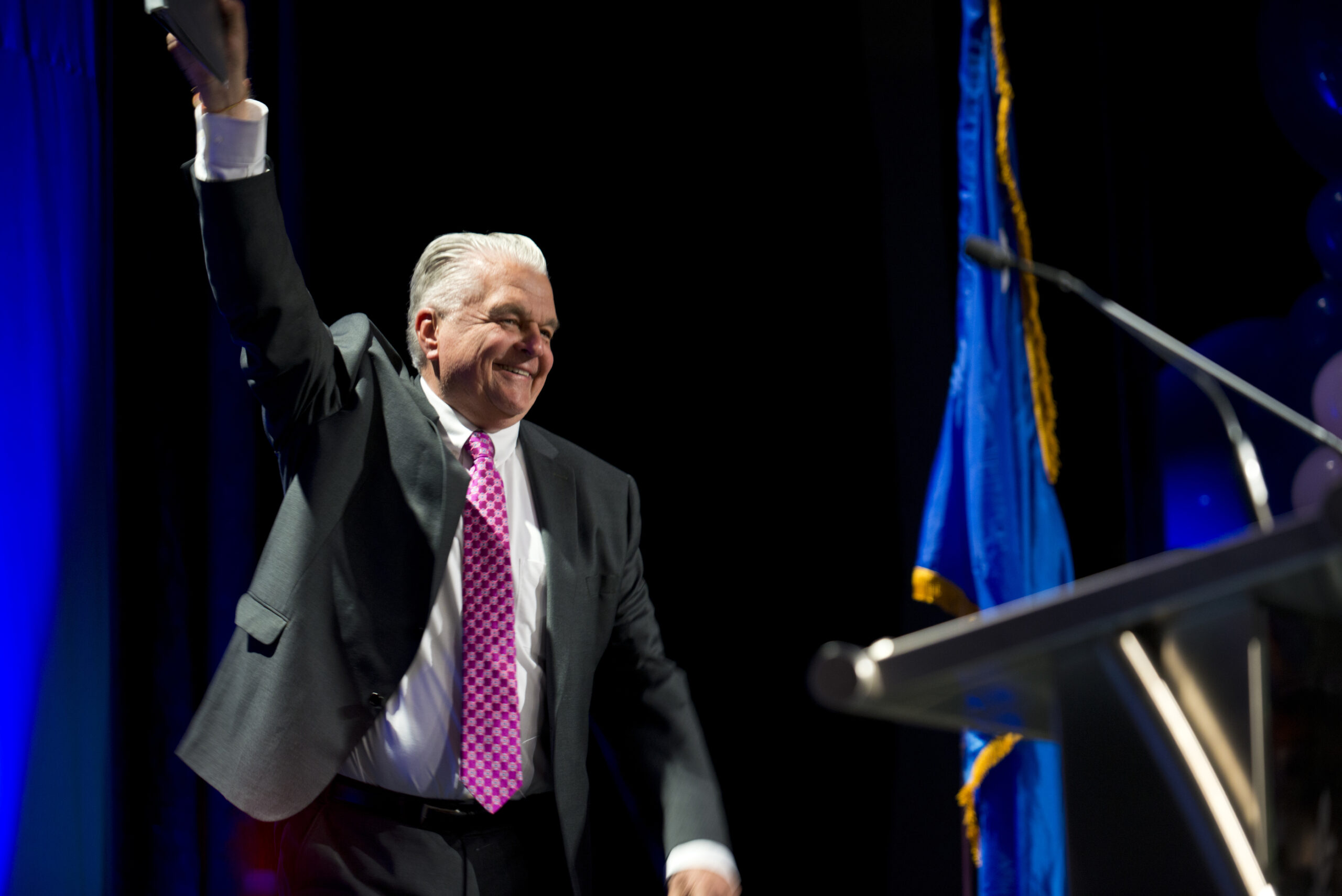 When Steve Sisolak became the first Democrat to take the governor's mansion in Nevada in two decades, he did it with thousands of big-money donors who gave the former Clark County Commission chair millions in campaign cash.
In tandem with small-dollar fundraising, Sisolak raised more money than any candidate for governor in state history — more than $11.3 million through 2017 and 2018, $11.1 million of which came from contributions of $200 or more.
A vast majority of that money — $10.2 million — was raised during his months-long effort for the governor's mansion, with $4.4 million brought in for a contentious primary race against fellow Commissioner Chris Giunchigliani, and another $5.8 million raised during the general election contest against then-Attorney General Adam Laxalt.
The last $900,000 came after the election, at a time when donors look to give money to Carson City winners in a tight window before the legislative session starts and fundraising activities are frozen.
But while totals are easy to find within the state's campaign finance database, parsing that data to glean context can be difficult and time-consuming. Many donors are limited liability companies with names tied to addresses, not corporate owners, and addresses linked to P.O. boxes or faceless corporate buildings can easily mask the source of a $10,000 contribution.
The Nevada Independent tracked nearly 3,400 large donations, or those contributions of $200 or more, during the time period from January 1, 2017 to December 31, 2018. Each contribution was then categorized before being analyzed for meaningful patterns or trends.
This dataset, though it covers much of the money raised by Sisolak, does not capture all of the money poured into the race — including contributions made by numerous political action committees or other outside groups — nor does it capture the scope or nature of more than $8 million raised by Laxalt, who like Sisolak, also buoyed his effort with a bevy of ads from PACs and super PACs.
The data offers a broad picture of many sources of campaign dollars, from the stalwart gaming empires on the Strip to the burgeoning industry for legal marijuana — many of whom legally circumvented limits on donations by bundling hundreds of thousands of dollars in contributions from a wide swath of little-known but interconnected business entities. It also provides a window from which to view the policies and promises of a new governor who must juggle his priorities not only within the context of a hectic legislative session, but also with the pressures of dozens of industries that helped him into office jockeying for dozens of different outcomes.
Skirting the limits
Campaign finance law generally has long limited the amount any individual contributor can give to any one candidate, and as of 2015 Nevada set a $10,000 limit  — $5,000 for a primary election and another $5,000 for a general — on total contributions by individuals or corporations to candidates for office.
By using multiple subsidiaries, all donating the $10,000 maximum as "individual" donors, these corporations and individuals can donate tens of thousands to their candidate of choice in a single day.  
For Sisolak, the biggest bundlers were led in large part by some of the state's gaming giants: companies or individuals linked to MGM Resorts International gave more than $352,000, while Station Casinos properties or members of the Fertitta family, which helms the company, gave more than $182,000.
Many of those contributions came on the same day, such as $100,000 in donations from MGM-linked companies on December 20, 2017, or another $150,000 given on September 10, 2018. They came from a number of the company's many properties, including the Mirage and the New York New York, but also from obscure LLCs such as 550 Leasing Company II, LLC and AC Holding Corp — all linked to MGM Resorts International.
Other casinos also bundled sums that, in the aggregate, far outstripped the statutory limit for a single donor, corporate or otherwise.
Companies linked to the Meruelo Group, which owns the Grand Sierra Resort in Reno and the SLS Las Vegas, gave Sisolak $100,000, while gaming mainstays Caesars Entertainment ($89,500), Boyd Gaming ($66,500), Golden Entertainment ($60,000) and Eldorado Resorts ($26,500) all used multiple properties to contribute more than the legal maximum.
Several of Sisolak's largest donors contacted by The Nevada Independent — including MGM Resorts International and Station Casinos — did not respond to a request for comment.
Some wealthy individuals also used bundling to bypass limits. Though they gave far more to his opponent, companies linked to Fidelity CEO and Vegas Golden Knights owner Bill Foley contributed $35,000 to Sisolak's campaign in 2018, and more than $100,000 when accounting for contributions stretching back to 2016.
There was also Brian Greenspun, owner of the Las Vegas Sun, who used a handful of subsidiaries to give Sisolak $50,000, as well as jailed gambler and developer Billy Walters, whose wife and former businesses contributed $100,000 in the last month before the election. The 72-year-old Walters, a longtime supporter of Sisolak, was sentenced to five years in prison and a $10 million fine over his role in a $43 million insider trading scheme in 2017.
There were also a number of contributions totaling $80,000 from members of the Yemenidjian family, whose patriarch Alex once helmed MGM Resorts as president and director through the 1990s and early 2000s. His son Armen, another big Sisolak booster, sold his marijuana company Integral Associates, which owned local Essence dispensaries, for $290 million late last year.  
Many of these donors, especially large corporations, will spread money across the campaigns of both Democrats and Republicans, wanting a seat at the table no matter who wins.
But it's that dual-spending which can produce scenarios such as a $1.2 million negative ad blitz targeting Sisolak last October, all from a super PAC that received $100,000 from Station Casinos in late 2017. Though that contribution long predated the eventual attack ads, it illustrates a messy reality of money in politics, especially as thousands or sometimes millions of dollars are routed through myriad PACs and super PACs.
For its part, Station Casinos gave Laxalt no direct financial support after 2017, though campaign finance documents show company subsidiaries and members of the Fertitta family did give the then-attorney general more than $100,000 in the run-up to the 2018 Republican primary.
Outside the largest bundling-donors, hundreds of others — 495 in all — reported giving Sisolak the maximum $10,000; dozens more gave in two chunks of $5,000. That long list includes national Democratic mega-donors such as California billionaire Tom Steyer and his wife, Kat Taylor, and ex-New York City Mayor Michael Bloomberg. There were also wealthy businessmen from across the country, including Los Angeles Chargers owner Dean Spanos and Panda Express CEO Andrew Cherng, as well as dozens of local lawyers, law firms and real estate developers.
Businesses, real estate dominate top-contributing industries
Although more than a dozen different industries contributed to the Sisolak campaign, just four overshadowed the rest: business interests ($2.14 million), real estate companies and developers ($2.07 million), the gaming industry ($1.4 million) and law firms or lawyers ($1.1 million).
Together, they account for nearly two-thirds of all money raised by Sisolak through 2018, more than $6.7 dollars.
The vast bulk of those businesses that gave to Sisolak were retailers or businesses in the service industry, such as  $30,000 from the owners of Town Square in Las Vegas.  
Real estate companies and developers also gave en masse, contributing $10,000 more than 90 times. That list includes several more bundlers, including already-mentioned companies linked to Walters, as well as apartment operator WestCorp Management Group, which used five LLCs to contribute $50,000, including $40,000 given on a single day.
And though tying contributions directly to legislation is impossible, several bills that would have had major impacts on the real estate industry were scuttled in the waning days of the legislative session. That includes a tenants' rights bill that one developer called a "slap in the face" during a legislative hearing, though parts of the bill were later resurrected elsewhere in the last-minute scramble before the session ended.
Another measure that would set aside $10 million a year in tax credits as an incentive to build affordable housing in the state was passed by the Legislature and awaits the governor's signature.
Predictably absent, however, were companies linked to Las Vegas Sands, the company owned and controlled by Republican mega-donor Sheldon Adelson which spent more than $123 million on GOP causes in 2018. That includes millions spent on the Laxalt-boosting Republican Governors Association Nevada PAC — which received $5 million from the Sands in 2016, the most recent year for which records are available — and in turn spent more than $9 million on pro-Laxalt messaging through 2018.
In total, the Sands gave Sisolak just $20,000.
Lawyers and law firms, more so than any other industry, were split into hundreds of individual donors giving a few thousand dollars apiece, with only 37 of those donations reaching the $10,000 maximum.  
But one industry which gave comparably little, at least directly to Sisolak, was organized labor. In total, 69 separate unions contributed $409,000, or about 3.7 percent of his total — a sum dwarfed by the other usual suspects. Instead, those unions gave millions in 2018 through outside PACs, for which spending is not limited by law.
Much of that money was contributed by the American Federation of State, County and Municipal Employees, which spent more than $3.7 million through 2018, largely on the governor's race.
Marijuana industry spent most of its money on Sisolak — not the Legislature
With more than $723,000 spent on Sisolak's campaign, the state's nascent legal marijuana industry gave nearly eight times more money to the governor than it did to all 63 members of the legislature combined.
Much of that spending, like other large industries, was fueled by a number of companies bundling multiple maximum contributions. The lead contributor — companies and individuals associated with California-based MedMen — gave Sisolak $80,000 across two years, while entities related to Terra Tech and Integral Associates, owner of Essence Dispensaries, gave $40,000, each.
Other major donors include Deep Roots Harvest and Euphoria Wellness ($35,000 each), Growblox Sciences ($25,000), and a number of companies giving $20,000, including Bloomfield Industries, Silver Sage Wellness and Cannabiotix.
In all, 53 companies or individuals gave the $10,000 maximum. For comparison, none of the state's 63 legislators received more than $5,000.  
Those contributions came as the state looked to weigh new regulations for the budding industry, largely shrouded in secrecy after the sale, cultivation and use of recreational marijuana was legalized in 2017.
In charge of the Tax Department which oversees the industry, Sisolak would come to play an outsize role in shaping regulations. The issue was a key part of his platform, and his State of the State address prominently featured a promise to create a Cannabis Compliance Board meant to review the existing regulatory scheme.
The Legislature followed up in the final days of the legislative session, introducing AB533 last month among a spate of other pot-centered legislation. Sponsored on behalf of the governor's office and ultimately passed by the Legislature, it would create a Cannabis Advisory Commission, separate from the existing board, that would take over pot regulations from the Department of Taxation.
The governor also signed a bill last month that meant to dramatically increase transparency in the industry. Immediately after it was signed into law, the Tax Department released thousands of documents in a data trove that outlined for the first time the people and businesses who had won the state's coveted dispensary licenses.
Putting the numbers in context
Overall, Sisolak was among the upper echelon of fundraisers in Nevada's "blue wave" of 2018, outraising all four of Nevada's representatives in the House combined. His fundraising effort also largely outpaced his Republican opponent, Laxalt, who brought in just $8.6 million in his bid for governor.
Sisolak's fundraising totals are also historically high for a governor's race in Nevada in the last few campaign cycles, more than doubling the $5 million Republican Gov. Brian Sandoval raised during his successful 2010 campaign, the last competitive governor's race this decade.
Still, Sisolak's campaign was relatively low-cost compared to many of 2018's highest profile governor's races. In Georgia, where Republican Brian Kemp defeated Democrat Stacy Abrams, the candidates raised more than $50 million combined, while in Florida, Republican Ron DeSantis and Democrat Andrew Gillum together raised nearly $38 million
However, both states are substantially larger the Nevada — if only in population — which accounts for much of the discrepancy.
Even in Nevada, Sisolak's race played second fiddle to then-Rep. Jacky Rosen's bid to unseat Republican Dean Heller in the Senate ($40.6 million total) and the enormously expensive campaigns on both sides of Question 3, also called the Energy Choice Initiative, which drew total fundraising north of $100 million.
One of the defining elements of Republican messaging in Nevada throughout 2018 was the hyping of a "Californication" of Nevada by liberal coastal elites. In particular, attacks on Rosen centered on reports that from quarter to quarter, between 20 and 25 percent of her campaign cash came from California.
And though he was targeted by Laxalt over the same issue — Californication — Sisolak's war chest bore little resemblance to Rosen's. Just 6.5 percent of his contributions came from the Golden State, while roughly 82 percent came from Nevada.
Broken down further, Sisolak brought in big-money contributions (more than $200) from 41 states and D.C., with California (6.5 percent), Washington D.C., Florida and New York (roughly 1.5 percent each) forming the vast bulk of out-of-state giving. And in Nevada, specifically, Sisolak was sustained by the South; just 9 percent of contributions came from addresses in Reno, Sparks or Lake Tahoe.
There is also the matter of political action committees, which have helped to balloon spending on American campaigns and elections over the last few decades. It's no different in Nevada, where political action committees and other outside groups poured more than $27 million into the governor's race by the final weeks of the campaign.
Updated at 11:45 a.m. on 6/10/19 to include additional context on a contribution by Station Casinos to a pro-Adam Laxalt super PAC
Jodie Snyder contributed to this report.
The Nevada Independent is raising $200,000 by Dec. 31 to support coverage of the 2024 election.
Tax-deductible donations from readers like you fund this critical work.
If you give today,your donation will be matched dollar-for-dollar.
Give + Get Matched
Featured Videos