Gun free zones in casinos, increasing justice court fees and licensing midwives among many casualties of legislative session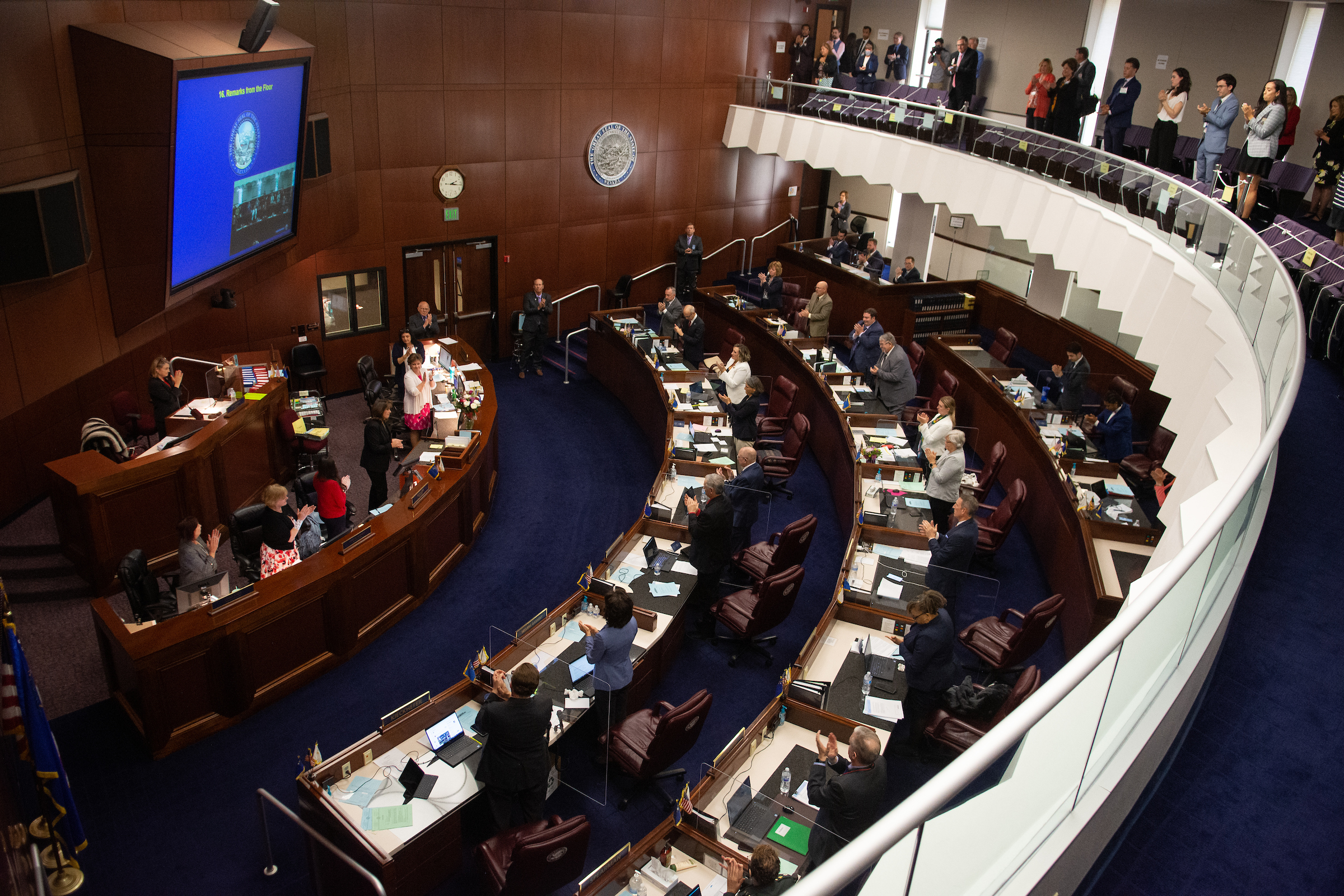 Lawmakers ended the 81st session of the Legislature on Monday night passing dozens of high-profile measures but many others, including an effort to license midwives and a bill allowing casinos to prohibit firearms, failed to advance.
Out of roughly 1,000 bills and resolutions introduced during the 120-day legislative session, more than 400 measures failed to pass through the Senate and Assembly and make it to Gov. Steve Sisolak's desk. Many bills were left for dead at deadlines for committee or house passage, but some — including an effort to increase justice court filing fees — were in limbo until minutes before the clock struck midnight on Monday.
Other major bills that failed to advance included a measure aimed at transitioning Nevada residents away from natural gas use, several affordable housing bills and a bill that would have abolished the death penalty.
Here's a look at some of the bills that died at the end of the session:
SB452: Prohibiting guns on casino properties
In the waning weeks of the session, Senate Majority Leader Nicole Cannizzaro (D-Las Vegas) revived discarded portions of the session's other major gun bill in the form of MGM Resorts-backed AB452, which aimed to grant casino resorts greater authority to ban firearms on their premises.
When Cannizzaro presented the bill, which would have required non-restricted gaming license holders (defined as more than 15 slot machines on property) to opt in to the provisions and would have prohibited individuals from bringing firearms onto casino property with certain exemptions, she described the measure as a way for lawmakers to further protect workers on the Las Vegas Strip.
Supporters said that the bill would largely mirror prohibitions on firearm possession at schools and libraries, but opponents — a broad coalition of Republicans, gun right advocates and criminal justice reform organizations — argued it would create uncertainty for gun owners and have a disparate racial impact.
The measure narrowly passed through the Senate in a 11-10 vote on Wednesday, but failed to receive a vote in the Assembly before sine die. During the joint committee hearing on the bill, many Assembly Democrats questioned its merits and expressed concerns about how the measure would affect minority communities.
"We are going to have situations where Black folks and brown folks are going to be the ones who are going to be not asked to leave, but who are going to be the ones that the police are called on," said Assemblywoman Shondra Summers-Armstrong (D-Las Vegas) during the hearing.
AB387: Midwifery licensure board
Nevada is the only state in the west that does not license midwives, but a proposed Board of Licensed Certified Professional Midwives nearly became a reality this session after falling just one vote short of a needed two-thirds majority late Monday evening.
During the last day of the legislative session, the Senate voted 13-8 on Democratic Assemblywoman Daniele Monroe-Moreno's AB387, with Sens. Heidi Seevers Gansert (R-Reno) and Ben Kieckhefer (R-Reno) joining most Democrat senators in support. Sen. Mo Denis (D-Las Vegas) joined the Republican senators against the measure, ensuring the bill fell short of the needed two-thirds majority (because the bill required fees for licensure).
The Assembly had previously passed the bill and its amendments with a 28-14 vote on May 28.
The board would have been responsible for establishing an optional licensure process for practicing midwives and also would have set training and education requirements.
An emotional hearing in the Assembly Committee on Commerce and Labor took place in April, in which several mothers shared their experiences with midwives and desire to have birth freedom while also having certain regulations and protections in place for all parties.
Opposition to the measure was just as passionate, with opponents arguing that the board would overly restrict birthing options and punish midwives who may not want to be licensed or who have learned through apprenticeships rather than in a formal environment.
SB437: Increased fees for justice court actions
An effort to double administrative fees for actions within the state's justice courts fell two votes short of the two-thirds majority needed to pass on the last day of the session.
SB437, which would have increased the fee from $1 to $2 on the commencement of any action in a justice court for which a fee is required, in order to help fund the work of the state demographer within the Department of Taxation, passed through the Senate in mid-May on a 14-7 vote, but only after Sens. Kieckhefer and Pete Goicoechea (R-Eureka) switched from nay to yea votes.
Members of the Assembly then voted 26-16 along party lines on the measure, falling two votes short of the 28 votes needed to pass with a two-thirds majority. Republicans opposed to the bill, which was sponsored by the Senate Finance Committee, expressed confusion and concerns that it would tax the wrong people by imposing funds on litigants within the justice courts to fund the state demographer within the executive branch.
AB161: Study on summary evictions
A severely watered-down measure that would have created a legislative committee to study the state's "summary eviction" process during the interim was left dead at the end of the session after failing to receive a vote in the Assembly.
The initial version of AB161, sponsored by Assemblywoman Selena Torres (D-Las Vegas), would have completely banned the "summary eviction" process, which involves possession of a rental unit and requires a tenant to either pay rent, vacate the property or respond to a notice through the courts within seven days. But the language in the bill was replaced with a study after lawmakers expressed concerns that there was not enough time to consider the consequences of upending the existing system in the midst of the eviction moratorium and amid staunch opposition from real estate groups.
The amended version of the bill, which received support from a slew of progressive groups, was passed out of its first committee in early April but never saw further action from lawmakers.
SB187: Limits on solitary confinement
Sen. Pat Spearman's (D-North Las Vegas) bill to limit the use of solitary confinement in Nevada prisons to 30 days never made it to an initial floor vote.
SB187 also would have required regulations to limit solitary confinement to use only as a last resort. It also called for frequent mental health evaluations and giving inmates at least two hours of out-of-cell time daily, visitation and phone access.
The Department of Corrections submitted a fiscal note stating that the measure would cost the department more than $40 million dollars for the biennium in order to modify policy at its seven major institutions and provide additional mental health support.
"Even if they are guilty, they are still human beings, and we should treat them as such," Spearman said of inmates during the bill's hearing in the Senate Judiciary Committee on March 12. "If rehabilitation is the goal, then solitary confinement impinges upon that goal."
SB139: Prohibiting insurance companies from denying treatment for gender dysphoria
A bill that would have prohibited insurers from denying treatment for gender dysphoria – the psychological distress that results from an incongruence between sex assigned at birth and gender identity – did not survive after passing out of the first committee.
Sen. Melanie Scheible's (D-Las Vegas) SB139 aimed to require insurance companies, including Medicaid, to cover medically necessary treatment and surgeries for transgender Nevadans.
The bill was meant to address instances of insurance companies denying coverage for treatment such as hormone replacement therapy and surgeries, despite existing laws and policies prohibiting the denial, exclusion or limitation of medically necessary health care services based on gender identity or expression.
Advocates said that access to treatment should be considered medically necessary because without it, the mental health of people who have gender dysphoria suffers greatly.
"When insurers fail to cover medically necessary care, people suffer anxiety, depression, social ostracism, and a higher risk of suicide," transgender rights advocate Brooke Maylath said during the bill's only hearing on March 12. "SB139 is designed to send a clear message to the greater healthcare community – discrimination is not acceptable in Nevada."
Although it received a deadline waiver, the measure did not advance after being referred to the Senate Committee on Finance on April 16. The state Public Employees' Benefits Program (PEBP) had submitted a fiscal note for $1 million for the biennium to extend the coverage for treatments.
SB235: Additional marijuana licenses for unsuccessful applicants
A bill that became a lightning rod for marijuana industry criticism over a proposed amendment aimed at spurring the creation of scores of new dispensaries failed to make it to the legislative finish line.
The measure from Sen. Dallas Harris (D-Las Vegas), SB235, and a proposed amendment would have offered an alternative path to licensure for marijuana dispensary applicants who were unsuccessful in a 2018 licensing round. In that round, 61 dispensary licenses were issued to just 17 companies even though 127 potential businesses applied.
Those who lost out on the coveted permits pursued a massive lawsuit that ended with a judge saying there were flaws in the state's process, but that the law did not permit her to order additional licenses as relief. An amendment to Harris' bill that would have given unsuccessful candidates a path forward was forcefully criticized by the Nevada Dispensary Association, a statewide dispensary trade association whose representatives argued that it would threaten the strength and integrity of the industry.
Opponents also argued that the market could not support a large number of new stores without hurting existing ones; supporters countered with a competing analysis positing that the state could absorb nearly 1,300 new dispensaries.
The Cannabis Compliance Board submitted a fiscal note on the bill saying it would gain at least $610,000 over the biennium as a result of the increase in license renewal fees, and that it would cost an estimated $150,000 to complete a market study to determine demand for the issuance of additional cannabis licenses.
The bill passed out of a Senate committee, was referred to the Senate Finance committee on April 20, and saw no further action before the end of session.
AB382: Regulating student loan servicers
A sweeping piece of student loan legislation that would have established new regulations on loan servicers in Nevada and would have granted more rights to borrowers was left for dead just a few days before the end of the session after falling one vote short of the two-thirds majority it needed to pass.
The bill was primarily aimed at enacting broad consumer protections through a borrowers' bill of rights, as well as the licensing and regulation of servicers by the state's Commissioner of Financial Institutions.
Assemblywoman Jill Tolles (R-Reno) joined all Democratic Assembly members in voting in favor of the measure; however, some Republican lawmakers expressed concerns about the licensing fees that servicers would be required to pay. Student loan servicers Sallie Mae and Discover also opposed the bill, arguing that it could lead to greater costs for borrowers.
Bill sponsor Assemblyman Howard Watts (D-Las Vegas) said he adopted an amendment before putting the bill up for a vote that was aimed at addressing the concerns brought up by opponents.
"But some of the student lender interests decided to dig in on it. And unfortunately, again, all members of the minority caucus decided to side with them except for Assemblywoman Tolles," Watts said, "in my opinion, picking those interests over borrowers that are in our state."
SB462: Republican-backed effort to change redistricting commission
With the state set to handle the redistricting process in a likely special session sometime later this year, Senate Minority Leader James Settelmeyer (R-Minden) introduced an emergency measure, SB462, just two days before the end of the session that would have given Democrats and Republicans equal power in creating a redistricting commission.
That bill received zero action in the Democratic-controlled Legislature. Instead, members of both the Senate and Assembly adopted SCR13, sponsored by Senate Majority Leader Cannizzaro and Assembly Speaker Jason Frierson (D-Las Vegas), creating an interim reapportionment and redistricting committee composed of four Democrats and two Republicans.
Increasing awareness of mental health services
As the COVID-19 pandemic resulted in heightened mental health issues across the country, lawmakers in Nevada took steps to increase access to behavioral health care, typically through federal relief funds — but a pair of bills aimed at increasing awareness of mental health support services failed to advance out of the Legislature before the end of the session.
AB167, sponsored by Assemblyman Glen Leavitt (R-Boulder City), would have required K-12 schools and colleges to put information relating to mental health resources on student ID cards, including the phone number and text messaging option for the National Suicide Prevention Lifeline. After passing out of the Assembly on a 41-1 vote in late April, the bill did not receive a committee vote in the Senate.
AB315, which passed out of the Assembly unanimously a few days before the end of the session, would have required law enforcement agencies and fire departments to provide officers and firefighters with information about mental health awareness, prevention, mitigation and treatment, and provide two hours of mental health counseling within three months of retirement. The measure, sponsored by Assemblyman P.K. O'Neill (R-Carson City), passed out of a Senate committee on Sunday, but failed to receive a vote on the Senate floor during the final day of the session.
The Nevada Independent is raising $200,000 by Dec. 31 to support coverage of the 2024 election.
Tax-deductible donations from readers like you fund this critical work.
If you give today,your donation will be matched dollar-for-dollar.
Give + Get Matched
Featured Videos