Live updates: Nevada Legislature's first house passage deadline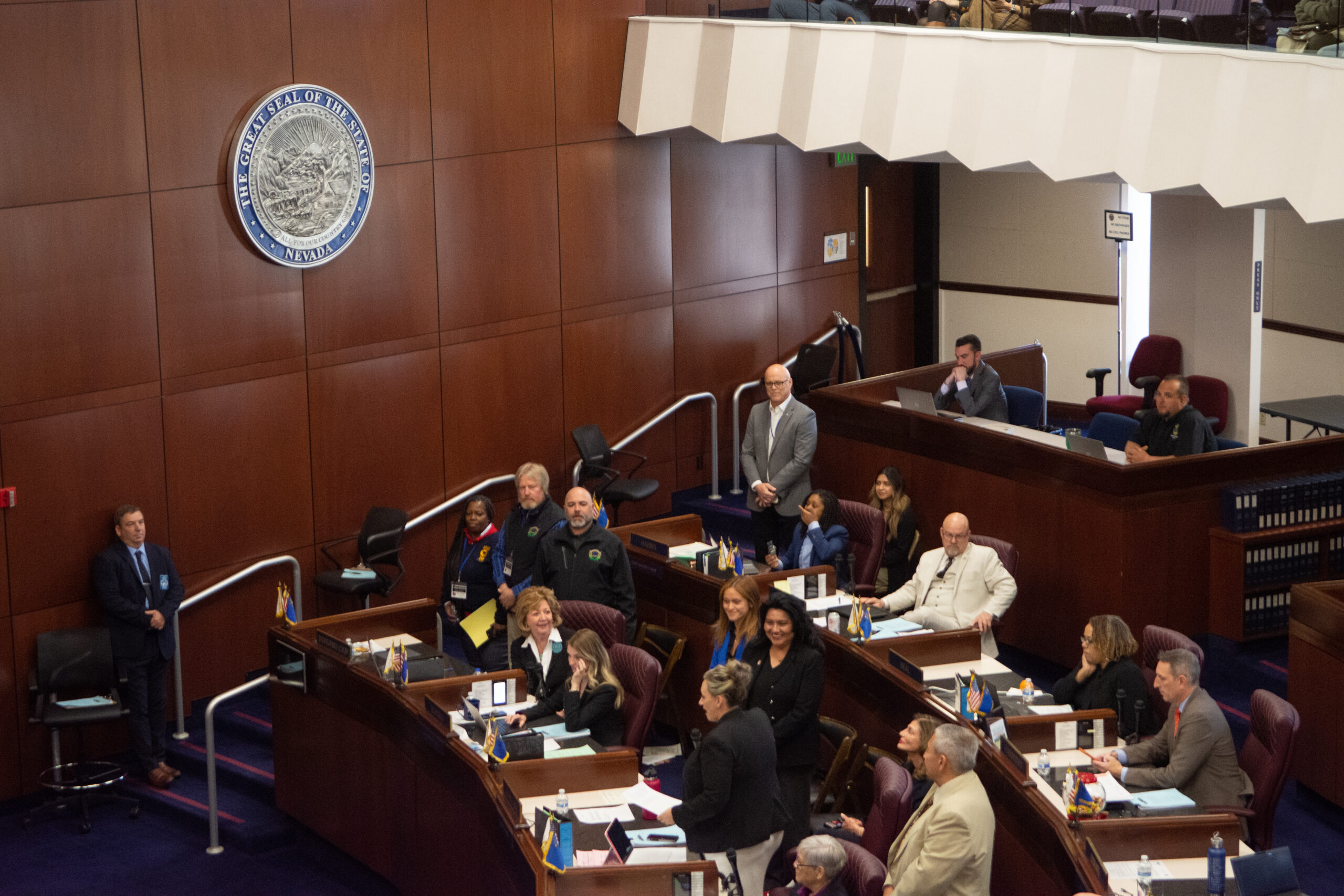 Amid lengthy Assembly and Senate floor sessions prompting impassioned speeches and cross-party dialogue, lawmakers voted on dozens of bills and amendments throughout last week and the start of this week ahead of the session's second major bill passage deadline.
Tuesday, April 25, marked the deadline for bills to be voted out of their first house, meaning lawmakers have had to vote on hundreds of bills that made it through the last deadline, first committee passage, earlier this month.
Last week saw Democratic lawmakers push forward several contentious bills, including measures that would protect access to abortion and reproductive care, and limit access to firearms.
Monday and Tuesday also saw a marathon of additional votes as lawmakers worked to pass legislation before the deadline. As of Tuesday morning, there were 70 measures up in the Assembly and 82 in the Senate that had not received a vote and were not exempt from the deadlines.
Throughout Tuesday, lawmakers advanced 35 bills in the Assembly, kicking 32 others with a financial impact on the state to the Assembly Ways and Means Committee for a hearing. In the Senate, lawmakers passed out 72 bills, while granting exemptions to just four other bills.
A handful of bills were left to die through being placed on each chamber's respective clerk's desk, a parliamentary procedure that prevents a vote on a bill, effectively killing the measure if no action is taken before the deadline. That includes SB318, a bill that would have authorized cities to establish an annual sewer surcharge to raise funding dedicated to supporting homeless services.
Unlike the committee passage deadline, which saw nearly 240 bills die from inaction, Tuesday's deadline resulted in the death of only a few bills. Last session, just seven bills failed at the first house passage deadline. Even among the dozens of bills that have not received a full house vote by Tuesday, the vast majority have received exemptions, which are typically granted to measures that would impact the state financially and are not subject to deadlines.
Here's a look at major policies that passed out of floor sessions last week and through Monday and Tuesday. The updates below reflect votes on major policies voted out of the Assembly and Senate ahead of the deadline.
TUESDAY (as of 9:45 p.m.)
Increased penalties for fentanyl trafficking
Lawmakers approved a pair of high-profile bills seeking to increase felony penalties, including greater fines and sentence lengths, for those guilty of trafficking fentanyl in amounts upward of 4 grams. Both bills (SB35 and SB343) were approved by 15-6 votes, with six Democratic lawmakers in opposition.
In a floor speech, Senate Majority Leader Nicole Cannizzaro (D-Las Vegas) said the bills are intended to address drug traffickers without punishing low-level drug users. Criminal justice advocates had previously opposed the bill, arguing they would unnecessarily criminalize those who struggle with substance use and may buy drugs laced with fentanyl.
She noted that possession of fentanyl is already a felony in Nevada — a comment that comes as Nevada's 17 sheriffs recently signed onto a letter incorrectly stating that possession of up to 100 grams of fentanyl is only a misdemeanor. That letter expressed support for Gov. Joe Lombardo's omnibus crime bill, SB412, which would increase penalties for possession of fentanyl in any amount but has not yet been scheduled for a hearing.
Sen. Jeff Stone (R-Henderson) said he would support the bills, but said he was worried that they may unnecessarily target users of the drug because of drug mixtures that may weigh only 4 grams but contain just 1 milligram of fentanyl. Nevada's drug lab testing capabilities are limited from detecting how much of a drug is in such a mixture.
Stone argued the state should use funds recovered from litigation with opioid companies (which must be expended in accordance with a statewide plan for remediating the opioid crisis) to purchase machines for the state crime labs that could be used to conduct such testing.
Elections bills
Earlier bill counting — Senators split down party lines on SB404, a bill that, in part, would allow county clerks to begin counting ballots during the early voting period rather than waiting for election day. However, Minority Leader Heidi Seevers Gansert (R-Reno), criticized another provision allowing for what she called a broad scope of documents that, under the new bill, would satisfy challenges to voter residency requirements, including utility bills and paychecks. 
Election worker safety — Lawmakers in the Senate unanimously passed SB406, a bill from Secretary of State Cisco Aguilar that would criminalize threats, intimidation and violence against election workers. It comes in response to a recent surge in threats against election workers, contributing to a high level of turnover among Nevada election administrators since 2020.
Criminalizing fake electors — SB133, a bill sponsored by Sen. Skip Daly (D-Sparks), would criminalize fake presidential elector schemes, like the one led by the Nevada GOP in 2020, which saw six Republican electors seek to pledge the state's electoral votes to then-President Donald Trump, despite him losing the popular vote in the state to President Joe Biden. Senators voted 11-10 to pass the bill, with Sens. Melanie Scheible (D-Las Vegas) and James Ohrenschall (D-Las Vegas) joining Republicans in opposition. Scheible said she believed in holding people accountable but took issue with the bill not allowing probation for the crime, noting other crimes that allow for probation, such as battery with deadly weapon.
Other highlights: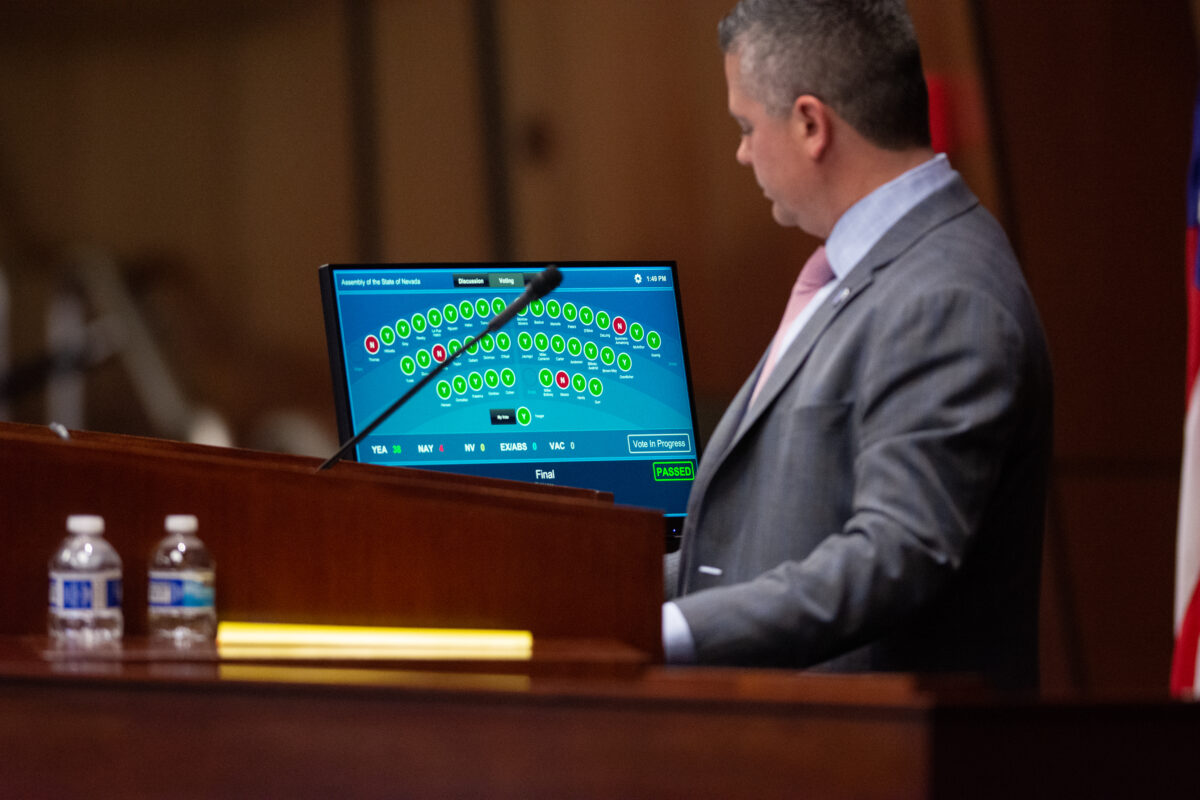 TUESDAY (as of 6:06 p.m.)
'Right to Try' bill passes Assembly with bipartisan backing
After a last-minute move from the chief clerk's desk to general file, members of the Assembly voted 33-9 to pass AB188, a bill that would expand access to experimental medical treatments for terminally ill patients.
The bill's sponsor, Assemblywoman Heidi Kasama (R-Las Vegas), said the legislation is aimed at giving terminally ill patients the ability to access potentially life-saving treatments.
However, several lawmakers opposed to the bill said doctors can already request approval to try experimental drugs from the Food and Drug Administration (FDA) through the administration's expanded access program. They also voiced concerns that the bill would undermine the FDA's approval process, potentially jeopardizing the health of Nevadans.
"Under this bill, doctors could provide experimental treatments without FDA approval. Unfortunately, that's bad for patients," Assemblyman David Orentlicher (D-Las Vegas) said. "If we want to safeguard patient health, we need to ensure that Nevadans always receive the protection that FDA oversight provides."
Kasama pushed back against the criticism, saying that the Right to Try legislation does not grant carte blanche to any and all experimental treatments such as the use of stem cells. She said the law has guidelines and limitations that protect patients and the integrity of medical research.
"The research and treatment is highly controversial and heavily regulated area of medical research," Kasama said. "The intent of this legislation is to offer hope and possible solutions for patients who have exhausted all other available treatment options."
Other highlights: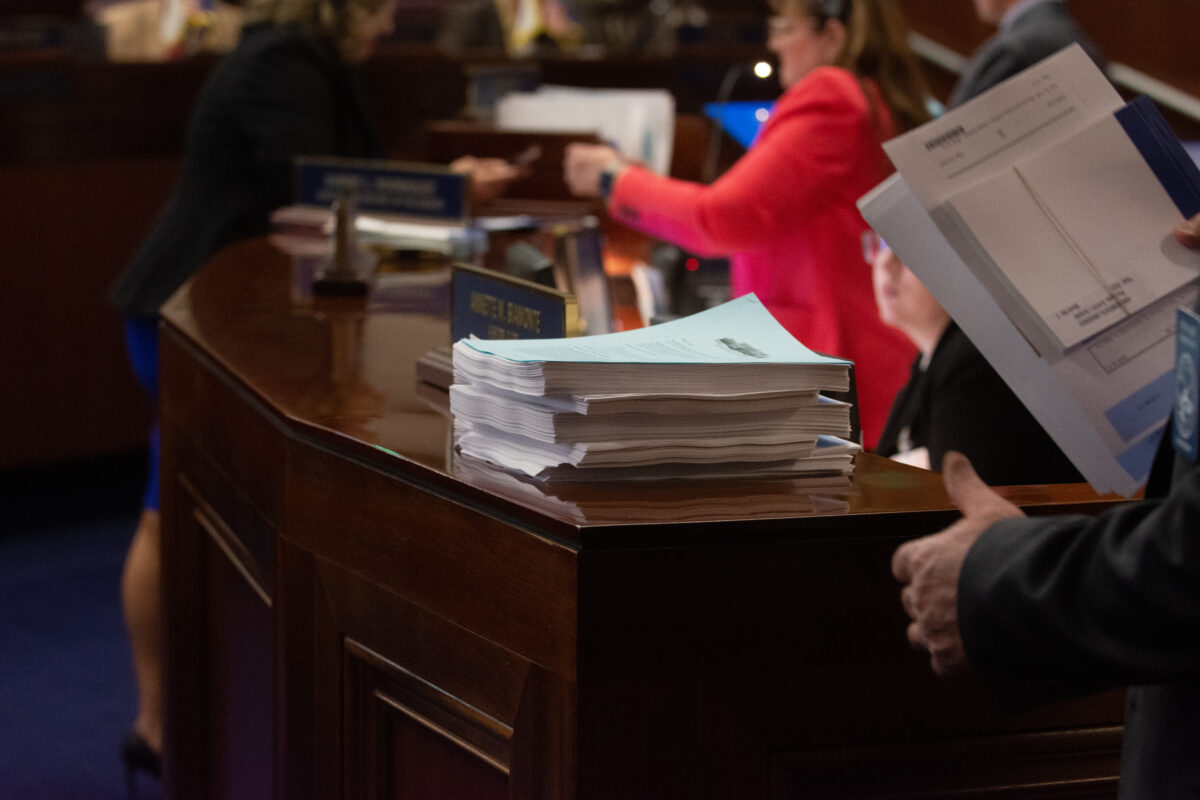 Dozens of bills kicked to budget committees
Though both houses appear likely to leave few bills behind at Tuesday's deadline, many bills escaped without a vote from a house floor after being referred to one of the Legislature's budget committees — where bills granted exemptions because they carry a financial impact on the state go for consideration.
The more than 30 bills sent to a budget committee included:
TUESDAY (as of 2:53 p.m.)
School safety bills pass with bipartisan support, some Democratic defections
Two bills rolling back key elements of the state's 2019 law creating "restorative justice" school discipline regimes cleared the Assembly on Tuesday. That includes AB285, a bill sponsored by Assemblywoman Angie Taylor (D-Reno), and AB330, a bill proposed by Gov. Joe Lombardo's office.
The moves come as lawmakers have faced public pressure to address rising classroom violence from administrators, teachers (including a major teachers union) and parents. But the pair of bills have emerged as a point of contention as Democrats have sought to avoid abandoning their 2019 efforts designed to address the "school to prison pipeline" entirely.
Two Black lawmakers, Assemblywoman Clara Thomas (D-North Las Vegas) and Assemblywoman Shondra Summers-Armstrong (D-Las Vegas), also raised concerns during floor remarks that the measures could disproportionately affect minority students.
"I honor and appreciate the work of [Taylor] and those in this room who have worked diligently to try and find middle ground," Summers-Armstrong said. "But I cannot overcome that we will have an opportunity to suspend children as young as 6 years old, and we have no plan, no solid plan, for what we will do with those children when they are expelled from school."
Those concerns could yet lead to additional bill changes — Taylor recently told The Nevada Independent she's open to possible changes to her bill to allow school officials more time to address that issue.
But the Assembly Democratic supermajority still largely sided in favor of advancing the bill. In floor remarks, Assemblywoman Selena Torres (D-Las Vegas), one of the architects of the 2019 measure, argued that the new language proposed by AB285 filled major holes left in the original legislation.
"At the crux, restorative justice is about holding students accountable," Torres said. "It's about restoration or remedies to the behavior, it's about relief to the victim, and it's about changing the behaviors of students. All of this is in this phenomenal piece of legislation."
Both AB285 and AB330 passed 38-4, with all four votes against from Democrats.
— Jacob Solis and Rocio Hernandez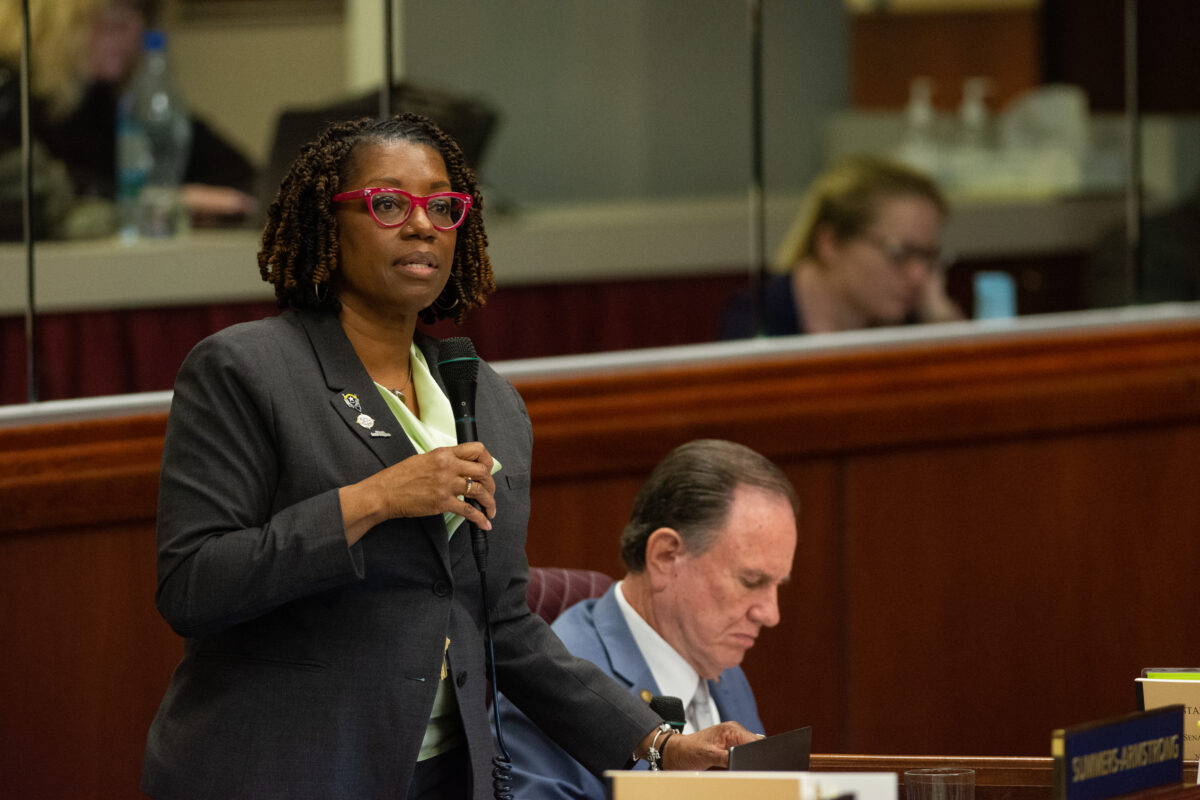 Other highlights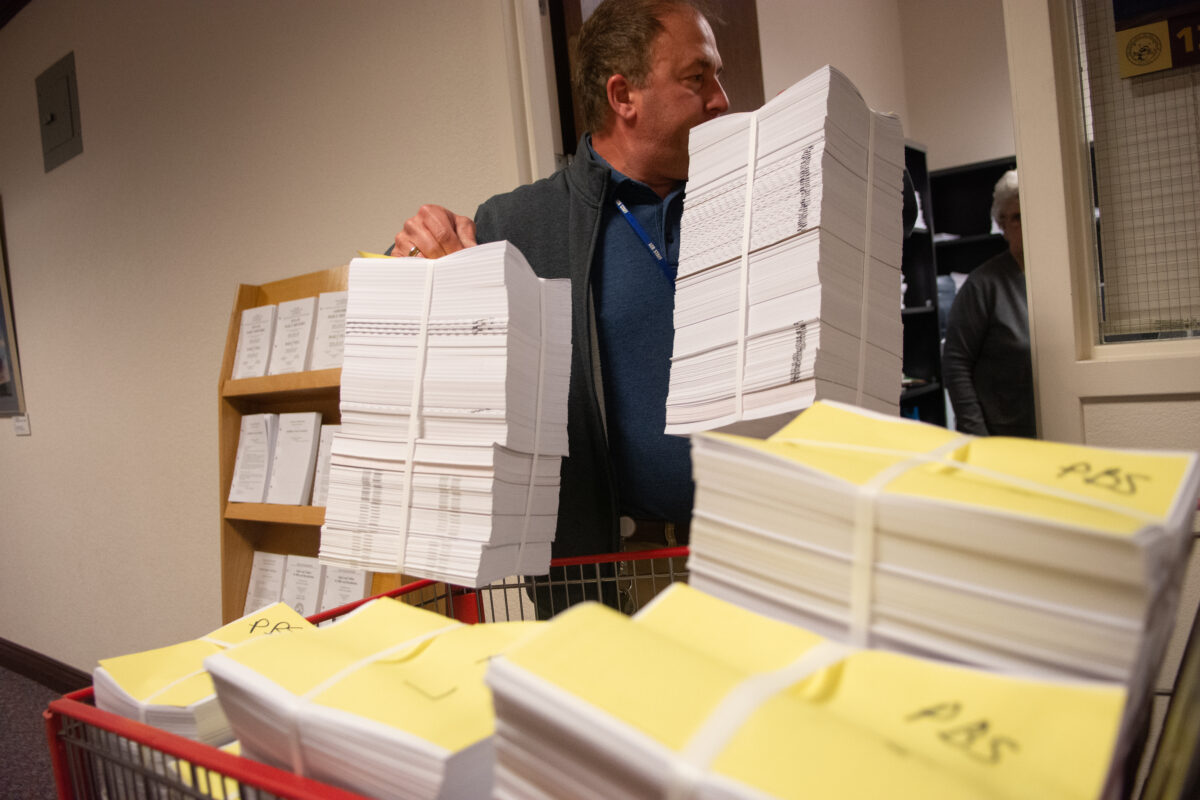 ---
MONDAY (as of 6:40 p.m.)
Machine voting bill
Lawmakers voted along party lines, 28-14, to pass AB242, a bill that would require the use of mechanical voting machines and prohibit the use of paper ballots for in-person voting. Proponents of the measure pitched it as a way of ensuring individuals with disabilities have access to voting, but the bill faced pushback from Nye County Clerk Mark Kampf, who last year implemented the use of paper ballots for the large majority of in-person voters in his county.
Septic tank bill advances, but not without bipartisan concerns
A sweeping omnibus water bill backed by the Southern Nevada Water Authority (SNWA) was passed by the Assembly in an unusual 30-12 vote that saw two Democrats join 10 Republicans in voting "no," while another four Republicans joined the Democratic majority.
AB220, sponsored by the Committee on Natural Resources, would give water regulators the ability to curb excessive water usage under federally declared shortages. It would also look to regulate groundwater in Las Vegas, as well as curbing water lost to septic tank systems, in part by requiring certain septic tank owners to connect to community sewers by 2054.
Assembly members Sabra Newby (D-Las Vegas) and Gregory Hafen (R-Pahrump) expressed concern that the bill only requires county agencies to help cover as much as 85 percent of the cost for a homeowner abandoning their septic system and connecting to community sewers, rather than the full cost.
Rent caps for seniors
Members of the Assembly voted 36-6 to pass AB298, a measure sponsored by Assemblywoman Sandra Jauregui (D-Las Vegas) that would cap rent increases at 10 percent for existing tenants who are older than 62 or who rely on disability insurance benefits. The bill would be in effect from July 1, 2023, through Dec. 31, 2024.
Assembly members Rich Delong (R-Reno), Jill Dickman (R-Reno), Danielle Gallant (R-Las Vegas), Gregory Hafen (R-Pahrump), Alexis Hansen (R-Sparks), Richard McArthur (R-Las Vegas) voted against the measure.
Traditional regalia at graduation
In a unanimous vote, members of the Assembly passed AB73 which would establish the right of public school students to wear traditional tribal regalia or other recognized objects of cultural or religious significance at school graduation ceremonies.
MONDAY (as of 2:22 p.m.)
Expansion of North Las Vegas city council
Despite a pledge from Gov. Joe Lombardo to veto a measure that would expand the size of the North Las Vegas city council from four to six members, members of the Senate voted 13-8 along party lines, with Democrats in support, to advance the bill, SB184.
In a fiery floor speech, Sen. Pat Spearman (D-Las Vegas), who brought forward the bill, argued the measure addresses a civil rights issue caused by a lack of adequate representation by the city council. She pointed to the city of Reno, which has council six wards despite now having fewer residents than North Las Vegas, which has seen its population rise rapidly in recent years.
"If you have more than 275,000 people who live in the city of North Las Vegas, you ought to have enough sense to know that more than four people [should be] required on the city council," Spearman said.
Sen. Pete Goicoechea (R-Eureka) spoke in opposition to the bill, echoing the reasoning behind Lombardo's position against the bill by arguing that the Legislature should not disregard the city charter committee. North Las Vegas officials have similarly opposed Spearman's bill, saying it was brought forward without input from the city's charter committee, though some members of the charter committee have individually expressed support for the bill.
A resolution calling on Congress to deschedule marijuana
Lawmakers in the Assembly voted 37-5 to approve AJR8, a joint resolution that would urge the US Congress to deschedule marijuana as a schedule I drug. Though the bill received bipartisan support, all five "no" votes came from Republican lawmakers.
The measure has broad bipartisan support, with 36 sponsors and co-sponsors across the Assembly and Senate, but comes as federal efforts to decriminalize pot have largely stalled, even as individual states have embraced a mix of medical and recreational marijuana legalization. Most recently, President Joe Biden mass pardoned thousands of federal marijuana convictions in October of last year.
---
LAST WEEK
Medical aid in dying
A contentious measure that would allow terminally ill patients to self-administer life-ending medication prescribed by a physician (SB239) passed out of the Senate on Wednesday on a narrow 11-10 split vote where Sen. Dina Neal (D-North Las Vegas) and Sen. James Ohrenschall (D-Las Vegas) joined Republicans in opposition.
2023 marks the fifth legislative session where Nevada lawmakers have debated a measure to legalize life-ending medication for terminally ill patients. Recent polling conducted by Susquehanna Polling & Research and sponsored by a pro-medical aid-in-dying organization indicated that 82 percent of Nevada voters support this legislation.
Abortion care
As debates over abortion rights rage across the country, senators voted 15-6 on Wednesday to pass SB131, a bill aimed at protecting out-of-state residents seeking abortions in Nevada. Two Republicans joined Democrats in support — Sen. Heidi Seevers Gansert (R-Reno) and Sen. Carrie Buck (R-Henderson).
Seevers Gansert said the Dobbs decision allowed for states to decide what they're going to do around reproductive health care. She added that members of the Senate had shared testimony about challenges they faced surrounding reproductive health care decision-making and that process is personal.
"Given the hodgepodge of laws across the U.S., the one thing that jumps off the page to me is: Women who face these difficult choices, we need to give them our support and our prayers, but we don't need to give them jail time," Seevers Gansert said.
Earlier that week on Monday, senators also voted along party lines (13-8), with Republicans in opposition, to pass SJR7, a measure that would enshrine abortion protections and other reproductive rights into the Nevada Constitution, where they would be more difficult to repeal than they are now. The vote prompted emotional and personal stories about abortion from both sides of the aisle.
The measure now heads to the Assembly and, if passed out of the Legislature, it must return to lawmakers in 2025 before it goes in front of voters during the 2026 general election.
Gun restrictions
Lawmakers voted along party lines (13-8), with Democrats in support, to advance SB171, a bill that would prohibit a person from purchasing or possessing any firearm if the person had been convicted of committing or attempting to commit a hate crime in the past 10 years.
Though Republican Sen. Jeff Stone (R-Henderson) voted against the measure, he voted to pass a similar measure while he was serving in the California Legislature.
In the Assembly, legislators also voted on party lines (26-14), with two excused absences, to advance another major gun bill, AB355. Sponsored by Assemblywoman Sandra Jauregui (D-Las Vegas), the measure would ban the sale of semi-automatic shotguns or certain rifles to anyone younger than 21.
Another gun bill proposed by Jauregui, AB354, that would seek to ban guns around polling places and tighten language in the state's ban on so-called "ghost guns," has not yet appeared on the Assembly floor agenda despite passing through committee earlier this month.
Ending daily room cleaning
Legislation that would remove pandemic-imposed daily hotel room cleaning requirements was passed out of the Senate on an 18-3 vote Friday, with three Democrats, including the committee chairman who oversaw the contentious hearing on the measure, voting in opposition of the bill.
Culinary Workers Local 226 opposed SB441, saying the practice was a good policy. Nevada's major hotel-casino operators said daily room cleaning is a burden and should no longer be required. In a statement released after the vote, union Secretary-Treasurer Ted Pappageorge expressed disappointment and called on the Assembly to oppose the measure.
Sen. Fabian Doñate (D-Las Vegas), who chaired the Senate Committee on Health and Human Services Committee that sent SB441 forward without a recommendation, said in a floor speech there are provisions of the bill that have merit and should "have been termed out once the emergency declaration ended.
However, Doñate cited family members, including his grandmother who worked as a housekeeper on the Strip and told him of the challenges she faced. He added that his office had received calls from district residents asking to make revisions to SB441.
"Considering that this bill may fall short on that request, I'm casting my opposition to this bill," Doñate said. Sen. Edgar Flores (D-Las Vegas) and Sen. James Ohrenschall (D-Las Vegas) also voted in opposition.
SB411 now moves to the Assembly.
STI testing for minors
Sen. Heidi Seevers Gansert (R-Reno) joined Democrats in support of SB172, bringing the vote total to 14-7. The bill would allow a minor without parental permission to consent to receive services that would prevent a sexually transmitted disease, including access to contraception.
Gansert cited growing rates of sexually transmitted infections (STI) in adolescents (15-24 years of age). She noted that though 15-24 year olds only make up about 25 percent of the population, they account for approximately half of the new STIs in the country every year.
She said children do not always go to their parents to ask for birth control or STI prevention methods and it is vital to make sure they can be protected.
"As a parent, and given the experience that I've had and others, and given the rate of infection for STDs or STIs, and given the difficult decision women may face if they do become pregnant at very early age, I'll be supporting this legislation," Seevers Gansert said.
Repealing a constitutional lottery ban
Democratic lawmakers voted to move forward with AJR5, a proposed constitutional amendment to repeal the state's 159-year-old ban on lotteries. But two Democratic lawmakers, Assembly members Shondra Summers-Armstrong (D-Las Vegas) and David Orentlicher (D-Las Vegas), joined Republican lawmakers in opposition, leading to a 26-15 vote. (Assemblyman Bert Gurr's (R-Elko) vote was recorded as yes, but he later said that he intended to vote no.)
Some opponents of the bill have criticized it for including no mention of youth mental health funding, which sponsor Assemblyman Cameron "C.H." Miller (D-North Las Vegas) hopes a state lottery would support that funding. Though the proposed amendment would repeal a ban on lotteries, separate legislation would have to come later to establish a state lottery and allocate its revenue.
Expanding urban school boards gets another haircut
Legislators voted 29-11 (with four Democratic and seven Republican lawmakers in opposition) to advance a bill that would add four nonvoting members to the Clark County School Board — a move that has come only after multiple passes at narrowing the scope of the bill.
In its original form, AB175 would have sought to create a hybrid elected-appointed school board in Clark and Washoe counties, amid long-running concerns over the efficacy of the fully elected boards.
But that language was largely rolled back before the bill's first hearing, which instead pivoted to adding the new, nonvoting members to those same school boards. The inclusion of Washoe County in the bill has since been amended out. The bill's bipartisan sponsors argued during a hearing last month that the move would add professionalism and expertise to K-12 governance.
Local power over rent control
Senate Democrats voted to advance a bill, SB371, that would allow local governments to create affordable housing measures — and in so doing, explicitly give those governments the ability to impose rent control. But in a rare 12-9 split, Sen. Skip Daly (D-Sparks) broke with his fellow Democrats and opposed the measure in an otherwise party-line vote.
Other highlights
— Tabitha Mueller, Sean Golonka, Jacob Solis and Howard Stutz
The Nevada Independent is raising $200,000 by Dec. 31 to support coverage of the 2024 election.
Tax-deductible donations from readers like you fund this critical work.
If you give today,your donation will be matched dollar-for-dollar.
Give + Get Matched
Featured Videos