Lombardo: 'Not getting engaged' on presidential primary, Trump re-election bid
In an hourlong interview, the Republican governor addressed topics including the Oakland A's move to Nevada and his K-12 accountability initiative.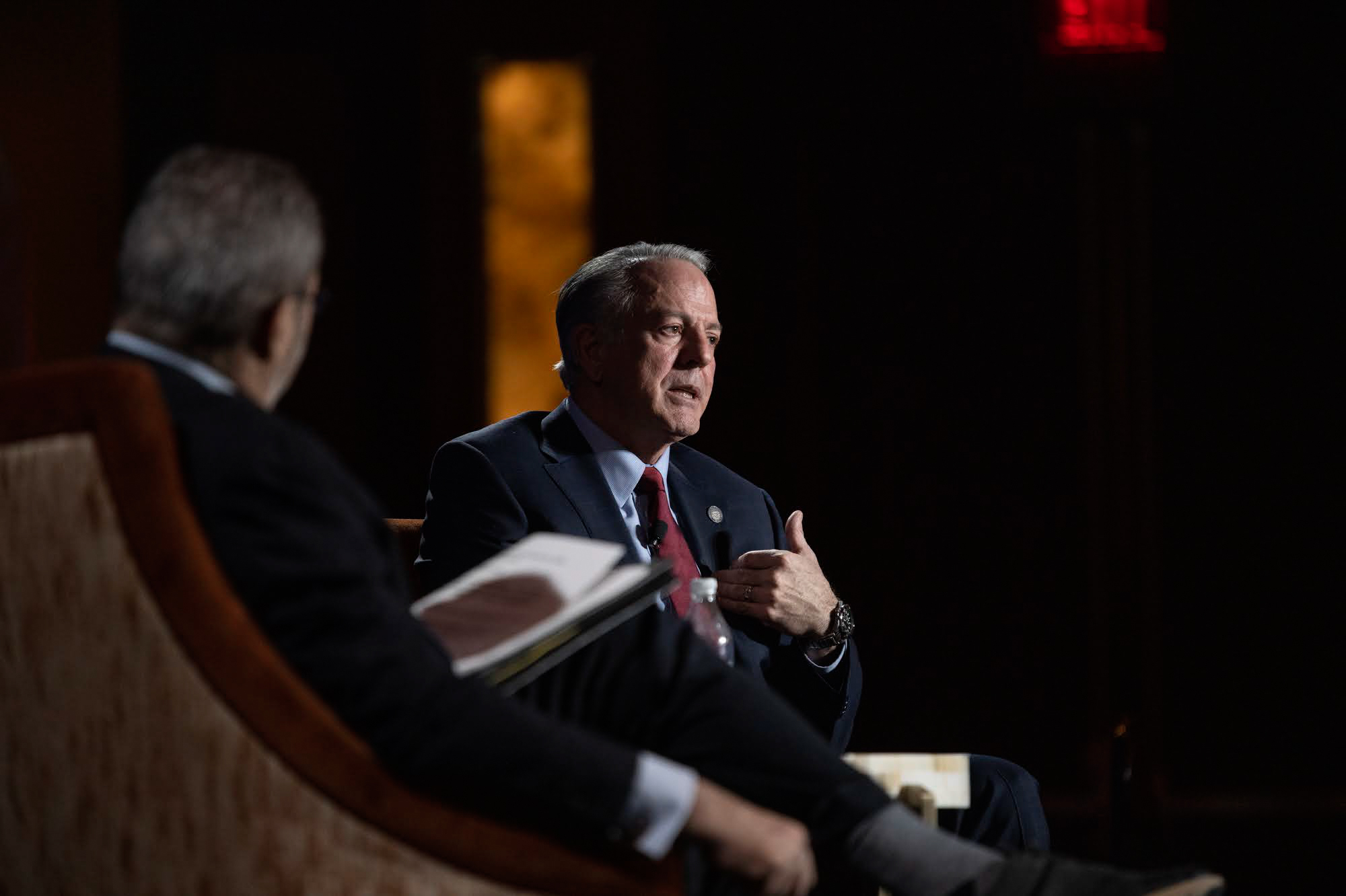 Gov. Joe Lombardo again publicly declined to endorse anyone for the 2024 Republican presidential nomination — including former President Donald Trump, who endorsed Lombardo during his gubernatorial run last year.
Speaking to Nevada Independent CEO Jon Ralston during a wide-ranging discussion Saturday at the annual policy and politics-focused Texas Tribune Festival, the Republican governor's comments come as he has begun endorsing candidates in down-ballot races and as a PAC linked to his campaign has intensified its campaign against legislative Democrats.
"I've said it publicly, I'm not getting engaged," Lombardo said. "I'm worried about the state of Nevada right now, and I'm not going to get engaged in the presidential process until after the primary."
Those comments echo what Lombardo told reporters in August, when he said he would "support whoever is successful in the primary."
Though he said Trump was "innocent until proven guilty" in the midst of four criminal indictments, including two in federal court, Lombardo also said he was "concerned" about the former president's legal troubles.
"I can't turn a blind eye to it," said Lombardo, a former Clark County sheriff. "You see the polls out there, 'If he was indicted for a felony, would you still vote for him,' and everything that goes along with that — that hurts my core, and what I believe in."
On the state's 2024 U.S. Senate race, in which eight Republican candidates are jockeying to take on Sen. Jacky Rosen (D-NV), Lombardo said he is supportive of Sam Brown, a retired U.S. Army captain who finished second in last year's GOP primary for Senate, but clarified that he is not yet endorsing Brown.
"The reason why I haven't done it yet [is] because I don't want to get too early in the process," he said. "I just want a little more stability in the candidates before I make that decision."
Over the course of an hour at TribFest, Lombardo also spoke about a host of other topics, including the Legislature, the A's potential move to Las Vegas and more. We've highlighted parts of Lombardo's interview below:
Legislature
Though a pro-Lombardo political action committee, the Better Nevada PAC, has cast Senate Majority Leader Nicole Cannizzaro (D-Las Vegas) as "one of the most corrupt politicians in Nevada," Lombardo said he didn't agree with that portrayal.
"I don't believe she's corrupt," Lombardo said. "I think she's passionate about what she stands for, and I think it's important for people to look through that, and understand that."
Lombardo added that he and Cannizzaro do not always see eye-to-eye on issues such as school choice, but "she's a hard worker and she does her homework."
The Better Nevada PAC has also attacked legislative Democrats over their support for so-called "Christmas Tree" bills, which saw lawmakers appropriate more than $110 million to a variety of nonprofit and other organizations. Later reporting revealed connections between lawmakers and some organizations funded by the bill.
Lombardo signed the bills, but said the process "didn't sit well with me," while noting that "there was also programs in there that would suffer as a result of not signing it."
He said he wishes he had a line-item veto, and that there should be more transparency at the Legislature, including removing its exemption from the public records process.
"I think that's a very poor way to do government, to have a significant key, one of the three-legged stools of government to be exempt from public evaluation," he said.
Lombardo said he intends to change that exemption.
K-12 accountability
Lombardo acknowledged that his recently announced "Acing Accountability" initiative to hold public K-12 spending accountable lacked an enforcement mechanism and was "not fully baked."
The initiative came after Lombardo authorized a more than $2.3 billion increase in K-12 spending during the legislative session.
"The accountability matrix is to ensure that they're meeting the numbers that are on an average nationwide, so there's no excuses," Lombardo said. "You can't bring it back to your particular geography and say, 'Alright, we're going to dumb down the curriculum, just so we can have graduation numbers.' That's the current attitude right now."
Still, Lombardo said executive tools that might hold schools and districts accountable are a "void in the law."
"Knowing that I can be proactive in the next legislative session, we'll put those measurement tools in place," Lombardo said. "Because right now, the only ability to provide discipline or to change the environment is to remove the money. And we already determined the money is also an integral part, so that doesn't solve anything."
A's to Vegas
Lombardo reiterated his support for a deal struck earlier this year to provide up to $380 million in public financing for the construction of a new Major League Baseball stadium for the Oakland A's in Las Vegas, saying it has the potential for a "return on investment that's exponential." Research generally shows that stadiums have little positive economic impact on local economies, though backers of the A's move argue that Las Vegas will be different.
"I think people look at it from a lens of a short term, we're giving away money to a billionaire," he said. "I look at it from a lens — this is long term, and how are we going to benefit from the tax base and expansion of the economy that we're trying to achieve in the long term."
Separately, at a breakfast in Las Vegas last week hosted by the Commercial Real Estate Development Association (NAIOP) of Southern Nevada, Lombardo told attendees to look past social media negativity about the A's being a "loser team" because adding professional baseball to Las Vegas will help fill the summer events calendar, when professional hockey and football are in their offseasons.
"And here's the coup de grâce: in 30 years at the end of that contract with Clark County and the state, the county owns that stadium," he said.
Ethics commission
In July, the eight-member Nevada Ethics Commission issued a $20,000 fine and censure against Lombardo for using his sheriff uniform and badge while running for governor in 2022.
In August, Lombardo's attorneys announced that the governor would appeal in court.
"It was a partisan decision. There was people involved in this that I feel made decisions based on not the right thing, but partisanship," Lombardo said. "And that's frustrating to me, and that's why I fight it."
Legislative compromises
Bucking his party, Lombardo signed a bill during the legislative session requiring insurance to provide coverage for gender-affirming care for transgender minors and adults.
He said that when looking at legislation, he takes a "pragmatic approach," seeking to understand the ramifications of signing the bill.
Under the gender-affirming care bill, Lombardo said minors still had to receive parental consent, and noted that people were already receiving gender-affirming care.
Lombardo also signed a bill protecting out-of-state abortion seekers, essentially codifying an executive order issued by former Gov. Steve Sisolak, a Democrat. While on the campaign trail, Lombardo had said he would govern through a "pro-life lens" but said he would sign legislation making Sisolak's executive order permanent.
Lombardo said he's pro-life, but he needs to be pragmatic as a governor.
"[Abortion rights are] codified in state law," Lombardo said, noting that he would support a hypothetical effort to lower the 24-week abortion protection in state law to a 15-week cutoff, but would not lead such an effort.
"I think it should go back to a vote of the people for them to make a decision," he said.
When asked how he voted on the initial 1990 referendum establishing abortion rights in state law, Lombardo said "I don't recall."
Pushed to give an answer, Lombardo said, "No, I'm serious. I'm not avoiding the question. I don't recall if I voted on that particular issue."
Housing affordability
Lombardo tied the issue of affordable housing in Nevada directly to the "availability of land," taking issue with the fact that more than 80 percent of the acreage in the state is federally owned and managed, and arguing that the federal government is "charging way too much" for it.
"That upsets me to no end because the federal government's in the nonprofit business, so whatever money they receive off the sale of a piece, parcel of land goes into the general fund and its pixie dust compared to the total federal budget," he said.
Lombardo added that he'd like to see a more regular process of releasing parcels of land, and believes the costs should be charged "on the back end versus the front end."
Teacher pay impasse
As contract negotiations between the state's largest teachers' union and largest school district in Clark County have imploded amid allegations of an illegal strike and a brewing court battle, the union last month called on Lombardo to help negotiate an end to the collective bargaining stalemate.
Lombardo ultimately met with union and district negotiators, of which he said: "I personally thought there was an agreement, and then when they met again, they decided to go to an impasse."
That impasse will soon trigger a formal arbitration process, which Lombardo said could take six to eight months. The governor added he "recently got engaged again this last week."
"I said, 'Hey, even though you've declared an impasse, you can still have the ability to mediate and hopefully come up with a solution before the official arbitration procedure starts."
Still, Lombardo said he believed there remains a greater than 50 percent chance the impasse reaches an arbitrator.
The Nevada Independent is raising $200,000 by Dec. 31 to support coverage of the 2024 election.
Tax-deductible donations from readers like you fund this critical work.
If you give today,your donation will be matched dollar-for-dollar.
Give + Get Matched
Featured Videos