What Sisolak or Lombardo could (or couldn't) do on abortion as governor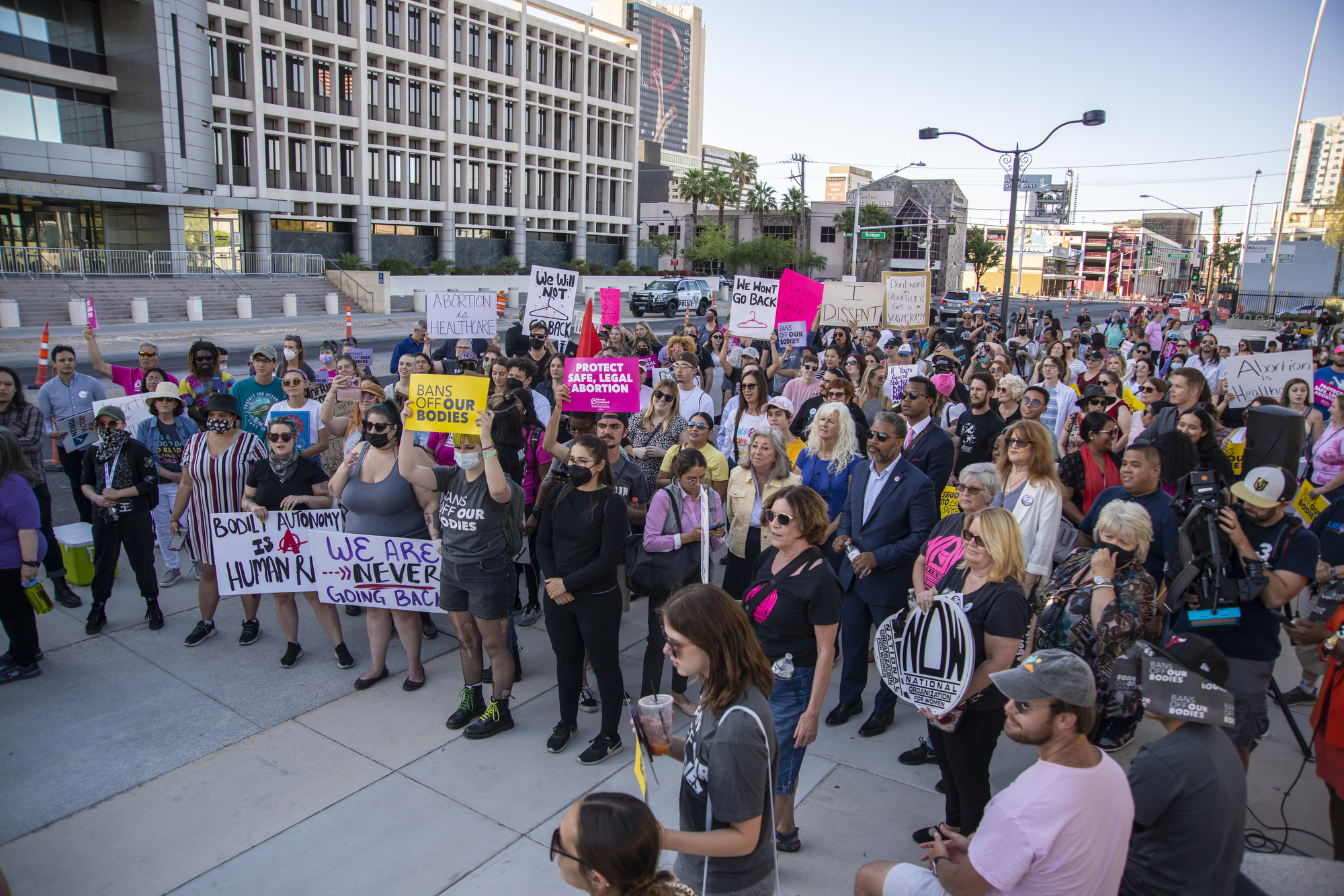 In the wake of the U.S. Supreme Court decision to overturn Roe v. Wade, abortion access emerged as a near-constant campaign focus during the battle for Nevada governor.
Democrats have highlighted the role Nevada's governor plays in shaping abortion access, while Republicans have taken an opposite stance, emphasizing that abortion access is "settled law" in the Silver State.
Gov. Steve Sisolak and other Democratic groups have attacked Republican candidate Joe Lombardo's often-unclear answers on the subject.
"Nevadans know where I stand. And that won't change today, tomorrow or two weeks from now," Sisolak said in a tweet. "Joe, on the other hand, can't relate."
Republicans, including Lombardo, have fired back against the deluge of criticism by saying Democrats are fear-mongering over a non-issue.
"It's unfortunate the governor doesn't have enough respect for the voters to realize that it's codified in law," Lombardo said during an October debate. "There's nothing that the governor can do to change it."
Nevada law protects abortions for up to 24 weeks of pregnancy. The protection has been in place for more than 30 years, and was established via ballot question, meaning only a direct majority vote of the people could overturn it.
But the governor still has the power to shape abortion access in Nevada, including actions such as implementing executive orders, influencing or vetoing measures passed in the Legislature or determining funding priorities as it relates to reproductive health.
To unpack the truth behind messaging around abortion access in Nevada's gubernatorial race, The Nevada Independent spoke with David Orentlicher, who serves multiple roles at UNLV, including as director of the university's health program, a professor within its law school and an adjunct professor within its medical school.
Orentlicher, a Democrat, also serves as the representative for Las Vegas' Assembly District 20.
Below, we separate fact from fiction on where Nevada's abortion law actually stands.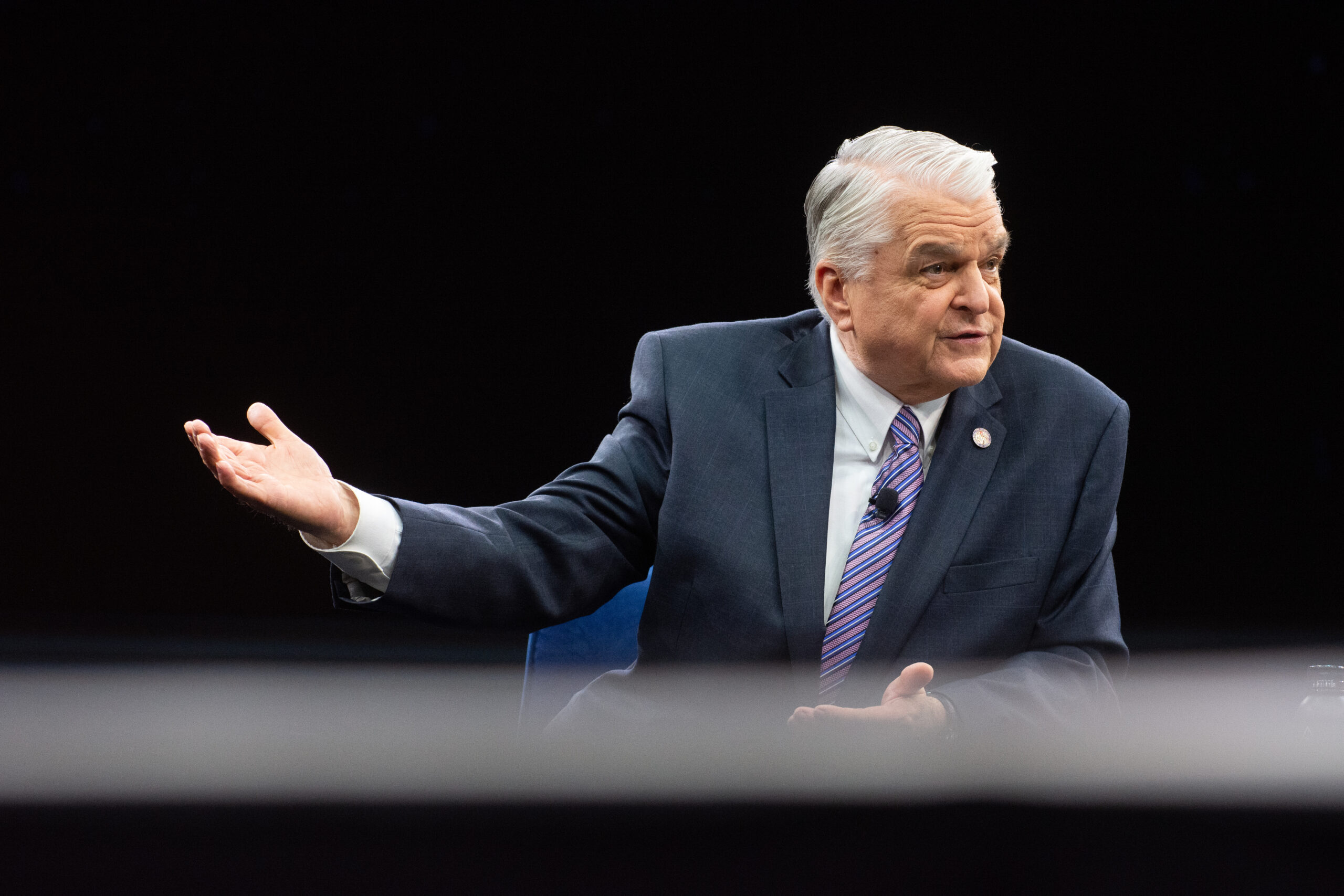 Abortion law in Nevada
In 1990, nearly two-thirds of Nevada voters approved the ballot measure codifying state law allowing abortions within 24 weeks of pregnancy — timing that mirrors Roe v. Wade's protections for abortions before a fetus is viable outside the womb.
Passage of the 1990 referendum means that only a direct majority vote from the people could overturn that protection. Nevada's lawmakers and governor are prohibited from directly restricting abortion access earlier than 24 weeks into pregnancy.
However, Orentlicher said lawmakers and the governor could change provisions outside of the scope of what was put in place by the 1990 referendum.
For instance, Orentlicher said state lawmakers could send bills to the governor that change requirements around mandatory waiting periods or other regulations. But because all of this would be affecting state law, the governor would need to work with the Legislature and could not act unilaterally.
One example came during Sisolak's first term in 2019 when he signed bills decriminalizing abortion and expanding access to family planning.
Orentlicher cautioned that if lawmakers try to modify existing abortion laws, they will need to contend with questions about whether the additions would functionally interfere with the established protections for abortion up to 24 weeks.
"If you erect too many hurdles, [such as] the trap laws that states have passed about admitting privileges for the physicians at hospitals, or meeting the standards of a surgical facility, waiting periods, you could say, well they're not in [the existing statute], but if they impose an undue burden on the abortion right, are they invalid?" Orentlicher said.
Another avenue for shifting abortion regulation lies in the legal provision that gives authority to the Division of Public and Behavioral Health within the Department of Health and Human Services to "adopt and enforce regulations governing the conditions under and the methods by which abortions may be performed."
A governor could shape regulations by deciding who directs the Department of Health and Human Services and the Division of Public and Behavioral Health. Those leaders could then, in theory, implement processes such as mandatory waiting periods or mandatory ultrasounds, or change hospital admitting standards, among other restrictive regulations.
However, the governor or division directors could run into the same questions about whether those types of regulatory changes would undermine the right to an abortion until 24 weeks. Those regulatory changes would need to go before the Legislative Commission — a committee of state lawmakers that meets between legislative sessions to approve or deny regulations proposed by individual state agencies.
Ultimately, that group of legislators would need to be on board with the governor's decisions.
"In the end, if you're a governor and you want to do something, you're either going to have to get a legislative majority either to pass the bills, or to approve your regulations," Orentlicher said.
But another avenue for a governor's ability to shape abortion access lies in executive orders and information sharing.
A week after the Dobbs decision, Sisolak issued an executive order protecting access for out-of-state abortion seekers. That order included preventing state agencies from helping other states gather information or assist with the prosecution of someone who traveled to Nevada for an abortion or other reproductive health care services.
Later, in October, Sisolak's administration launched a website to provide information about abortion services in the state. The website also allows patients to report crisis pregnancy centers that can sometimes use deceptive tactics to make it difficult to exercise the right to an abortion. A new governor could choose to take down this website if desired.
If re-elected, Sisolak has said he will seek to codify the executive order protecting access to abortion for out-of-state abortion seekers into state law. Lombardo initially said he would consider repealing it before walking back that statement.
If some of those protections included in the executive order were repealed, Orentlicher warned that it could have a chilling effect on abortion providers and those seeking an abortion, which could lead to reduced access to reproductive care.
Finally, the governor, who directs state funding priorities, could help decide whether to put money toward reproductive services in the state budget. In 2019, Sisolak allocated $6 million to family planning services, which expanded access to contraception, cancer screenings and detection of sexually transmitted infections. A governor could propose cutting or redirecting that funding, but the Legislature would still need to approve it as part of the normal budgeting process.
A governor could also include crisis pregnancy centers as part of the funding allocated to family planning services, as long as the center could fit the definition of a "medical facility" as defined by state law and be licensed accordingly. They could also request funding for a crisis pregnancy center through a special appropriations bill, but the Legislature would need to approve that bill through the normal budgeting process.
Past reporting from The Nevada Independent has shown that Lombardo has quietly supported anti-abortion groups and crisis pregnancy centers.
In audio obtained by The Nevada Independent from a Carson City Republican Women luncheon in mid-September, the executive director of Nevada Right to Life, Melissa Clement, pointed to Lombardo as someone who could shift regulations around abortion protections.
"[Lombardo] donates to the crisis pregnancy center down in Vegas … He got in trouble, because he went to all the different fundraisers for those organizations," Clement said. "They can do things like require [sic] women to look at an ultrasound beforehand, so they know what they're doing."
Below, check out what abortion-related campaign claims are true and which are stretching the truth:
"Future under Joe Lombardo" — A Stronger Nevada, "Prison Cell"
Regardless of what happens on Election Day, checks and balances are in place. A governor could not immediately implement laws criminalizing abortion — contrary to ads showing women behind bars or in court for having an abortion.
However, a governor could implement executive orders, influence or veto measures passed in the Legislature, determine funding priorities and take other actions to shape abortion access in Nevada.
The "Future under Joe Lombardo" advertisement attacks Lombardo for supporting an abortion ban — but Lombardo told reporters in September that he would fight against a national abortion ban if Congress were to pass one, the Associated Press reported.
"Joe Lombardo wants to restrict birth control" — Committee to Elect Steve Sisolak, "Decide"
Facebook ads and other campaign materials have highlighted Lombardo promising to consider "new restrictions on our reproductive rights – including taking away birth control."
Asked by a primary debate moderator in June whether he would support restrictions around abortion access, such as parental notification laws, mandatory waiting periods and reducing access to Plan B pills, Lombardo said, "yes, absolutely." He added that he would view any of his decision-making as a governor through a "pro-life lens."
Later, his campaign spokesperson told the Nevada Current that he has "no plans to restrict or limit access to Plan B or any type of contraception in the state of Nevada" — a statement echoed on Lombardo's campaign website.
During the October debate, Lombardo said he supports contraceptive access and parental notification for abortion procedures performed on a minor, with exceptions for rape and incest.
His campaign said Lombardo had not taken a position on spousal notification because it was ruled unconstitutional by a federal judge in 1981.
"Governors are the last line of defense for abortion access." – Sisolak during a campaign rally in September
The power to veto a law gives the governor the final say on any bills passed by the Legislature and would make the governor the "last line of defense." But the Legislature could override a vetoed bill with a two-thirds majority vote from both houses.
With widespread support for abortion access among Nevada's electorate regardless of political affiliation, however, it is unlikely the Legislature would pass any initiatives that limit access to abortions.
Sisolak has maintained that, as governor, he will protect access to abortion in Nevada.
"As long as I'm Governor, I will oppose any attempts - whether at the federal or state level - to attack a Nevada woman's' right to an abortion within 24 weeks of her pregnancy," Sisolak said in response to a questionnaire detailing where top candidates stand on abortion.
Though Lombardo has changed his stance on specific abortion policies over time, he has maintained that he is "pro-life." But according to his website, he "trusts the people of Nevada to make the important decision of what legislation to send to his desk." 
"Lombardo Has Tried To Have It Both Ways On Every Abortion Position He's Ever Taken" – Nevada Democratic Victory
The Nevada Independent contacted Lombardo after the leaked Supreme Court draft of the Dobbs' opinion. In an email reply, he said, "Abortion policy is already addressed in Nevada law. The governor and Legislature cannot make changes to it. The voters put it into law and only they can change it."
In May, Las Vegas Review-Journal conservative columnist Victor Joecks wrote that when asked, Lombardo said he would support sending voters a ballot initiative for a 13-week abortion ban, with exceptions for physical health, rape and incest.
When pressed for additional details, Lombardo's campaign confirmed his answer. The campaign said he would support giving voters the "ultimate decision" on a 13-week abortion ban if the Legislature or voters brought it forward.
But Lombardo later walked back his stance on a 13-week abortion ban during the only debate between him and Sisolak in October, saying, "As I thought about it more personally, I support the law that the people approved. I support anything that the people approved."
Following the announcement of the Dobbs decision, Sisolak signed an executive order preventing Nevada agencies from aiding out-of-state authorities investigating people for receiving or offering abortions in Nevada.
Lombardo's campaign staff slammed the governor for his executive order. Shortly after that, Lombardo also told a Reno television station that he would "absolutely" look into repealing the executive order. He later backtracked that statement in an email to the Associated Press, saying, "I'd have to evaluate it, and I'd look at it from the lens of being a pro-life governor."
He also posted a statement on his campaign website in September saying he "made a commitment not to repeal [Sisolak's] executive order until the legislature can make clear that Nevada is not going to prosecute women who seek an abortion or medical providers that perform legal abortions."
During the October debate, Lombardo said he supports contraceptive access and parental notification for abortion procedures performed on a minor, with exceptions for rape and incest. He added that he would not prosecute women who come to Nevada seeking an abortion.
Lombardo also said he favors changing mandatory waiting periods but is against mandatory ultrasounds — all abortion-related issues outside the scope of the 1990 ballot measure that the governor could shape. His campaign later clarified that changes to mandatory waiting periods would need to be pushed by voters through a ballot measure.
For more information about the positions of major candidates on abortion, click here.