Abortion access may play key role in Sisolak, Lombardo contest for governor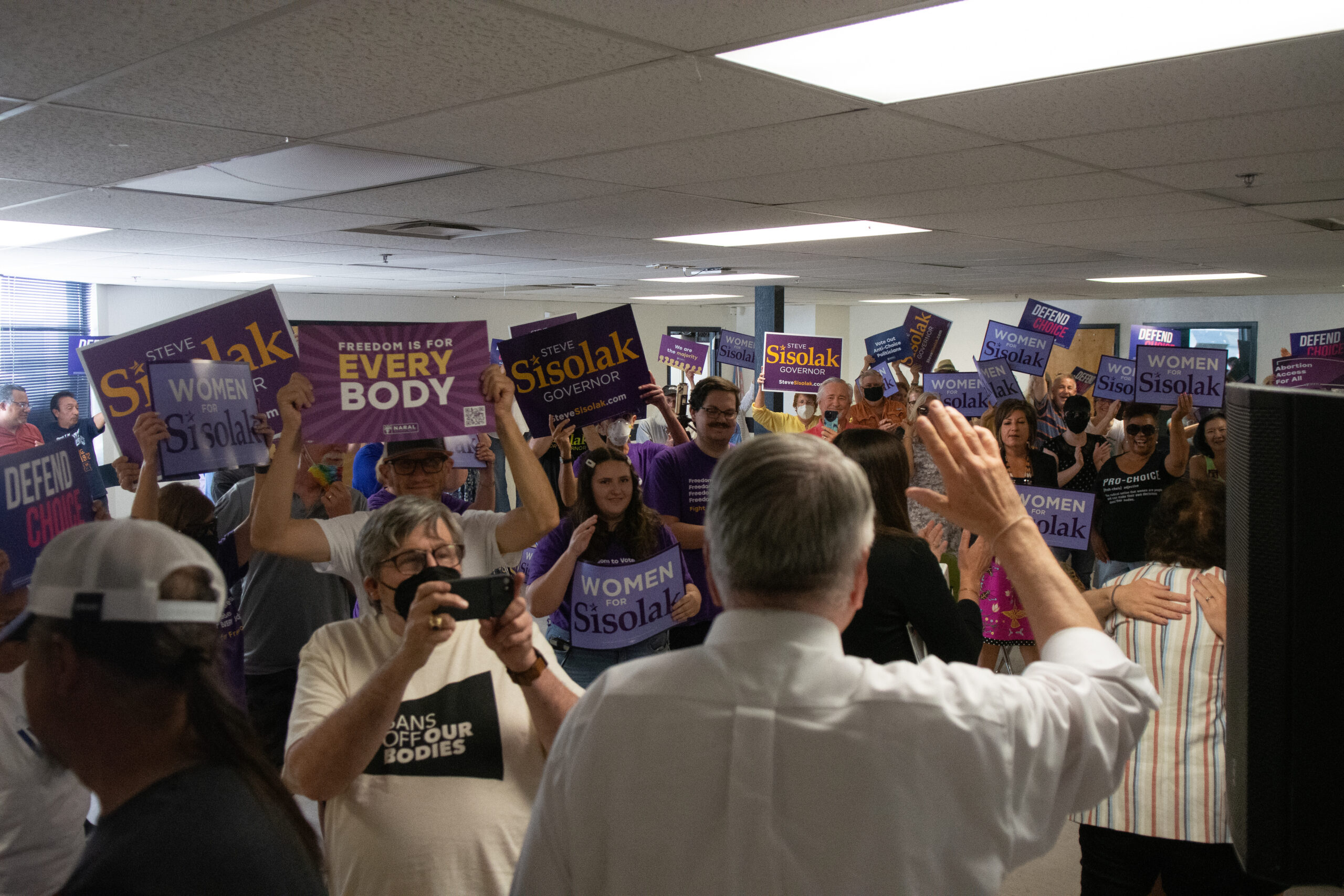 Against a checkerboard backdrop of signs saying "Defend Choice" and "Women for Sisolak," Nevada's incumbent Democratic governor spoke Friday to a crowd of several dozen to declare that this is "hands down the most consequential election of my life."
Why? Because in the wake of the U.S. Supreme Court overturning Roe v. Wade this summer, "governors are the last line of defense for abortion access."
"If we get Joe Lombardo, we get steps backwards," an animated Sisolak said during a rally inside the Evelyn Mount community center in Reno. "That's what we get. We're not going to be able to take any more steps forward."
For Sisolak and other state Democrats, facing the unfavorable midterm headwinds of President Joe Biden's unpopularity and rising inflation, the issue of abortion access has opened an unexpected political opportunity.
An August poll from The Nevada Independent and OH Predictive Insights found nearly 17 percent of voters named abortion as the issue most motivating them to vote, behind only the economy (40 percent). More recent polling from the Reno Gazette-Journal and Suffolk University found a clear majority of Nevadans saying a candidate's position on abortion would affect their vote in November.
Abortion in the Silver State up to 24 weeks of pregnancy has been protected by state law for more than 30 years and could only be overturned by a direct majority vote from the people. So even though abortion access in Nevada was not affected by the court's ruling, Sisolak and affiliated Democratic groups have in recent weeks continually hammered Lombardo on abortion, siezing on the Republican candidate's often unclear answers to media outlets and debate moderators.
Sisolak — who signed bills decriminalizing abortion and expanding access to family planning during his first term — moved quickly after Dobbs to issue an executive order protecting access for out-of-state abortion seekers, which included preventing state agencies from helping other states with gathering information or assisting with the prosecution of someone who traveled to Nevada for an abortion or other reproductive health care services.
Speaking to reporters in Reno last week, Sisolak said he would seek to codify that executive order into state law if re-elected — drawing a further contrast with Lombardo, who told a Reno television station that he would "absolutely" look into repealing the executive order, only to later backtrack through an emailed statement to the Associated Press saying "I'd have to evaluate it, and I'd look at it from the lens of being a pro-life governor."
Lombardo's campaign did not respond to a Nevada Independent abortion questionnaire sent to major candidates in late May, but he has generally shied away from explicit criticism or policy plans as it relates to abortion — a contrast to other major GOP candidates such as Senate hopeful Adam Laxalt, who called Roe a "joke." In response to the leak of the Supreme Court draft opinion, Lombardo said in an email, "Abortion policy is already addressed in Nevada law. The governor and legislature cannot make changes to it."
But Lombardo's at-times murky answers have been highlighted by an outside Democrat-affiliated political action committee, New Day Nevada, which in recent weeks has launched Facebook ad campaigns highlighting Lombardo promising to consider "new restrictions on our reproductive rights – including taking away birth control." (A spokesperson for Lombardo told the Nevada Current in July that he has "no plans to restrict or limit access to Plan B or any type of contraception in the state of Nevada.")
Riley Sutton, who serves as the executive director of the New Day Nevada PAC, said voters have picked up on Lombardo's ambiguity in answering abortion or reproductive care questions. He described Lombardo's promise to look at issues through a "pro-life lens" as code language for later pushing anti-abortion policies.
"People have woken up to the fact that means that they are anti-abortion, anti-women's rights, and will legislate that way and will push those issues," he said.
Sutton said New Day Nevada's advertising expenditures are part of "a multimillion dollar effort to ensure that anti-choice politicians do not get elected in Nevada," and called the $600,000 reported raised by the PAC on the July 15 reporting deadline a "down payment, not anywhere near the full extent of what our activities will be." Nationally, Planned Parenthood Votes has named Nevada as one of its target states for a planned $50 million midterm spending campaign.
Republicans, however, don't believe abortion will prove to be the defining issue in the governor's race. They noted that few GOP candidates in the state are explicitly calling for draconian abortion restrictions, but the issue largely animates base voters, and that economic and inflation concerns may weigh more heavily on voters' minds as Election Day approaches.
"If we get to October, and Republicans are talking about ways to fix the state, address education and crime, and Democrats are talking about abortion, we will blow them out of the water," said Republican political strategist Jeremy Hughes, who helps run the (well-funded) pro-Lombardo Better Nevada PAC.
Sutton said New Day Nevada's advertising efforts initially were planned to focus on economic issues, but argued that the repeal of Roe had fundamentally changed the dynamics of the midterms.
"Not to go all James Carville or anything here, but it was the economy," he said of the PAC's messaging strategy pre-Dobbs. "It was the economy until half of the population now has sub-human rights, and I think that changes things in a way that even Mr. Carville would acknowledge."
For Kimberly Claussen, a 21-year-old student at UNR who attended the Sisolak rally on Friday, Lombardo's comments about potentially rolling back the governor's executive order on abortion only served to solidify her choice in November.
"If I wasn't already solid, I would have been at that point," she said. "Because that is something extremely scary. It's a step backwards. And as a young woman in this state, I just cannot vote that way."
Editor's Note: This story appears in Indy 2022, The Nevada Independent's newsletter dedicated to comprehensive coverage of the 2022 election. Sign up for the newsletter here.
The Nevada Independent is raising $200,000 by Dec. 31 to support coverage of the 2024 election.
Tax-deductible donations from readers like you fund this critical work.
If you give today,your donation will be matched dollar-for-dollar.
Give + Get Matched
Featured Videos