Poll: Abortion trails only the economy as a motivating issue for Nevada voters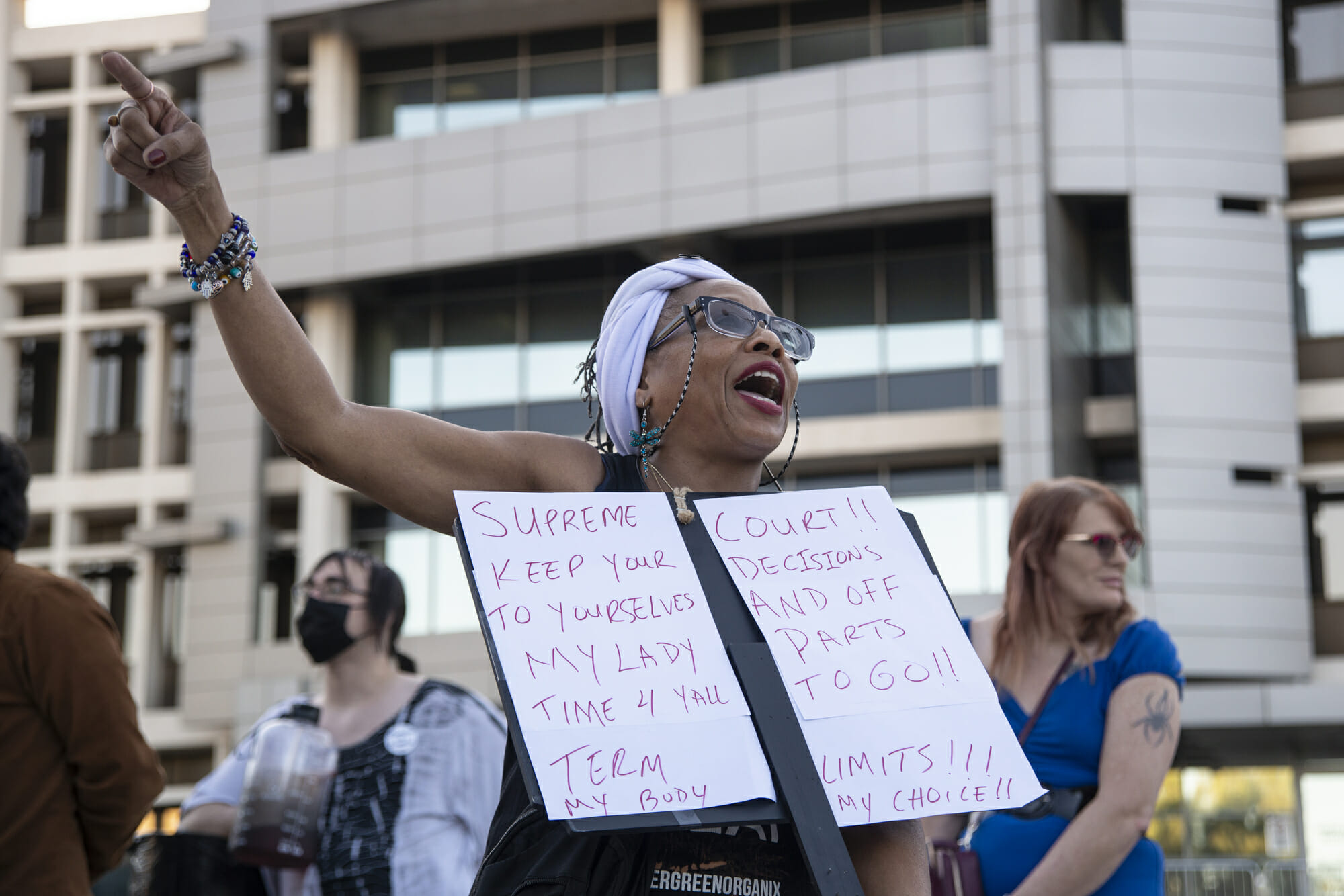 Abortion laws are one of the top factors driving voters to the polls, and there's broad support for making major structural changes to the U.S. Supreme Court, a recent poll from The Nevada Independent and OH Predictive Insights indicates.
Nearly 17 percent of respondents indicated that abortion laws were the issue most motivating them to vote, coming in second to the economy (40 percent) but ahead of other issues such as education (4 percent), gun laws (7 percent) and tax laws (2 percent). About 92 percent of respondents said they see at least some circumstances where abortion should be legal, with only 8 percent indicating it should be illegal in all circumstances.
Of those 92 percent of respondents, 45 percent said abortions should be legal under any circumstances, while 47 percent indicated legality should exist, but only under certain circumstances.
The poll results come nearly six weeks after the nation's highest court overturned abortion protections provided by Roe v. Wade, signaling the major role the decision could play in the upcoming midterm elections.
The broad-based, cross-party support for abortion rights also showed its colors Tuesday when Kansas voters rejected an effort to block abortion access (59 to 41 percent) in the form of a proposed constitutional amendment that would have removed the right in the state Constitution and cleared the way for the Legislature to ban the procedure. It was the first state to vote on abortion rights since the Supreme Court decision.
"Democrats are really struggling for enthusiasm this election," said Mike Noble, chief researcher and managing partner of OH Predictive Insights. "The abortion [issue] really woke them a little bit … why should they be engaged, why it matters to get out and vote."
Nine in 10 Nevadans believe abortion should be legal in some way, shape or form. Noble said polling also showed that those with an anti-abortion stance were more willing to shift their positions depending on circumstances than those with pro-choice views.
Though support for abortion rights is high in Nevada, consensus differs on abortion protection timelines. About 23 percent of respondents said abortion should be legal at any point in a pregnancy, more than a third said 24 weeks is enough (the current legal timeframe in Nevada), while 23 percent said the legal cutoff should be 15 weeks. Another 28 percent said abortion should not be permitted at any time in a pregnancy (which is supposed to last 40 weeks).
Noble said the Supreme Court decisions surrounding abortion and other issues such as gun control have galvanized activism for overhauls to the high court itself. Poll results showed strong support for binding Supreme Court members to a code of ethics, expanding the number of justices, implementing term limits and placing an age cap on judges, among other changes.
The support tended to depend on party preference, with respondents identifying as Democrats expressing the most support for changes, followed by nonpartisans and Republicans. Noble said the party identification-based support for reforms is not surprising, especially because of the court's conservative lean.
Changes to abortion protections in Nevada
Abortion rights in the Silver State have been protected by state law for more than 30 years and could only be overturned by a direct majority vote from the people. Nevada's lawmakers and governor have no power to restrict abortion access earlier than 24 weeks into pregnancy — the point at which a fetus is generally considered able to survive outside the womb with support.
The most recent effort to outlaw abortions came in 2012 when anti-abortion activists circulated but failed to qualify a ballot initiative to reverse abortion protections by defining life as starting at conception.
The polling from OH Predictive Insights/The Nevada Independent indicates that such a policy would have little support. Only 22 percent of respondents said they would be more likely to support a candidate who favors a petition drive to overturn Nevada's abortion statute compared to 38 percent who said they were unlikely to select such a candidate.
Forty percent of respondents indicated a level of indifference, saying they were neither likely nor unlikely to favor a candidate promoting those stances. During his unsuccessful bid for governor earlier this year, former Sen. Dean Heller vowed he would raise the money necessary to get a measure overturning abortion on the ballot, saying, "I realize that's the only way it will change."
But undoing abortion protections isn't the only avenue being sought by those opposed to abortions.
This year, anti-abortion advocates are pushing for a ballot initiative to implement a parental notification measure, requiring parents to receive at least 48 hours notice before a minor has an abortion, though previous attempts have failed. Initiative backers have until Nov. 23 to submit their signatures.
More than half of poll respondents indicated support for a 48-hour parental notification window, a quarter said they were neutral on the issue, and 19 percent were opposed.
Abortion has emerged as a bellwether ahead of the 2022 midterm elections, with candidates either latching onto the issue or shying away from saying much, if anything at all.
U.S. Sen. Catherine Cortez Masto (D-NV) has made protecting abortion rights a core tenet of her re-election campaign. In contrast, her Republican challenger, former Attorney General Adam Laxalt, has downplayed the issue's campaign significance, instead calling attention to rising gas prices and economic problems. Laxalt has not responded to specific questions about his stance on abortion rights but has called the Roe v. Wade decision "a joke" while bemoaning Nevada's abortion protections.
In the governor's race, Gov. Steve Sisolak has said, "As long as I'm Governor, I will oppose any attempts — whether at the federal or state level — to attack a Nevada woman's' right to an abortion within 24 weeks of her pregnancy."
His opponent, Clark County Sheriff Joe Lombardo, has said he is "pro-life" but remained largely noncommittal on his stance on abortion protections, noting, "Abortion policy is already addressed in Nevada law. The governor and legislature cannot make changes to it. The voters put it into law, and only they can change it."
In May, Las Vegas Review-Journal conservative columnist Victor Joecks wrote that when asked, Lombardo said he would support sending voters a 13-week abortion ban ballot initiative, with exceptions for physical health, rape and incest. Reached for comment about more specific details on Friday, Lombardo's campaign confirmed his answer and said he would support giving voters the "ultimate decision" on a 13-week abortion ban if it was brought forward by the Legislature or voters.
"If the voters and the Nevada Legislature sent a bill to the governor's office, Joe has always said that he would view it through a pro-life lens," Lombardo spokeswoman Elizabeth Ray said in an email to The Nevada Independent.
Lombardo's campaign said he supports parental notification for minors but has not taken a position on spousal notification because it was ruled unconstitutional by a federal judge in 1981. Recent campaign finance reports show a $1,500 expense from Lombardo's campaign to the anti-abortion advocacy organization Nevada Right to Life, along with an expense of a little more than $1,400 to an anti-abortion crisis pregnancy center — Women's Resource Medical Centers for Southern Nevada — for special event fees.
This story was updated on Friday, August 8, 2022, at 10 a.m. to include information about Clark County Sheriff Joe Lombardo's stance on abortions.
For more information on the abortion stances of top candidates, visit this story.
Find the full poll results and crosstabs here.