In debate, trailing GOP governor candidates try to derail frontrunner Lombardo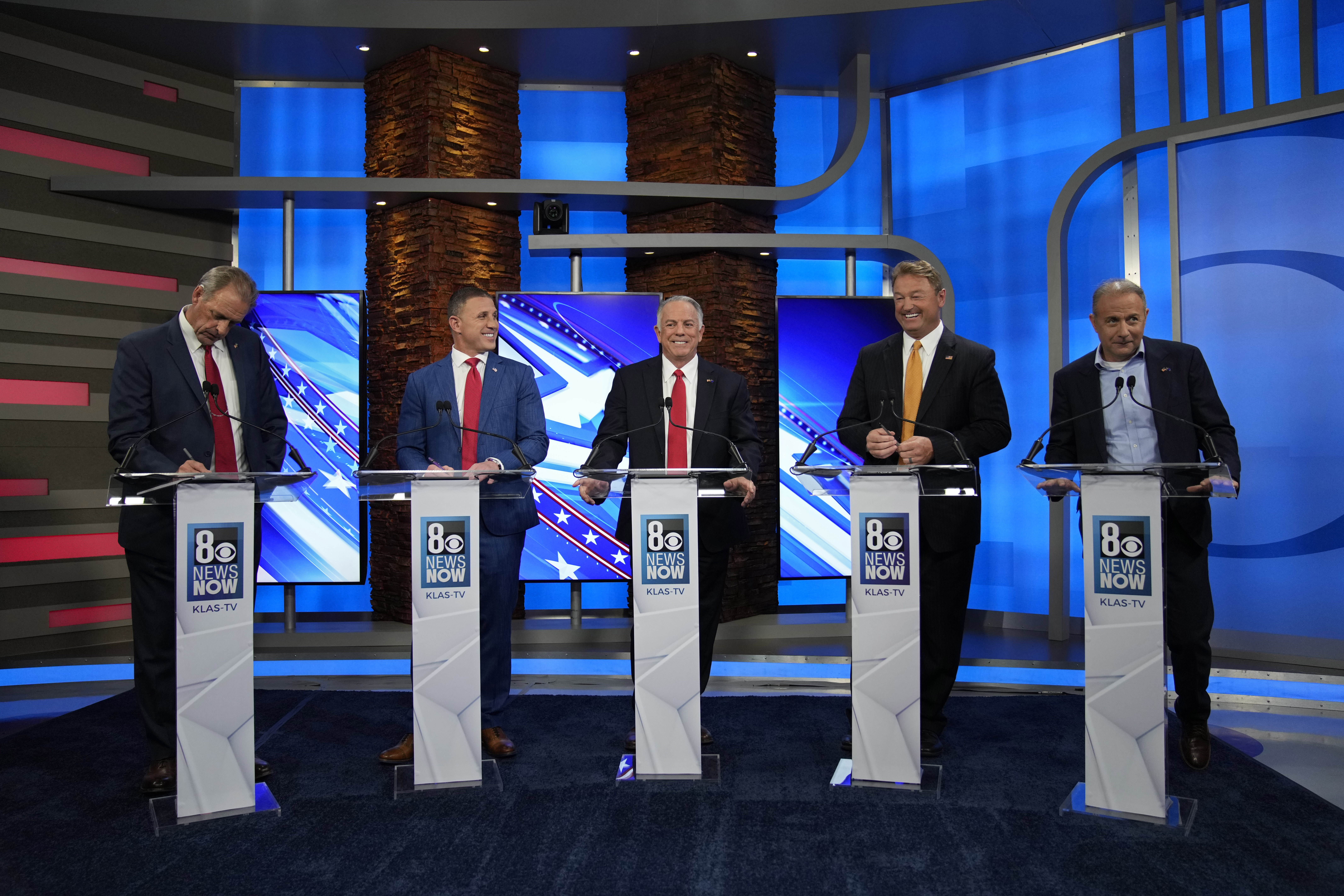 The leading Republican candidates for governor squared off in a televised debate Wednesday, with challengers lobbing attacks at frontrunner Joe Lombardo and the sheriff flatly rebutting them that "for all practical purposes, this primary is over."
The debate was held three days before the start of early voting and less than three weeks away from the June 14 Election Day. Wednesday marked the last day for county election officials to distribute mail ballots to registered voters.
Hosted by KLAS-TV 8 in Las Vegas, it was just the second debate between the top contenders in the race and was the first televised debate to include Lombardo. Earlier this month, a Nevada Independent/OH Predictive Insights poll found Lombardo holding a sizable lead over the rest of the field, followed by Reno attorney Joey Gilbert, former Sen. Dean Heller, North Las Vegas Mayor John Lee and venture capitalist Guy Nohra.
Lombardo has been criticized by his opponents as "No Show Joe" for not attending forums featuring other GOP candidates in the race, though he was present at a pair of Southern Nevada events in the past two months. Challengers on Wednesday tried to bring him down on his immigration, rent control and gun positions.
"Do you want a proven conservative or do you want somebody who's best friends with Steve Sisolak?" Heller said.
Lombardo retorted by rattling off his advantages, including his wide fundraising lead and coveted recent endorsement by former President Donald Trump, and argued that attacks from Sisolak and the GOP primary field are "bogus" and "not working."
"We need to … come together. We need to go after Sisolak. Sisolak is the problem," he said.
Below are highlights from the debate.
Gun safety
In the aftermath of the mass shooting at a Texas elementary school that killed 19 children and two adults, none of the five Republican gubernatorial candidates said they would pursue any additional restrictions on the ownership or possession of firearms.
Instead, almost all mentioned improving Nevada's poor mental health ratings or beefing up school security as ways to prevent a similar attack from happening in the state.
Lombardo — who noted that he does not support "constitutional carry" policies (legal carrying of a firearm without a permit) and limited background checks on firearm sales — compared the events in Texas to the Oct. 1, 2017, mass shooting in Las Vegas, and said the "commonality" between them was a "nexus between mental health and the lack of resources to address the individuals … who may cause harm in the future."
Reno attorney Joey Gilbert said he would "fully fund" public safety, and would fund it by cutting administrator positions in schools and "privatizing services." Lee said the idea of "one entry" into schools "makes the most sense to me," and suggested speeding up the concealed carry weapon permitting process.
Heller referenced a recent Washington Post story on violence in Clark County schools, and suggested that breaking up the nation's fifth-largest school district could help address the issue — but would oppose any restrictions on firearm access.
"I don't want to stand here in front of this studio and negotiate away our Second Amendment rights," he said.
Venture capitalist Guy Nohra suggested creating a "Battle Born Marshals" program that would operate similarly to the Federal Air Marshals and defend children "from these lunatics that go in and prey on children."
Abortion restrictions
Most of the contenders did not offer up specific policies they would implement if given the power to add restrictions to abortion, which is protected in Nevada up until 24 weeks of gestation — a law that cannot be changed absent a vote of the people.
But Heller vowed to raise the money necessary to get the matter back on the ballot, whether it be $2 or $3 million, "because I realize that's the only way it can change."
He also said he'd like to reduce the abortion threshold from 24 weeks and require parental consent before minors can get an abortion.
Gilbert specifically proposed changing the law to prohibit abortions after 20 weeks.
Others shied away from details, including Lombardo, who said that he would view any legislation that comes across his desk "with a pro-life lens" but declined to state specific policies he would consider.
Nohra hearkened back to his experience fighting in a civil war as a teen in Lebanon, saying "when you've taken lives, and you've seen lives taken, you become pro-life." On specific restrictions, he said he'd decide once policies came through the Legislature, but "you know my bias."
North Las Vegas Mayor John Lee argued in favor of a "heartbeat bill," saying that "at the moment there's a heartbeat, that's a baby and I would fight to get us back to that point." But he added the caveat that "if it's rape, the life of the mother or incest, that is a family issue."
Inflation and economy
Asked about their plans to deal with soaring prices linked to rising inflation, most of the candidates said they would focus on cutting or repealing certain taxes, such as the state gas tax (about $0.23 a gallon) or the Commerce Tax, assessed on gross business revenue above $4 million.
Heller said he would seek to cut the state sales tax by the same amount as inflation, while also pledging to suspend the gas tax and eliminate the Commerce Tax.
"This is going to get worse and worse," Heller said. "We need a governor that will give relief to these families."
Gilbert criticized Sisolak's decision to shut down major portions of the state's economy during the initial phase of the COVID-19 pandemic, and said he would act like the "Ron DeSantis of the West," referring to the Florida governor known for pushing back on COVID-related restrictions and mandates.
Lombardo said the next governor needed to focus on making Nevada "conducive for companies" by providing a stable tax platform and adequate affordable housing — something he said would be accomplished not by rent control, but by increasing tax credits to builders for constructing low-income housing.
Those comments elicited a response from Heller, who noted that Lombardo said he would "consider" rent control policies in a previous interview with The Nevada Independent. The sheriff said it's "easy for somebody to throw shots like that."
"It's appropriate to educate yourself before you make a flippant answer, and I gave my answer tonight," he said.
Water scarcity
In light of Lake Mead falling to historically low levels and diminishing supplies of water from the Colorado River, candidates were asked whether Nevada can afford to grow as much as projected. Experts predict Clark County will add about half a million people in the next 10 years.
Heller advocated for conserving water and exploring desalination of seawater, but voiced optimism about the situation, saying "we're doing a great job here in Southern Nevada, and I do think we have 10 to 20 good years of banked water in order for this community to thrive."
Lombardo pushed for the governor to be directly involved in Colorado River water negotiation to be "sure that we get our fair share, especially from the state of California," and also proposed supporting the state's congressional delegation in getting Southern California to recycle water.
Lee, noting he was previously on the Southern Nevada Water Authority Board, argued that "conservation is the greatest thing that we can do. If we could get other people on the Colorado River to do that alongside us, it would be great."
In North Las Vegas, where he's mayor, he said building codes are being updated to bar swamp coolers and other technologies that don't lead to water recycling.
Gilbert pushed for desalination and cloud-seeding technology to alter the weather, saying it was time for an entrepreneur with out-of-the-box thinking to address the issue as governor.
Nohra applauded Israel's resourcefulness in managing water in the desert, and touted his own experience transferring technology from that country as an asset in importing water-saving solutions in the future.
Immigration
On immigration, Heller and Gilbert dialed in attacks on Lombardo, with Gilbert describing him as "Sanctuary Joe" and both candidates linking rising crime in Southern Nevada to the area being a so-called "sanctuary city." The attacks stem from Lombardo's 2019 decision to withdraw his agency from the federal 287(g) partnership with Immigration and Customs Enforcement, although the sheriff has described continued collaboration with immigration enforcement officials.
Lombardo pushed back on his opponents' claims, saying that the "sanctuary" label could only come from the Legislature and has not been applied to Las Vegas, and he described Gilbert's assertion that crime in the region has risen by 500 percent since 2014 as a "fictitious number."
He also denied that the other candidates could draw a line linking immigration and crime statistics. (Research shows that there is little to no empirical evidence that higher levels of immigration correspond with higher rates of crime.) And he highlighted his own experience addressing crime and immigration as sheriff.
"I am the only one standing up here at this podium that has removed anybody who has committed crimes associated with and being undocumented illegal within the state of Nevada," Lombardo said.
Lee, Nohra and Gilbert each said they would activate the Nevada National Guard and send troops to the southern border to respond to the influx of migrants seeking entry into the country.
"The 42 thing — we got to make sure that people coming in here are not sick, and they come in legally, but we need to stop those migrants from coming. They're going to overwhelm us," Lee said.
Lee was referring to Title 42 — a World War II-era policy meant to slow the spread of communicable diseases that was first triggered under the Trump administration in the early days of the COVID-19 pandemic. The policy remains in place and continues to be used to expel thousands of migrants from the border.
Lombardo said he would not send members of the National Guard to the border, citing a limited amount of funding for the group. He added that doing so "would prevent them from responding to any crisis associated within the borders of our state."
Candidate issues
Gilbert was asked about a Facebook post from January suggesting a "coverup" related to the 2017 mass shooting in Las Vegas and illicit use of millions of dollars in donations provided to victims. He said the attack that killed 59 people has "timelines that are off" and there hasn't been full transparency into the shooting, but acknowledged that "I do not have the knowledge that others do."
"I think Nevadans are due an answer five years later if there's still questions," he said.
Lombardo, who was Clark County sheriff at the time, said it was "ridiculous" that Gilbert or others with his campaign "impugned my officers' integrity and investigation associated with that." He noted that the full investigation report into the shooting is publicly available on Metro's website.
Moderators asked Lombardo if he believed the two women involved in a 1995 incident involving Kevin McMahill, Lombardo's former undersheriff and the candidate Lombardo has endorsed to replace him as sheriff. McMahill and another police officer were accused of misconduct by a female officer, who said they had forced a woman to expose herself and eat a cocaine rock before letting her go.
An internal affairs investigation recommended that McMahill and the other officer be terminated, but McMahill was not let go. In recent interviews, McMahill has denied the allegations.
Lombardo did not directly answer the moderator's question and called it "ridiculous … it has nothing to do with running the state of Nevada." Even so, he said that he still supported McMahill "100 percent."
"This is an incident that took place 25 years ago, and he went through the due process associated with that, and he was cleared [of] those crimes," he said.
Heller was asked how voters could trust that he wouldn't change his positions on issues once elected, as moderators pointed to evidence that in 2006, he told the Las Vegas Review-Journal that he was "pro-choice" before describing himself as "pro-life" this year.
Though Heller did not address whether he would change his views once in office, he declared himself "pro-life" once again, and said that in 2006, he was "probably more libertarian."
Moderators questioned Lee about his attendance at a concealed carry weapons training class hosted by Vegas CCW last month that featured a racist Powerpoint slide from a lead instructor with the group. Until Wednesday, Lee was the only candidate in attendance who had not publicly addressed his presence.
Lee said he did find the presentation offensive, and he spoke with the instructor privately after the event about the "stupid statements" and to tell him "you should never do that." But Lee said he felt it was unnecessary to speak about it publicly afterward.
"When people started calling me, it's not my job to try to run him out of business. It's not my job to follow the press and follow along and do what they want me to say and do," he said.
Nohra was asked how he would accomplish anything as a political newcomer working with a likely Democrat-controlled Legislature. The venture capital firm founder said that he would leverage his business experience and that he would "come in with nothing to lose, and a lot to gain for the people in Nevada."
Improving Clark County schools
Asked about how to improve Clark County schools, candidates pointed to policies of restorative justice and the size of the sprawling district as the problems.
Lombardo described restorative justice as "a failed program" backed by the superintendent, governor and Legislature. The policy refers to a strategy of trying to improve misbehavior and remedy any harm caused by a student; it was endorsed by the Legislature in 2019 as a way to reduce expulsions and disrupt a school-to-prison pipeline, but has recently become a lightning rod amid high-profile incidents of school violence.
"Kids aren't comfortable in going to schools. Teachers aren't comfortable in being there," Lombardo said. "We have to change that paradigm sooner than later."
Gilbert said the district could be improved by removing restorative justice, credit recovery, absenteeism and drug use. He also suggested decertifying teacher unions if they "don't start backing the teachers."
Heller had a litany of proposed solutions including paying teachers more, banning critical race theory from being taught and ensuring kindergarteners aren't learning sex education. He also proposed that breaking up the nation's fifth-largest district could prevent school shootings.
"We need school board members that are conservative and that care about the parents more than they care about the schools themselves," Heller added.
Lee asserted that local control would solve the problems, and that North Las Vegas could better recruit and retain teachers if the city itself, not the large district, governed schools.
Nohra said his outsider perspective could help, proposing an education summit — he would provide the pizza — where all stakeholders would "hang around until we got a solution."
The Nevada Independent is raising $200,000 by Dec. 31 to support coverage of the 2024 election.
Tax-deductible donations from readers like you fund this critical work.
If you give today,your donation will be matched dollar-for-dollar.
Give + Get Matched
Featured Videos