GOP governor hopefuls face off over COVID restrictions, crime and vouchers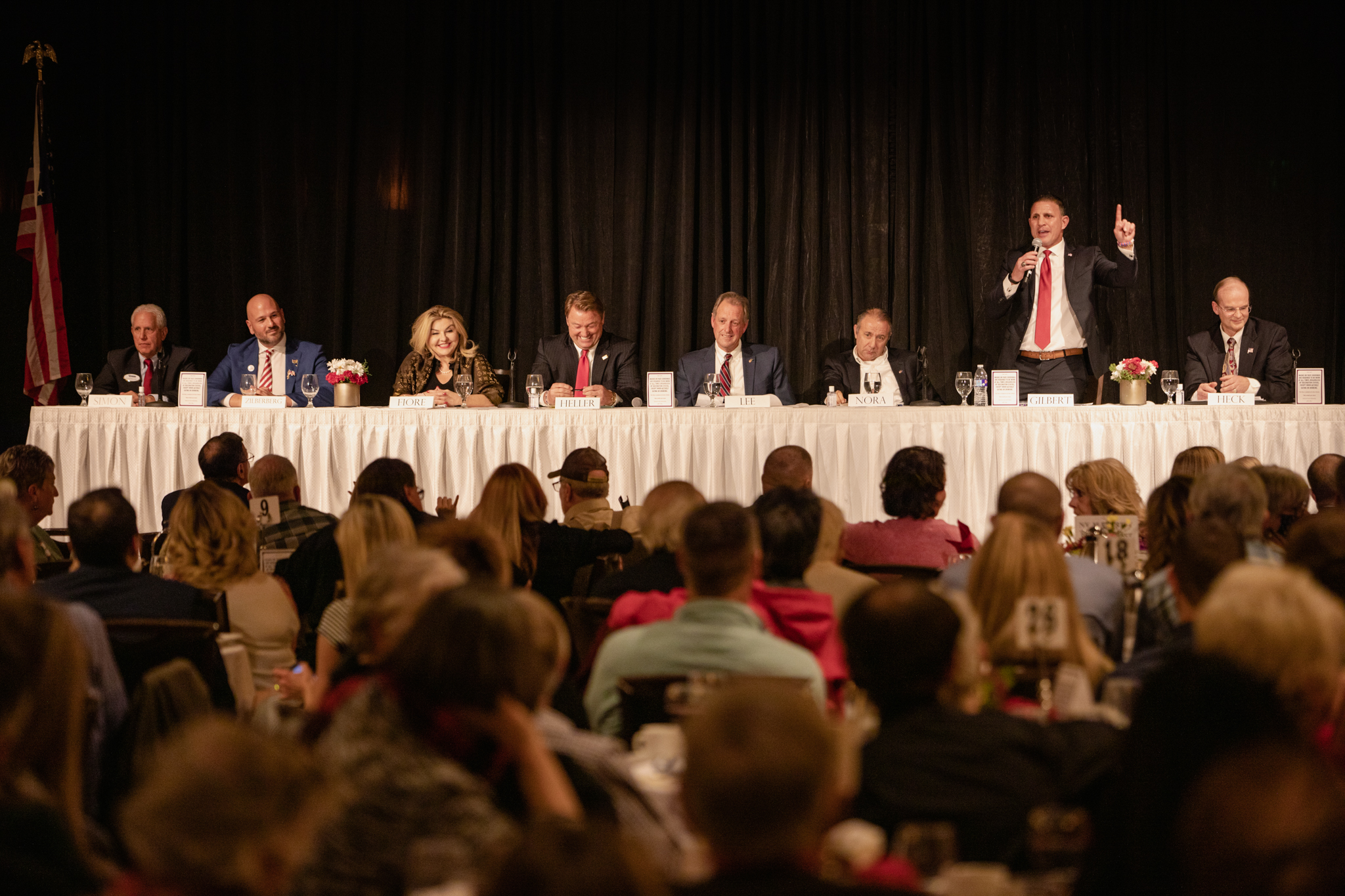 Republican candidates for governor railed against mask mandates, decried critical race theory in schools and vowed to get tough with the homeless in the first major GOP candidate forum ahead of the 2022 primary.
The Thursday event, hosted by RedMove Nevada at the Atlantis casino in Reno and attended by more than 450 people, featured eight candidates but was notably missing Clark County Sheriff Joe Lombardo, a top candidate in the primary — and who polls show is one of Gov. Steve Sisolak's strongest potential foes in the general election. A cardboard cutout with the sheriff marked with "No Show Joe" was brought briefly onto the stage.
Candidates who attended the debate included former U.S. Sen. Dean Heller — who polled slightly ahead of Lombardo in October in a primary matchup — as well as Las Vegas City Councilwoman Michele Fiore, North Las Vegas Mayor John Lee, venture capitalist Guy Nohra, Reno-based attorney Joey Gilbert, Dr. Fred Simon, Tom Heck and Barak Zilberberg.
Several candidates jockeyed to pay tribute to former President Donald Trump, with Fiore arguing she was the first elected official to endorse him and Gilbert saying he was "Trump from the jump." Heller credited the crowd size to "the Trump effect," and mentioned several times that he had spoken with Trump earlier in the day — though he later clarified to The Nevada Independent that he has no idea "what [Trump's] going to do in this race" as far as an endorsement.
An informal straw poll organizers took of audience members' top three candidates will be released next week.
Below are highlights of the debate:
COVID Mitigation
Backlash against business shutdowns, school closures and other COVID mitigation measures prevailed from the start of the event, including when attorney general candidate Sigal Chattah introduced herself and joked about "snowflakes with masks" in the venue.
Fiore argued that banning vaccine mandates would spur economic growth.
"When you ban vaccine mandates, we get our teachers, our hospitals and all of our staff back to work," she said. "We have folks that have been forced to resign because they refuse the vaccine."
Gilbert promised that if elected, "Day one this COVID insanity is over, done. Whether you call it mandates, masks, vaccinations, that's all gone on day one."
Heller added that the state needed a "Nevada first agenda: no masks, no mandates, no shutdowns, no lockdowns."
Gilbert touted that he was alone among candidates in suing government entities over mask mandates. But when Fiore asked him how many cases he had won, Gilbert acknowledged "only one."
John Lee, who disclosed on social media in May that he contracted COVID, noted at the forum that he is unvaccinated.
"I do not believe in the COVID requirements. I think Sisolak has destroyed the business community with these things. There'll be no COVID mandates or any other mandates when I'm governor," he said.
Nearly all of the candidates agreed that the state's emergency declaration called at the start of the COVID pandemic had gone on for too long, with most saying it should have only lasted between 10 to 30 days before state lawmakers became involved.
"I can assure you that I will respect our Constitution, and I will do what's right when the time comes," Nohra said. "And if it's 30 days, it's 30 days, period. No questions asked."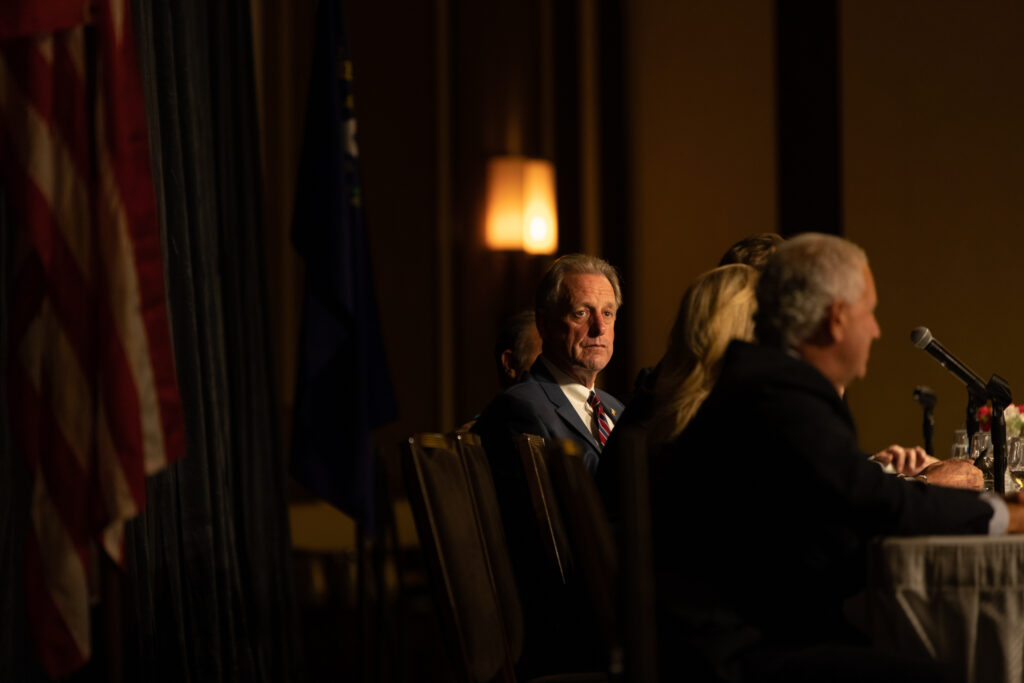 Homelessness
Asked what policy plans he has for addressing homelessness, Lee called the issue a "sickness" that is "sad" and said much work and money has gone toward fixing the problem.
"As your governor, we will look at the homeless situation," he said. "We will see if we need more psychiatric hospitals. We'll look at things to help these people. They are our residents. They are brothers and sisters."
Gilbert said the problem was not a lack of resources, but "a lack of them wanting to help themselves." He argued that "when faced with either … being put in jail or cleaning it up, they're gonna choose the latter."
"The compassionate side and giving them a few bucks, so they can go get high or drunk or use it for whatever, that's not caring for the homeless," Gilbert added. "Caring for the homeless is stepping up and doing what's right for the community."
Fiore noted that she and Las Vegas Mayor Carolyn Goodman "took a lot of heat" over a homeless camping ban opposed by civil liberty groups as a "ban" on homelessness. Though the ordinance has so far seen little use, Fiore said she had spoken with several homeless individuals, noting that many were veterans looking to get off the grid or women escaping domestic abuse.
"Until you wear either my high heels or my hiking boots," she said, "and get with the program and get and talk to these homeless folks and know what the deal is, and create ordinances for your city and actually go out there and do something — I get [what] they want to do, but I'm doing it."
Zilberberg suggested collecting taxes from panhandlers.
"They should have a QR code and I will have homeless patrols out there, looking out and making sure everyone pays their fair share of taxes," he said.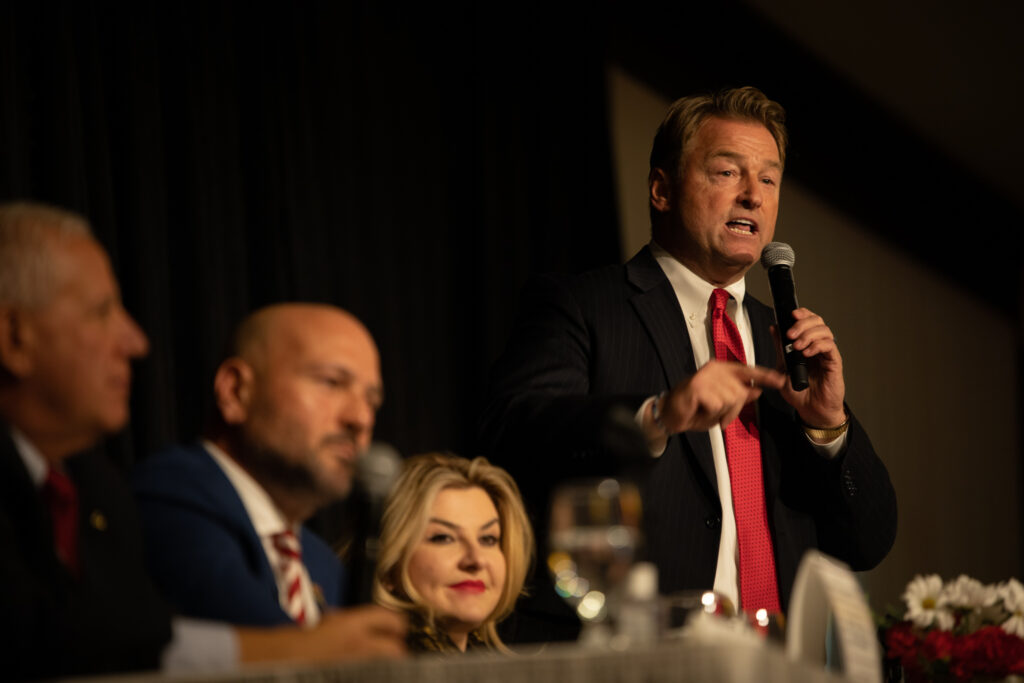 Election integrity
Heller, a former secretary of state who previously oversaw elections in that role, said he was extremely concerned with the state's election laws, calling for a ban on ballot collection (also called ballot harvesting) and what he called "cheat-by-mail." He pledged that his first action as governor would be to sign an executive order requiring voter identification, saying the Legislature "is not going to allow that to happen."
"You're not going to do it any other way," he said.
He said of his conversations with the former president that Trump "cares about the state of Nevada, and he cares about our election process. He knows it's corrupt."
"I tell him the only way that we can guarantee that in 2024 … we have a Republican president, it's we need a leader here in the state of Nevada that understands our election laws and are willing to change them," Heller said. "We're not trying to get an advantage. We want to make it easier to vote, harder to cheat."
Lee had a litany of complaints about elections, including federal proposals to standardize voting practices and what he described as unclean voter rolls in the last election.
"Our country is built on free and fair elections. And what's happening right now is a complete crime," he said.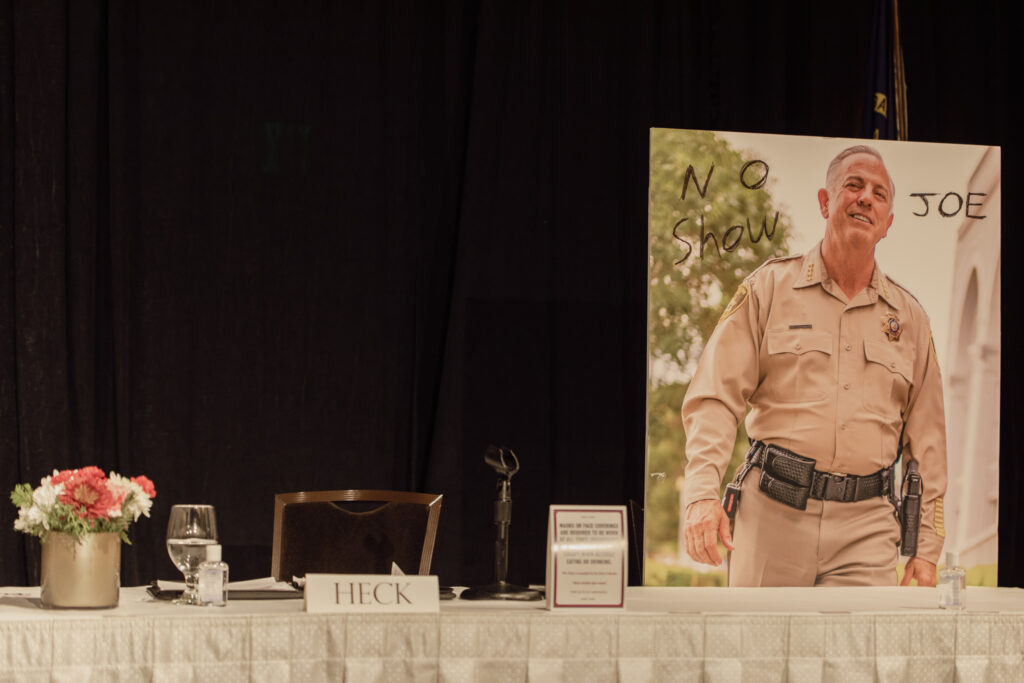 Crime
Candidates largely pointed to illegal immigration and a movement to divert money from police as drivers of crime.
Fiore described those who call for defunding the police as "domestic terrorists."
"When those domestic terrorists come in our territory, we stand out there with our guns, too. Because you know what, when they shoot sideways and we shoot because we know how to shoot, we win," she said. "So remember that. That's how we get this crime rate under control."
Heller blamed crime on sanctuary cities. No jurisdiction in Nevada describes itself as such, and Las Vegas police, who are no longer formerly partnered with Immigration and Customs Enforcement through a 287(g) agreement, still have a policy to connect ICE with immigrants who pass through local jails.
"Do you know that the crime rate, the murder rate in Las Vegas, today is worse than Guatemala? It's worse than Guatemala in Las Vegas," Heller asserted. "That's because we practice catch and release. That's because we've had a sanctuary city down there."
He also highlighted the endorsement he received from the state police union, saying he received the union's support because "they will never have to wonder what side I'm on."
Lee touted that his city had dropped from the one with Nevada's highest crime rate to fourth place. He said $10 million had been added to the police budget during his tenure, 200 new people were placed in the police force and the city opened up its jail again, after being closed because of budget cuts.
"You don't want to do a crime in North Las Vegas. Our cops are serious," he said.
Though candidates spoke of high crime rates, the data are more nuanced and experts say crime's causes are numerous, making it difficult to attribute reasons for broad trends. A Nevada Independent analysis found that in Las Vegas, murders spiked in 2020 and aggravated assaults were up, but overall violent crime was down, as was property crime.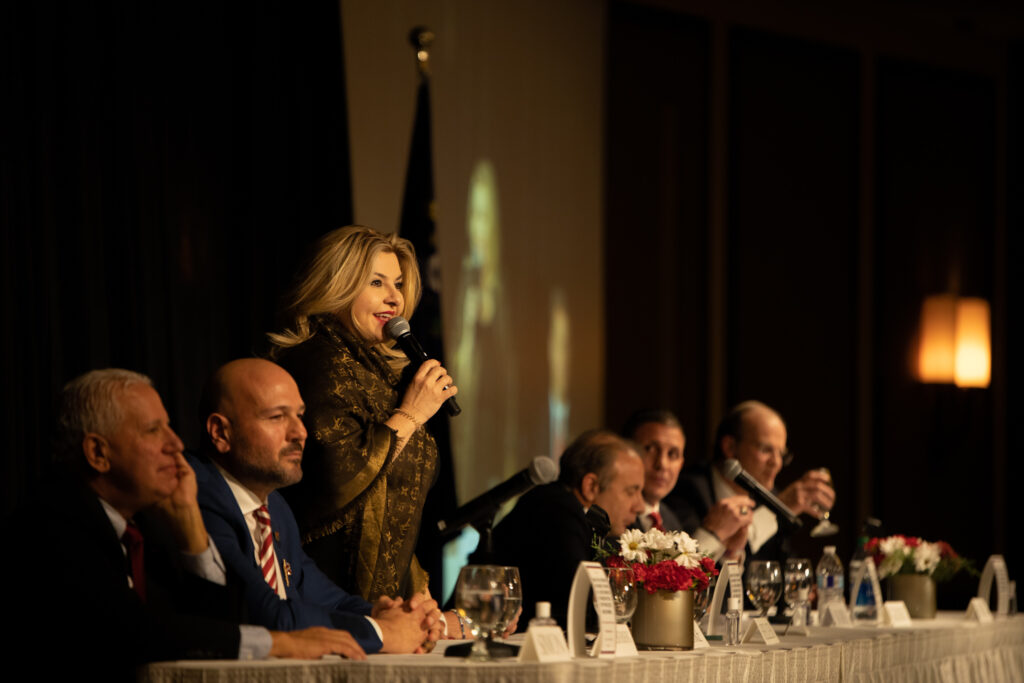 Education
Asked how to turn around Nevada's low-ranked education system, Heller said he would not shut down schools — referring to the switch to remote learning for many Nevada students during the pandemic — and argued for more technical training in high school.
"Not every child should have to go to an elite university and have $100,000 in debt and go get a $35,000 job," he said. "If you have good skills training in high school, these students will be ready to work, whether it's technology, whether it's welding, whether it's woodwork."
Lee argued for more school choice and decried the shift to remote learning.
"As governor, I promise you with that stupid executive power that he uses for COVID — we should be fixing the schools with that stupid executive power," Lee said.
Gilbert pushed for using public money to support private school tuition — a system known as vouchers that critics say depletes funds needed to improve public schools.
"Vouchers is how we fix this, and working with these teachers unions, and if they don't want to step up and back the teachers, let's decertify them," Gilbert said.
Nohra pledged to take parents, teachers and unions into the governor's mansion on his first day in office to find a solution to the state's consistently low education rankings.
"By the time my administration is four years old, we're going to be 29th," he said. "Let's sit down, discuss it, fix it. That's what I do. I fix problems. You're all in here. You claim that you all care about the kids. Well, show me. No one's leaving here until we have a plan."

This story was updated on Friday, Jan. 7, 2022, to include the number of people in attendance.
Featured Videos
Comment Policy (updated 4/20/2021): Please keep your comments civil. We reserve the right to delete comments or ban users who engage in personal attacks, use an excess of profanity, make verifiably false statements or are otherwise nasty. Comments that contain links must be approved by admin.