Poll: Lombardo still holds sizable lead over GOP governor opponents Gilbert, Heller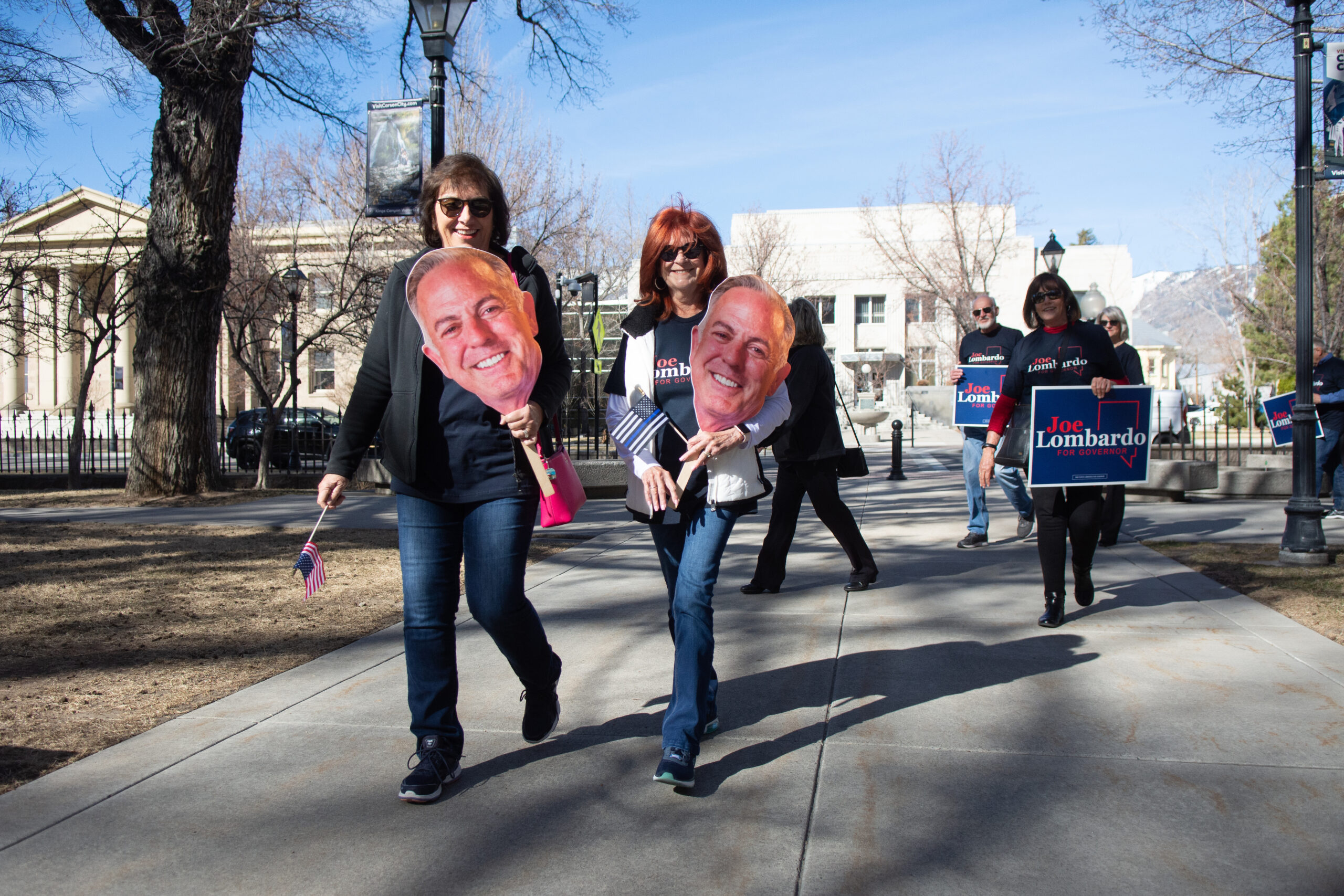 With less than two weeks until the start of early voting, Clark County Sheriff Joe Lombardo maintains a significant lead over his fellow Republican gubernatorial candidates, according to a new Nevada Independent/OH Predictive Insights poll.
Results of the poll, conducted from May 10-12, indicate that Lombardo holds a commanding 20-point lead over his closest competitor, Reno attorney and former boxer Joey Gilbert (35 percent to 15 percent), and a 24-point lead over former U.S. Sen. Dean Heller (35 percent to 11 percent). Those findings mirror the results of a similar poll conducted about two weeks ago from The Hill/Emerson College, which found Lombardo in the lead (33 percent), followed by Gilbert (14 percent) and Heller (11 percent).
That lead places Lombardo as the "clear favorite" in the primary race, said Mike Noble, chief of research and managing partner of OH Predictive Insights.
"Anything can happen from now until Election Day, however, a lot has to go wrong for Lombardo, and a lot has to go right for his opponents to catch him at this stage of the race," Noble said in an email.
The poll sampled 500 likely GOP primary voters via live phone calls and had a 4.4 percent margin of error. It also found a near-even schism among those voters — 43 percent identified themselves as supporters of former President Donald Trump first, compared with 42 percent who identified themselves as supporters of the Republican Party first. Just 10 percent said they more closely align with being supporters of both.
In the primary race, Trump has endorsed Lombardo, while the Nevada Republican Party endorsed Gilbert at a recent central committee meeting.
"A Trump endorsement is currently the most impactful endorsement a Republican candidate can receive in a primary election right now," Noble said.
As results from early-primary elections in states such as Ohio and West Virginia have shown, Trump-endorsed candidates have performed quite well, Noble added, noting that Trump's endorsement is not a hindrance to Lombardo and the outcome of the primary could be a harbinger of the waning power of the state GOP's influence.
Lombardo carried the most support in Clark County, where he is serving his second term as sheriff, garnering 43 percent of hypothetical votes from Republican voters in the state's largest county. He was followed by North Las Vegas Mayor John Lee, who received support from 13 percent of Clark County respondents.
But support for the front-runner dropped in other areas of the state. Among respondents in Washoe County, 25 percent picked Lombardo, compared with 24 percent who chose Gilbert. Across the rest of the state, Lombardo (23 percent) narrowly led Heller (18 percent) and Gilbert (17 percent).
Noble said the drop in support for Lombardo in Washoe County and the rurals is unlikely to hurt him in the primary, as his "sizable lead" in "voter-rich Clark County" likely mitigates that possible issue.
Though the Republican gubernatorial primary features 15 candidates, no other candidate received more than 3 percent of the vote, with venture capitalist Guy Nohra and trauma surgeon Fred Simon leading the pack of remaining candidates at 3 percent each.
Likely Republican voters were also asked which candidate they would bet on to win the primary, and nearly half said Lombardo (48 percent). He was followed by Heller and Gilbert (both at 13 percent each).
Noble said that particular question helps indicate how voters perceive the strength of each candidate — with Lombardo proving himself to be the favorite to win the GOP nomination in June.
"People are intuitive to their surroundings, and the betting question helps indicate, aside from a personal stake they have in an election or candidate, what do they believe will likely happen," he said.
In previous polling, Lombardo also appeared to be the front-runner among the leading Republican candidates when each was pitted against incumbent Democratic Gov. Steve Sisolak in a hypothetical general election. Results from that April poll placing Sisolak against Lombardo showed the sheriff trailing behind the governor by a sizable but surmountable margin.
Find the poll results and crosstabs here.
Editor's Note: When GOP likely voters were asked about which Republican gubernatorial candidate they would be most likely to vote for, Steve Sisolak was accidentally included within the list of candidates read to the voters as options. No other candidate-specific questions included the Democratic governor. Though 3 percent of respondents said they would be likely to vote for Sisolak, those responses did not significantly affect the results from the question, and the error did not affect the overall result of the question in a statistically meaningful way.