Poll: Sisolak leads likely GOP governor opponents, but favorability remains underwater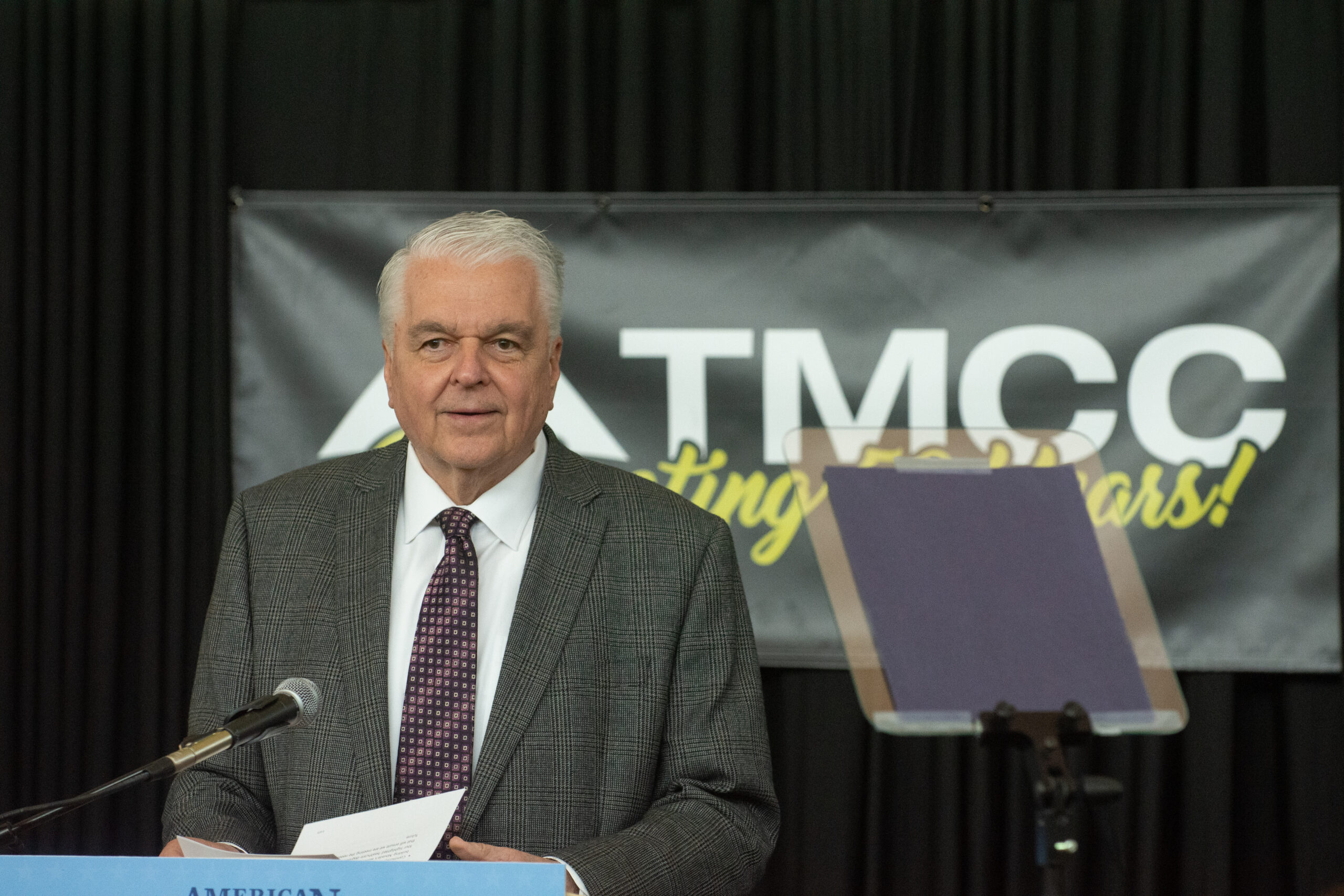 With less than seven months until the 2022 midterm elections, Democratic Gov. Steve Sisolak holds a sizable but not commanding lead over his likely Republican opponents, according to a new Nevada Independent/OH Predictive Insights poll.
The results of the poll, conducted from April 1-9, indicate significant leads for Sisolak, including a 9-point lead over Clark County Sheriff Joe Lombardo (44 percent to 35 percent) and a 13-point lead over former U.S. Sen. Dean Heller (46 percent to 33 percent). Sisolak's double-digit leads mark a jump in support for him from similar polling conducted in January, which showed the leading Republican candidates for governor closely trailing the incumbent.
Mike Noble, chief of research and managing partner of OH, cautioned that those results put Sisolak in a good but not great position, as support for the incumbent Democrat remains below 50 percent.
"It's definitely going to be a fight given that he's gonna be running against the headwinds of this election," Noble said. "The headwinds being you got an incumbent president, which is the same party as him, in the negatives and then, of course, you have the rising gas prices."
Noble pointed to the state's tourism economy getting back on track and the removal of some COVID-19-related restrictions on public activity — in February, Sisolak announced the end of the state's mask mandate — as reasons that Sisolak has managed to pick up a more significant lead. In the January poll, Sisolak led Lombardo by less than 5 points and Heller by less than 9 points.
The poll sampled 748 registered voters in Nevada via an online opt-in survey from April 1-9. The breakdown of respondents' voter registrations closely mirrored statewide registration totals, with 30 percent of respondents identified as Republican, 35 percent as Democrat and 34 percent as independents not aligned with either major party. The poll had a 4.4 percent margin of error.
Though the margins are a positive sign for Sisolak — who is combating adverse conditions facing sitting Democrats across the country, including high inflation and President Joe Biden's low approval ratings — the survey results do slightly favor Democrats compared with other publicly available polling.
The OH poll surveyed registered voters, which tend to skew to the left, while surveys of likely voters, such as the recent Suffolk University/Reno Gazette Journal poll, tend to skew to the right because Republicans typically turn out at a higher rate than Democrats. That Suffolk poll found Lombardo just ahead of Sisolak (within the margin of error) among likely voters.
But Noble said he took the approach of polling registered voters to capture early trends ahead of the general election, especially as registered voters are statistically more likely to cast a ballot in the upcoming election.
April's Nevada Independent/OH Predictive Insights poll also marked Sisolak's strongest showing of support among a litany of public polls on the governor's race dating back several months, including a September poll of likely voters conducted by The Mellman Group for The Nevada Independent, which found Sisolak deadlocked with Lombardo and narrowly leading Heller.
Still, the April OH survey found Sisolak underwater on favorability. Just 44 percent of respondents said they view Sisolak favorably, compared with 49 percent who have an unfavorable view of the governor.
Among the Republican field, Lombardo distinguished himself from the other challengers, including Heller, Reno attorney Joey Gilbert and North Las Vegas Mayor John Lee, by being the only candidate to poll within single digits of Sisolak.
That result largely came from a strong performance among registered voters identified as independents. Respondents in that category were split evenly between Sisolak (31 percent) and Lombardo (31 percent), while Sisolak led Heller and Gilbert by 9 points each and Lee by 11 points among independents. But across all four head-to-head battles, nearly 40 percent of independents said they were unsure whom they would vote for governor.
Among all respondents, between one-fifth and one-quarter of registered voters said they were unsure about who they would vote for between Sisolak and one of his Republican opponents.
Sisolak also dominated among ideological moderates, carrying at least 50 percent of support from the voting bloc in head-to-heads with Heller, Gilbert, Lee and Lombardo. However, Lombardo was the only Republican projected to beat Sisolak among wealthy registered voters earning $100,000 or more, carrying 48 percent of their support to Siolak's 38 percent.
Nearly 50 percent of independent female voters said they were unsure whom they would be likely to support in every comparison between Sisolak and his challengers, compared with between 25 and 30 percent of independent male voters.
Election confidence
The poll also found that nearly a fifth of registered voters surveyed lack confidence in Nevada's election results, including nearly half of surveyed Republicans.
Though most respondents (56 percent) said they were either extremely or moderately confident that Nevada's upcoming 2022 election results will be accurate, more than a quarter (26 percent) said they were only somewhat confident. Eighteen percent said they were not too confident or not at all confident in the results being accurate.
"It's unequivocally surprising given that the elections are the bedrock of our democracy," Noble said. "The election was not stolen. It was correct. However … you just kind of had this groupthink that was going on, but it has created a perception or belief that there is an issue with the elections."
Respondents identified as Democrats expressed significantly more trust in the electoral system than non-Democratic voters, as 76 percent expressed extreme or moderate confidence in the accuracy of the results, compared with 47 percent of Republicans and 42 percent of non-major party voters.
In particular, non-major party voters who identified themselves as ideologically conservative expressed high levels of distrust, with nearly a quarter of respondents in that group expressing little to no confidence in the accuracy of the future election results.
Though conspiracy theory-driven proposals for eliminating electronic voting machines and moving to hand-counting ballots have appeared in Washoe County and Nevada's rural counties — jurisdictions with GOP-majority county commissions — election confidence seems to have been undermined at a higher rate among Republicans in populous, urban Clark County.
Nearly a third of respondents in that group (and a higher percentage than Republican voters living in Washoe County and rural Nevada) said they were not too confident or not at all confident that the 2022 election results would be accurate.
Find the poll toplines and crosstabs here.
The Nevada Independent is raising $200,000 by Dec. 31 to support coverage of the 2024 election.
Tax-deductible donations from readers like you fund this critical work.
If you give today,your donation will be matched dollar-for-dollar.
Give + Get Matched
Featured Videos